It is time to talk about the BLT Sandwich friends. I'm not talking the sad BLT at the gas station (who orders those?!) Nope. I'm talking Gourmet BLT. a fancy BLT. The best BLT you can make.

Because, if you're going to make a sandwich, don't think of it as "only a sandwich." Think of it as a time to construct a meal with all the best ingredients on the very best bread. And then sit down to enjoy it instead of eating it in the car or over the sink.

You have earned the break.

Another sandwich you might enjoy is my spicy chicken guacamole sandwich recipe.
For ease of browsing, here are all of my sandwich recipes in one place. Thanks for stopping by!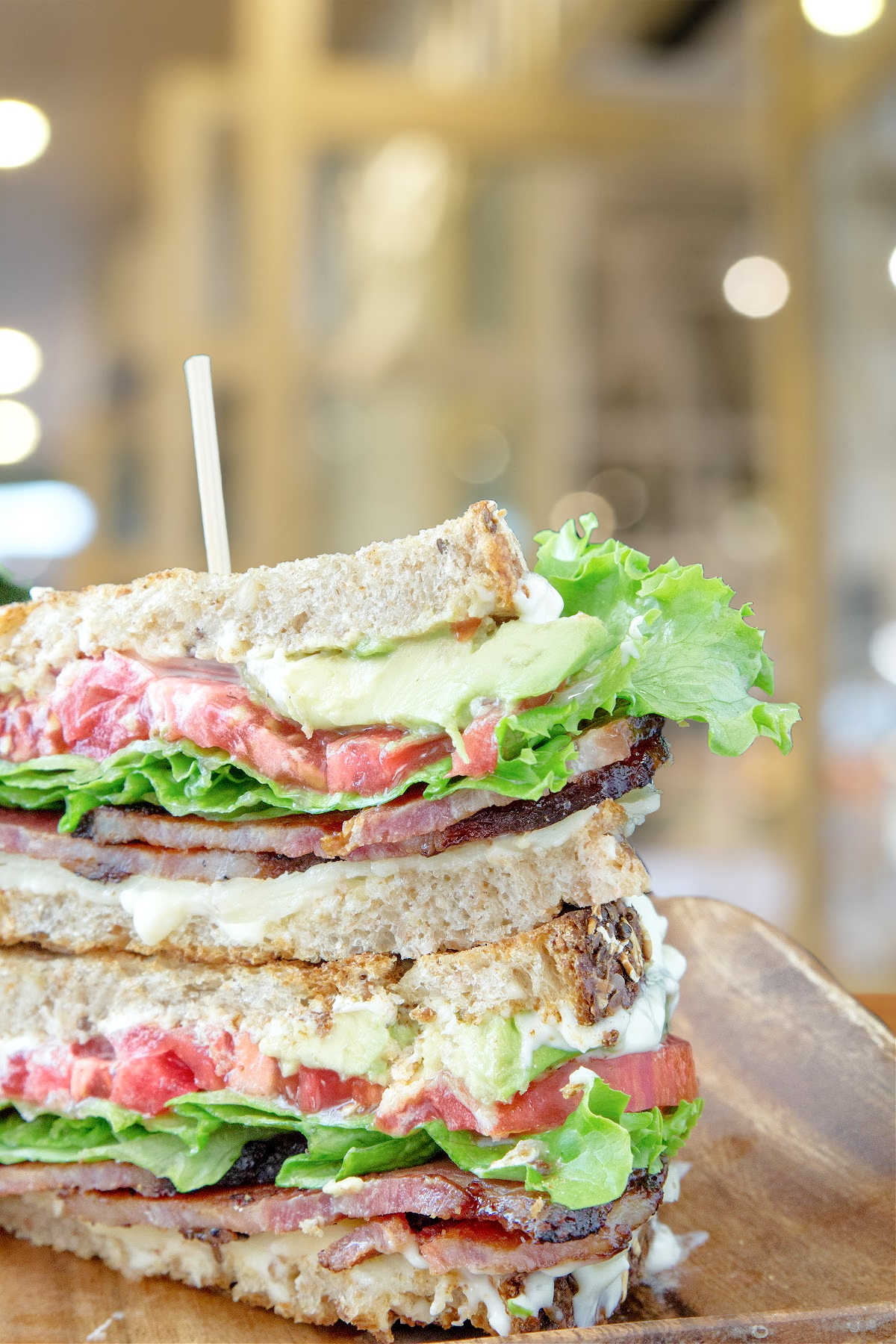 You'll Love This BLT If
Not every recipe is right for everyone.
You'll really love this fancy BLT if you:
Enjoy a thick and hearty sandwich
Think a plain BLT needs something a little extra
Think a sandwich isn't a sandwich unless it has cheese on it
Have access to really good heirloom tomatoes
Want meaty bacon you can sink your teeth into
I'm going to show you how to make this sandwich, give you some ideas for even more upgrades, and share some basic rules for building the perfect sandwich.
If you don't need that information, feel free to skip straight to the recipe. You can always scroll back up if you need to.
When you do make this recipe, it will help me and other readers if you:
✅Rate the recipes using the stars in the recipe card
✅Leave a review when prompted in the recipe card
✅Leave a comment on the post
Thank you! ❤️
What Makes a Great Sandwich for Adults?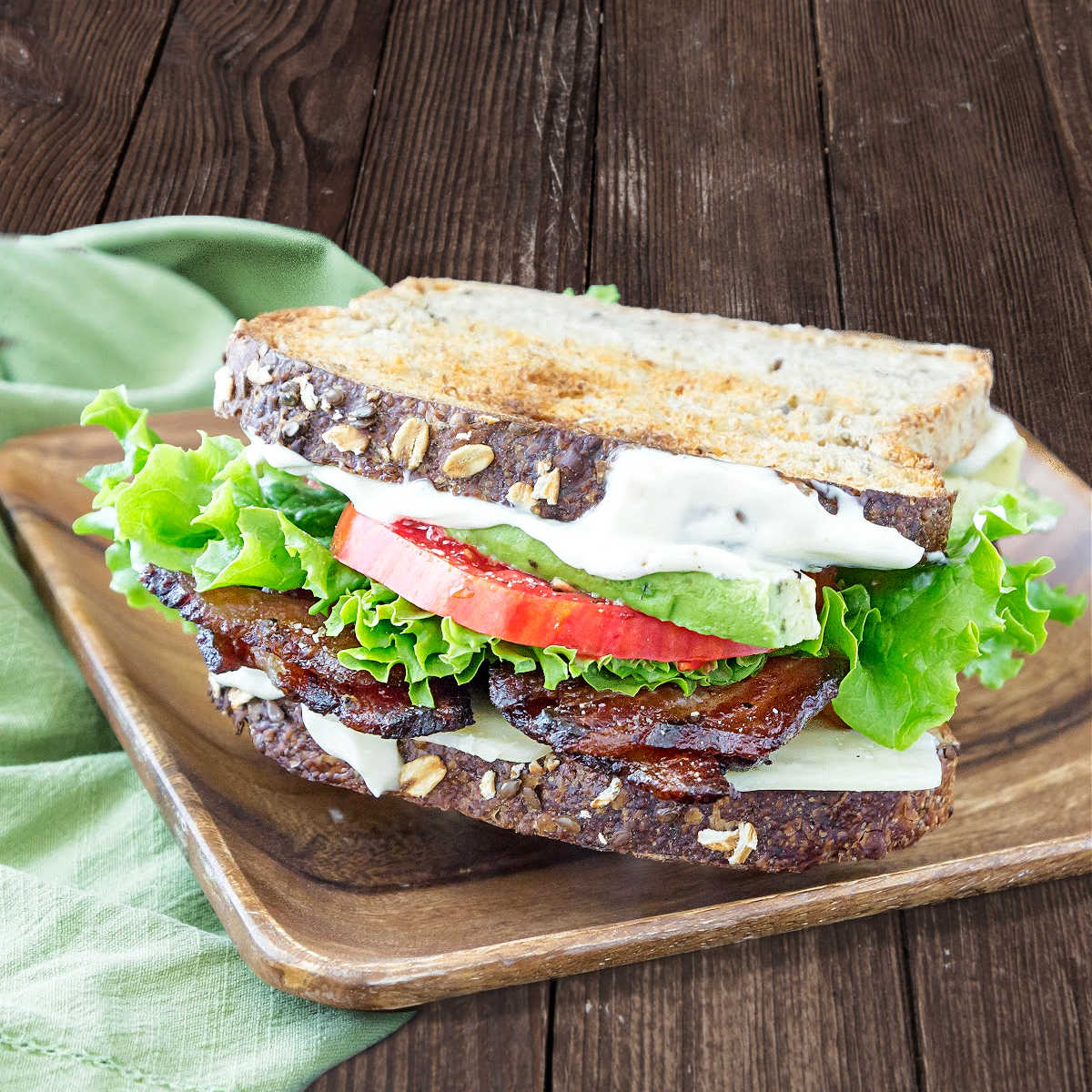 I think the main difference between a kid sandwich (or this kid, anyway) and an adult sandwich is that adult sandwiches offer a variety of flavors, colors and textures that either complement or contrast with each other.
Toasted bread, crisp vegetables, soft cheese, the bite of a vinaigrette, salty/savory meats.
A smooth spread of mellow mayonnaise as counterpoint to the pungency of mustard. The Christmassy contrast of leaf lettuce and ripe tomatoes.
The crisp-crunchy brininess of pickles against rich, mellow roast pork.
Kids are often not fans of foods that have a lot of contrasting flavors and textures, so soft breads with soft spreads are generally the hallmark of a kid sandwich.
For me as an adult, it's the very things I didn't like as a kid that now make a magical sandwich for me.
Give me all the contrasting flavors, textures, and even temperatures. (Think hot bacon layered onto your blt at the last moment.)
I could go on, but I'm hungry. Let's get to this gourmet BLT with cheddar and avocado, shall we?
Bread: The Foundation of Any Sandwich
When considering what bread to use to make a fancy sandwich, think about what role you want that bread to play.
Do you want substantial flavor that contributes to the overall balance of the sandwich?
Do you want bread that has a mild flavor but will hold up to a lot of fillings?
Are you looking for a soft or chewy texture?
Choose accordingly.
On my site, I have a couple of bread recipes that work well as sandwich bread. Grits bread and potato sandwich bread have a rich but fairly neutral flavor that stays in the background.
If you use one of those bread recipes, the fillings are the focus of the sandwich, so make them count.
And don't limit yourself to loaves of bread.
Make a sandwich on an asiago bagel or a pretzel bun.
For a Gourmet BLT, my vote is for a flavorful multigrain bread that has some textural interest with the addition of nuts and/or seeds. Substantial enough to be noticed but not so assertive that you can't taste the cheese or avocado, you know?
Always Use the Best Ingredients
You know how much I love living in North Carolina and how fortunate we are to have so many wonderful foods and beverages made by brands large and small here.
I am sure you can find local products in your area that will lend themselves to gourmet sandwich making, too!
I took full advantage of some Raleigh-area offerings to make this gourmet BLT truly gourmet. This isn't a sponsored post, but these are the local brands I used:
I stuck with my beloved Cabot cheddar–their White Oak–because it is savory and wonderful with almost a Parmesan edge. And it warms up to a rather addictive creamy texture.
Of course, I used Duke's Mayonnaise, the South's favorite mayo.
And an avocado.
Equipment You May Need
Before we make this fancy sandwich, let's make sure you're ready to be a top-notch sandwich artist.
These spreaders are a great shape and size for slathering on all sorts of condiments.
A bacon press is nice to have to make sure your bacon slices lay flat in your sandwich (plus they're just sort of cool).
A cheese plane is one of my favorite tools for slicing off sandwich-perfect thicknesses of cheese off whole blocks. I love mine and use it all the time.
And every gourmet sandwich maker needs a salad spinner for washing and drying all your salad and sandwich greens.
Make a BLT Even Better
Toast the bread. For a fancy BLT or other sandwich, always toast the bread.
Seriously, it sounds pretty elementary, but toasting your bread before making the sandwich adds roasted, malty flavor to the bread.
And as long as you don't over-toast, it will give you two textures: crisp on the outside while still being soft/chewy on the inside.
Jenni Says: As with any recipe you make, you should season as you go. If you are afraid the salt and pepper are just going to fall off the sandwich if you add them, stir them into the mayonnaise or mustard you're using anyway.
If you don't want to add seasonings to your mayo, make sprinkle salt and pepper on ingredients that are moist or a bit sticky. For example, don't sprinkle the cheese with salt and pepper. Rather add it to the tomatoes and/or avocado slices, because both of those ingredients will hold onto the seasoning and not let it bounce off.
Fancy Sandwich Condiments
Here are some additions to kick any sandwich up a notch.
For any sandwich that already has bacon on it, add a swoop of bacon jam to one of the pieces of bread. It'll help to reinforce the bacon flavor while providing another layer of texture and flavor.
The same goes for tomato jam and onion jam.
Add more depth of flavor, and more interest to your sandwich by adding either or both, along with or even in place of mayonnaise.
Why always serve the expected condiments of mayo and mustard?
Sandwich Construction
Choose a bread that more or less matches the density (and depth) of your ingredients.
For example, while you can use squishy white bread to make thin tea sandwiches, you'll need a heartier bread like ciabatta to stand up to a burger.
Once you choose your bread, build the sandwich with the sturdiest/hardest to bite/chew ingredients on the bottom and build up to finish with the more delicate ingredients on the top.
For example, don't put a big honking piece of red bell pepper on top of a layer of chicken salad. The chicken salad with squish everywhere and your sandwich will be a mess.
Another option is to chop, dice, or slice the tougher ingredients to make them easier to deal with on a sandwich.
With a BLT, especially one with cheese and slippery avocado on it, you want everything to stay put.
Try to slice the avocado into flat slices rather than rounded ones, so slice thinly and overlap them. They are soft, so they could either make a thin layer under the bacon or go on top.
As far as the main ingredients: bacon, lettuce, and tomato, put the bacon on the bottom since it's harder to bite through, and top with lettuce leaves and then tomato slices.
Choose tender lettuce such as Bibb or butter lettuce that is easy to bite through. Or consider using baby spinach instead.
If using a really hearty green, put that layer next to the bacon.
Simple Sides
This sandwich is definitely the star of the show, but you may want to serve a couple of deli-style side dishes to go with it. My mom's macaroni salad is always welcome, at least around here.
If you're a potato salad fan, my no mayo potato salad is pretty excellent, especially at room temperature.
Or, you know what? Chips work too.
Ingredients
Multigrain sandwich bread (or bread of choice)
softened butter: just a mere scraping of really good butter amps up the flavor. And fat carries flavor, so there's that
Mayonnaise: As far as I'm concerned, Duke's is the One and Only, but please use your preferred mayo
White cheddar: use your favorite here. I like Cabot cheese. Do cut your own slices if possible rather than getting deli-cut slices. That way you can cut them thicker. Also, let the cheese warm to room temperature. It will have so much more flavor and aroma, as well as a softer texture.
Thick-cut bacon: go for the good stuff. Peppered would be lovely. But you really want to taste the bacon, so don't skimp
salt & pepper: If you'd season something before you'd eat it, season it on your sandwich. I lightly salted and peppered both the tomato and the avocado
Lettuce: Large leaves and not shredded so it doesn't all fall out. I like Bibb or butter lettuce. Use your favorite. Romaine would work well also
Heirloom tomatoes: Preferably warm off a plant in your or your neighbor's yard. If you can't do that, find some beauties at a local farmer's market. Make sure they're at peak ripeness, and slice them thick
Avocado: Sliced thinly and then "shingled" onto the sandwich is probably the best way to keep it from sliding off the bread
Do not refrigerate tomatoes until after you cut them, and even then, try to eat all of it or share it rather than refrigerate leftovers. Refrigerated tomatoes end up with a mealy texture.
Enough! Let's make that sandwich, people.
I really hope you give this gourmet BLT a shot, you guys! It really is the best.
Questions?
It would be so helpful to me and to other readers that, when you make a recipe, you rate it and leave a comment. Whether it's a recipe or an informational post, your feedback helps others decide if the post is helpful or if the recipe works as advertised.

If you could leave a star rating, that would be very helpful. Thank you for being here!
Gourmet BLT with Cheddar and Avocado
The gourmet BLT with cheddar and avocado is the grown up sandwich of your dreams. Tons of contrasting colors, flavors, and textures make a relatively simple sandwich a true gourmet delight.
Ingredients
4

slices

excellent quality bread

sliced fairly thick, toasted to your liking and preferably still warm

softened butter

mayonnaise

Duke's, or your favorite (cold)

aged white cheddar

sliced about 1/8″ thick (room temperature)

6-8

slices

thick-cut bacon

cooked to your liking (hot)

4

leaves

leaf lettuce

washed and patted dry (cold)

1

perfectly ripe heirloom tomatoes at room temperature

sliced 1/4″ thick (room temperature)

1

avocado

sliced in /4″ slices (room temperature or cool)

kosher salt and freshly ground black pepper
Instructions
Spread each piece of toasted bread with a thin layer of butter and then a generous layer of mayonnaise.

Place the white cheddar on the 2 slices of bread that will be the bottoms. Arrange them so they cover the bread as completely as possible.

Place the bacon on the cheese so you'll be sure to get bacon in every bite. The bacon I used was really huge–about 1 1/2 oz per slice, pre-cooked weight. If you're using grocery store bacon, you may need more slices. And you can also do the

bacon weave

before cooking to ensure bacon in every bite.

Arrange the leaf lettuce on top of the bacon followed by 3 slices of tomato.

Salt and pepper the tomato and then shingle on the avocado slices, 1/2 avocado per sandwich. Lightly salt and pepper the avocado and top with the top slice of bread. Press down lightly.

Enjoy!
Did You Make Any Changes?
Notes
If you like extra cheese, you can put cheese on all 4 slices of bread so you end up with cheese on the bottom and top of each sandwich. With the fat fron the mayo and avocado on top, I didn't think ours needed extra cheese, but it's your call.
Nutrition
Serving:
1
Sandwiches
Calories:
723
kcal
Carbohydrates:
44
g
Protein:
25
g
Fat:
51
g
Saturated Fat:
14
g
Polyunsaturated Fat:
34
g
Cholesterol:
72
mg
Sodium:
1411
mg
Fiber:
10
g
Sugar:
6
g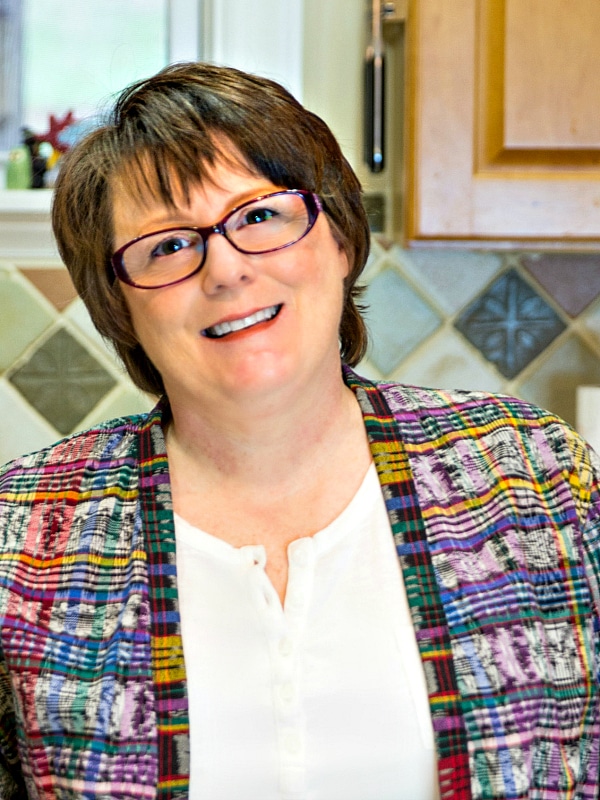 What are my qualifications to teach you baking and pastry? As a former working pastry chef and special educator, I marry my passions for both teaching and for baking into explaining techniques, methods, and developing the best possible recipes. For more info, you can read more about me.
If you'd like to receive new recipes and the occasional newsletter, I'd love for you to sign up for my Inbox Pastry Chef.
And there you have it, friends. This sandwich is a thing of beauty and a joy to devour.
Thanks for spending some time with me today. Take care, and have a lovely day.