Friends, hi! It's Progressive Eats day, and this month, Jane from The Heritage Cook is hosting! Come see what we have going on for a New Year's Eve Blowout Celebration! (Spoiler Alert: I made champagne yeast brioche bread.)
A New Year's Eve Extravaganza
Welcome to another edition of Progressive Eats, our virtual version of a progressive dinner party where each course is held at a different home. With Progressive Eats, a theme is chosen each month, members share recipes suitable for a delicious meal or party, and you can hop from blog to blog to check them out. This month's theme is a New Year's Eve Extravaganza hosted by Jane of The Heritage Cook. Enjoy these jaw-dropping recipes, ideal for any special occasion and the perfect way to ring in the New Year!
Let's check out the menu, shall we? Then I'll tell you all about how I made my champagne yeast brioche bread. Yay!

New Year's Eve Extravaganza!
Cocktails
Appetizers
Bread
Champagne Yeast Brioche from Pastry Chef Online (you're here!)
First Course
Main Course
Side Dishes
Desserts
It all sounds pretty spectacular, right? Interested in joining in on the fun?
We have a core group of 12 bloggers, but we are always looking for substitutes. To see our upcoming themes and how you can participate, please check out the schedule at Creative Culinary or contact Barb directly for more information.
Champagne Yeast Brioche Bread
Champagne Yeast Brioche Bread
Brioche is sort of an impossible dough. A mere .15 oz of yeast is commanded to raise not only just over a pound of flour, but 17 oz of butter along with 12 oz of eggs. Craziness! But, given enough time, the magic happens. Finished brioche dough is so soft and shiny, it almost behaves like pate a choux. Impossible to shape by hand. A good overnight chill firms up the butter allowing some fast shaping, and then a long, slow rise allows the yeast to do their thing at their leisure. The resulting loaf is light yet rich–a bit of a contradiction. Once you have your brioche, you can use it for sweet or savory applications. Nothing wrong with slathering it with butter and honey or jam. Some rustic pate would be just as at home. Use balls of dough dipped in cinnamon and sugar to make a super fancy monkey bread, or turn your dough into rich, round sandwich buns perfect for sopping up the juices from a perfectly cooked burger.
The brioche I made for you today is the same formula I used to use for brioche at the restaurants I worked in. The only difference I've made is to use champagne yeast rather than regular baker's yeast.
Baking with Brewer's Yeast
Baking with brewer's yeast is no different than baking with your tried and true regular yeast. And while you might not be able to tell the difference between a loaf baked with one type of yeast one day and a bread baked with another type of yeast on a different day, when you bake with different strains of yeast head to head, the differences become apparent. If you'd like to read about my experiments baking the same loaf of bread with four different strains of yeast, you can read my post The Four Loaves of the Apocalypse, or Baking with Brewer's Yeast.
The main difference I could discern between this champagne yeast brioche bread and the ones I used to make is the smell of alcohol while the bread is still warm. There's a bit of brut funk that I'm sure is one of the characteristics of using champagne yeast. As the bread cooled, the smell dissipated, and once at room temperature, the champagne yeast brioche bread was a lovely example of a tight-crumbed, rich, tender, cake-like brioche.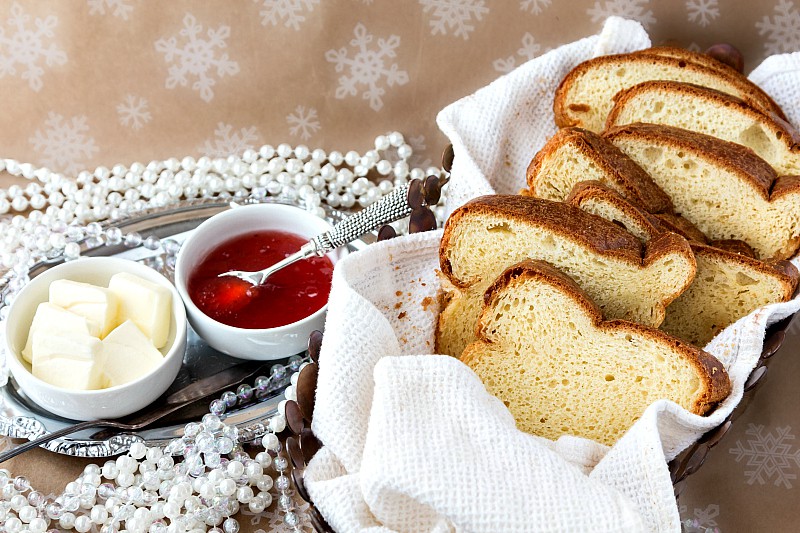 The Mixing and Baking Schedule
I made the sponge in the morning and let it rest until bubbly. This took about 3 hours, even in a cozy environment. I think this is probably because the yeast are used to working with more sugar–hello, grape juice–than what was present in my sponge, so it took it awhile to get going. Once it got going, though, the sponge bubbled like a champ and the bread rose beautifully in the pans.
After making the sponge, I added all the rest of the ingredients and mixed them, kneading for roughly ten minutes before adding the butter very slowly–over about 15 or 20 minutes or so. Once the dough was ready, I refrigerated it for 8 hours. This schedule saw me shaping and panning the cold dough at 10 pm and allowing it to rise overnight in the cool kitchen. I baked at 8 am. Honestly, my dough was somewhat over-proofed as you can see from some larger air pockets in the finished bread and the rather dented top of my loaves. While perhaps not the most aesthetically pleasing loaves, their flavor didn't suffer and I took great joy in plowing through a couple of slices with butter, jam, and honey.
Since my guys were over-proofed, I would suggest making the dough in the evening before a day you can hang out at home. Then, you can refrigerate the dough overnight and shape and let proof in the morning. Even in the hot restaurant kitchen, the dough seemed to take forever to rise, so I would count on a good 5-7 hours in a home kitchen. Then, it's all over but the baking, and that only takes about 30 minutes.
Be Mindful of the Butter
The last thing you want to do to the gorgeous champagne yeast brioche dough you worked so hard to make is to allow the butter to leak out during proofing. And this means you have to resist the urge to try to speed things along by letting the dough rise in a cozy place. Cozy equals melted butter, and we want it to stay in the bread and not soak back in after baking. So, a longer, cooler rise is preferable to a shorter, warmer rise.
Enough talk.
Let's make champagne yeast brioche bread.