Today, I'm excited to bring you a great recipe for buttermilk muffins! You can really add any mix-ins to the batter than you'd like, but I settled on milk chocolate chip muffins with dried sour cherries and chopped, toasted pecans. I recommend this combination, friends!

Note that these are true muffins (lower sugar and lower fat than their "cupcake muffin" counterparts), so you should definitely familiarize yourself with the muffin method if you have never made this kind of muffin before. And in case you run into trouble, you can consult my baking troubleshooting guide. There's lots of info there about how to make beautifully formed, tender muffins.

You may also like my Ritz Carlton blueberry muffins and my cinnamon raisin muffins.
And if you're looking for a way to use up some buttermilk, you can't go wrong with Boston brown bread.

For ease of browsing, here are all of my muffin and quick bread recipes. Enjoy, friends!
Credit Where Credit is Due
I first made these muffins a few weeks ago and followed this recipe fairly closely.
The second time around–the recipe you see here–I made enough changes and they were delicious enough that I felt they deserved their own post.
So you're getting twice-tested, once tweaked buttermilk milk chocolate chip muffins with dried cherries, pecans and an almond glaze. Yeah.
Baking with Dried Fruit
Depending on how "dried" your dried fruit is, you may want to plump it up some before baking.
If your dried fruit is still pretty moist and supple, you won't necessarily need to plump them unless you want to.
If the fruit is super dry (like really old raisins, or those hard dried apple chips), you will probably want to plump them. You can do it in plain water, but consider using fruit juice, a mixture of water and fruit juice, and you can even add a splash of alchol.
Ideally, the flavor of the alcohol would enhance the flavor of the fruit, like using peach brandy to plump up dried peaches or kirsch for cherries.
But a splash of rum in any fruit is never a bad idea.
Here's how you do it.
In a small saucepan, place 1 cup dried fruit in 1 cup liquid of your choice (water, fruit juice, a mixture of both, and add a splash of alcohol if you'd like).
Bring the liquid to a boil.
Reduce the heat and gently simmer for 5 minutes.
Remove from the heat and let the fruit cool in the liquid.
Strain the fruit well and pat dry with paper towels.
NOTE: You don't have to dry the fruit, but if you leave too much liquid clinging to it, you can end up with batter that is too runny and risk all your fruit sinking to the bottom of the muffins.
A Short Review of The Muffin Method
I know I mentioned this in the introduction, but if you're going to go to the trouble (not a lot of trouble, though!) of making chocolate chip muffins (or any kind of muffins), you really do need to follow the rules.
My muffin method post goes super in depth into the hows and whys of this method, so this is just a highlight recap:


Prepare your mix-ins (toast and chop nuts, plump dried fruits–optional, etc)
Whisk all dry ingredients, including sugar, together really well.
Whisk all wet ingredients together, really well.
Pour the wet on top of the dry and mix until about half combined.
Add the mix ins and fold everything together until just combined.
OPTIONAL: Let batter sit for 15-20 minutes to let the flour hydrate.
Scoop into prepared muffin tins–fill cavities about 80% full, within 1/4″ of the top
Bake in a hot oven (425F)
Let cool 2-3 minutes in the pans and then remove to a cooling rack to cool completely.
Glaze, if desired.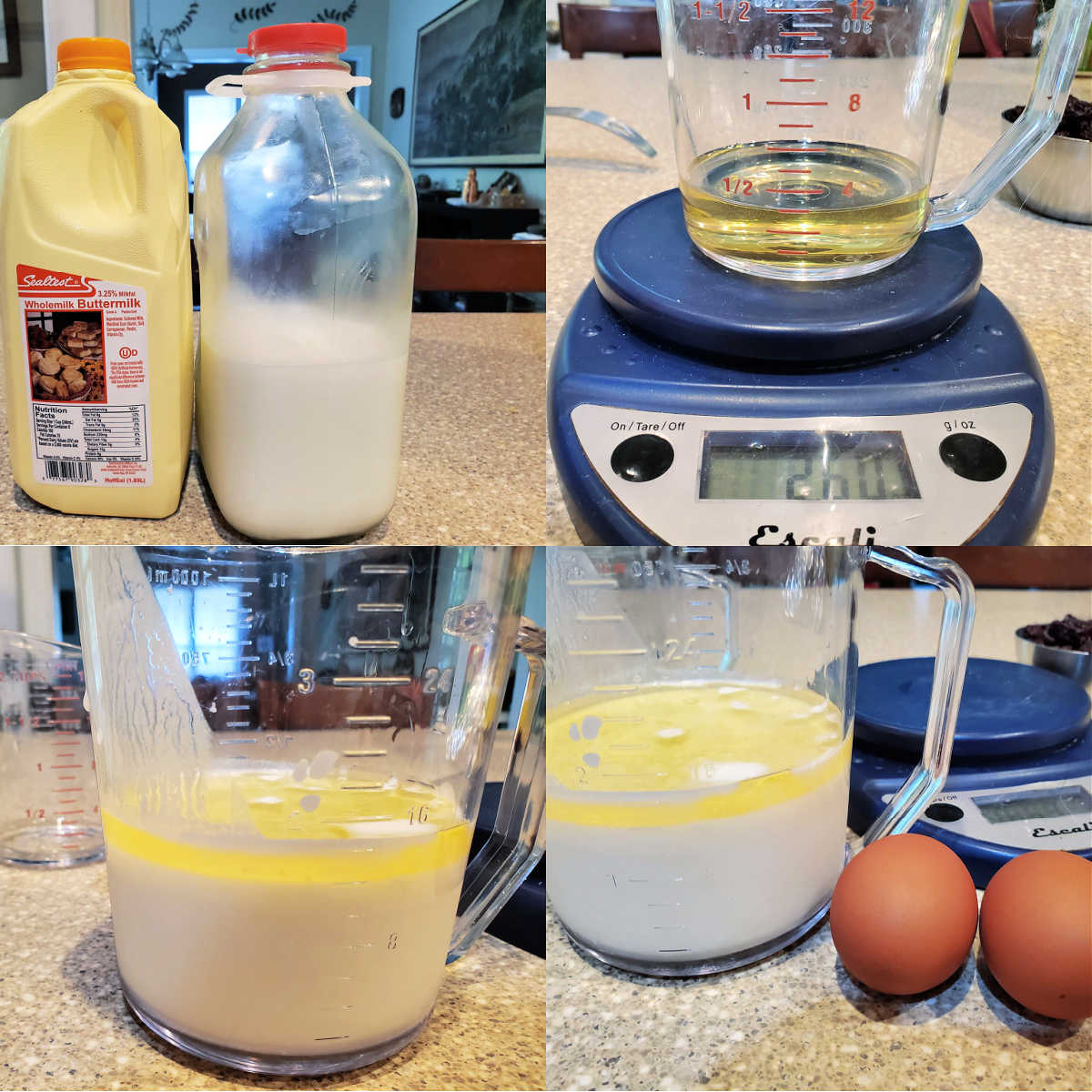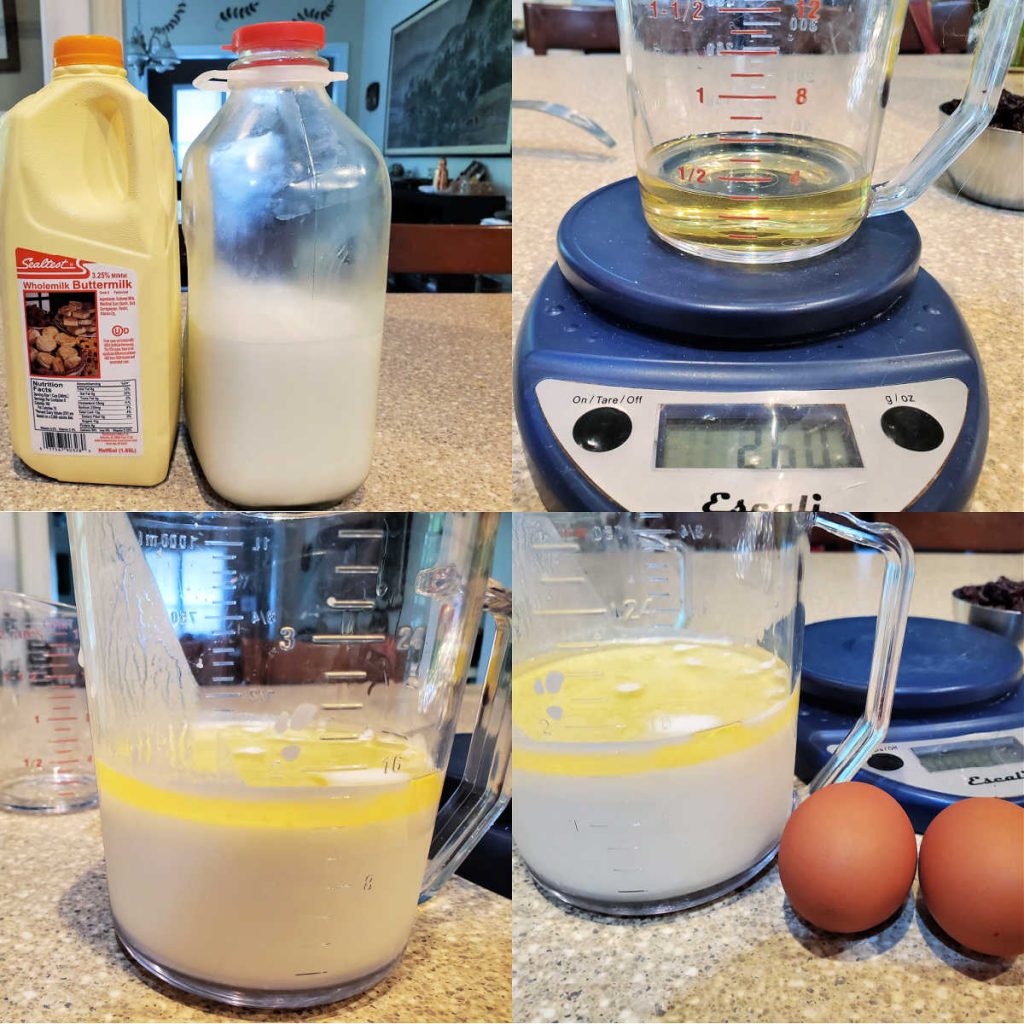 Pairing Chocolate Chips with Fruits
When it comes to chocolate chips, you have three basic types to choose from: dark chocolate, milk chocolate, and white baking chips (which aren't technically chocolate at all but are more "vanilla" and lend a sweet creaminess to your baked goods).
The general rule of thumb is to pair sweeter chips with more tart fruits and darker chips with sweeter fruit.
When using tart fruits, like the tart dried cherries, I like to use a sweeter chip, so either milk chocolate or white chips would have worked well. I went with milk chocolate, because I love chocolate and fruit. If you just want a sweet counterpoint to tart fruit, go with the white chips.
Some fruits would be great with any of the three types of chips. Raspberry would work with all three as would strawberry.
I don't generally think of blueberries as going with chocolate, so if I were going to use blueberries, I might choose white chips. If you like chocolate and blueberry, go for either dark or milk.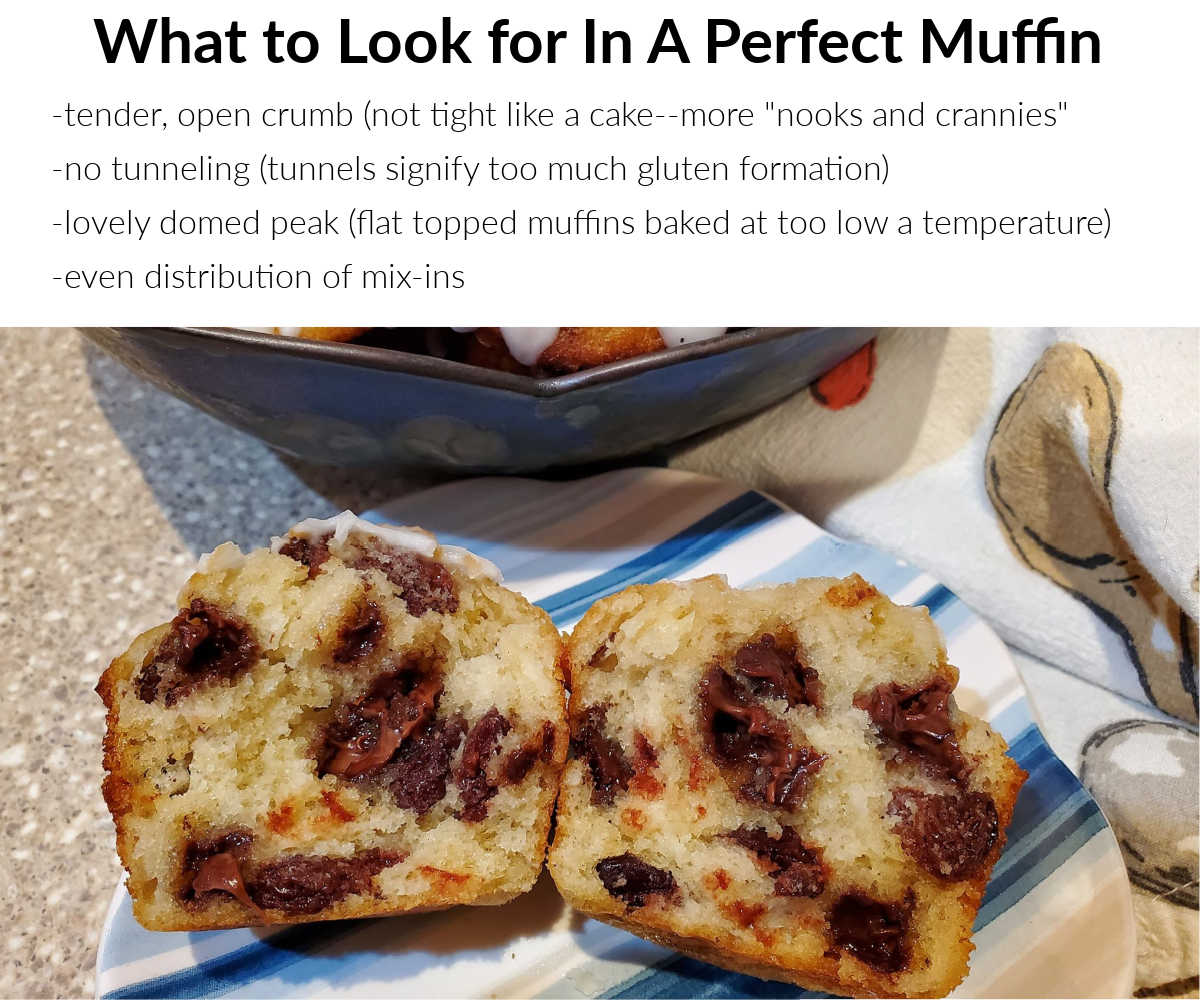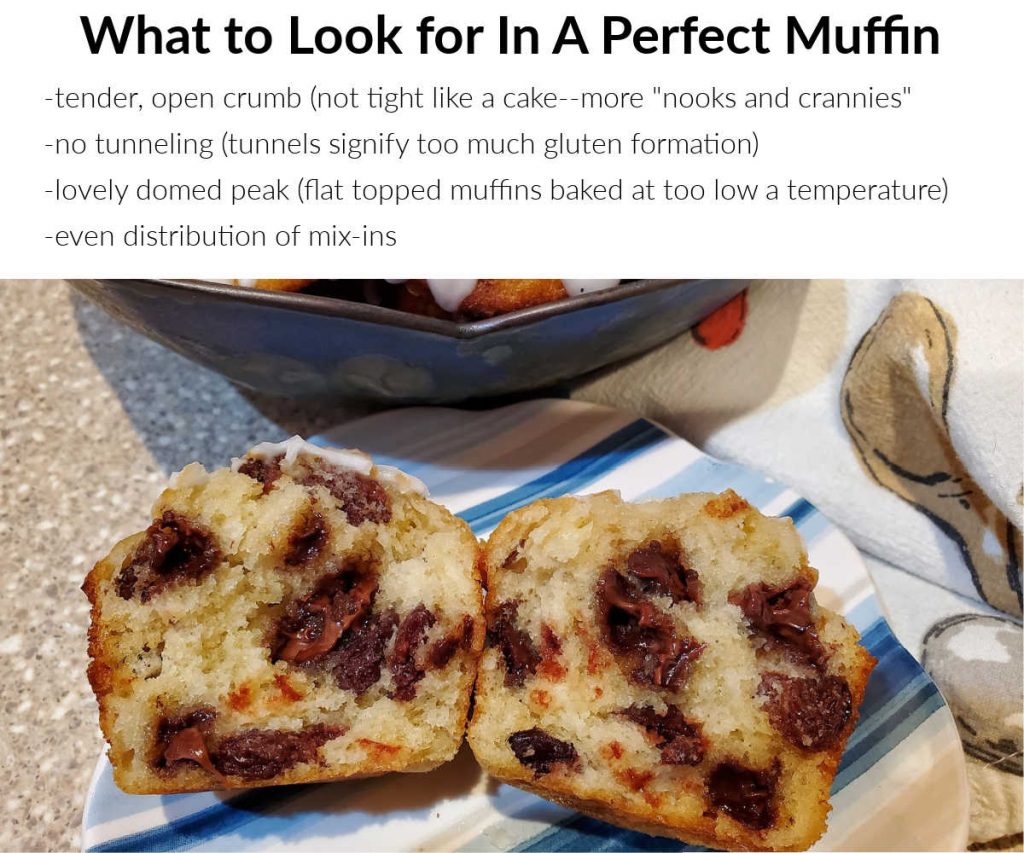 Balancing the Batter in a Buttermilk Muffin
You can really turn almost any muffin into a buttermilk muffin by replacing some or all of the dairy called for with buttermilk.
This makes the batter slightly acidic, so you need to balance it with a bit of baking soda.
My rule of thumb is to add 1/4 teaspoon baking soda per cup of buttermilk.
In this case, the baking soda isn't used as a leavener but to counteract the acid in the buttermilk.
If you leave the baking soda out, a couple of things could happen:
you will taste more of the sour notes of the acidic ingredient, buttermilk in this case
the batter may set too quickly, not rise as high, and set too quickly. Acidic batters bake more quickly than pH neutral batters.
Questions?
If you have any questions about these muffins or any baking/cooking questions at all, don't hesitate to get in touch.
You can leave a comment on the post, or feel free to email me. I promise I'll respond!
A Note about Measurements
For convenience, consistency, and accuracy, almost all my recipes are written by weight, either in ounces and/or grams, even the liquids.
I strongly encourage you to purchase a kitchen scale and learn to use it.
This is the one I used for years. I love it and highly recommend it:
Best for Home Use
Escali Primo Digital Food Scale
Don't let its small price and small size fool you. The Escali Primo is an accurate and easy-to-use food scale that I have used for years. It's easy to store, easy to use, has a tare function, and easily switches between grams and ounces/pounds for accurate measurements.
This is an affiliate link which means I earn from qualifying purchases. Your price is unaffected.
I really hope you love these milk chocolate chip muffins, you guys!
If you make some, please share a photo with me, either in the PCO Facebook Group or on instagram by tagging @onlinepastrychef and using hashtag #pcorecipe.
Thanks, and enjoy!
Milk Chocolate Chip Buttermilk Muffins
These buttermilk muffins are tender and not too sweet, allowing for plenty of milk chocolate chips, dried tart cherries, and toasted chopped pecans.

The batter is lightly seasoned with nutmeg and almond extract and the muffins get a drizzle of almost glaze. The perfect treat for brunch or your coffee break!
Ingredients
For the Muffins
1

cup

dried sour cherries

or sweet, if you prefer

¾

cup

TOTAL milk chocolate chips

or dark, if you prefer and chopped toasted pecans

9

oz

about 2 cups all purpose flour

3.5

oz

1/2 cup granulated sugar

2

teaspoons

baking powder

½

teaspoon

baking soda

½

teaspoon

fine sea salt

¼

teaspoon

freshly grated nutmeg

1

cup

full fat buttermilk

½

cup

whole milk

2

eggs

beaten

2.6

oz

1/3 cup vegetable oil

¼

teaspoon

almond extract
For the glaze
1

cup

powdered sugar

small pinch of salt

enough milk to make a fairly thin glaze Start with 1 Tablespoon and add a tiny bit more at a time to get the consistency you want

⅛

teaspoon

almond extract
Instructions
For the Muffins

Grease a 12-cavity muffin tin.

Place a rack in the middle of the oven and preheat to 425F.

Measure out your cherries, chocolate chips, and pecans. I use a 3/4 cup measure for the chips and pecans. Fill it half full with the chips and then top off with the pecans. This does not have to be an exact measurement.

Add all the dry ingredients to a large bowl. Whisk very well to combine thoroughly, and set aside.

In a large liquid measure or another bowl, whisk together the buttermilk, milk, oil, egg, and extract.

Pour the wet ingredients into the dry ingredients. Fold together until about half-combined. There should still be a lot of loose flour.

Add the dried cherries, chocolate chips, and pecans and gently fold until the batter is just together and all the mix-ins are, well, mixed in!

Scoop evenly into your prepared muffin tin, filling them almost all the way to within about 1/4" of the tops.

Bake for 15 minutes.

Rotate the pan and bake until golden brown and firm on the tops, another 3-5 minutes, depending on your oven. The internal temperature should be between 195F and 200F. Remove to a rack to cool for 2-3 minutes, then remove them from the tins to cool completely, about 1 to 1 1/2 hours.

Drizzle glaze evenly over the muffins and let set until dry.

For the Glaze

Stir all the glaze ingredients together with a whisk or a fork, adding a tiny bit of extra milk at a time until the glaze is at a nice consistency.
Did You Make Any Changes?
Notes
STORING:
Muffins are best on the day you make them, so make them early in the day! To store any leftovers, wrap them well in foil and leave at room temperature for up to a day. Reheat each muffin for a few seconds in the microwave or in your toaster oven.
FREEZING:
If you know you won't be eating all 12 muffins within a day, once they are completely cool–glazed or not–you can place them in a single layer in 1-2 zip top freezer bags, pressing out as much air as you can before sealing the bag/s and placing in the freezer. They'll keep just fine for 2-3 months.
DEFROSTING:
Remove muffins as you need them, place on a plate, and defrost in the microwave on medium power for 45 seconds to a minute. Then for a real treat, split and toast them in the toaster oven or under the broiler and serve with butter or cream cheese and/or jam.
Nutrition
Serving:
1
g
Calories:
336
kcal
Carbohydrates:
53.2
g
Protein:
4.8
g
Fat:
11.7
g
Saturated Fat:
3.1
g
Cholesterol:
29
mg
Sodium:
178
mg
Fiber:
1.7
g
Sugar:
33.2
g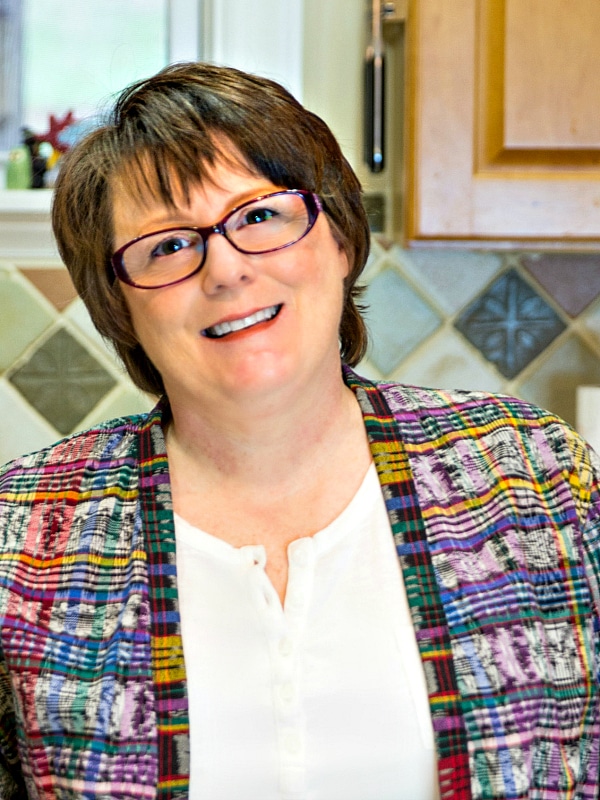 What are my qualifications to teach you baking and pastry? As a former working pastry chef and special educator, I marry my passions for both teaching and for baking into explaining techniques, methods, and developing the best possible recipes. For more info, you can read more about me.
If you'd like to receive new recipes and the occasional newsletter, I'd love for you to sign up for my Inbox Pastry Chef.
Thanks for hanging out with me today. Enjoy the muffins, take care, and have a lovely day.