Have you ever had a bread, butter and sugar sandwich? For me, it was a treat my mom used to make us occasionally. And it is still a nostalgic memory.

Walk with me down memory lane and marvel at the deliciousness that is the sugar sandwich. And yes, I have some variations on the classic for you, just in case!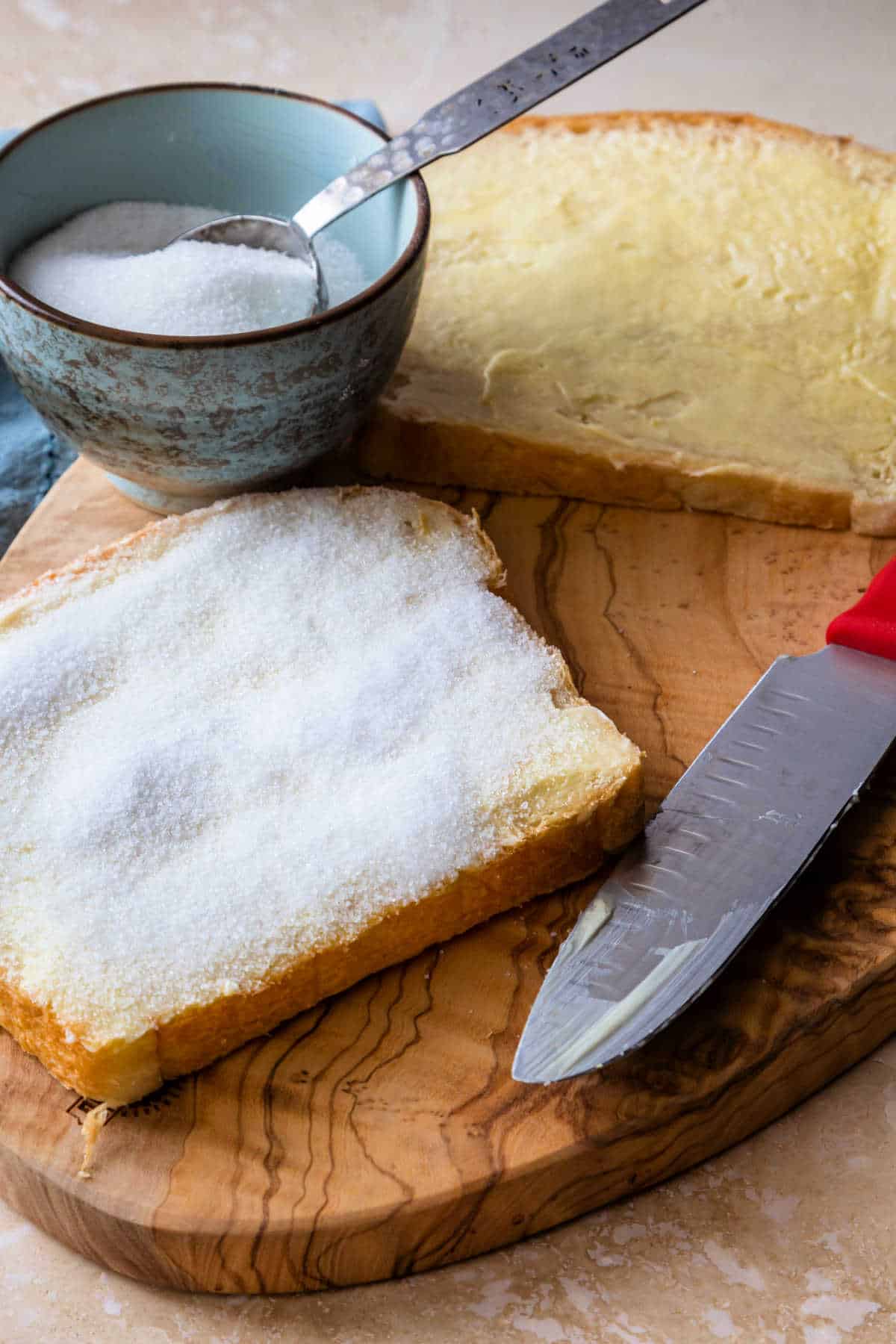 Saving Money as a Kid
I think maybe when we were growing up we didn't have a lot of money. I say "I think" because I don't remember really thinking about money very much.
We got a small allowance, and when I was old enough, I babysat.
I remember hoarding my earnings–in fives and singles in those days with maybe the odd ten-dollar bill thrown in–in a small music box/treasure chest I had on my dresser.
It was a small alpine cottage with log walls. Resin flowers of red and yellow in window boxes. The heavily shingled roof opened, revealing a compartment lined in faux burgundy velvet.
I cannot remember what song that music box played. Lonely Goatherd, maybe?
I found a photo of the exact music box on ebay! Oh my goodness, this takes me back. This one is just like the one I used to have! I forgot about the mill wheel–you cranked that to make it play.
I would carefully fold my earnings so they'd fit, and whenever I added to the stash, I'd unfold all the bills, add the new ones, keeping the ones in front followed by the fives and tens, and then fold the whole stack back up.
Jenni Warbucks with her stash of cash in the Alpine music box.
Looking back, I doubt Daddy Warbucks kept his cash in a music box, but as a kid, I felt wealthy. And I guess if you feel it, you are it.
Given that, is it stretching the truth very much to say that as a kid, I had a house full of money?
Growing Up on Homemade Foods
In a way, maybe it was a good thing that our family wasn't rolling in cash. I didn't grow up on a bunch of processed foods the way many children of the 60s and 7os did.
No TV dinners, only the very occasional Pop-Tart.
We ate Casserole Supreme and vats of homemade spaghetti sauce, baked macaroni and cheese and pot roast.
Mom did get us the Little Debbie Oatmeal Cream Sandwich cookies for our lunches (although I now sometimes make my own copycat oatmeal cream pies).
Otherwise, she made us sour cream coffee cake, peanut butter cookies and oatmeal-chocolate chip cookies and raisin bars for snacks.
Good, wholesome food Mom made us because she could and because they couldn't afford boxes and bags of manufactured foods.
Bread, Butter, and Sugar Sandwich
One of our favorite treats, and one we only had occasionally, was bread, butter and sugar sandwiches.
This is not to be confused with cinnamon toast. We also enjoyed that for breakfast on a fairly regular basis. We even had a container with premixed sugar and cinnamon so we could make some whenever the urge struck.
To make a perfect bread, butter and sugar sandwich, the bread had to be soft white bread. Our preferred brand was Sunbeam.
A swipe of butter on each slice of bread and a thorough dusting of sugar, and the sandwich was almost ready for eating.
The trick was keeping the sugar from sifting out between the pieces of bread and raining down on the floor or the table before you could get the sandwich to your mouth.
Buttering both sides of the bread and a pretty serious schmoosh before picking it up helped to cement most of the sugar in place.
If any managed to find its way to the counter after all of that prep, it just meant that you used enough sugar.
This humble snack was a textural dream. Soft, squishy bread; smooth, cool butter; the crystalline bite of the sugar. A little sweet from the sugar (not as much as you might think, though), a little savory from the salted butter. It really didn't get much better than that, and eating those sandwiches is still a treasured memory.
Sugar Sandwich Origins
I wish I knew exactly where the bread, butter, and sugar sandwich came from. My grandmother lived with us for the first five years of my life, and she was from England, so maybe it came from her.
I have also heard that they may be Irish in origin.
Suffice to say, some frugal mom somewhere probably concocted one of these to appease their kids' sweet tooths (sweet teeth?!) without having to spend a premium on chocolate or other store-bought confections.
Other Ways to Make a Bread and Sugar Sandwich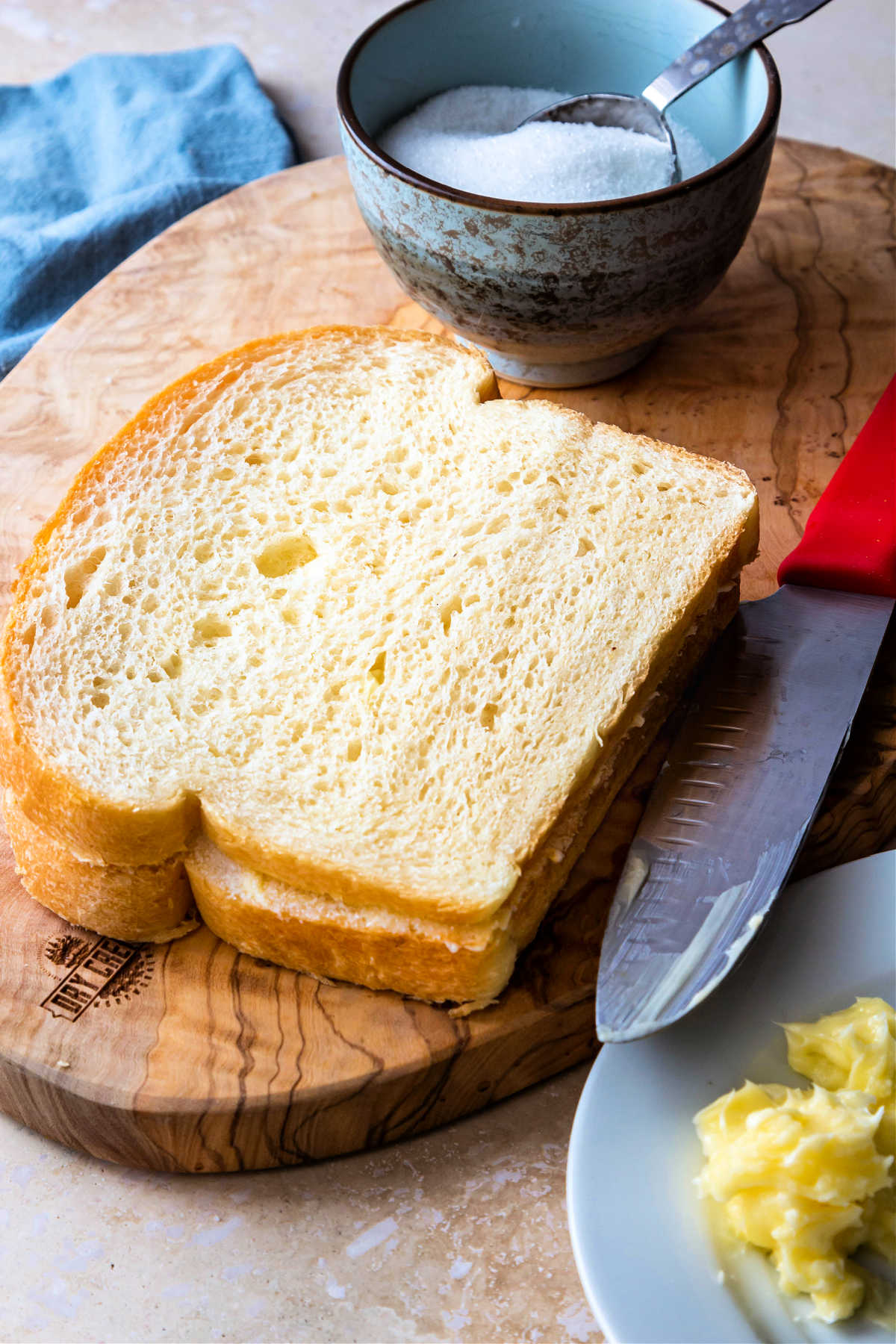 I think a sugar sandwich is pretty much perfect just the way it is, but there's no rule that says you can't make variations.
Here are a few ideas for you:
make a brown sugar sandwich by swapping out brown sugar for the white sugar
try a peanut butter and sugar sandwich
I bet a peanut butter and brown sugar sandwich would be even better
how about a mashed banana and sugar sandwich?
If you want to be really fancy, you can make your sugar sandwich on homemade bread. My tangzhong pain au lait is soft and squishy like store-bought, so you may want to give that a try.
Or consider making the sandwiches on potato sandwich bread for a smidge more nutrition without sacrificing the soft texture.
And you can also make any of these versions open-faced and then put them under the broiler to caramelize the sugar a little bit.
PRO TIP: While I use unsalted butter for most cooking and baking, salted butter really shines in these sandwiches and adds more flavor. I like to use salted Kerry Gold butter in a tub for spreading.
Have you ever had a bread, butter and sugar sandwich?
What are some of your treasured childhood snacks? I'd love to hear about them in the comments!
Questions
If you have any questions about this or any other recipe or post on the site, there are a few ways to get in touch.
You can leave a comment on the post, and I'll be back in touch within 24 hours.
If your question is more pressing, don't hesitate to email me, and I should be back in touch within 4 hours (unless I'm asleep) or often much more quickly than that.
I hope you've learned something from this post or that you've decided to make the recipe.

It would really help me and other readers out if you'd rate the recipe using the star ratings in the recipe card.

It's also very helpful to me and to other readers if you leave a comment and/or a recipe review.

Thank you so much for being here and for helping others find my recipes by sharing on your social platforms!
Bread Butter and Sugar Sandwich
Bread, butter, and sugar sandwiches are a nostalgic treat. Don't get hung up on nutrition here, just enjoy the snack!
Ingredients
2 slices white sandwich bread
2 Tablespoon salted butter
1 tablespoon granulated sugar
Instructions
Spread half the butter on each slice of bread.
Sprinkle the sugar evenly over one buttered slice.
Place the second slice on top of the sugar, butter side down, and press down.
Put in face.
Notes
I prefer "tub butter" to stick butter for these sandwiches. If using stick butter, make sure it is very soft before spreading so you don't tear holes in your bread.
Recommended Products
As an Amazon Associate and member of other affiliate programs, I earn from qualifying purchases.
Nutrition Information
Yield

1
Serving Size

1
Amount Per Serving
Calories

417
Total Fat

25g
Saturated Fat

15g
Trans Fat

1g
Unsaturated Fat

8g
Cholesterol

61mg
Sodium

487mg
Carbohydrates

43g
Fiber

2g
Sugar

16g
Protein

6g
The stated nutritional information is provided as a courtesy. It is calculated through third party software and is intended as a guideline only.
Thank you for spending some time with me today.
Have a lovely day.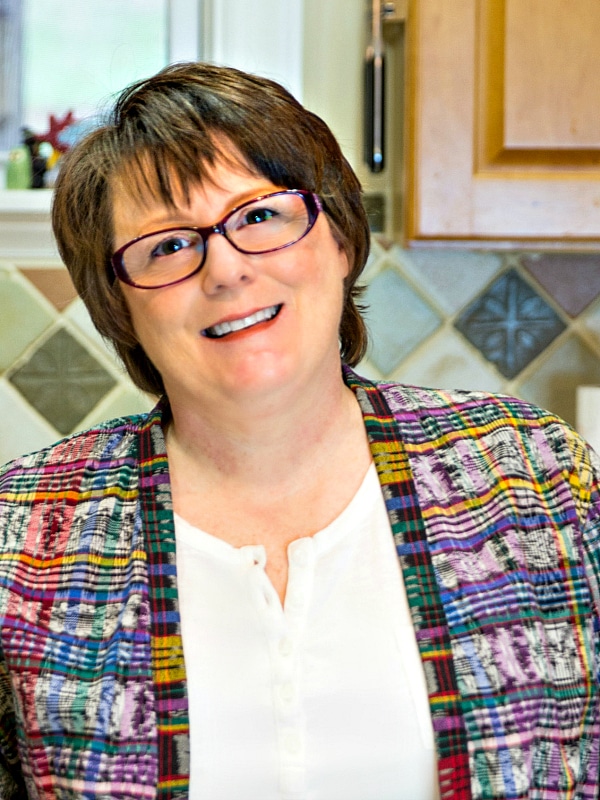 Hi, everyone!
If you haven't already, I'd love to have you sign up for my newsletter.
I generally send one or two a week with recipes, tips, and some behind-the-scenes action.
Just click the button below to sign up. Thank you!