Today I have a very simple dish to share with you. This creamy pasta sauce is the ultimate in comfort food. And it's also special enough (and easy enough) to make for Valentine's Day.

An easy take on chicken fettuccine alfredo, it has a subtle flavor that enhances any pasta you put it on. Pair it with a nice salad, and your meal for two is good to go! So, if you're wondering how to make a nice, creamy pasta sauce, kick back. I got you.

In need of more comfort? Try my creamy macaroni and cheese, creamy vodka sauce, or my comforting noodles, which is an easy take on cacio e pepe.

For ease of browsing, see all of my Pasta Meals here. Thanks for visiting!
Watch my easy chicken fettuccine alfredo web story here.
Comfort Food Can Totally Be Romantic
I direct your attention to Lady and the Tramp, each slurping a single long spaghetti noodle until they meet in the middle and kiss.
So many people are all about "pasta is too messy!" "Pasta is too heavy."
Bah, I say. For my money, there's not much more romantic about a meal than when each person sighs with pleasure when eating.
And I'm here to tell you that this super easy creamy pasta sauce will definitely make you sigh with pleasure.
Prefer a lemony pasta dish? Try my lemon garlic pasta recipe.
Why Should I Make This Pasta Dish?
For starters, because Katie says so:
And while nothing really beats a reader rave, it's also objectively (well, mostly objectively) delicious. Still not convinced? Here are some other reasons:
Since this recipe is made for just two people, you won't have any leftovers to tempt you
If you decide you do want leftovers, you can absolutely double the recipe with no problem
The combination of heavy cream, a touch of garlic, smoked black pepper, and Asiago yield a truly flavorful pasta sauce that's not so assertive you can't taste the pasta
Since this sauce doesn't start with a roux, it's made without flour and happens to be gluten free, so if you want to pair it with gluten free pasta, you'll be good to go
Just knowing that you can reduce heavy cream on the stove to a thick, sexy sauce that clings to each strand of pasta is an excellent tip to have in your back pocket when it's pasta night and you don't have any tomatoes on hand
What's In This Pasta Sauce?
The ingredient list is straightforward and the sauce comes together pretty quickly. It is entirely possible you have everything on hand that you need.
If you haven't met the Whiskey Barrel Smoked Black Pepper from Savory Spice Shop yet, please get some. It is glorious, and I am using it in everything.
heavy cream: Using heavy cream will give you the creamiest sauce, but you can substitute with regular whipping cream or half and half. Don't sub milk here though, because it will break when you boil it down
kosher salt: brings out the flavor in the cream and the cheese
cracked smoked black pepper: this is one of my favorite ingredients. You may also sub in regular black pepper. For best flavor, grind it fresh
freeze-dried garlic: you can also substitute jarred minced garlic, minced fresh garlic, or even granulated garlic
cream cheese: adds extra body. Strictly speaking, it's optional. But if you're going to go, you may as well go big!
Asiago cheese: any firm, sharp cheese will do. Feel free to sub in freshly grated Parmesan, Grana Padana, or even Pecorino Romano
fettuccine: you can substitute your favorite pasta shape here. Since the sauce is so rich, I don't think I'd go with a rigate pasta or a shape that holds onto extra sauce, like shells or radiatori. A light coating of the sauce on the pasta is really all you need.
Is This a Traditional Italian Pasta Sauce?
Not at all. As much as I'd like to tell you it is, it just isn't.
For one thing, cream cheese is an American invention (yay, us–I'm a huge fan). The smoked pepper wouldn't be anything included traditionally, either.
If you are looking for a true, old school Italian cream sauce, you will definitely want to check out Vikalinka's post. Hers is about as authentic as it gets.
Procedure
This sauce is a reduction sauce.
That means that it gets its body and flavor from simmering the ingredients until enough water evaporates that the flavors concentrate and the sauce thickens.
It's very easy to make. I took some process shots to show you: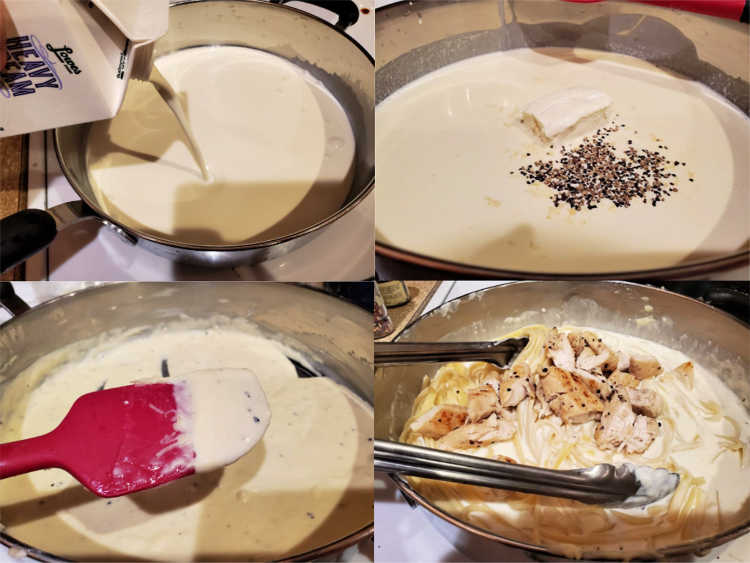 Since it's a cream sauce, you start by pouring cream into the pan.
The second photo shows the added smoked black pepper, cream cheese, garlic, and salt.
The third picture is of the sauce after it has reduced. Melt in the finely grated Asiago cheese off the heat.
Once the sauce is complete, you add a bit of the pasta cooking water and the cooked pasta to the pan and cook over high heat, stirring constantly (but carefully so you don't break your noodles).
Why? Because the starch in the pasta water helps to marry to sauce and pasta together. For more information, ready my post on how to finish pasta sauce.
Once the sauce has thickened back up, stir in the chicken just to heat through.
PRO TIP: For faster reducing, make your sauce in a broad, shallow pan like a saute pan.
A saute pan is very versatile, so if you don't have one, consider adding one to your kitchen arsenal.
What To Do To Reheat Your Leftovers
In the (unlikely) event that you do have leftovers, you can reheat them, but it can be a bit finicky to do so.
It's really better to guess as near as you can how much you and your family/guests/Valentine will eat and cook just that amount.
Again the sauce scales up and down easily, so it's pretty easy to make exactly how much you need.
Since the sauce is basically a bunch of butterfat, you have to reheat it very slowly so you don't break the emulsion, leaving you with a lot of melted butter swimming around on your plate.
It will still taste great, but it won't look pretty.
To reheat with the least chance of the sauce breaking, here's what I recommend:
dump the leftovers in a small saucepan. They will be all stuck together in a big clump.
Add a splash or two of heavy cream or half and half to the pan, and turn the heat on to medium-low.
Allow the pasta to heat gently, turning the "clump" of pasta until the heat gently melts the butterfat allowing you to start to slowly toss the pasta to reheat evenly.
Keep the heat on medium-low and don't let it boil. Toss and turn the pasta gently (have I said the word gently enough yet? This is a delicate process!) until heated through.
If your sauce does break a little, be glad you ate most of it right after making it when it was still super creamy and beautiful, and enjoy every bite anyway!
Can I Freeze My Creamy Pasta Sauce?
I'm going with a no on this one, especially if your sauce is mixed in with your pasta.
Dairy in general doesn't do great in the freezer. It tends to break and/or get grainy.
And in this sauce, not only are we dealing with a bunch of cream that you reduce by a lot but also some cheese. And this equals dairy times two.
As I said above, this is an easy sauce to make, so make what you need when you need it.
If you do have leftovers, opt to refrigerate rather than freeze, and then reheat very gently.
Questions
A Note About Measurements
For convenience, consistency, and accuracy, almost all my recipes are written by weight, either in ounces and/or grams, even the liquids.
I strongly encourage you to purchase a kitchen scale and learn to use it.
This is the one I used for years. I love it and highly recommend it:
Best for Home Use
Escali Primo Digital Food Scale
Don't let its small price and small size fool you. The Escali Primo is an accurate and easy-to-use food scale that I have used for years. It's easy to store, easy to use, has a tare function, and easily switches between grams and ounces/pounds for accurate measurements.
This is an affiliate link which means I earn from qualifying purchases. Your price is unaffected.
It would be so helpful to me and to other readers that, when you make a recipe, you rate it and leave a comment. Whether it's a recipe or an informational post, your feedback helps others decide if the post is helpful or if the recipe works as advertised.

If you could leave a star rating, that would be very helpful. Thank you for being here!
Creamy Pasta Sauce with Asiago and Smoked Pepper
An easy, silky, and decadent creamy pasta sauce that can be varied in all sorts of ways. This version is flavored with smoked black pepper and garlic.

As written, this recipe serves two for a romantic meal. The sauce doubles easily and you will probably have enough to nicely sauce 12 oz of pasta. Since the sauce is really rich, it should serve 4-5 people.
Ingredients
1

cup

heavy cream

⅜

teaspoon

salt

¼

teaspoon

cracked smoked black pepper

or regular

¼

teaspoon

freeze dried garlic

or 1/2 clove garlic, sliced

.75 oz

1.5 Tablespoons cream cheese

.75 oz Asiago cheese

finely grated

4

oz

fettuccine or pasta of choice

¼

cup

reserved cooking water from the pasta

you may not use all of it

4

oz

chicken tenders

sauteed in a bit of olive oil, salt and pepper

salt and smoked black pepper

or regular to taste
Instructions
To Make the Sauce

Place the heavy cream, salt, black pepper, garlic, and cream cheese in a wide sauce pan.

Turn the heat to medium high, and stirring frequently, bring the mixture up to a full boil. Boil a few minutes until the sauce thickens to coat your spoon or spatula.

Remove from heat and add the finely grated cheese and stir until completely melted and smooth.

Taste and adjust seasonings if necessary. Set aside.

NOTE If using fresh garlic, strain the sauce to remove the slices

To Cook the Pasta

Bring a large pot of water to a boil.

Salt it liberally, and then add the pasta.

Boil about 2 minutes less than the package states.

Once the pasta has just about cooked, dip out 1/4 cup of the cooking water with a measuring cup and set aside.

Drain the pasta and return to the pot.

To Marry the Sauce to the Pasta

Pour/scrape in the pasta sauce and about half the cooking water.

Cook over medium-high heat, stirring gently so you don't break up the pasta.

If the mixture seems a little dry, add an additional tablespoon or two of cooking water.

Boil the pasta in the sauce, stirring constantly (gently), until the sauce has thickened back up and coats the pasta beautifully.

Serve immediately with a bit extra smoked black pepper and some flaky salt for garnish.

Did You Make Any Changes?
Notes
Prep
Here's what you'll need to do before you start cooking:
measure out your ingredients
grate the Asiago
if you don't like coarse pepper (the way the Whiskey Barrel Smoked Black Pepper comes) grind it finer in a mortar and pestle or in a spice grinder. I like it coarse, so I just leave it alone and use it as is
To Double the Recipe
Here are the ingredient amounts if you're doubling the recipe. A double recipe should feed 4-5 people.
2 cups heavy cream
3/4 teaspoon kosher salt
1/2 teaspoon smoked or cracked black pepper
1/2 teaspoon freeze dried garlic or 1 clove, sliced
1.5 oz cream cheese
1.5 oz finely grated Asiago cheese
8-12 oz fettuccine (this is more than double the original recipe, which is 4 oz of pasta. But the extra sauce can take it)
1/2 cup pasta cooking water (you may not use it all)
4 oz sauteed chicken tenders, cut into bite-sized pieces
The procedure is exactly the same as for 2 servings.
Variations
There are plenty of ways to switch up this basic creamy pasta sauce. I served mine with sauteed chicken tenders.
Here are some other ideas:
add cooked shrimp
serve it with a broiled salmon fillet
stir in some fresh spinach during the last minute of cooking
add crumbled bacon for an egg-free spin on carbonara
use this as a sauce for your favorite fresh, frozen, or homemade ravioli
consider saucing gnocchi with it (yowza!)
add your favorite spice blend to the cream sauce to alter the flavor.
zest in some lemon zest. That would be a lovely addition!
stir in sauteed mushrooms
mix in ground beef for a ridiculously rich and tasty homemade Hamburger Helper
use any of these ideas in combination with each other (that make sense), or come up with your own variations!
Substituting Other Cheese
I used Asiago because a)I had it, and b)it tastes a bit like Parmesan but is cheaper.
By all means use another hard grating cheese if you have it. Aside from Parmesan, which would be excellent, consider
Pecorino Romano
Grana Padano (much like Parm but less expensive and a bit softer)
Provolone
switch it up and use a smoked cheese to add to the smoky goodness of the smoked black pepper
Freezing
Don't do it. Make as much or as little sauce as you need and try to use it all up. If you have leftovers, opt to refrigerate and gently reheat rather than freezing.
Nutritionals
Nutritional information based on 1/2 recipe, including the 2 oz of chicken tenders sauteed in a little olive oil per serving.
You can leave out the chicken and just serve it as creamy pasta, or you can use any of the variations I mention above.
Please note that the nutritional information will not reflect any changes you make and that it is just a good estimate to begin with. Thanks, and enjoy!
Nutrition
Serving:
1
/2 recipe
Calories:
543
kcal
Carbohydrates:
33.2
g
Protein:
27.3
g
Fat:
33.4
g
Saturated Fat:
18.7
g
Cholesterol:
192
mg
Sodium:
676
mg
Fiber:
0.1
g
Sugar:
0.1
g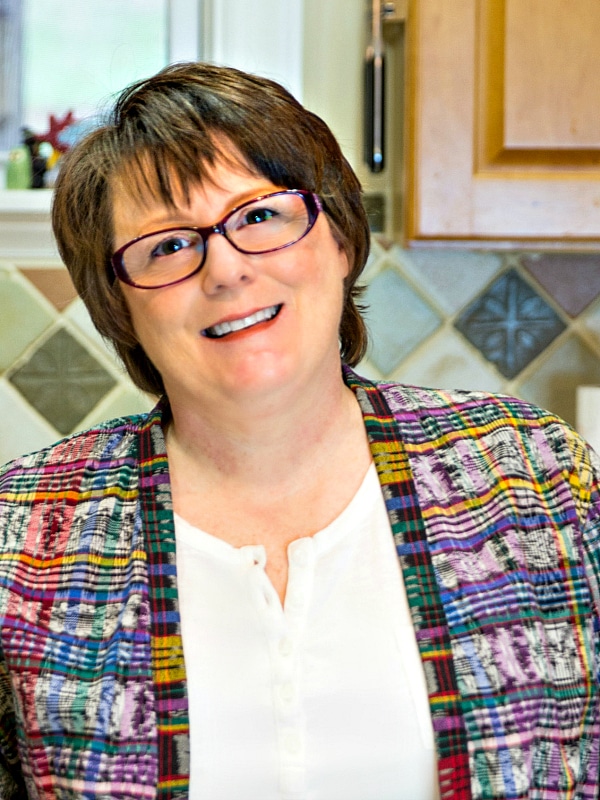 What are my qualifications to teach you baking and pastry? As a former working pastry chef and special educator, I marry my passions for both teaching and for baking into explaining techniques, methods, and developing the best possible recipes. For more info, you can read more about me.
If you'd like to receive new recipes and the occasional newsletter, I'd love for you to sign up for my Inbox Pastry Chef.
And there you have it, friends.
Creamy pasta sauce for two, making it perfect for your Valentine or just because you need some tasty comfort food.
Thanks for spending some time with me today. Take care, and have a lovely day.