Intensely tomatoey, sweet, and a little bit spicy, this tomato jam recipe is perfect on a breakfast sandwich. It also makes a great ketchup alternative if you don't enjoy the spicing in store-bought ketchup.

A perfect way to enjoy your summer tomatoes into the fall, tomato jam is not hard to make and takes its place along with bacon jam and savory fig jam as a sweet and savory jam to enjoy as a sandwich spread or on a burger, as a component of a marinade or salad dressing, or for a cheese board accompaniment.

You may also enjoy my summer-into-fall peach tomato jam recipe.

For ease of browsing, you can find all my jam and condiment recipes in one place. Thank you so much for visiting!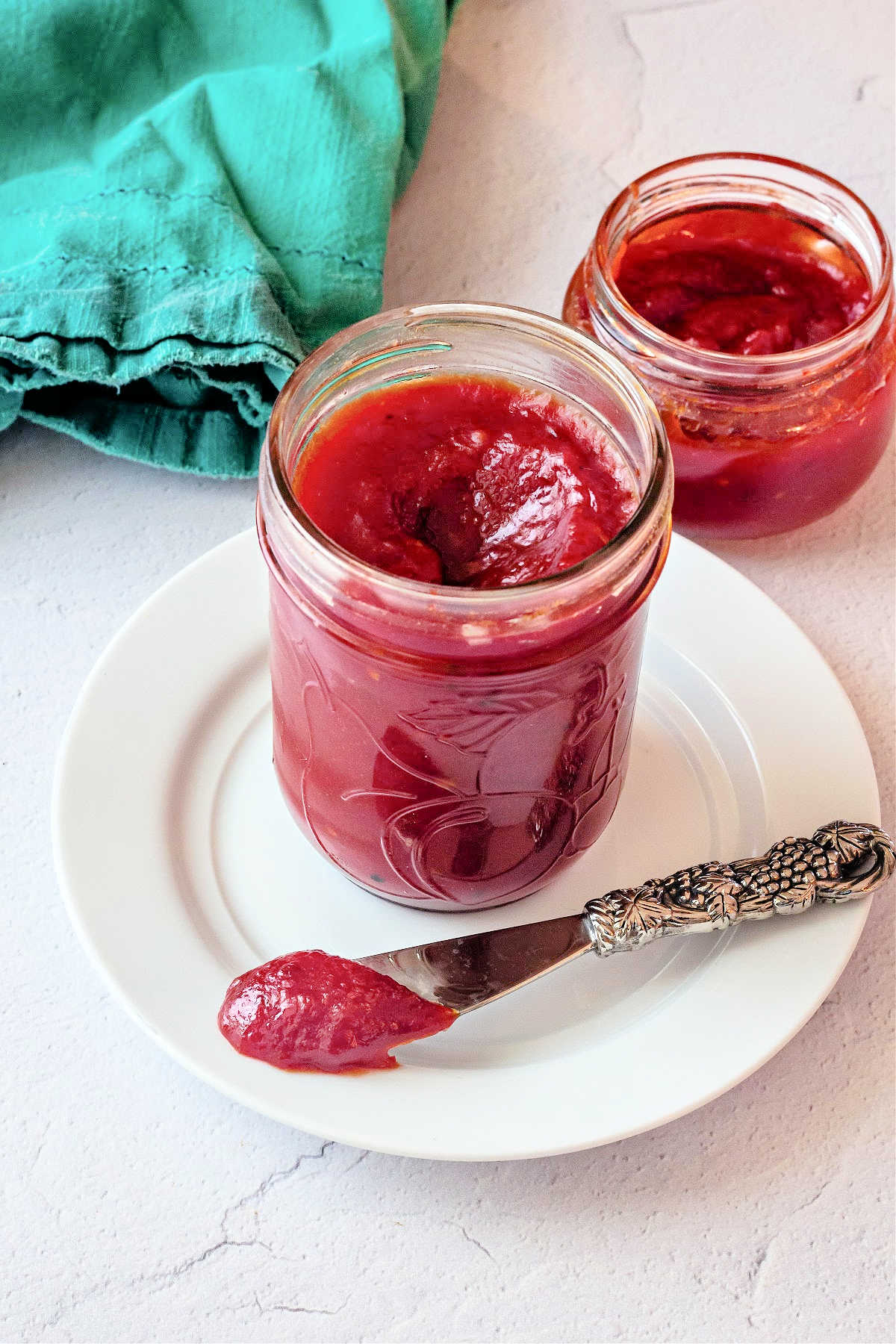 Summer Tomato Jam
Tomato jam tastes like concentrated summer.
This one is made with a neighbor's perfectly ripe, home-grown tomatoes.
She gifted us with 2 1/2 pounds, and rather than eat them on sandwiches, which is obviously a viable option, I wanted to concentrate that goodness so we could have full-on tomato flavor with just a tablespoon at a time.
Summer is only a season, so bring some summer with you into fall this year with this sweet, slightly spicy tomato jam recipe.
Why This Recipe Works
Short ingredient list: With only 6 ingredients, it's no real hardship to make.
Sweet and tangy: This jam reads as sweet first, tangy second, and then has a spicy kick at the end. Even though it's technically a lower-sugar jam, it almost reads as strawberry jam.That's what concentrating those glorious tomato flavors and sugars gets you.
Easily scaleable: I had 2 1/2 pounds of tomatoes, so that's what I used, but you can scale up or down depending on the amount of tomatoes you have.
Beautiful texture: Using the medium disc on a food mill allows for a consistent texture while removing most of the seeds and all of the skin. Less futzing about on the front end trying to peel and seed your tomatoes.
How To Make It
Ingredients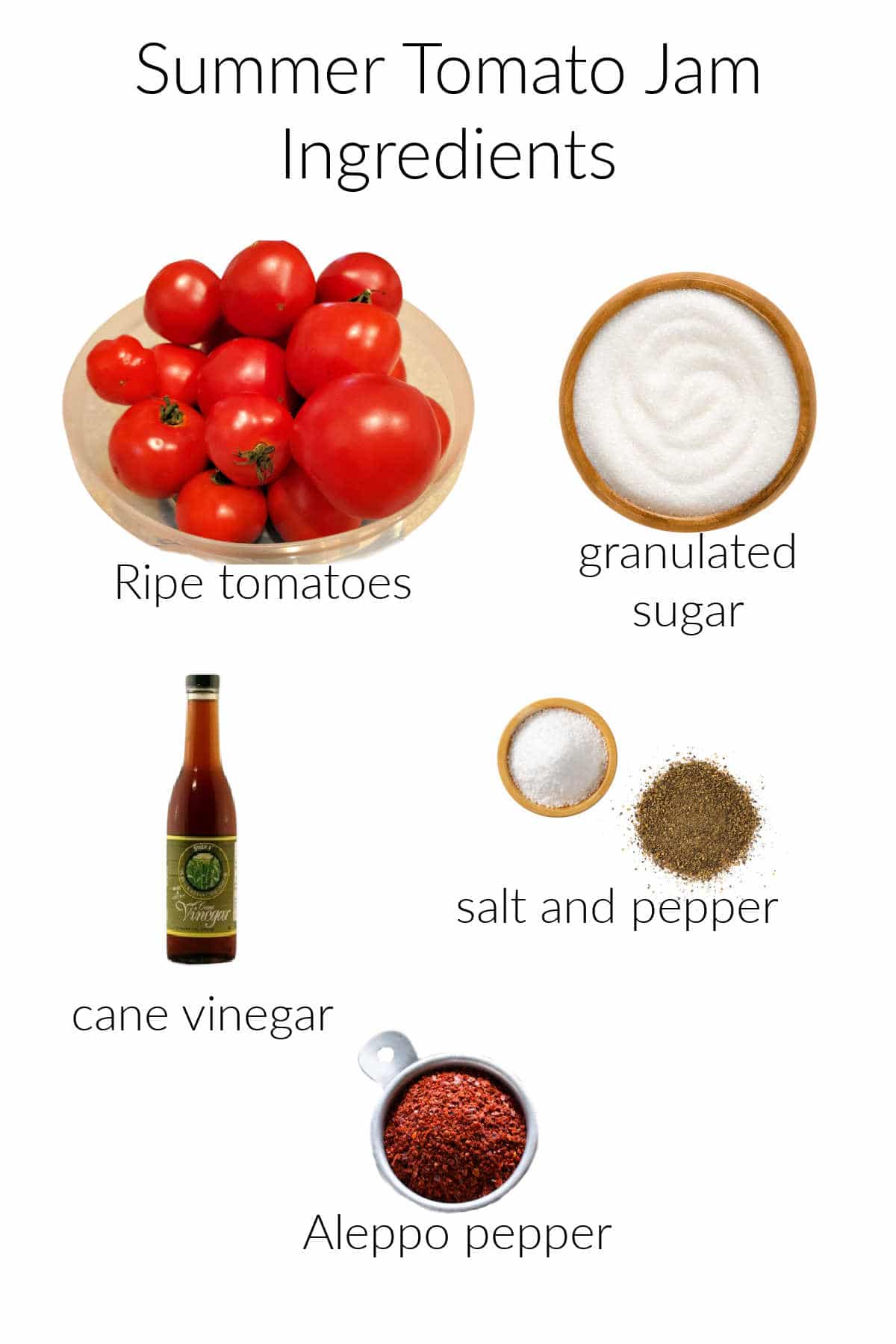 tomatoes: Use the best tomatoes you can find. Organic if possible because you'll be cooking them with the skins on. If you want to make this out of season, get high-quality canned tomatoes. They'll work just fine.
sugar: I use granulated. You may use more or less, according to your taste. This is NOT a canning recipe, so store it in your fridge for about 3 weeks or freeze in portions. For a tomato jam recipe you can can, check out this recipe from Food in Jars.
cane vinegar: I love the mild sweetness and tang of cane vinegar. You can also use red wine vinegar. Balsamic will work as well, although the finished color of your jam will be darker.
salt: snaps all the flavors into focus and counteracts any possible bitterness from the tomatoes
pepper: just a hint here, but I just feel like tomatoes benefit from both salt and pepper
Aleppo pepper: Aleppo pepper is a beautiful, moderately hot pepper from Syria. You can also use "standard" pepper flake here. Add a small amount and adjust upwards. I call for 1 Tablespoon of Aleppo pepper, and this provides a nice backbone of heat. If you're not a fan of spicy, though, please scale back or omit it entirely.
Procedure
While this recipe takes a bit of time to make, the heat from your stove is generally doing the work.
Here's how to prep the tomatoes:
You can core your tomatoes with either a large star tip cutter or with a sharp paring knife. No need to chop up the tomatoes–they will cook down with no problem on the stove.
All the ingredients go into the pan: the cored tomatoes, vinegar, sugar, salt, and pepper. Hold off on adding the pepper flake/Aleppo pepper for a bit.
While not strictly necessary, running the cooked tomato through a food mill will remove almost all the seeds and all of the skin, making the finished product more easily digestible and with a more uniform texture.
Simply set up your food mill over a bowl, pour in your cooked tomatoes, and turn the crank until nothing is left in the mill but seeds and skins.
Don't forget to scrape the underside of your mill. That's where a lot of the thicker pulp will be hiding, and you want all that flavor to go back into the pot!
Once you pour the now-skin-free and mostly-seedless tomato puree back into the pan, keep it at a low boil over medium heat, stirring frequently to keep it from sticking, until very thick and, well, jammy.
To give you an idea of the texture you're looking for, here's a little snippet of video I took about 3 minutes before I called mine done.
Equipment You May Need
I really recommend getting a food mill to make this jam. I have an OXO food mill, and it is very easy to use, plus it's dishwasher safe. I use the food mill in my plum chutney recipe as well.
It's also a great tool to have on hand for making apple butter, apple sauce, and other jams that you don't want a lot of skin in.
You can make seedless raspberry jam pretty easily, too, by running your cooked fruit through a food mill fitted with the fine disc.
I used the medium disc for this recipe, and I was very pleased with the results.
I also have to give a shoutout to the sloped sides of a good, heavy-bottomed saucier. The shape of the pan makes it so much easier to stir the jam and to make sure nothing sticks in the corners.
Tips for Success
If you don't want to use a food mill, you can remove the skins from your tomatoes by submerging them in boiling water for about a minutes. The skins should slip right off.
To remove seeds without a food mill, cut up the tomatoes in quarters and scoop the seeds out with your fingers. The only down-side to this is you will lose some of the tomato pulp.
When using a food mill, it's a good idea to reverse the direction you turn the crank in every few turns. That will keep the discs clear of solid pieces of tomato skin and allow you to press all the pulp through.
As an alternative to using a food mill, after peeling, seeding, and cooking the tomato jam, you can either leave it chunky, or smooth out the texture with an immersion blender, blender, or food processor.
Tomato Jam Q & A
Can I use a sugar substitute?
You can use a liquid sugar such as honey or sorghum–try about 1/2 cup and taste and go from there. If you are looking for a keto tomato jam, your best bets for sweeteners that don't crystallize upon cooling are allulose, BochaSweet or xylitol. Be aware that xylitol is extremely toxic to dogs. Thanks to Carolyn from All Day I Dream About Food for the information on keto sweeteners.
How do I know when my jam is done?
After pressing through the food mill, you'll have to cook the jam down to reduce the liquid and concentrate the flavors. This can take a while. You'll know you're there when the color is a deep, intense red and when you run your spatula across the bottom of your pan, the jam doesn't run back immediately. Then you can pour/scrape it into a clean jar. The jam will thicken more as it cools, and you'll end up with a luscious, spreadable consistency.
Can I can this jam?
Since this jam has lower sugar and a non-standard amount of acid in it, I would not advise canning it for long-term storage. It will keep in the fridge for 2-3 weeks with no problem. For longer-term storage, freeze in portions for up to 3 months.
Serving Suggestions
Use tomato jam in place of ketchup on burgers, fries–whatever you like.
Swirl some into vegetable side dishes or spoon some on top.
Add some intense tomato flavor to a BLT sandwich, especially if the tomatoes you are using aren't at their peak.
Add a spoonful to your favorite tomato-based pasta sauce in place of tomato paste.
Spread some onto toasted bread (my grits bread would be a no-brainer, especially if you're Southern!) and then top with cheese (as pictured). This piece of deliciousness also has some bacon jam spread onto it.
It would be so helpful to me and to other readers that, when you make a recipe, you rate it and leave a comment. Whether it's a recipe or an informational post, your feedback helps others decide if the post is helpful or if the recipe works as advertised.

If you could leave a star rating, that would be very helpful. Thank you for being here!
Summer Tomato Jam Recipe
Summer tomato jam is sweet, tangy, a little spicy, and 100% delicious. At home on breakfast sandwiches, burgers, over cream cheese–there's not much this versatile summer jam can't do!
Ingredients
2 ½

pounds

ripe summer tomatoes–any kind

organic if you can get them

¾

cup

granulated sugar

½

cup

cane vinegar or red wine vinegar

1

teaspoon

kosher salt

or to taste

several grindings black pepper

1

Tablespoon

Aleppo pepper flake

or your favorite pepper flake, to taste
Instructions
Wash and core the tomatoes. Cut off any bad spots and discard.

Place the tomatoes in a heavy-bottomed saucepan, and add the sugar, vinegar, salt, and black pepper.

Cook over medium heat. As the tomatoes soften, break them down with the back of a wooden spoon.

Once the tomatoes are very soft and smooshy, run all of them through a food mill with the medium disc to get out most of the seeds and all of the tomato skins. Be sure to scrape down the underside of the food mill. You don't want to miss any of the goodness.

Return the tomato pulp (which will be very soupy) to the pan.

Add the pepper flake, and cook over medium-low heat, stirring occasionally to prevent sticking, until the jam is much reduced and very thick. When you run your spatula along the bottom of the pan, you should be able to see the bottom of the pan for a couple of seconds before the jam runs back.

Pour into a very clean pint jar. The jam most likely will not fill the jar, just so you know.

Cool and then refrigerate. Use within 3 weeks.
Did You Make Any Changes?
Nutrition
Serving:
1
g
Calories:
35
kcal
Carbohydrates:
8
g
Sodium:
55
mg
Fiber:
1
g
Sugar:
8
g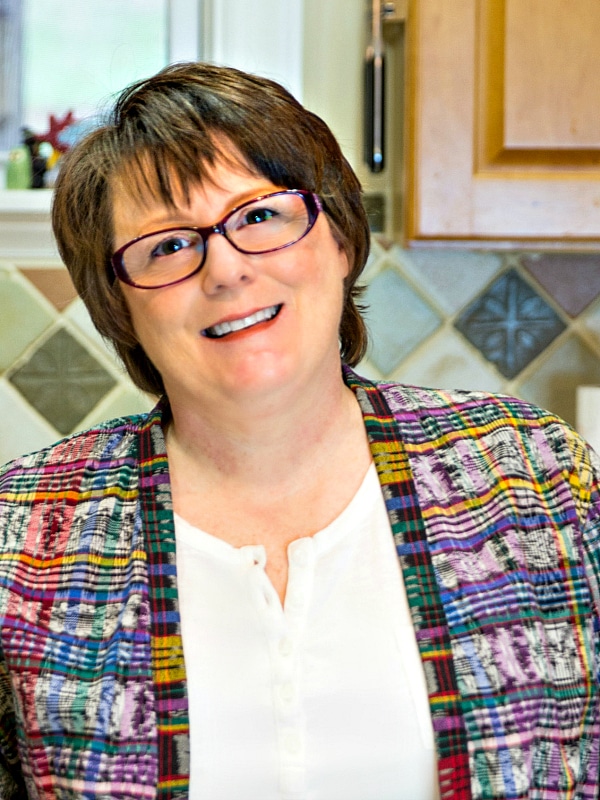 What are my qualifications to teach you baking and pastry? As a former working pastry chef and special educator, I marry my passions for both teaching and for baking into explaining techniques, methods, and developing the best possible recipes. For more info, you can read more about me.
If you'd like to receive new recipes and the occasional newsletter, I'd love for you to sign up for my Inbox Pastry Chef.
I really hope you love this mildly spicy tomato jam, friends! Thanks for spending some time with me today. Take care, and have a lovely day.