Sometimes I write about Fancy Foods, but today, I am all about the humble bologna and cheese sandwich. A "Baloney and Cheese" is the perfect sandwich, whether you're a kid or whether you used to be a kid. It makes a great lunchbox sandwich for kids and former kids, too.

Not every kid-friendly sandwich deserves its own blog post, but when a sandwich is as nostalgic as this one, it deserves a love letter, don't you think?
Another great nostalgic sandwich recipe is my bread, butter, and sugar sandwich recipe.
For ease of browsing, here are all of my sandwich recipes in one place. Thanks for stopping by!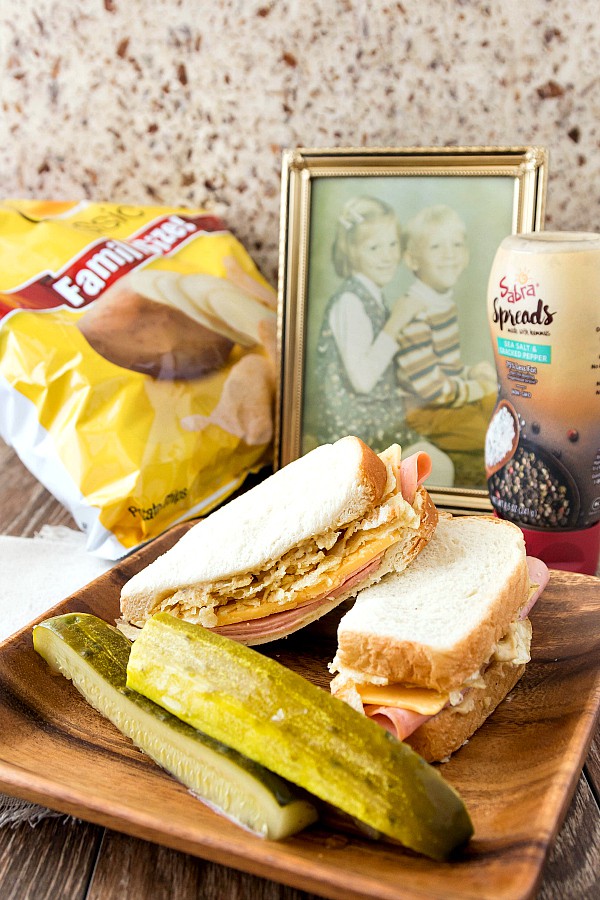 This post was originally sponsored by Sabra. I received compensation both in product and monetarily. All opinions are my own.
Remembering My Brother Greg
As a kid, bologna and cheese was my brother's favorite sandwich. His birthday was June 19, and this year, he'd have been 52. Except he is perpetually 31 years old.
In some ways, it feels like forever that my brother has been gone. And then I'll hear a song, or smell a scent or see something he'd have loved, and it feels like just yesterday we were hanging out and watching movies together.
Of the two of us, Greg was by far the more adventurous eater. As a kid he was always first to try–and like–exotic fare such as mustard. And carrots.
My favorite foods were beige: pot roast, mashed potatoes, rolls, gravy. Greg really did eat the rainbow, and he relished every bite.
He was a wonderful cook long before I ever decided I'd better learn to cook something other than cheesy rice in a pot. In a way, maybe my meandering into a career in food was an unconscious way to still feel close to him after he died.
Bologna and Cheese Sandwich Video
This lunchbox favorite isn't hard to make, but I made you a video anyway. Just in case you have questions.
The video does feature Sabra Spreads, which they no longer make, so you are welcome to use hummus instead. But mayo is The Original Spread for baloney and cheese!
Bologna and Cheese: A Fancy Kid Sandwich
This simple bologna and cheese sandwich is really so much more than just a sandwich. It's a connection to my brother, to childhood, and to a time when food was maybe a bit less pretentious than it sometimes is these days.
Looking back, I realize I fancied this a special sandwich, because we usually made it with two–not one, but two!–condiments: both mayonnaise and mustard.
My "regular" sandwich rotated: peanut butter and jelly, cream cheese and jelly or peanut butter and honey. All made on white bread, please. Soft, squishy, kid bread.
What Goes On a Bologna Sandwich?
I'm sure there are lots of ways to make a great bologna and cheese, but these are the Necessary Ingredients to make my childhood favorite:
soft white bread (Sunbeam was our kid bread of choice
mayonnaise (we grew up with JFG. Now I'm a Duke's girl)
mustard, just a little. And optional for less adventurous eaters (plain yellow mustard. No fancy mustard)
sliced bologna (we grew up with Oscar Meyer, so that's my gold standard)
sliced American cheese (not the individually wrapped kind)
potato chips (regular Lays, not ridged or Pringles or anything like that. Straight up potato chips)
What Cheese Goes with Bologna
You want a cheese that doesn't take center stage, so no super assertive cheese here. For my money and time, you really cannot go wrong with good old American cheese.
Here are some other choices of cheeses that won't overpower the overall kid-ness of a bologna and cheese sandwich:
Velveeta slices
medium or mild cheddar–no sharp
Swiss
Colby jack
Monterey Jack cheese (not pepper jack–but you could if you wanted to)
young Havarti cheese
mild Gouda (not smoked)
It's All About the Textures!
Another characteristic of the bologna and cheese sandwich that made it fancy was the play of textures between the soft bread, the creamy condiments, the sharpness of the mustard, and the smooth bologna and cheese against the crisp, salty crunch of potato chips.
Yes, lettuce or some crisp pickles would have provided another type of contrast, but, chips! Chips are the way to go here.
Even today when I make a "boney-cheese-mayonnaise-bread-and-chips" sandwich, which was how Greg used to ask for it for lunch, as I press the sandwich down to smoosh the chips, I am snapped back to childhood.
It's the sound of the crunch and the feel of the sharp edges of chips poking up through the bread.
The way the chips around the perimeter of the sandwich tend to spill out onto the plate.
The way most of the chips miraculously stay inside the sandwich, even though just a moment before it was a teetering pile of chips with a piece of bread perched uneasily atop, not sure if it would be able to contain the mountain of fried goodness.
Make It Fancier
If you like to make bread, by all means, use your homemade bread to make your baloney and cheese sandwich. I do recommend making a soft bread. You could try my pain au lait made with Tangzhong method or white sandwich bread.
You could also grill the bologna first–don't forget to either cut an X in the center of each slice or cut in from the edges toward the center in 3-4 places to keep the bologna from drawing up in the pan.
Make It a Meal
You can absolutely make a bologna and cheese sandwich all by itself, but if you're thinking of making a whole meal out of nostalgic favorites, try these sides and desserts on for size: mom-style macaroni salad, no mayo potato salad, and cherry yum yum for dessert!
Or make Greg's favorite dessert, a chocolate cheesecake pie. Yes.
I really hope you love this sandwich, you guys! If you make it, please share a photo with me, either in the PCO Facebook Group or on instagram by tagging @onlinepastrychef and using hashtag #pcorecipe.
And if you make a bologna and cheese differently than I do, I'd love to hear about it. Thanks, and enjoy!
What's your favorite nostalgic sandwich?
Bologna and Cheese Sandwich
This bologna and cheese sandwich is my comfort food. Add the Sabra Spread and an enormous handful of crispy potato chips, and you're in kid sandwich heaven.
Ingredients
Per Sandwich
2

slices

white sandwich bread

2

Tablespoons

mayonnaise

1

teaspoon

yellow mustard

or more. Or leave it off entirely

3

slices

bologna

2

slices

American cheese

large handful of crispy potato chips
Instructions
Spread each slice of bread with 1 Tablespoon of the mayo.

Spread the 1 teaspoon of mustard on one piece of bread over the mayo (optional)

Place 3 slices of bologna on one half of the bread and top with 2 slices of American cheese. You can also put one slice of cheese down first followed by the bologna and the other slice of cheese.

Top the cheese with an enormous handful of crispy potato chips.

Put the second piece of bread, mayo side down, on top of the pile of potato chips.

With your hand, firmly press the whole sandwich down to crush the chips.

Enjoy.
Did You Make Any Changes?
Nutrition
Serving:
1
g
Calories:
596
kcal
Carbohydrates:
29.5
g
Protein:
17.6
g
Fat:
45.9
g
Saturated Fat:
17.1
g
Cholesterol:
80
mg
Fiber:
1.2
g
Sugar:
5.9
g
And there you have it. A simple bologna and cheese sandwich that is elevated by the memories it brings back.
I hope you make one of these, and when you do, please pile the chips high and give a good, solid SMOOSH. Enjoy.
Thank you so much for spending some time with me today.
Take care, and have a lovely day.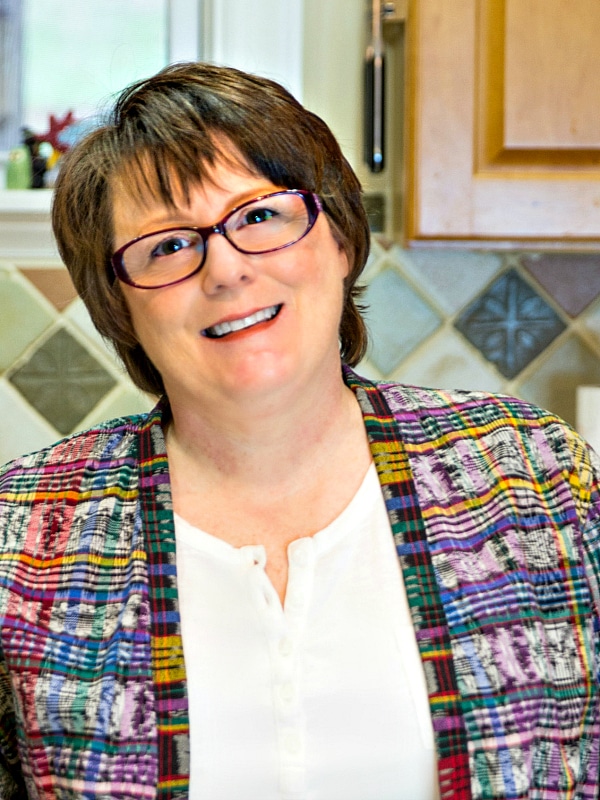 What are my qualifications to teach you baking and pastry? As a former working pastry chef and special educator, I marry my passions for both teaching and for baking into explaining techniques, methods, and developing the best possible recipes. For more info, you can read more about me.
If you'd like to receive new recipes and the occasional newsletter, I'd love for you to sign up for my Inbox Pastry Chef.