Today I'm bringing you this easy recipe for Boston Brown Bread. In this version, I replace rye flour with all-purpose flour, a luxury folks would only break out when company is over for dinner!

I think you'll really enjoy this (mostly) traditional recipe, friends.

If you like homey breads, you may also enjoy my oatmeal beer bread or my grits bread recipes.

For ease of browsing, you can find all my breads and rolls recipes in one place. Thanks so much for being here!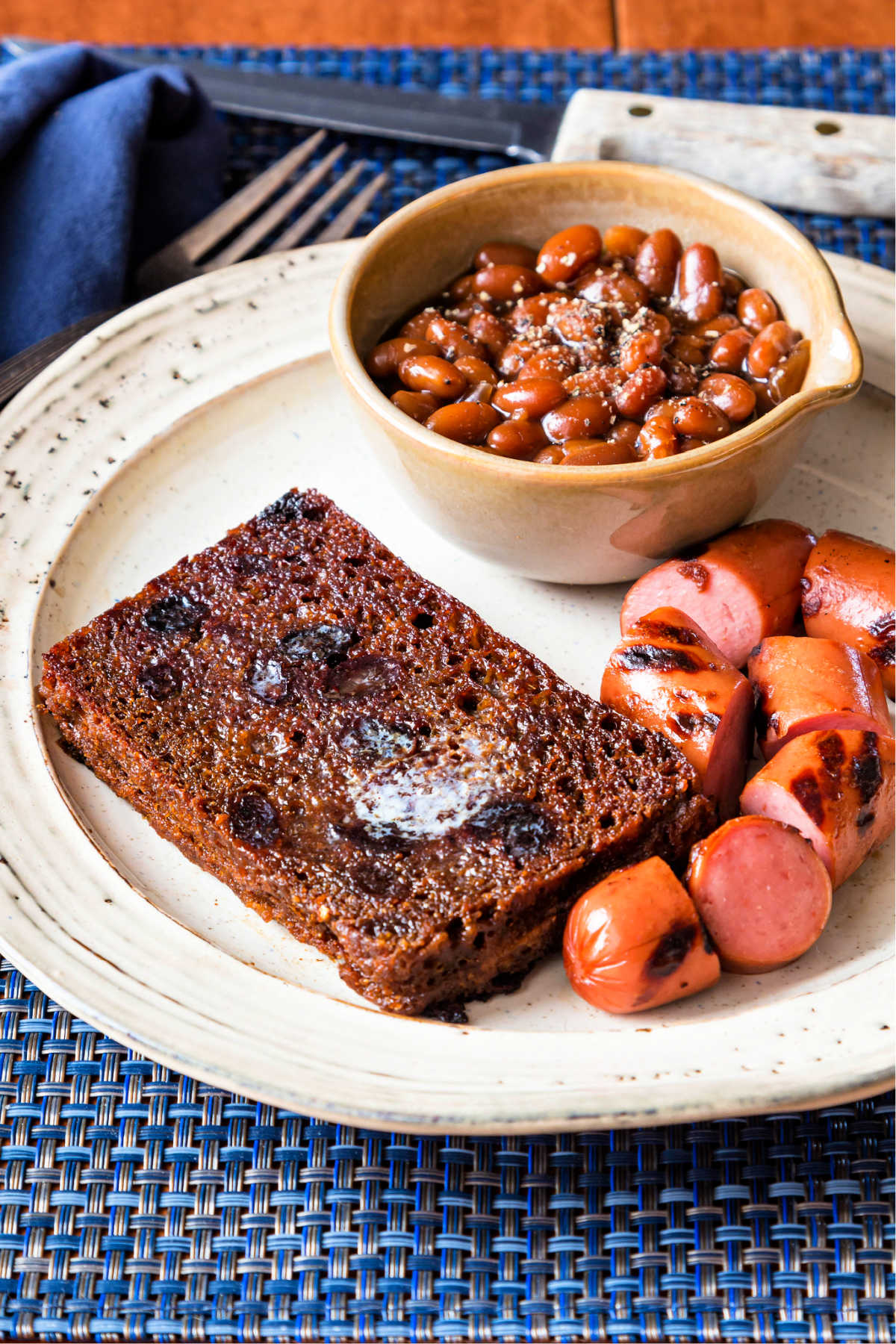 Watch my best brown bread recipe web story here.
Reader Rave
I have long wanted to make a Boston brown bread for the blog. When I was little, my mom tells me I used to put on dress up clothes, grab a pocket book, and then tell my mom I was going out.
When she'd ask where I was going, I always said I was going to the store to buy some brown bread!
We never even had it at home, ever. I think I got the idea from the Peter Rabbit books.
Anyway, I am so happy I experimented to bring you a moist and delightful steamed loaf that is homey, comforting, and perfect for serving to company.
What Makes This Particular Recipe Work
Most recipes for Boston brown bread call for a mixture of rye, whole wheat, and cornmeal for the flour. But using all-purpose really brings a more refined flavor to the bread so that the molasses really shines.
Many recipes also call for allspice, which I find a little harsh with the molasses, so using cinnamon is a really lovely alternative that also has the effect of making this a more kid-friendly loaf.
I add a touch more salt than most recipes call for. The salt counteracts any bitterness you might get from the molasses.
I also plump up the raisins in boiling water. That way, they don't soak up any liquid from the bread.
This ensures the bread and the raisins both are moist and tasty.
Last, no coffee can to bake in! I actually plan to make more using cans, but not everyone has cans lying around, so this recipe is scaled to steam up beautifully in a 8 1/2″ x 4 1/2″ loaf pan.
How to Make It
Ingredients
The ingredients are pretty straightforward. Here's what you'll need: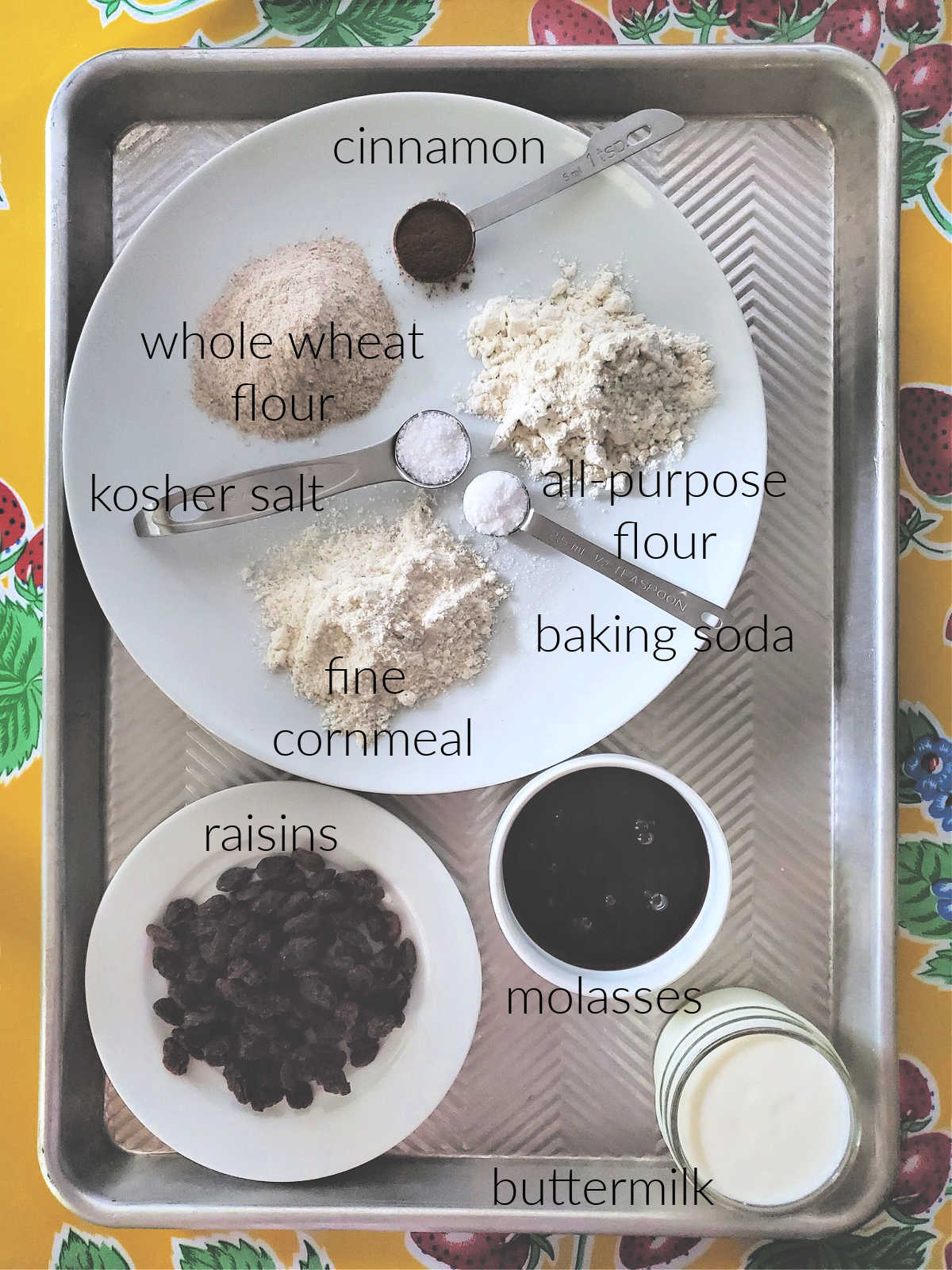 Whole wheat flour: If you don't have whole wheat, you can use additional all-purpose flour
Fine cornmeal: Make sure your cornmeal is fine. Something with a coarser grind like grits or polenta will not work here. Fine cornmeal is not the same as cornstarch. They aren't interchangeable.
All-purpose flour: You can also use all whole wheat flour, or to be traditional, use rye instead
Salt: counteracts the bitterness in the molasses as well as bringing out the flavor of the bread, especially the cinnamon
Baking soda: Baking soda reacts with the acid in the molasses and buttermilk to give you a rise. Do not substitute baking powder which already contains acid.
Cinnamon: Provides a nice, warm, familiar flavor that goes well with the molasses and raisins. You can substitute with allspice or even with pumpkin spice if you'd like. If you use allspice, I'd cut down the amount to 1/2 teaspoon, because allspice has a very assertive flavor
Raisins: plumped in water, they add little pops of juicy fruity goodness to the bread. You can also sub in currants or golden raisins if you prefer, or leave the fruit out entirely
Molasses: Provides sweetness and moisture and gives us that lovely dark mohagany color we're looking for. You can use any kind of molasses you like. For a non-traditional take, you could use honey or a mixture of molasses and honey
Buttermilk: Provides the bulk of the liquid for the batter as well as acid to react with the baking soda. You can use soured milk (1 1/2 cups milk with 1 1/2 Tablespoons of lemon juice), but it really is worth it to get real buttermilk. If you're stuck for something else to do with it, give my buttermilk muffins or grits bread a try
Procedure
1)First, start with plumping up your raisins. This is easy to do. Just plump them in a pan of boiling water for about 5 minutes. Then strain out the liquid and spread them to cool on a lint-free towel.
You can do this a day or two beforehand if you want. Since they're plumped up with water, I'd keep them in the fridge until ready to use them.
2)Place a steaming rack in the bottom of a 6 quart Dutch oven and add about 2″ of water.
Go ahead and heat that up while you're putting the batter together.
NOTE: Make sure the water is boiling before you add your wet ingredients to your dry. Once the batter is together, you need to get it into the pot quickly so you can trap the bubbles from the reaction between the molasses and buttermilk and the baking soda in your bread.
3)Line a 1 pound loaf pan with parchment. Butter the parchment and any exposed parts of the pan really well with softened butter.
4)Whisk all your dry ingredients together in a large bowl.
5)Whisk the buttermilk and the molasses together.
6)Add the raisins to the dry ingredients followed by the buttermilk/molasses mixture.
7)Stir and fold to bring the batter together.
8)Pan up the batter and carefully place it in the pot. Put the lid on. Adjust the heat to keep the water at a low boil, and let the bread steam for 2 hours.
9)Carefully remove to a rack and allow to cool in the pan for a good 2 more hours before removing it from the pan and peeling off the parchment to cool completely.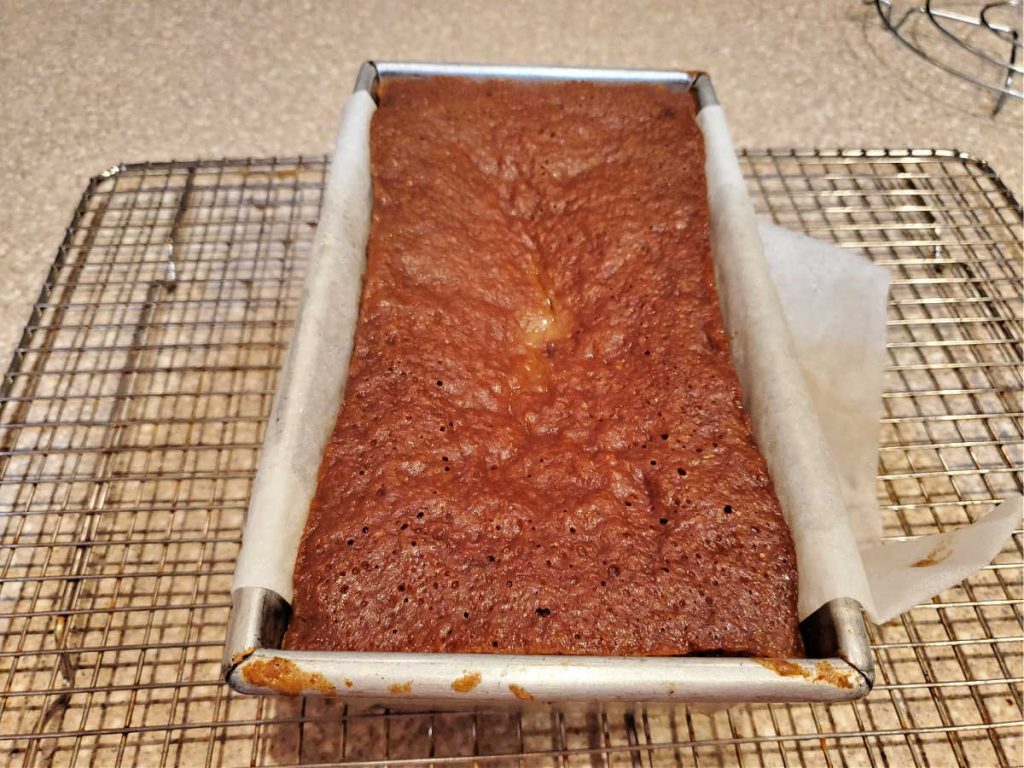 Tips for Success
This is a pretty straightforward recipe, but here are some tips and tricks for you to ensure your bread is gorgeous:
Cut the parchment to fit into your pan with plenty of parchment overhang on both sides. Then when it's time to take the bread out of the pan, you can give it a quick once-around with a small offset spatula to make sure there was no sticking on the short ends and then lift the bread right out by the parchment "handles."
Be generous with the butter when you're preparing your pan. The bread is practically non-fat without it, so you won't feel bad that you're using a lot of butter. Plus it'll make double sure the bread is easy to remove from the pan.
If you don't have a steamer rack, use the trivet from your Instant Pot. I used the one from my 6 quart IP and it worked perfectly.
If you steam your bread uncovered, it may get some condensed steam dripped on it from the lid. To keep this from happening (if it bothers you), place a buttered piece of parchment on top of the pan, butter side down. It will act as a shield from the water while still allowing the bread to steam nicely.
Since the temperature in your Dutch oven will never get higher than the boiling point of water (as long as you make sure it doesn't boil dry), the top of the bread stays nice and soft. No browning.
And here's my best tip for serving:
PRO TIP: To serve, fry pieces in butter in a skillet. Then serve with more butter slathered on top.
This is the traditional way to heat to serve, and trust me, it's worth it. Again, it's pretty lean bread, so a little fry up in butter is just fine with me. I bet it will be for you too!
Answers to Questions You May Have
Is this a healthy recipe?
I guess it depends on what you mean by healthy. It has almost no fat in it, and it contains no unrefined sugars, getting all its sweetness from molasses and the raisins. Only a third of the flour is white flour, the other two flours are made from whole wheat and whole corn. It contains a bit of fiber–about 2 grams per slice. On the whole, I'd say this is a pretty healthy recipe, especially as far as sweeter breads are concerned.
Can I make this vegan?
Absolutely. Use Earth Balance or vegetable oil to grease your pan, and make soured plant-based milk by mixing 1 1/2 cups of plant-based milk (soy or almond work well) with 1 1/2 Tablespoons of lemon juice. Let it sit for about 10 minutes before combining with the molasses.
Two hours seems like a long time? Why does it take so long to steam?
Honestly, the bread is technically "done" well under the two hour mark. However, you need the long steaming time to make sure the cornmeal is softened through and that there are no weird little hard pieces in your bread.
Can I just bake the bread instead?
Yes, you can. Bake at 350F until well risen and it bounces back when you press your finger into it. The internal temperature should be between 195-200F. To keep the oven moist (and to keep the bread from drying out), you can bake with a pan of boiling water on the rack below.

If you decide to bake your bread, consider soaking your cornmeal in the buttermilk for at least an hour before whisking in the molasses and adding it to the rest of your dry ingredients.
What's the difference in texture between steamed and baked bread?
Since this is basically a non-fat recipe, steaming ensures that the bread stays nice and moist with a pleasant, bouncy texture. The crumb will be moist and relatively dense. If you bake it, the crumb will be more open but also dryer.
How do I store the bread?
You can store it for up to 4 days in a tightly sealed container. Reheat by frying in butter or toasting to serve.
Can I freeze it?
Like most breads, this guy freezes well. Wrap it well in plastic and foil or use a freezer bag. Be sure to press as much air out of the bag as you can before sealing it. Your bread will be fine for up to three months.
What's a traditional meal featuring brown bread?
A truly old school New England dinner features brown bread fried in butter and served with franks and beans. You can serve the beans and franks together like in "beanie weenies," and you can also serve the beans (or franks and beans) ladled over the fried bread.
How else can I serve it?
If you're not into beans and franks, serve this for breakfast or even dessert. Definitely slather it with a lot of butter, whether your fry it or not.

While it's delicious cold, it is really wonderful hot. Frying it or toasting it crisps up the outsides of the bread so there's a bit more textural contrast.

This bread reminds me a lot of my husband's fruitcake, which I adore with a thick schmear of cream cheese. I highly recommend doing the same to a thick slice of this!
Questions?
For convenience, consistency, and accuracy, almost all my recipes are written by weight, either in ounces and/or grams, even the liquids.
I strongly encourage you to purchase a kitchen scale and learn to use it.
This is the one I used for years. I love it and highly recommend it:
Best for Home Use
Escali Primo Digital Food Scale
Don't let its small price and small size fool you. The Escali Primo is an accurate and easy-to-use food scale that I have used for years. It's easy to store, easy to use, has a tare function, and easily switches between grams and ounces/pounds for accurate measurements.
This is an affiliate link which means I earn from qualifying purchases. Your price is unaffected.
It would be so helpful to me and to other readers that, when you make a recipe, you rate it and leave a comment. Whether it's a recipe or an informational post, your feedback helps others decide if the post is helpful or if the recipe works as advertised.

If you could leave a star rating, that would be very helpful. Thank you for being here!
Boston Brown Bread Recipe
This Boston brown bread recipe is a little more refined than traditional. I replaced rye flour with all-purpose flour, which traditionally would have been reserved for special days. That's why this brown bread is called "company's coming," when folks would bring out their best ingredients.
Packed with raisins, you can serve this traditionally: fried in butter, or toasted and smeared with butter or cream cheese.
Ingredients
½

cup

all purpose flour

½

cup

fine cornmeal

½

cup

whole wheat flour or Graham flour

1

teaspoon

kosher salt

or 3/4 teaspoon table salt or fine salt

¾

teaspoon

baking soda

1

teaspoon

cinnamon

1

cup

raisins plumped in boiling water for 5 minutes

drained and cooled

½

cup

molasses

1 ½

cups

buttermilk
Instructions
Set a pot large enough to fit an 8 1/2" x 4 1/2" loaf pan inside. Place a steamer basket or a trivet inside to keep the pan off the bottom of the pot. Fill with 2" of water and start bringing it to a boil.

Line your loaf pan with parchment and generously butter it.

In a large bowl, combine all purpose flour, cornmeal, whole wheat flour, salt, baking soda, and cinnamon. Whisk well to combine evenly.

Add the cooled raisins.

Whisk together the molasses and the buttermilk.

Pour the wet mixture into the dry mixture and stir/fold to combine.

Pour into the prepared pan and carefully lower into the pot. Moderate the heat to maintain a low boil and put the lid on.

Let the bread steam for two hours.

At the end of 2 hours. carefully remove to a cooling rack. Loosen the sides of the bread from the pan and allow to cool for 2 hours in the pan.

Remove the bread from the pan, peel off the parchment, and allow to cool completely.
Did You Make Any Changes?
Nutrition
Serving:
1
g
Calories:
146
kcal
Carbohydrates:
34
g
Protein:
3
g
Fat:
1
g
Cholesterol:
1
mg
Sodium:
322
mg
Fiber:
2
g
Sugar:
20
g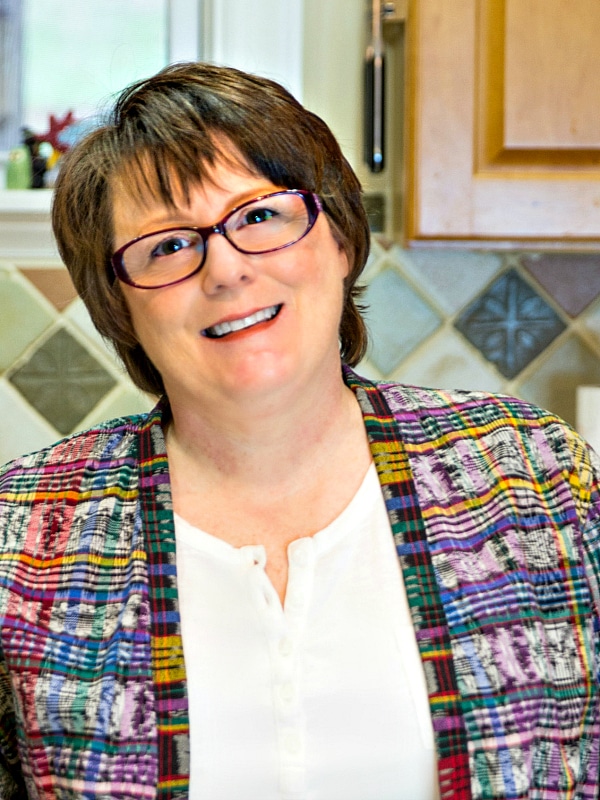 What are my qualifications to teach you baking and pastry? As a former working pastry chef and special educator, I marry my passions for both teaching and for baking into explaining techniques, methods, and developing the best possible recipes. For more info, you can read more about me.
If you'd like to receive new recipes and the occasional newsletter, I'd love for you to sign up for my Inbox Pastry Chef.
Thanks for spending some time with me today.
Enjoy the steamed raisin bread, friends. Take care, and have a lovely day.