Welcome to this year's Burger Month! This year I pulled out the big guns and made the very best breakfast burger I could figure out how to make!

With a corned beef hash and grass-fed beef patty, a fried cheese grits cake, pepper jelly, a fried egg, and sausage gravy, it's about as much Southern Breakfast per square inch as you can fit on a burger!

And did I mention the bun has cooked grits in it too? Yup. Come check it out and don't forget to enter for chances to win prizes from our sponsors!

Looking for more burger goodness from me? People seem to really love my bacon cheese smashed burger (me too!) and my bloody Mary meatloaf burger from a couple of years ago is also a winner! You can find all my epic burger recipes in one place too.
For ease of browsing, here are all of my burger recipes in one place. Enjoy!
This epic burger is part of a burgertastic month-long event hosted by Girl Carnivore. All opinions and this burger are my own (but I hope you make one, too!)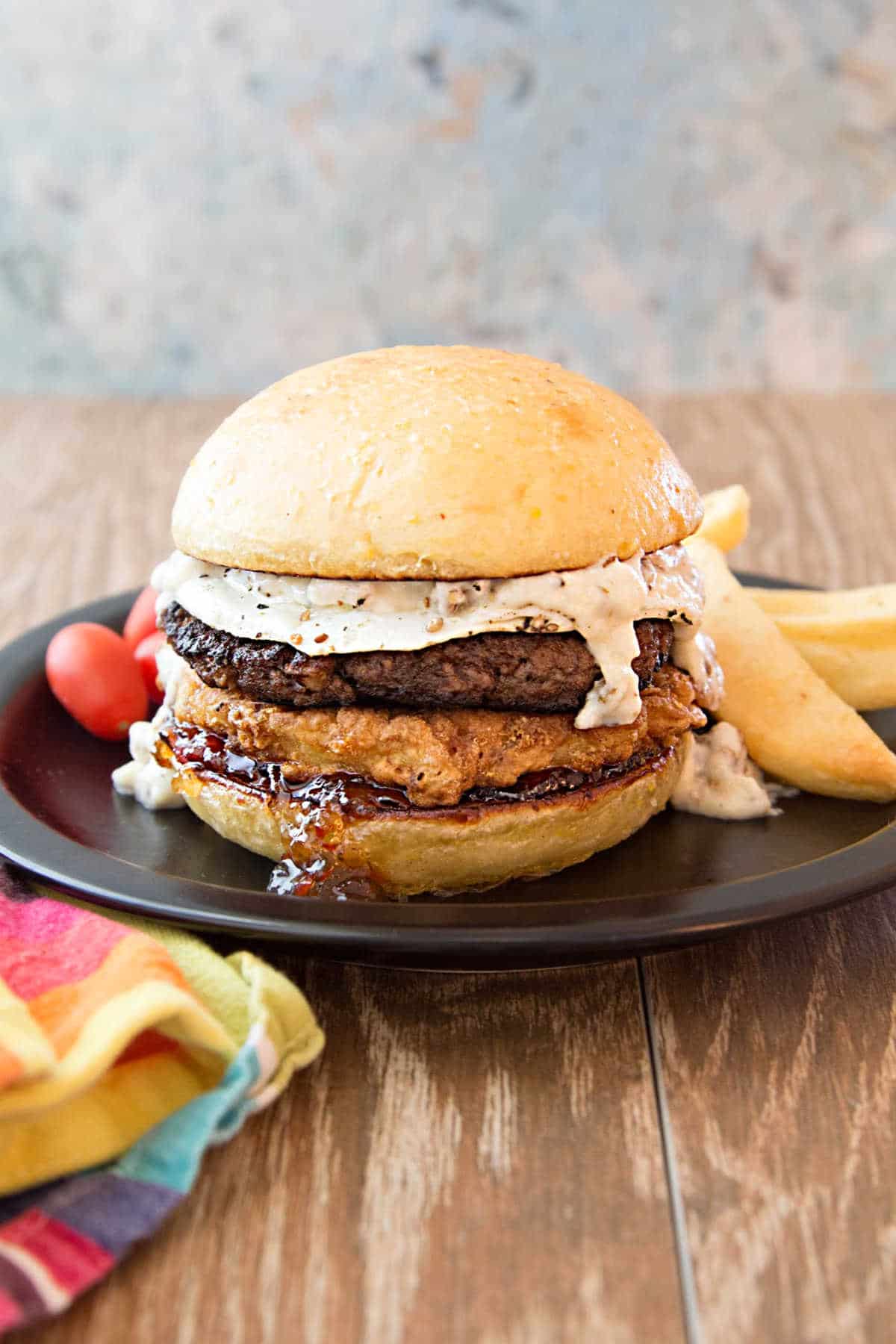 Why This is the Best Breakfast Burger
I love to pull out all the stops for Burger Month, and this year is no exception. Here's why this burger Rules:
Homemade buns made with cooked grits. That recipe is coming soon, I promise.
Pepper jelly. Pepper jelly makes everything better, and I'm using some from a local jam maker, Mrs. Ruth's Jams. It's fantastic!
Corned beef hash in the burger. The flavor is subtle, but you can taste it. If you're a corned beef hash fan, this burger is for you!
Grits, baby. Stone ground grits. Wonderful corn flavor mixed with cheddar and fried up crispy. Y'all.
Sausage gravy. Why let biscuits have all the fun? Pour some rich, creamy sausage gravy over your burger. If you have leftovers, I really like it as a pizza sauce like in my sausage gravy pizza! If you've never made sausage gravy before, the video for this post shows how.
Fried egg. Because #putaneggonit is a thing, and eggs make everything better.
So between the corned beef hash, sausage gravy, grits (times two if you count the grits in the bun), and egg, you pretty much have an entire Southern breakfast in burger form.
Are you drooling yet?
How to Cook Stone Ground Grits
Use coarse, stone ground grits for this recipe. They have a wonderful texture and cook up really creamy.
If you can't find grits where you live, buy dried polenta. Don't tell the Italians, but honestly it's pretty much the same thing.
If your grits don't come with instructions, cooking them is easy. It's a 4:1 ratio of water to grits plus a very heavy pinch of salt and maybe a couple of tablespoons of butter.
Bring 4 cups water to a boil.
Pour the grits into the boiling water in a steady stream while whisking.
Add in the salt and butter.
Turn the heat down to a low boil and cook, stirring frequently, until the grits are tender all the way through, about 30-40 minutes.
It sounds like a long time, but if you keep the pot partially covered and the grits at a high simmer, you don't have to babysit them constantly. But you will need to stir them pretty frequently.
Once you cook those grits, eat what you want (not too much!) and then pour 2 cups into a baking pan.
Shred the cheese onto the grits and then stir it all together and spread smoothly with an offset spatula.
Done! Let them chill before cutting out your rounds and frying them up. You could serve them as is, I guess, but that crispy texture from frying them is hard to beat.
This Seems Hard…
It's not hard, but like all self-respecting Epic Burgers, there are a lot of components.
You could make them all on the day you're serving the burgers, but you can, and should, make some parts ahead.
Make Ahead
You can make the sausage gravy and grits a couple of days before. You can also make the buns ahead of time. Here's the recipe for Grits Bread and Burger Buns.
With an all-beef patty, I'd suggest making them fresh, but these corned beef hash patties are softer than all-beef and stay nice and moist with the addition of the panade (a mixture of fresh bread and milk like you'd use in meatballs or meatloaf.) They reheat very well.
The only component that really needs to be made fresh is the fried eggs.
So, while it's a lot of components, on Epic Burger Day, all you'll need to do is
reheat the grits cakes in the toaster oven to crisp them up
reheat the patties and the gravy
cook your eggs
assemble the whole shebang.
Not bad, right?
Variations
No matter what you like to have for breakfast, you can figure out a way to put it on this burger. Okay, within reason.
Love bacon? Add a smear or three of smoky bacon jam to your burger. Or just add actual strips of bacon.
Love a good Denver omelet? Add a couple of slices of deli ham and some sauteed peppers and onions.
Homefries? Sure. Fry up some hashbrowns until they're nice and crispy–like a latke.
Sides
This burger is A Lot, for sure, but if you're already in for a penny, you may as well be all in with side dishes, too!
My mom-style macaroni salad is always welcome, or spice things up a bit with my chipotle ranch pasta salad.
Keep things a bit on the lighter side with a nice vinegary slaw or maybe even some homemade pickles.
Whatever you decide to serve with them, please make some. Promise me.
It would be so helpful to me and to other readers that, when you make a recipe, you rate it and leave a comment. Whether it's a recipe or an informational post, your feedback helps others decide if the post is helpful or if the recipe works as advertised.

If you could leave a star rating, that would be very helpful. Thank you for being here!
Epic Breakfast Burger
This is an epic breakfast burger recipe for the ages, friends! So much breakfast all on a homemade bun made with cooked stone ground grits! You got your corned beef hash in the burgery patty, some sweet-hot pepper jelly, stone ground cheese grits cakes, fried egg, and sausage gravy. Good eatin' friends!
Cook time reflects cooking time for all the different components combined.
Ingredients
Per Burger, from bottom to top
1

burger bun

my recipe coming soon!

2

Tablespoons

pepper jelly

1

fried cheese grits cake

1

corned beef burger patty

1

fried egg

over medium or hard, depending on if you like a runny yolk

¼

cup

sausage gravy
For the grits cakes
2

cups

leftover cooked grits

hot

1 ½

cups

grated sharp cheddar cheese

1

egg

flour for dredging

oil or bacon drippings

or a combination for frying
For the Sausage gravy
4

oz

bulk breakfast sausage

2

Tablespoons

flour

2

cups

milk

salt and pepper

to taste
For the Burger Patties
½

can corned beef hash

1

pound

ground beef

I used grass-fed

1

egg

1

slice

white bread

¼

cup

milk

salt for sprinkling before cooking
Instructions
For the Grits Cakes

Mix the hot grits with the cheese and stir well.

Spread out in a thin layer in a 9×9 pan. Mixture should be about 1/4-1/2" thick.

Cover and refrigerate until cold or overnight.

When ready to fry, beat the egg and put it in a shallow bowl and put some flour onto a plate.

Using a cutter about the size as your buns, cut 4 circles out of the set grits. They will hold together just fine.

Dredge each cake, one at a time, in the egg and then flour. Let sit on a rack for five minutes to set up a bit.

Repeat the dredging in egg and flour one more time and let sit on a rack while you heat your oil.

Pour your fat in a skillet to a depth of about 1/4".

Heat the oil until the oil starts to immediately sizzle when you dip an edge of one of the grits cake into it.

Fry the cakes 1-2 at a time until golden brown on each side, a total of about 4-5 minutes. Don't crowd the pan.

Keep the grits cakes warm in the oven or toaster oven.

For the Sausage Gravy

Place the sausage into a cold pan and heat over medium heat until the sausage is thoroughly cooked and browned. Break up the sausage as it cooks into small crumbles.

Add the flour and cook over medium heat for 2 minutes, stirring frequently.

Stir in the milk and bring to a boil, stirring frequently.

Cook until the sauce has thickened up nicely.

Taste and add salt and pepper if needed, to taste.

Keep warm over low heat, stirring occasionally.


For the Burger Patties

Mash the milk and bread together until you have a paste. Whisk in the egg.

Pour this mixture over the corned beef hash and ground beef and mix gently but thoroughly. These burgers will be a bit softer than an all-beef patty.

Form the mixture into 4 patties about 1/2" thick.

Fry in a bit of oil or bacon grease for 4-5 minutes on one side.

Carefully flip and fry an additional 3-4 minutes until cooked through.

To Assemble Your Burgers

Split your burger buns and lightly brown them under the broiler or in a pan with a bit of bacon fat.

Spread pepper jelly on the bottom bun.

Add a hot fried grits cake.

Place a burger patty on top of the grits cake.

Top with a fried egg, fried however you like it and then spoon on the sausage gravy.

Top with the top bun.

Take a deep breath, pick that bad boy up, and dig in!

Did You Make Any Changes?
Notes
Make Ahead Options
I have given instructions for making everything on the same day. You can absolutely make the sausage gravy and the grits cakes ahead of time. Reheat the gravy with a touch more milk to thin it back out. Crisp up the grits cake in the toaster oven for a few minutes, and then proceed with the recipe.
You could even make the patties ahead of time. They actually reheat very well and stay nice and moist because of the bread and milk.
Nutrition
Serving:
1
burger
Calories:
1179
kcal
Carbohydrates:
96.7
g
Protein:
72.3
g
Fat:
55.7
g
Saturated Fat:
20.5
g
Cholesterol:
454
mg
Sodium:
1588
mg
Fiber:
4.8
g
Sugar:
35.9
g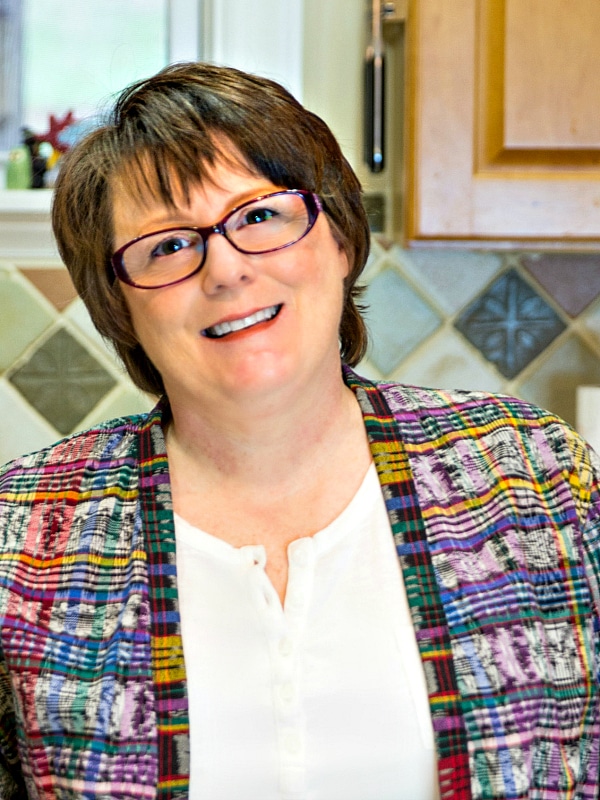 What are my qualifications to teach you baking and pastry? As a former working pastry chef and special educator, I marry my passions for both teaching and for baking into explaining techniques, methods, and developing the best possible recipes. For more info, you can read more about me.
If you'd like to receive new recipes and the occasional newsletter, I'd love for you to sign up for my Inbox Pastry Chef.
Burger Month Participants
Please don't hesitate to go and check out all the other participating blogs. Lots of creative and awesome burgers this year as always!
🍔 Girl Carnivore 🍔 A Kitchen Hoor's Adventures 🍔A Day in the Life on the Farm 🍔 A Merry Recipe 🍔 An Affair from the Heart 🍔Art of Natural Living 🍔 Caroline's Cooking 🍔Chef Justin Grimm 🍔Chiles and Smoke 🍔 City Living Boston 🍔Comfortably Domestic 🍔Culinary Adventures with Camilla 🍔 Dixie Chik Cooks 🍔 Everyday Eileen 🍔 Everyday Southwest 🍔 For the Love of Food 🍔Good Cook Doris 🍔Grillax: Fire. Food. Fun. 🍔 Grilling Montana 🍔 Hezzi-D's Books and Cooks 🍔 Jolene's Recipe Journal 🍔 Karen's Kitchen Stories 🍔 Kate's Recipe Box 🍔Kudos Kitchen by Renee 🍔Life Currents 🍔 Life of a Ginger 🍔Making Miracles 🍔Man Meat BBQ 🍔 Miss in the KItchen 🍔Off the Eaten Path 🍔Our Good Life 🍔 Palatable Pastime 🍔 Pastry Chef Online 🍔 Real Life With Dad 🍔Renee Nicole's Kitchen – Everyday Gourmet 🍔 Sarah's Cucina Bella 🍔Savoring Midlife 🍔 Seduction in the Kitchen 🍔 Simple and Savory 🍔 Spoonabilities 🍔 Sumptuous Spoonfuls 🍔 Swirls of Flavor 🍔 The Redhead Baker 🍔 The Spiffy Cookie 🍔This is How I Cook 🍔 Thyme for Cocktails 🍔What's Cooking Italian Style Cuisine 🍔 Wildflour's Cottage Kitchen 🍔Wile E. BBQ 🍔 Wok & Skillet 🍔