You will love this light and airy butterscotch mousse recipe, friends. Made with the 3 components of a classic French mousse: custard, meringue, and whipped cream, all the eggs in this recipe are thoroughly cooked so you do not have to worry about ingesting raw eggs.

If you are a butterscotch fan, you may also enjoy my butterscotch pudding or butterscotch hard candy recipes.

And for ease of browsing, you can find all my butterscotch recipes in one place. Thanks so much for visiting!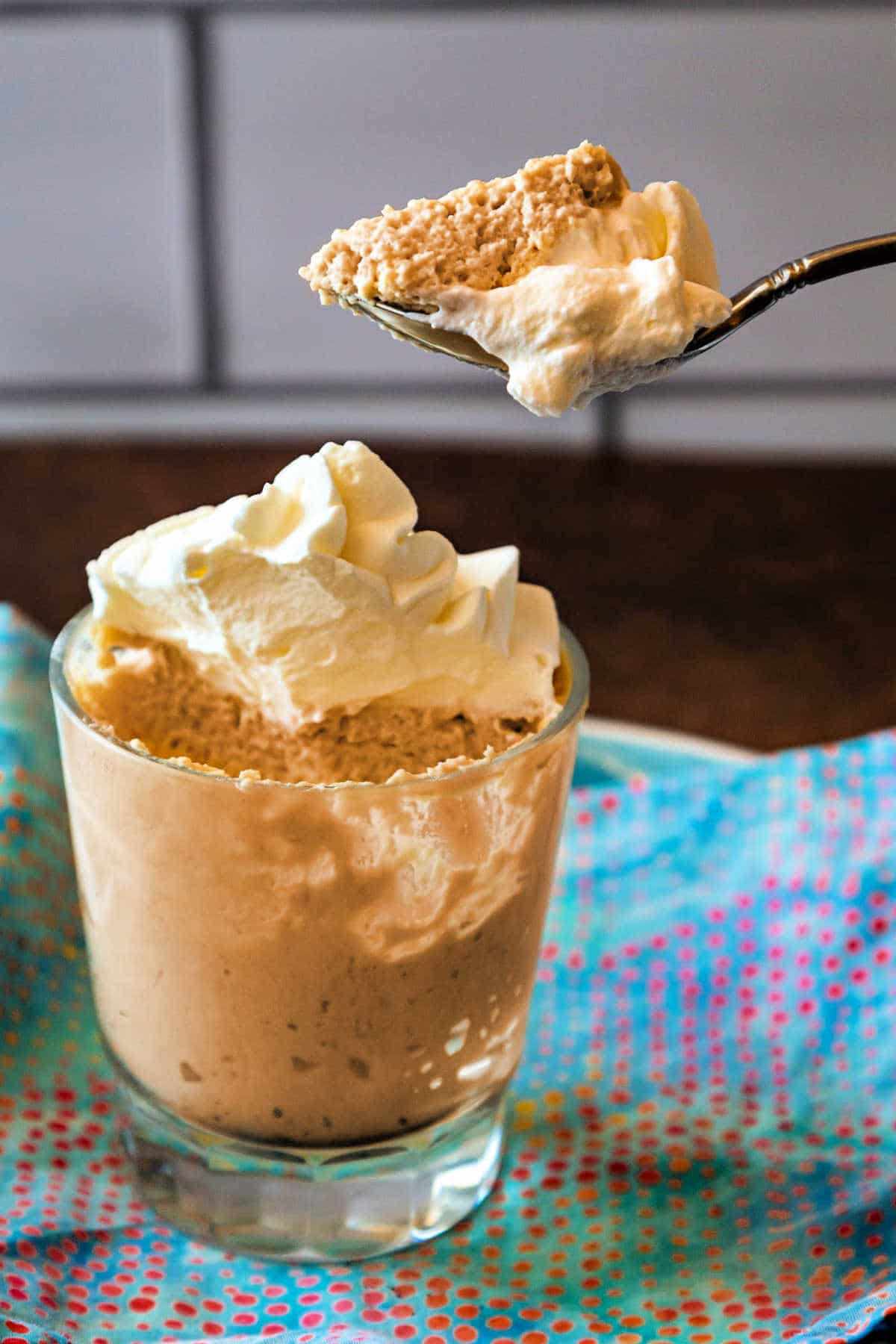 Why You Have to Make This Recipe
If you love butterscotch, you owe it to yourself to try it in mousse form.
The contrast of the ultra-light texture with the deep butterscotch flavor is just fantastic.
It's light on the tongue but deep in the palate, if that makes sense.
It requires no fancy ingredients, and you don't need to find Pasteurized eggs.
You also don't need fancy equipment: a good metal bowl, is pretty necessary, but either a hand mixer or a stand mixer will do.
It has a comforting, familiar flavor but in a fancier presentation, which means the whole family will love it.
Serve it after a family meal on any given evening, or serve it as a light but comforting ending to a dinner party.
Please make it. It's so very good!
How To Make It
This recipe is made in three parts:
A not-very-sweet and overly-salty pudding base.
A sweet brown sugar Swiss meringue, and
Whipped cream
When all three components are folded together, you get a light and dreamy dessert mousse that is perfectly balanced in both sweetness and salt.
I'll go over all the components and how to make them along with giving you some tips, answering some frequently asked questions, and sharing some serving suggestions.
If you would like to skip all of that and just go straight to the recipe, please click to go to the butterscotch mousse recipe.
Ingredients and Substitutions
Here's what you'll need to make this deliciousness. I'll list any substitutions if they make sense for the recipe: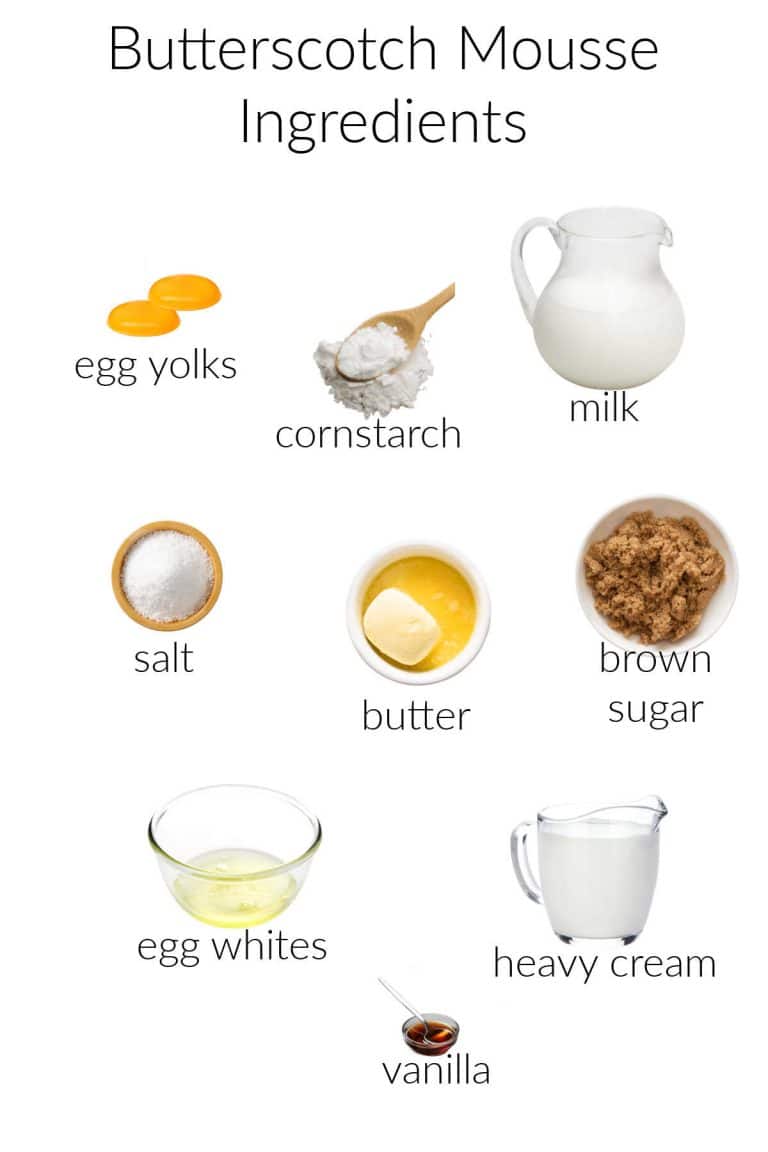 For the Custard Base
egg yolks: The eggs bring richness, some thickening power, and emulsifiers to the butterscotch mousse
cornstarch: For thickening. You can also use flour if you like. If you do, you won't have to boil the pudding for as long as if you're using cornstarch. But then it won't be gluten-free, so it's your choice
salt: Salt is one of the three flavor components, along with brown sugar and butter, of butterscotch. So for this mousse, I use more than I would normally for seasoning. You can use fine salt or kosher salt. If using fine salt, use about half the amount called for in the recipe
butter: Salted or unsalted. If you use salted, you can cut back slightly on the added salt
dark brown sugar: Dark brown sugar is definitely my preference for butterscotch, but you can also use light brown. Or if all you have is granulated sugar, use that along with 2 teaspoons of molasses
milk: I use whole milk. You can also substitute 2% milk or any plant-based milk that won't curdle if boiled. Soy milk is probably your best bet
vanilla: Rounds out the flavor of the butterscotch. It is not strictly necessary, and you can leave it out. But if you have some vanilla on hand, do add it.
For the Meringue
egg whites: Use the whites leftover from separating the eggs for the yolks in the custard
dark brown sugar: Again, dark brown is best, but you can use light brown in a pinch.
salt: I use 1/4 teaspoon kosher salt in the meringue. You can use table salt, but only about 1/8 teaspoon
For the Whipped Cream
heavy cream: There really is no substitute here. Heavy cream will give you the best texture for your mousse
salt: just a small pinch. It brings out the flavor in the cream
Procedure
First you'll make the custard:

Whisk yolks, cornstarch, and about 1/4 cup of the milk together in a bowl.
Make the butterscotch by cooking the butter, dark brown sugar and salt together with just a bit of water to dissolve all the sugar.
Cook until the butter browns and the sugar caramelizes. Mixture will look broken–lots of loose butterfat–and it will smell like caramel
Pour in the rest of the milk and heat over medium heat until smooth.
Temper into the yolk mixture and pour everything back into the pan.
Bring to a boil, whisking constantly, and boil for 2 minutes.
Strain and cool to room temperature in the fridge.

Then you'll make the Swiss meringue:

Heat whites, brown sugar, and salt together over a double boiler.
Cook and whisk constantly until the temperature is 180F
Whip until tripled in volume and at room temperature
Fold gently but thoroughly into the custard base

Last, make the whipped cream:

Whip the cream and a pinch of salt together until it reaches medium peaks.
Fold into the mousse.
Portion into individual bowls
Chill for about 4 hours before serving
Equipment Recommendations
If you have a metal bowl, a stand mixer or a hand mixer, and a whisk, you are good to go.
It's also nice to have some small 4-6 ounce dessert glasses so you can fill them right up to the top with mousse and then level it off for a sleek look.
If you use wine glasses, pipe it decoratively into the bottom of the glasses, but serve it in small portions.
Visual How-To
I want to provide you with a few visual cues so you'll know what some of the steps should look like–what color, what texture, etc.
Here's what your butterscotch mixture should look like when it's almost ready to go. You will probably notice the butterfat separating from the sugar. When that happens, just keep stirring and smelling it. Once you get a distinct caramel smell from your mixture, it's time to turn off the heat and add the milk.
Here's what your pudding will look like when it is done. Note how thick it is. You need it to be that thick so it maintains shape once you get the meringue and the whipped cream folded in.
Since it is so thick, you will most likely have to press it through your strainer. I use a flexible silicone spatula for this step.
Take a look at the color and texture of the finished brown sugar Swiss meringue. It should be a very pale beige in color and hold stiff peaks.
Instead of trying to fold all the meringue into the custard, stir a portion of it in first to lighten the texture of the custard. Then it will be much easier to fold in the remaining meringue and the whipped cream.
Note that after I shot this clip one-handed, I just whisked in that portion of meringue. You should too! Then switch back to a spatula to fold in the remaining meringue.
Here's the final consistency of the mousse once you get the meringue and the whipped cream incorporated. It will set up to an airy, spoonable texture once it's refrigerated for a few hours.
Pro Tips for Success
Make sure your pudding has cooled to room temperature before folding in the meringue. Whisk the pudding a bit before starting to loosen it up. This will make it easier to combine.
Remember this formula to make almost any flavor of dessert mousse: rich, flavorful base (custard, ganache, etc) + whipped whites (meringue) + whipped cream
While light in texture, this is a very rich dessert. Plan on 4-6 oz per serving at the most.
For a less formal presentation, you can leave the mousse in a large container and then scoop it out to serve.
Butterscotch Mousse Q & A
How long will the mousse keep in the fridge?
Expect the mousse to have the best texture within 3 days of making. Be sure to keep it well-covered with plastic wrap. For best results, fill small containers all the way to the top and then level off with a spatula. That way, you can press plastic wrap right down onto the surface. If you pipe it decoratively in glasses, serve it within 24 hours of making it.
Can I freeze it?
Yes. Freeze with plastic wrap pressed directly on top of the mousse and then in a freezer-safe container. It will be fine for a couple of months. Thaw in the fridge before serving.
Is butterscotch mousse gluten-free?
As written, yes, it's gluten-free. If you substitute flour for the cornstarch, it won't be, so stick with cornstarch if gluten is an issue for you, your family and/or your guests.
Can I make a vegan version?
As written, this recipe is vegetarian. I would not recommend trying to adapt this recipe to make it vegan. There are just too many animal products–butter, eggs, cream–that give it its flavor and texture.
Serving Suggestions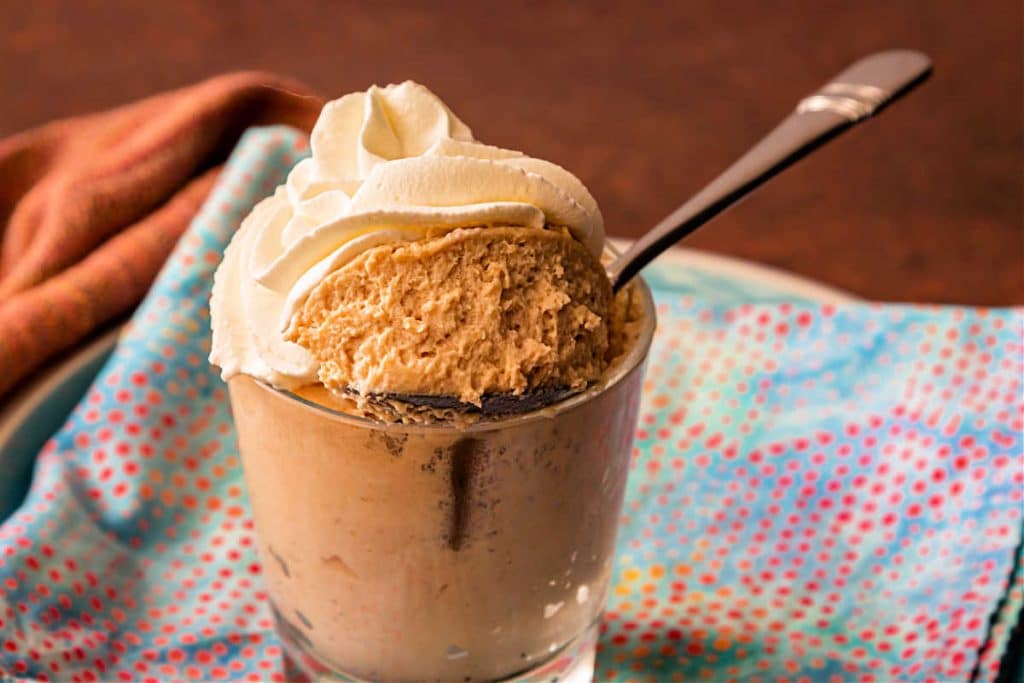 Obviously you can serve it, as is. I like to top mine with some hand-whipped cream. By the way, I whip the cream for the mousse by hand as well.
To provide some textural contrast, consider serving with some chopped toffee or candied nuts.
You can also use this mousse as a cake filling or a component in a more complex dessert.
For example, if you wanted to, you could top my butterscotch cheesecake with this mousse rather than with meringue. Or use some butterscotch mousse as the filling in my butterscotch cake.
And think about other flavors that pair well with butterscotch such as banana, pistachio, and peanut butter. So think about piping butterscotch mousse onto a pistachio tea cake, or even topping your mousse with some bananas foster. Talk about a fancy ending to a meal!
Questions
A Note About Measurements
It would be so helpful to me and to other readers that, when you make a recipe, you rate it and leave a comment. Whether it's a recipe or an informational post, your feedback helps others decide if the post is helpful or if the recipe works as advertised.

If you could leave a star rating, that would be very helpful. Thank you for being here!
The Best Butterscotch Mousse Recipe
This butterscotch mousse is intensely butterscotchy and as light as air. The combination of buttery and caramel notes and the light texture makes for an individual mousse it's hard to stop eating.

Made with egg yolks, whipped whites, and whipped cream, it is made with the same components as a classic mousse, but the eggs are all cooked for food safety.
Ingredients
For the Custard Base
2

Tablespoons

cornstarch

2

egg yolks

3

oz

butter

1.5

oz

dark brown sugar

¾

teaspoon

kosher salt

I use Morton's

1 ½

cups

milk

divided use

1

teaspoon

vanilla extract
For the Meringue
2

egg whites

2.5

oz

dark brown sugar

¼

teaspoon

salt
For the Cream
6

oz

heavy cream

pinch

of salt
Instructions
For the Custard
Whisk the egg yolks, cornstarch, and about 1/4 cup of the milk together in a bowl. Set aside.

Melt the butter in a pan.

Add the brown sugar, salt, and a little water so the sugar completely dissolves.

Bring all to a boil and cook, stirring constantly, until the butter browns and the sugar caramelizes (NOTE: The ratio of butter to sugar is such that the butter will separate out at some point. Don't worry. Trust your nose. When you smell caramelized sugar, you'll know it's done.

Once the sugar has caramelized, turn off the heat and pour in all the remaining milk.

The butterscotch may seize up. That's okay.

Cook over medium-low heat, stirring constantly, until the butterscotch has all melted.

Temper the hot butterscotch mixture into the yolk mixture, then pour everything back into the pan.

Bring to a boil, stirring constantly, and keep at a low boil for 2 minutes.

Strain into a bowl, and whisk in the vanilla.

Press plastic wrap onto the surface of the custard and refrigerate at least room temperature. It does not have to be completely chilled, but you don't want it to be warm, either.
For the Meringue
Put the egg whites, sugar, and salt into a metal bowl (preferably the mixer bowl from your stand mixer, but if you are using a hand mixer, any metal bowl will do as long as it will fit on top of a pot on the stove).

Set the bowl over a pot with 1" of water in it. This is. Turn the heat to high, and whisk the whites vigorously and continuously.

Once the water in the pot boils, control the heat to keep it at a high simmer, and continue whisking until the temperature of your whites is 180F.

Remove the bowl from the pot and whisk the whites, either on your stand mixer fitted with the whip attachment or with your hand mixer, until the meringue is thick and shiny and at room temperature. It will have tripled in volume. You have just made a brown sugar Swiss meringue.

Remove the bowl of custard from the fridge and whisk it a bit to loosen it.

Whisk in 1/3 of the meringue, and then fold in the rest, gently but thoroughly, until no streaks remain.
For the Cream and to Finish
Whip the cream to medium peaks along with the pinch of salt.

Fold thoroughly but gently into the rest of the mousse.

Ladle into serving glasses, cups, or bowls. You can also scoop the mousse into a decorating bag fitted with a large star tip and pipe it decoratively into your serving glasses.

Chill at least 4 hours. For best flavor, allow to sit at room temperature for 45 minutes before serving with more whipped cream on top. Finely chopped toffee or chopped spiced nuts would also be a lovely garnish.
Did You Make Any Changes?
Notes
Refrigerate for up to 3 days or freeze for up to 2 months.
Nutrition
Serving:
1
g
Calories:
256
kcal
Carbohydrates:
19
g
Protein:
4
g
Fat:
19
g
Saturated Fat:
12
g
Polyunsaturated Fat:
6
g
Trans Fat:
1
g
Cholesterol:
98
mg
Sodium:
316
mg
Sugar:
17
g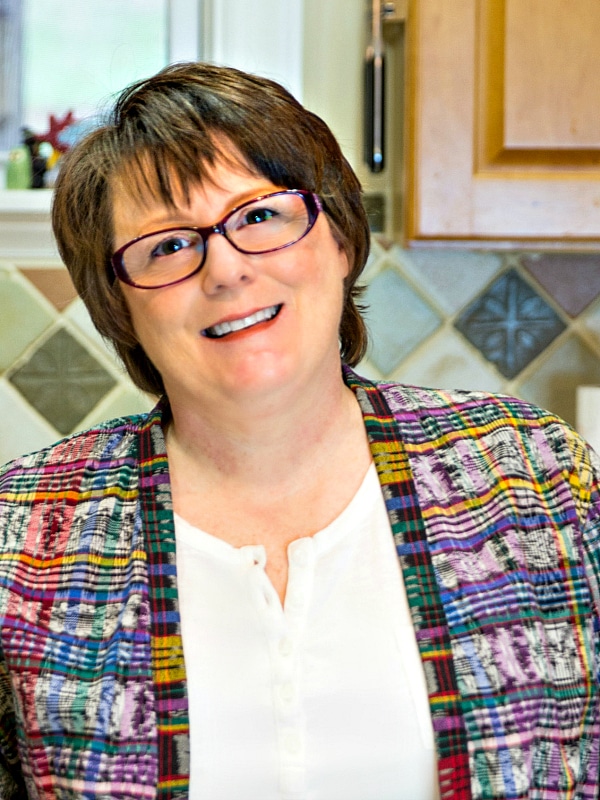 What are my qualifications to teach you baking and pastry? As a former working pastry chef and special educator, I marry my passions for both teaching and for baking into explaining techniques, methods, and developing the best possible recipes. For more info, you can read more about me.
If you'd like to receive new recipes and the occasional newsletter, I'd love for you to sign up for my Inbox Pastry Chef.