Most Recent Update:
I am so glad you're here, because I'm going to show you how to make vodka sauce, my all-time favorite pasta sauce,with any marinara sauce (but I'm also giving you the recipe for one of my favorite marinara sauces, so yay!)

Photos Updated, 3/2019
This post contains affiliate links. We are members of the Amazon Affiliate program. For any sale through our links, we earn a small commission. Your price is unaffected. For more information, please see our disclosure policy.
Step One in Making the Best Vodka Sauce
The most important step in making this classic sauce is to start with a good marinara sauce.
I started with Fabio Viviani's recipe, and you can watch him make it right here.
You can also use your favorite marinara recipe or use a good quality jarred marinara sauce.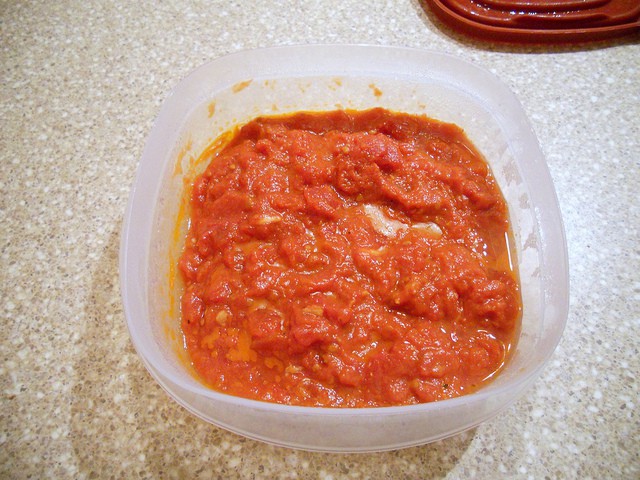 What Is Vodka Sauce Made From?
I did a bit of research on vodka sauce (thanks, Giada), and it contains these components:
Marinara Sauce
Vodka
Heavy Cream
Parmesan cheese
Remember, you can make any marinara sauce you like. Or you can use your favorite jarred sauce.
Here are some I particularly like:
Other Classic Pasta Sauce Recipes
Once you master vodka sauce, here are some other classic pasta sauce recipes you will want to have in your back pocket:
And now, on to the recipe and technique for making restaurant-style pasta sauce.
How to Make Vodka Sauce From Marinara Sauce
The basic ratios for making this classic are easy to remember:
8 parts marinara sauce
2 parts vodka
1 part cream
1/2 part Parmesan
Basic Vodka Sauce Ratio: 8 parts marinara, 2 parts vodka, 1 part cream, 1/2 part Parmesan
To make a huge amount, the measurements would look like this:
8 cups marinara
2 cups vodka
1 cup cream
1/2 cup Parmesan
My recipe makes about 1/4 of that amount, and you'll see the ratios hold true.
Proportions for Making Classic Vodka Sauce
In the collage below, you can see the proportions holding true. I have 2 cups of marinara, so it will need 1/2 cup vodka.
Cook the two together and reduce until you have the original volume (2 cups).
Then, you'll add 1/4 cup of cream, puree, and last, add 2 Tablespoons of freshly microplaned Parmesan cheese.
To marry the sauce to the pasta, you'll need 1/4 cup of the pasta cooking liquid, shown in the last collage image.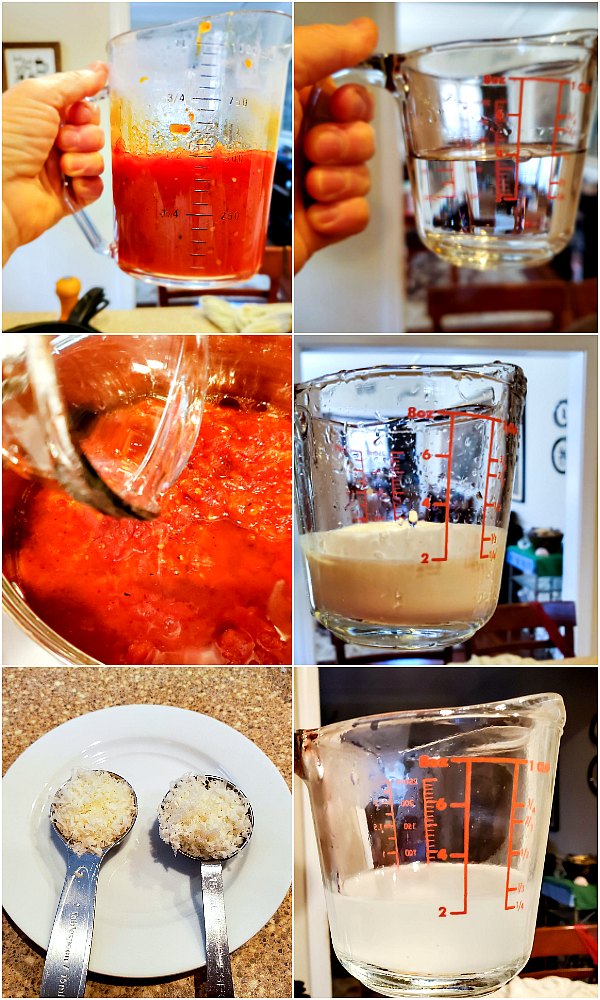 Making the Sauce, Step by Step
Cook marinara and vodka together until the volume is the same as the original amount of marinara (See image below)

Add cream and pepper flakes. Puree with an immersion blender.

Stir in Parmesan.

Adjust seasonings if necessary.
How Do I Mix the Sauce Into My Pasta?
There is nothing sadder than naked pasta with sauce poured on top. What you need to do is make sure that every noodle is coated with rich, creamy sauce. In order to do that, you have to know how to marry the sauce to the pasta.
It's not hard to do, and it only takes an extra couple of minutes of cooking. The effort is more than worth it. After all, I didn't show you how to make this restaurant classic only to have it poured haphazardly onto naked pasta.
To enjoy vodka sauce the way they make it in restaurants, finish the pasta by marrying the sauce and pasta together.
Vodka Sauce is For More Than Just Penne alla Vodka!
Looking for another way to enjoy your luscious pasta sauce? Try it as a pizza sauce like I did in my Vodka Sauce Grandma Pizza Recipe. Nom.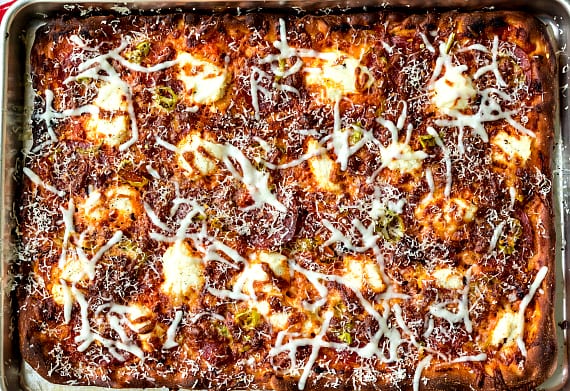 And if you're interested in an easy, shortcut version, try my Easy Creamy Vodka Sauce recipe!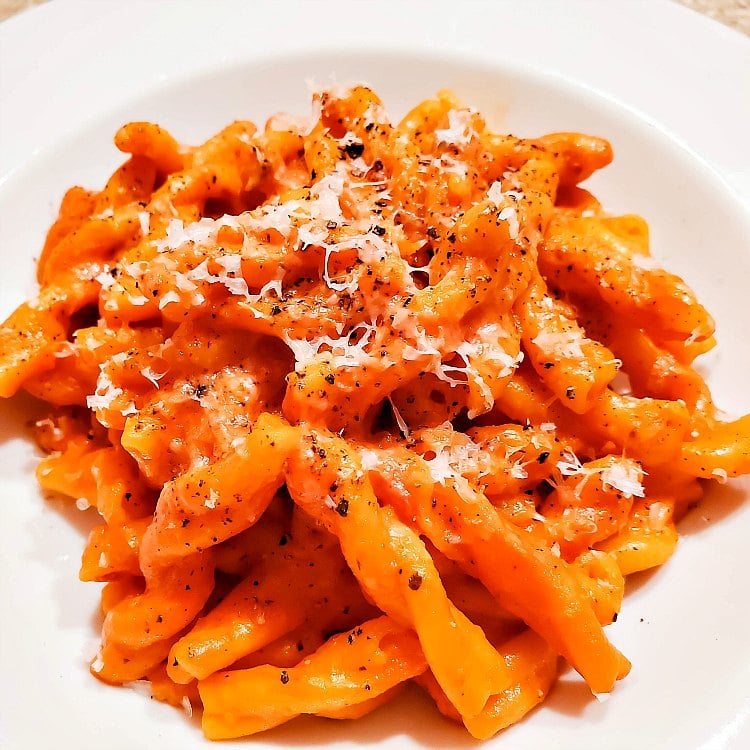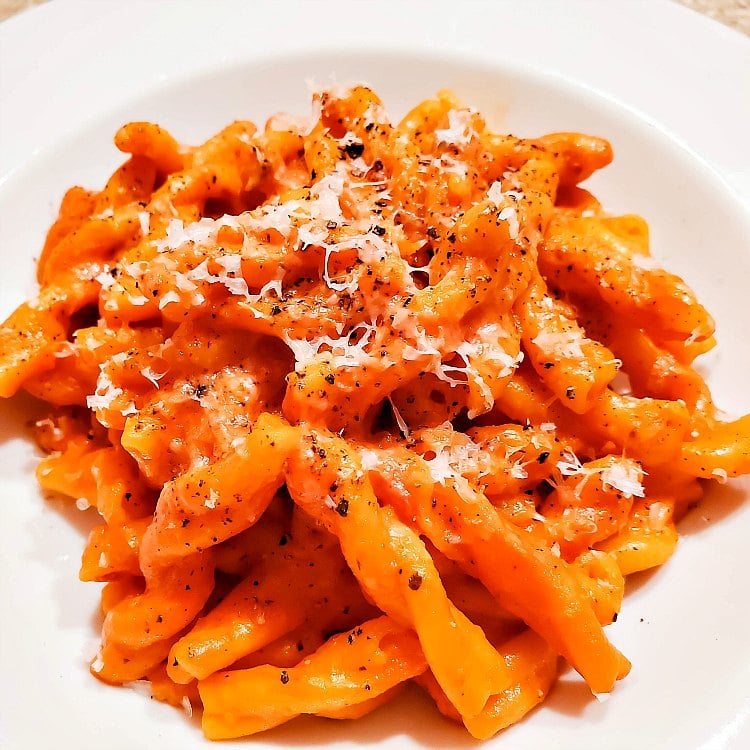 How to Make Vodka Sauce
How to make vodka sauce using any marinara sauce, including jarred marinara sauce. All proportions are by volume. Enjoy! For ease of writing the recipe, I'm basing everything on 2 cups of marinara sauce. Please scale accordingly.
This is now my favorite vodka sauce. Seriously. In this case, the one-two Fabio-Giada punch is hard to beat. Try both the marinara (a revelation for me) and thed then turn it into vodka sauce. You'll be Very Happy that you did. Enjoy, and have a lovely day.
Thanks for spending some time with me today. Enjoy the sauce, and spread the love by teaching someone else how to make restaurant-style vodka sauce!
Take care, and have a lovely day.