There is something so sophisticated and kind of fancy about coffee desserts–coffee mousse, anyone?, and this coffee panna cotta recipe is no exception.

The secret? It's not at all hard to make.

Stick with me and I'll show you how to make a creamy and delicious coffee dessert with just a handful of ingredients.

I think you'll like my chocolate panna cotta as well.

For ease of browsing, check out out all of my individual desserts here. Thanks so much for being here!
The LBD of Desserts
Seriously, panna cotta is a great dessert recipe to have in your back pocket.
It only requires a few ingredients to make it, and once you get the procedure down, you can flavor it in tons of different ways.
Flavors
Aside from the lemon corn, cream cheese, and chocolate versions I mention in the introduction, here are some other flavor ideas for you:
Matcha
Caramel
Raspberry
Strawberry
Blackberry (okay–all the berries)
Almond
Hazelnut
Lavender
Rose
Orange water
Lemon
Orange
And the list goes on and on. Whatever you can steep in dairy and then strain out or whatever spices and/or extracts you can add to it is fair game, flavor-wise.
Serving
You can also serve it in different ways, switching up the kind of containers you pour it into or deciding to turn them out onto plates like you would flan.
Think out of the box when it comes to containers:
Small jam jars
Shot glasses
teacups or coffee cups
espresso mugs
Ramekins
Wine glasses or champagne flutes
Glass yogurt jars
Metal spice tins
Ceramic or glass salt cellars
Plating Panna Cotta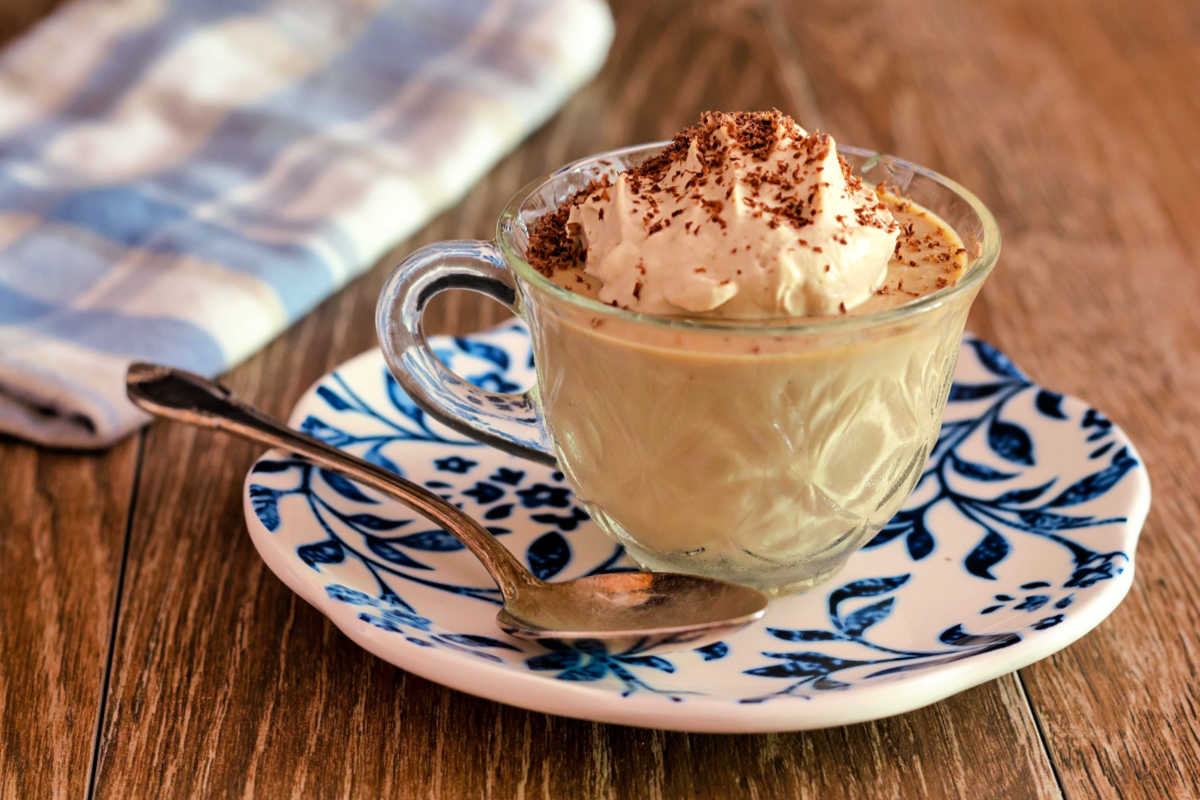 If you plan on serving your guys in containers, you can garnish with whipped cream or various sauces (depending on what flavor you make).
For these little coffee panna cottas, I used my Microplane to grate dark chocolate on some of them, for others I made some coffee-flavored whipped cream. Another nice touch would be to serve them with chocolate-covered espresso beans or even hot fudge sauce (cooled down to room temperature so the gelatin doesn't melt).
If you decide you'd like to unmold your panna cotta to serve like flan, your best bet is to use silicone muffin molds, pop them in the freezer, and then pop the frozen pucks out onto serving plates.
NOTE: Yes, you can freeze panna cotta. They freeze like a dream and thaw to their original creamy consistency with no problem at all.
Of course, before serving, allow them time to reach 45F or so–cold enough that they still read as chilled desserts but well past the point of being icy.
If you don't have silicone molds or don't want to buy some, you can also mold and then freeze them in Solo-type cups, either small 4 oz souffle cups or even regular ones only filled with about 1/2 cup of mix.
Once frozen, use scissors to help you cut/tear away the plastic cup.
A more eco-friendly option would be to use paper cups. Just be sure to spray the insides with some pan spray to make sure they're easy to peel away from your frozen panna cotta.
Ingredients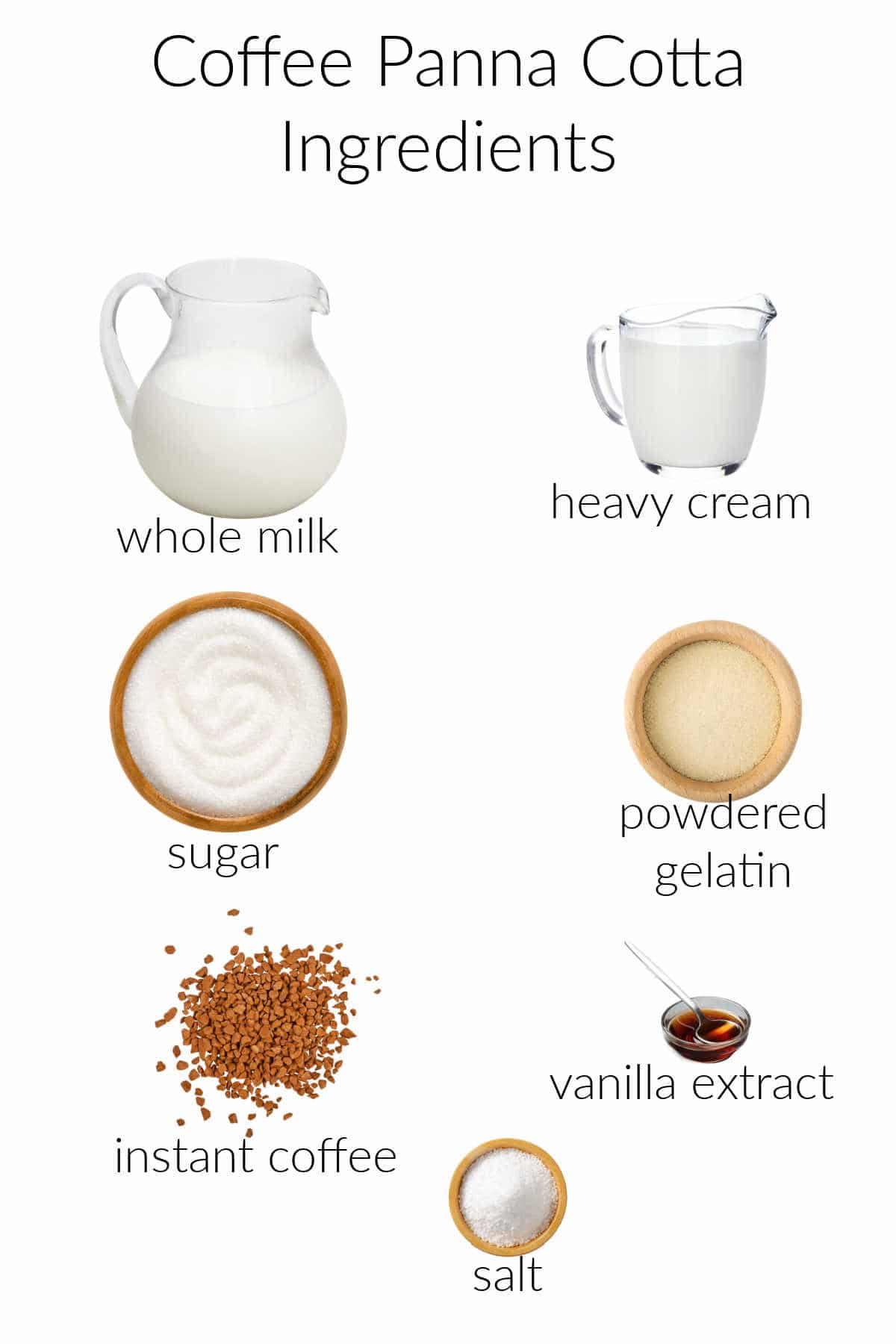 As with most recipes for this Italian classic, this one has a short list of ingredients:
heavy cream: you'll use this, divided. Some you'll whip until thick, so no substitutes here
whole milk: you can get away with 2% here, but I would not recommend anything with less fat or the texture will be too "slick" and not creamy
sugar: use granulated white or brown sugar here. Brown sugar will give you a bit deeper flavor
powdered gelatin: note that gelatin is an animal product, so coffee panna cotta (any kind, really) is not vegan or even vegetarian. If this is a concern, you may want to use agar agar instead. I have zero experience with this, but I do know it will change the texture since the set of agar is a bit "crunchier" than that of gelatin
salt: brings out the flavor in everything and counteracts any bitterness from the coffee
instant coffee: you can also use espresso powder if you have it
vanilla: I used vanilla paste here because I like to see the little flecks of vanilla suspended in the panna cotta. Feel free to use vanilla extract or even coffee extract here for really deep coffee flavor
The Keys to a Creamy Panna Cotta
The key to getting a nice and creamy panna cotta is to divide the heavy cream, using some of it to cool off the hot milk mixture and the rest to very softly whip and then fold/whisk it into the rest right before pouring your mix into your containers.
You also want your base to be chilled enough that it is starting to thicken up as well. Ideally, it should be the same texture as your thickened cream. You can do this in one of two ways:
Place it in the fridge and whisk it every 15-20 minutes until it is just barely starting to set, or
Whisk it over an ice bath on the counter until it begins to thicken and set.
Now that I've given you the "secrets," here are the steps.
Procedure
Stir the instant coffee into about 1/4 of your whole milk and then add your gelatin. Stir again and set aside for 10 minutes.
Bring the remainder of the milk, the sugar, and a pinch of salt to a bare simmer–it should not boil.
Off the heat, stir in the coffee/gelatin mixture. Whisk over the heat for just a few more seconds, making sure the mixture is smooth and not grainy. Again: don't let it boil
Strain into half the heavy cream.
Chill over an ice bath or in the fridge until just starting to set and slightly thickened.
Softly whip the remaining cream along with the vanilla paste (something with "vanilla specks" in it is nice, but you can also use extract.)
Stir the thick cream into the gelatin mixture until thoroughly combined. The mixture should not separate into two layers. If it does, chill it and whisk it a bit more.
Pour this final mixture through a small strainer (optional) and into serving dishes/containers.
Chill, garnish as desired, and serve.
Coffee Panna Cotta Q & A
Can I change the flavor?
Absolutely. Use citrus zest, extracts, etc to alter the flavor of your panna cotta. If you want to keep the base flavor coffee, use additions that will complement your personalized coffee panna cotta: orange zest, cinnamon, and chocolate come immediately to mind.
Can I freeze panna cotta?
Absolutely. Panna cotta freezes beautifully. If you're unmolding it, you can plate them still frozen and then let them thaw to just chilled. Keep them in the freezer until about 45 minutes to an hour before you plan on serving them, and they will thaw out and be perfect.
How long will it last in the fridge?
Gelatin has the annoying habit of continuing to set more and more firmly as time goes on, so for best texture, either freeze your little guys or serve them within 3 days. They'll be fine to eat for up to a week, but the texture will be more firm the longer you wait. Keep them well covered with plastic wrap so they don't pick up any off-flavors in the fridge.
Questions?
A Note About Measurements
For convenience, consistency, and accuracy, almost all my recipes are written by weight, either in ounces and/or grams, even the liquids.
I strongly encourage you to purchase a kitchen scale and learn to use it.
This is the one I used for years. I love it and highly recommend it:
Best for Home Use
Escali Primo Digital Food Scale
Don't let its small price and small size fool you. The Escali Primo is an accurate and easy-to-use food scale that I have used for years. It's easy to store, easy to use, has a tare function, and easily switches between grams and ounces/pounds for accurate measurements.
This is an affiliate link which means I earn from qualifying purchases. Your price is unaffected.
It would be so helpful to me and to other readers that, when you make a recipe, you rate it and leave a comment. Whether it's a recipe or an informational post, your feedback helps others decide if the post is helpful or if the recipe works as advertised.

If you could leave a star rating, that would be very helpful. Thank you for being here!
Creamy Coffee Panna Cotta Recipe
This coffee panna cotta is rich and creamy and is the perfect ending to a summer meal. Why drink your coffee when you can eat it as dessert?
Ingredients
8

oz

whole milk

divided use

1 ½

teaspoons

unflavored powdered gelatin

3-4

teaspoons

instant coffee

depending on how strong a coffee flavor you like

1/3-1/2

cup

granulated sugar

depending on how sweet you like things

healthy pinch of salt

8

oz

heavy cream

divided use

½

teaspoon

vanilla paste or extract
Instructions
Place 1/4 cup of the milk (2 oz), the gelatin, and the instant coffee in a small bowl. Stir and allow the gelatin to bloom for about 10 minutes.

In a small saucepan, heat the remainder of the milk together with the sugar and salt until steaming but not boiling.

Stir in the gelatin/coffee mixture and heat another 5-10 seconds, again not letting the mixture boil.

Set aside to cool for 30 minutes.

Strain the coffee/gelatin mixture through a fine mesh strainer into a large bowl.

Stir in half of the heavy cream.

Add the vanilla to the other half of the cream and whip it until the vanilla bean specks are suspended and don't sink and the whisk leaves tracks in the cream.

Whisk/fold the softely whipped cream into the coffee/gelatin mixture.

Pour into small containers and refrigerate for 3-4 hours before serving. Garnish with whipped cream, a chocolate covered espresso bean or some finely grated chocolate.
Did You Make Any Changes?
Notes
STORING: Store in the fridge for no more than 4 days. The gelatin will continue to get firmer as they sit in the refrigerator, so for best texture, serve within a day or two of making. FREEZING: Freeze, well-wrapped, for up to a month. Thaw in the fridge until no longer icy. SWEETEN TO TASTE: Use more or less sugar, depending on taste. If you are going to use 4 teaspoons of instant coffee, you will probably want to use 1/2 cup of sugar. If you use 3 teaspoons of instant coffee, you will most likely be fine with 1/3 cup of sugar. SUBSTITUTING ESPRESS POWDER: If all you have is espresso powder, start with 2 teaspoons and see how you like it and then go from there. This dessert really is all about making it to taste. TO UNMOLD: If you'd like to unmold these panna cottas, increase the amount of gelatin to 2 teaspoons for a firmer set.
Nutrition
Serving:
1
g
Calories:
341
kcal
Carbohydrates:
30
g
Protein:
4
g
Fat:
23
g
Saturated Fat:
15
g
Polyunsaturated Fat:
7
g
Trans Fat:
1
g
Cholesterol:
73
mg
Sodium:
78
mg
Sugar:
30
g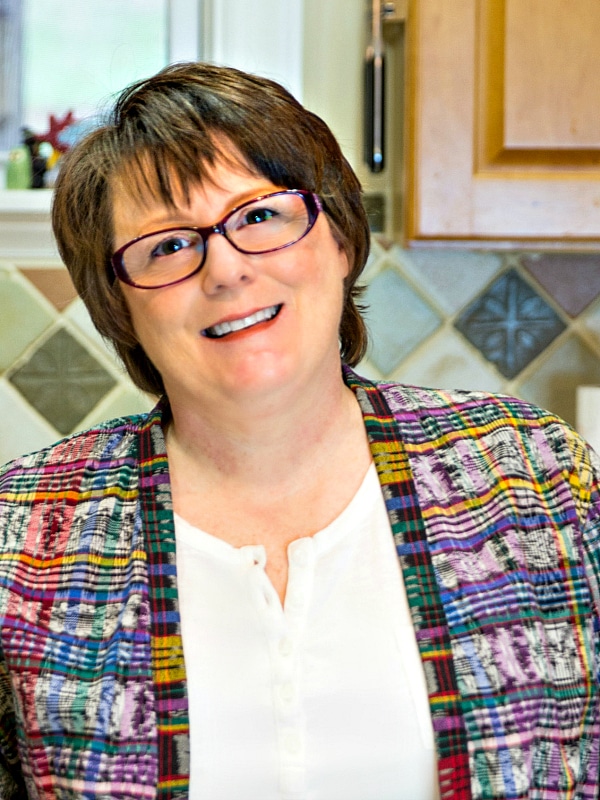 What are my qualifications to teach you baking and pastry? As a former working pastry chef and special educator, I marry my passions for both teaching and for baking into explaining techniques, methods, and developing the best possible recipes. For more info, you can read more about me.
If you'd like to receive new recipes and the occasional newsletter, I'd love for you to sign up for my Inbox Pastry Chef.
Thanks so much for spending some time with me today. Enjoy your delicious dessert–and all the Summer Dessert Week desserts!
Take care, and have a lovely day.