Ginger lime wedding cookies are unassuming little snowball cookies until you take a bite. And then you're hit with warm ginger and sharp lime all rolled up in a pecan shortbread dough. This is one cookie that will surprise and delight you.

Festive enough for the holidays but tasty enough that you will want to make them all year long!

For a different yet deeply gingery cookie, give my chewy ginger cookies a try.

For ease of browsing, find all my cookie and bar recipes here. Thanks for being here!
At A Glance
✔️Skill Level: Beginner
✔️Skills: Toasting Nuts, Grinding Nuts, The Creaming Method, Powdered Sugar Coating
✔️Type: Shaped Cookies
✔️Number of Ingredients: 8
✔️Prep Time: 15-20 minutes
✔️Cook Time: 25 minutes
✔️Yield: 32-36 cookies

Jump Straight to the Recipe
What Is So Great About These Cookies
As Jessica says, these cookies are worth it just to see the look on people's faces when they take a bite!
The unexpected yet completely delicious combination of ginger and lime make eyes light up and tummies very happy.
Very similar to shortbread cookies shortbread cookies, wedding cookies don't contain any eggs or additional liquid. This allows the fat from both the butter and the nuts to thoroughly coat the flour and prevent gluten from forming.
This fat coating is what makes the texture of shortbread and wedding cookies so crumbly and magical.
These cookies also get coated in a spiced and salted sugar mixture. This adds not only sweetness but more ginger flavor.
Jenni Says: Never miss an opportunity to season your cookies. If any recipe calls for rolling cookies in sugar, season it!
If you check out my brown butter pecan shortbread, you can see that these wedding cookies share the same bones as those guys.
How to Make Ginger Lime Wedding Cookies
These cookies are very easy to make. If you already know you want to make these, you can skip straight to the recipe.
Here's what you'll need. I'll provide some substitutions where it makes sense to do so.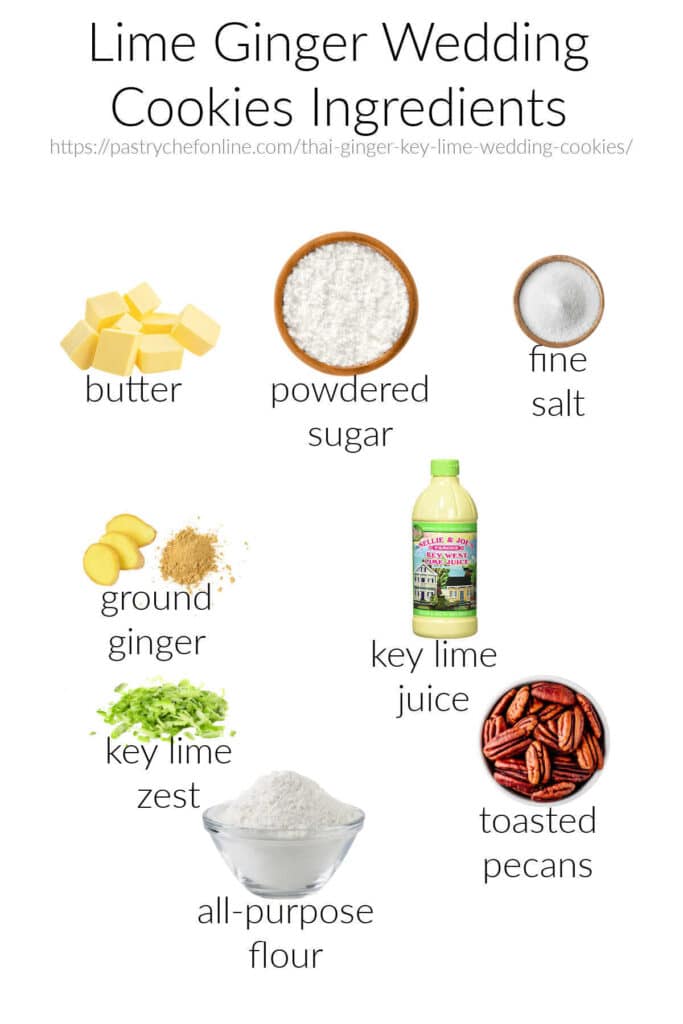 unsalted butter: Very soft. These cookies are heavy on the fat and light on the sugar. This allows for a nice thick coating of seasoned powdered sugar on the outside. The butter, along with the toasted oils in the pecans, carries a lot of flavor
powdered sugar: The powdered sugar gives these cookies their melt-in-the-mouth quality. Sift your powdered sugar to make sure there are no lumps.
fine sea salt: There is a fair amount of salt in these cookies, both in the dough and in the powdered sugar coating. The salt really brings out the flavor in the nuts, the spices, and the lime. If you only have kosher salt, crush it in a mortar to powder it so it distributes evenly
ground ginger: Provides a lovely warmth and sparkle to the cookies. It's used twice, once in the dough and again in the spiced powdered sugar coating. You can also add some freshly minced ginger to make them more gingery. Use about 2 teaspoons of ginger pulp (use a Microplane) and then cut back on the lime juice by about 1 teaspoon
key lime juice: fresh or bottled–if using bottled, use Nellie and Joe's which has great flavor. If using fresh key limes it'll take about 3 limes to get 1 Tablespoon of juice
key lime zest: zest 3 key limes before juicing them. If you only have Persian limes, you'll need the zest from 1
toasted pecans: I toast my pecans in my toaster oven for about 6-7 minutes. You can also toast them on the stovetop in a dry pan, stirring until they become fragrant. NOTE: Let the toasted pecans cool completely before grinding them or you'll run the risk of making pecan butter. You can use other nuts here to change up the flavor. Consider macadamias, walnuts, or pistachios
all-purpose flour: Provides the bulk for the recipe
Specialty Ingredient Alert
They do make ginger salt, and that's what I originally used to create this recipe. It's not necessary, but if you have some or want to try it out, this is a great one.
Add Some Zing!
Asian Ginger Gourmet Sea Salt
Add a delicious kick of savory gingery goodness to everything. Fantastic in my ginger-lime wedding cookies, which I developed specifically to use ginger salt, but also great in soups and as part of a rub for poultry. I'm sure you'll find a bunch more uses for it!
This is an affiliate link which means I earn from qualifying purchases. Your price is unaffected.
Procedure
The ingredients come together really quickly.
Don't forget to toast your pecans before chopping them very finely. It will add depth of flavor.
Toast the pecans and pulse in a food processor until finely chopped. You can also do this by hand with a good chef's knife or in a blender.
If using a blender, add the pecans and the flour to it and pulse until the pecans are finely ground. Adding the flour will help absorb some of the oils, making it less likely to end up with pecan butter.
Cream together butter, powdered sugar, salt, ginger, lime zest, and juice until creamy.
Whisk the nuts and flour together (unless you blended them together earlier), then mix into the butter/sugar mixture.
Shape into balls and bake.
Roll in spiced powdered sugar twice
Why Roll Them in Sugar Twice?
Pop the baked cookies into a bowl or large bag with powdered sugar, salt, and ginger after they've cooled for about 5 minutes.
The heat of the cookies plus the fat from the butter and nuts melts the first coating of spiced sugar and turns it into almost a "shell" of gingery goodness.
The second roll ensures you'll have the classic snowball cookie look of, well, powdered sugar on the outsides.
See that image below? You can see the shell layer coated by the fluffier, powdered sugar layer.
Wedding Cookie Variations
You can play up the sweetness to whatever extent you like by adding more or less powdered sugar coating or even leaving it off entirely.
Switch out the pecans for walnuts or macadamia nuts.
You can also switch up the citrus, using orange juice and zest, lemon juice and zest, tangerine, etc.
If you're not a ginger fan, you can use a different spice.
Keep the proportions the same and consider these flavor options:
Orange Cinnamon (with pecan)
Lemon Thyme (use the crushed/powdered thyme rather than the dried leaves)
Mocha (use 1 oz of cocoa powder in place of 1 oz of flour and add some espresso powder rather than ginger)
Pistachio Grapefruit (use grapefruit zest and juice and sub pistachios for the pecans)
Other Holiday Cookie Recipes
If you're planning on making cookie plates for giving during the holiday season, you'll want to make more than just these wedding cookies, although anyone would be happy to get a plate of these babies!
My favorite Christmas cookies are Angel Slices. A sable-type crust baked with gooey coconut pecan filling and iced with a thin, crackly glaze of lemon icing.
Brownie brittle is also a fun cookie for gifting. My version is peppermint brownie brittle and it is Very Very Good–crispy and munchable.
Round out your plate with some chocolate peppermint bark cookies, some beautiful rugelach, and Swiss Brunsli Cookies for a cookie plate with many different shapes and flavors.
A Note About Measurements
For convenience, consistency, and accuracy, almost all my recipes are written by weight, either in ounces and/or grams, even the liquids.
I strongly encourage you to purchase a kitchen scale and learn to use it.
This is the one I used for years. I love it and highly recommend it:
Best for Home Use
Escali Primo Digital Food Scale
Don't let its small price and small size fool you. The Escali Primo is an accurate and easy-to-use food scale that I have used for years. It's easy to store, easy to use, has a tare function, and easily switches between grams and ounces/pounds for accurate measurements.
This is an affiliate link which means I earn from qualifying purchases. Your price is unaffected.
It would be so helpful to me and to other readers that, when you make a recipe, you rate it and leave a comment. Whether it's a recipe or an informational post, your feedback helps others decide if the post is helpful or if the recipe works as advertised.

If you could leave a star rating, that would be very helpful. Thank you for being here!
Ginger Lime Wedding Cookies (Snowballs)
These snowball cookies pair ginger and lime together with a buttery, tender wedding cookie to make what I truly think are the best wedding cookies ever. Serve these, and watch your diners' faces light up with surprise at the unexpected and truly delicious flavor combination
Ingredients
For the Cookie Dough
8

oz

unsalted butter, softened

227 grams or 2 sticks

2

oz

powdered sugar, sifted

57 grams or 1/2 cup

½

teaspoon

fine salt

2.5 grams

2-3

teaspoons

powdered ginger

(more or less, to taste)

1

Tablespoon

key lime juice

14 grams, fresh or bottled, such as Nellie and Joe's

zest of 3 key limes or one Persian lime

4

oz

pecans

113 grams or 1 cup, toasted and finely ground in a food processor

10

oz

all purpose flour

(see note)
For the Powdered Sugar Coating
6

ounces

powdered sugar

170 grams or 1 1/2 cups

2

teaspoons

ginger

1

teaspoon

fine salt (or coarse salt ground to a powder)

5 grams
Instructions
Whisk the ground pecans and flour together (unless you added both to your blender, in which case, they're already mixed). Set aside.

In a bowl using a hand mixer, in a stand mixer, or by hand, cream the butter, sugar, salt, ginger, and zest until very creamy and smooth.

Beat in the flour mixture until just evenly combined.
To Shape and Bake
Portion cookies at about 1 Tablespoon each (0.75 oz or 21 grams). Roll into balls and place on a baking stone or cookie sheet covered with parchment or Silpat. These cookies barely spread, so you only need to leave about 1 1/2" between them.

Bake at 325F for about 20-25 minutes, until fairly firm and barely browned.

Let cookies cool on the racks for about 5 minutes and then roll gently but thoroughly in the powdered sugar coating (see below). Double dip them to ensure a nice, thick coating, part of which will melt and part of which will stay white and powdery.
For the Powdered Sugar Coating
Whisk all ingredients together thoroughly. Taste and add more ginger and/or more salt if you need to. It shouldn't taste salty, but there should be a noticeable salt bite or two in the midst of the sweet. The ginger should make your tummy warm. But it should not make you sweat.
Did You Make Any Changes?
Notes
Use 10 oz all purpose flour for a crumbly-yet-sturdy cookie. Use 5 oz each of cake flour and all purpose for a more delicate-crumbly cookie. Your choice.
Consider flavor variations by switching up the nuts you use and the spices and zests you choose. This is a great base cookie recipe, so make it your own.
The oven temperature should be 325F. Any hotter, and the cookies might not bake all the way through before the outside starts to burn, so check your oven temperature.
Note that cookies should not brown much at all except for a little on the bottoms. You'll know the cookies are done when they are firm. Straight from the oven, they'll still be soft in the centers, but they will firm up as they cool.
Nutrition
Serving:
1
cookie
Calories:
98
kcal
Carbohydrates:
13
g
Protein:
1
g
Fat:
5
g
Saturated Fat:
2
g
Polyunsaturated Fat:
3
g
Cholesterol:
7
mg
Sodium:
53
mg
Fiber:
1
g
Sugar:
6
g
And I hope you guys like these ginger lime wedding cookies, too.
Thank you so much for stopping in, and I hope you have a wonderful day.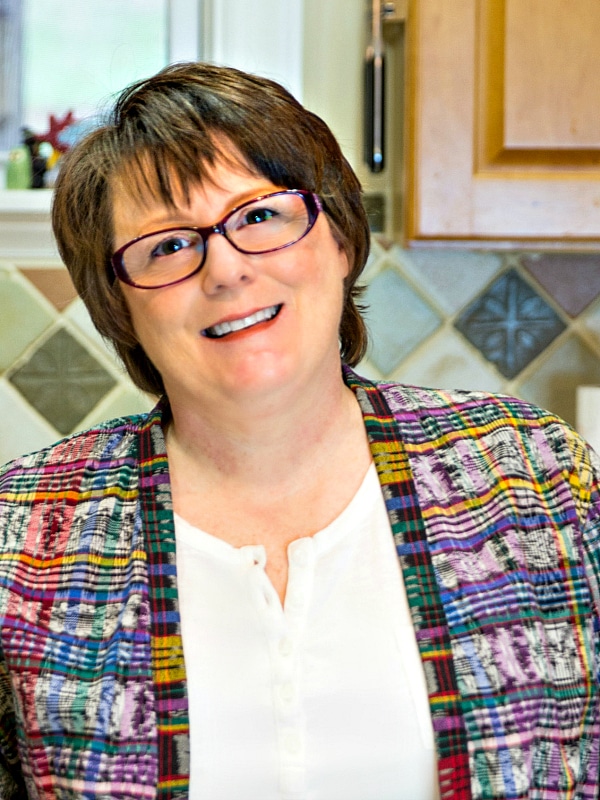 What are my qualifications to teach you baking and pastry? As a former working pastry chef and special educator, I marry my passions for both teaching and for baking into explaining techniques, methods, and developing the best possible recipes. For more info, you can read more about me.
If you'd like to receive new recipes and the occasional newsletter, I'd love for you to sign up for my Inbox Pastry Chef.