Most Recent Update:
Get ready to wow your family, your guests, and even yourself with this, the best hot fudge sauce recipe in all the land. It is seriously the best–not kidding! This post contains affiliate links. For more information, see my Disclosure page.
What Makes This the Best Hot Fudge Sauce?
This sauce is the sauce we used to make at the restaurant, and it is the best hot fudge sauce in the world. Hands down.
Does it have the fewest ingredients? No, that prize goes to good old ganache which makes a fine ice cream topping.
If you're looking for good, old-fashioned fudge sauce, you need look no further. Here are the things that are awesome about this fudge sauce:
It gets a thick and a bit chewy when cold.
You have to heat up in order to pour it.
It has deep, rich flavor that is exactly what is needed to set off a perfect vanilla ice cream. Or coffee ice cream.
There is enough salt in it to round out the flavors, counteract any bitterness that might be present if you use a really dark chocolate and to make the sauce sparkle on your tongue.
It is truly an old fashioned hot fudge sauce with deep, rich chocolate flavor.
How Can I Vary This Hot Fudge Recipe?
This sauce can be flavored in many ways. Here are some ideas to try:
Add a bit of orange zest and/or cinnamon to the boil
Switch out the rum for orange liqueur.
Use your favorite alcohol.
Add some peppermint extract for the holidays.
Whisk in powdered freeze-dried raspberries or other freeze-dried fruits.
Add some heat in the form of chipotle pepper or smoked hot paprika
Play with this sauce and make it your own.
When you want to relive your visits to the soda fountain where the hot fudge was thick and rich and tasted of fudge and not "brown," then please make it according to the original recipe which calls for light rum and vanilla.
Why Is There Alcohol in This Ice Cream Sauce?
Even just a bit of alcohol, whether it be rum or Kahlua or Godiva chocoalate or whatever, brings out the alcohol soluble flavors that would otherwise remain locked away.
The entire recipe, and it makes just over a quart, uses only 2 Tablespoons of alcohol. You can't taste it, but you would miss it were it not there.
If for any reason you cannot have alcohol, you can substitute 2 Tablespoons of very strong coffee.
Is There Any Good Commercial Hot Fudge Sauce Out There?
If you don't have time to make your own sauce, even a quick one, there are some options that are available for purchase. Keep in mind that your taste might be different, and some I like you may not, and vice versa. But here are some different hot fudge brands for you to consider.


The Best Hot Fudge Sauce Recipe in the World
Enough talk! Please go and make some of this sauce. And then come back and tell me that it really is the best hot fudge sauce in the world. Make a sundae, and don't forget to put the cherry on top. I promise you will feel just like a kid again.
And please share your photos with me! You can show me on Instagram by tagging me at @onlinepastrychef and using hashtag #pcorecipe. I can't wait to see how you make this fudge topping your own!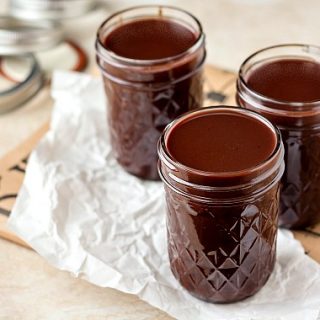 The Best Hot Fudge Sauce in the World
This rich, deeply fudgy sauce attains incredible complexity and depth two ways. First, the addition of a touch of alcohol brings out alcohol-soluble flavors. Starting with a lightly caramelized base affords more depth and that bit of chew and stretch you expect from an excellent fudge sauce. A full recipe yields over a quart, so you can either half the recipe or make the full recipe and share with friends.
Even if you don't make this hot fudge sauce now, do keep it in mind for the holidays. Your friends and family will thank you.
Want a Quickie Hot Fudge Sauce Recipe? Try my Best Quick Hot Fudge Sauce Recipe. It uses a couple of shortcuts to get complex flavor in a short amount of time.
Thank you for spending some time with me today. Happy Ice Cream Tuesday! Have a lovely day.
Looking for a quick hot fudge sauce that you can put together in about five minutes? My friend Chris has an excellent one she makes in a blender. Do check that one out too: Best Ever Hot Fudge Sauce.

**It occurs to me that, because of the jars I used, I may have implied that I canned the best hot fudge sauce in the world.
In fact, I did not can it, and I know next to nothing about canning. I used these jars because they're small and cute, but I'm just storing the sauce in the fridge. It should last a good 2-3 weeks if you used fresh dairy.
Thank you for spending some time with me today. Take care, and have a lovely day.