Y'all are going to love this dried apple cake! A tall and proud layer of spice cake full of dried and fresh apples plus crunchy toasted pecans and drizzled with dulce de leche.

This cake makes an excellent Thanksgiving dessert or even a Christmas dessert, with all the warm spicing.

If apples are your thing, you may also really enjoy my delicious spiced apple turnover recipe.

For ease of browsing, here are all of my cake recipes in one place. Thanks for being here.
Note that there is a section in this post about the people I'm most grateful for. If you prefer to skip that, please click here.
Giving Thanks
Before we get to ye olde apple spice cake, I want to introduce you to some folks.
These are some of the people I love the most in the world, and I was truly blessed to be able to spend precious time with them yesterday, laughing and cooking and eating and enjoying each other's company. See that laughing girl up there at the top left?
That's my best friend Julie who was lovely enough to extend the invitation a few weeks ago. Below her photo is her daughter Shellie. She's a senior at NC State and I first met her when she was about 2 hours old. She has changed substantially since then and is a smart and talented young woman.
The dog? That's Grace. She's Julie and Scott's newest rescue. They drove hours to adopt her last year right before Christmas. She is an earnest mess. Lovely Cindy, Julie's sister-in-law joined the gang as well. She never ages. Skip over those rolls for now and meet my new friend Colleen.
Colleen is from Canberra, Australia, and is in the US working at the Australian embassy in DC. Julie and she have been friends for years. Aside from embassy work, Colleen is also a gifted seamstress and made several of Shellie's Irish Dancing competition dresses over the years. That's how Julie and she became long distance friends. And I finally got to meet her. Now we're officially facebook friends. Yay!
Scott is Julie's husband, Cindy's brother, my friend of thirty-five years and The Beloved's brewing partner. He is the best.
Above him, meet Patrick. I just met him yesterday. He's a very cool kid and was a serious fan of the pumpkin rolls. He and James William are friends, and since not all families were conceived by Norman Rockwell, he has found his family with Julie and Scott.
Above him are Cindy's kids, Tyler and Stephen. Really nice young men, and Tyler especially gets extra points as he had to sit between Julie and me and hear about hot flashes.
And of course, there is The Beloved. I have known him for thirty-three years and have loved him for most of that time. He is my best and only.
Last but not least, meet James William, the younger of Julie and Scott's kids. Over the course of seventeen years, I've watched him grow into a kind and compassionate young man.
We also enjoyed hanging out with my mom and dad for a few hours later that day as well as with my friend Nadine (of Communion Bread fame), her husband Bill and their kitties, Mina and Josie.
All in all, the day was pretty close to perfect. I hope your Thanksgiving was filled with love and good food and family, either family by birth or family of the heart.
Why You Should Make This Dried Apple Cake
Honestly, there are many reasons to make this cake, friends.
First of all, it's a really pretty cake.
Many apple cakes tend to look very rustic. Most are delicious–moist, brimming with apples, well-spiced–but they're not much to look at.
This spiced apple cake is a stunner if I do say so myself.
All I did to achieve that look was to put nuts and dried apple slices on top of one of the pans of batter before baking. So simple!
The cake is chock full of both dried and fresh apples. The fresh apples make for a very moist cake while the chewy dried apples, along with the toasted nuts, provide texture.
The addition of dulce de leche is a nice touch, too.
The warm, caramel tones really go well with apple.
I made my dulce de leche by boiling a can of sweetened condensed milk, but you can make your own dulce de leche on the stovetop as well.
How to Make This Fresh and Dried Apple Cake
Ingredients and Substitutions
The ingredient list is fairly long, but nothing is hard to find. If I have a specific brand to share, those links will be affiliate links.
This cake is based on Gina DePalma's dried apple cake recipe, but with a few modifications.
Here's what you'll need:
dried apples: I prefer the chewy, leathery ones over the crisp ones. They will soak up less liquid. if all you have are the crisp ones, increase the liquid (apple cider) in the recipe by 1-2 Tablespoons
apples: the original recipe uses Golden Delicious. I used pink lady. Any good baking apple will do.
pecans: feel free to leave out the nuts entirely or substitute with walnuts, almonds, or even cashews
granulated sugar: you may also use 1/2 granulated and 1/2 brown sugar for a little deeper flavor
cinnamon, ginger, and nutmeg: Simplify matters by using a pre-mixed apple pie spice. The linked spice doesn't contain ginger, but it does have allspice. Spice with the spices that you prefer. Cardamom would also be lovely here.
salt: Brings all the flavors into focus, especially the spices and nuts. Do not be afraid to assertively salt a sweet dish that contains a lot of spices. Not using enough salt can make the spices seem a bit muddy.
all-purpose flour: You may also use cake flour here. Don't substitute bread flour, or your cake will be chewy.
baking powder: As a leavener. Check the date on the bottom of your container to make sure it's fresh. Doublecheck by stirring some into warm water. It should bubble like crazy.
eggs: four large. Provides liquid, structure, emulsification, and aids in browning.
butter and vegetable oil: To carry the flavor and tenderize the cake. Using all butter will yield a drier cake, so a mix of butter and oil is ideal to keep the cake nice and moist.
apple cider: This is the liquid for the cake and allows the batter to rise nice and light while providing additional apple flavor and some more sugar
Shop This Recipe
Like most of the recipes I share, even if they look fancy, you don't need a ton of fancy equipment to make them. This cake is no exception. Here are my recommendations for some ingredients and equipment that can make your life a bit easier, though.
Ways to Modify this Cake
I am very happy with my modifications, and I hope you feel like you can make your own changes as well. Here are some ideas for ways to switch it up to get you started.
Add some chopped cranberries to the batter (in which case, using orange juice or at least some orange zest in the batter might be lovely).
Switch out the pecans for toasted walnuts, if you'd rather.
Use some brown sugar in place of some or even all of the white sugar–if replacing all the sugar for brown, add a 1/4 teaspoon baking soda in with the dry ingredients to balance the acidity in the molasses.
Frost with caramel frosting or maybe cinnamon cream cheese frosting rather than leaving it naked or drizzling with dulce de leche.
Make this cake your own and then come show it to me! Unless you eat it all first.
For convenience, consistency, and accuracy, almost all my recipes are written by weight, either in ounces and/or grams, even the liquids.
I strongly encourage you to purchase a kitchen scale and learn to use it.
This is the one I used for years. I love it and highly recommend it:
Best for Home Use
Escali Primo Digital Food Scale
Don't let its small price and small size fool you. The Escali Primo is an accurate and easy-to-use food scale that I have used for years. It's easy to store, easy to use, has a tare function, and easily switches between grams and ounces/pounds for accurate measurements.
This is an affiliate link which means I earn from qualifying purchases. Your price is unaffected.
It would be so helpful to me and to other readers that, when you make a recipe, you rate it and leave a comment. Whether it's a recipe or an informational post, your feedback helps others decide if the post is helpful or if the recipe works as advertised.

If you could leave a star rating, that would be very helpful. Thank you for being here!
Spiced Apple Cake
This spiced apple cake recipe is both rustic and elegant. This is a perfect, not-too-sweet, colder weather apple dessert. It's fancy enough to serve at a holiday event but would be just as at home for your coffee break. Make the bottom layer in a 9″x2″ cake pan, and bake the top layer (the one with the apples and pecans arranged on top) in a 9″x3″ springform pan so you don't have to turn the cake out and risk ruining the design. As always, all measurements in ounces are by weight and not volume. Please buy a scale. You won't be sorry.
Ingredients
2

oz

dried apples

(not the crisp chips but the leathery dried apples)

4-5

medium baking apples

(I used Pink Lady. The original uses Golden Delicious. Use what you like), divided use

3

oz

pecans

toasted and coarsely chopped plus more pecan halves for decorating the top

15.75

oz

granulated sugar

2 1/4 cups

2

teaspoons

ground cinnamon

10-12

microplaned gratings fresh nutmeg

1/4-1/2

teaspoon

dried ginger

to taste

1 ½

teaspoons

fine sea salt

18

oz

about 4 cups all purpose flour

4

teaspoons

baking powder

1 tablespoon plus 1 teaspoon

4

oz

butter

melted and cooled

3.5

oz

neutral vegetable oil

1/2 cup

8

oz

1 cup apple cider at room temperature

unfiltered if you can get it, otherwise the "clear kind" is just fine

4

large eggs

at room temperature
For the Glaze
1 14

oz

can dulce de leche

(or make your own by boiling a sealed can of sweetened condensed milk–completely submerged in boiling water–for about 3 hours. Let cool before opening)
Instructions
For the Cake
Line the bottoms of a 9″x2″ round cake pan and a 9″ springform pan with parchment. Spray the parchment and the sides of the pans well with pan spray. Set aside.

Preheat the oven to 325F.

Soak the dried apples in very hot water for about 10 minutes. Drain and squeeze out a fair amount of the liquid. They don't need to be bone dry, but you don't want them any wetter than a fresh apple would be. Chop them into about 1/2″ pieces, and set aside.

Wash and dry the fresh apples. No need to peel. Cut 2 1/2 apples into medium dice. Set aside along with the remaining apples.

In a large bowl. whisk together the sugar, cinnamon, nutmeg, ginger, salt, flour and baking powder until evenly combined and light.

In another bowl, whisk together the butter, oil, apple cider and eggs. Mix in the toasted, chopped pecans, the diced apples and the chopped dried apples.

Stir well until evenly combined and no wet flour or sugar remains. The batter will be fairly stiff.

Divide the batter evenly between the two pans and smooth the tops.

Slice the remaining apple into thin half moons (about 1/8″ thick). Arrange them decoratively on top of the layer in the springform pan. Add some pecan halves as well. Be creative.

Bake in the center of the oven for 40 minutes. The unembellished round should be ready at this point. The internal temperature of the layer should be 200F. Remove that layer and continue baking the embellished layer another 20-30 minutes more, depending on your oven. You may want to cover the pan if the fruit or cake is browning too much, and check the internal temperature every 5 minutes or so once it gets up to about 180F. if you don't have a thermometer, the cakes will both be firm to the touch, golden brown on top and will have started to shrink from the sides of the pan just a bit.

Cool each layer for 10 minutes. Run a thin knife or small spatula around the insides of the pan to make sure the cakes will release cleanly.

Turn out the bottom layer and reinvert to cool top-side up. Carefully unmold the top layer from the springform pan.

Let cool completely.
To Glaze and Decorate
Warm about 2/3 of the dulce de leche so it is easily spreadable. If it seems a bit too stodgy, heat a tablespoon of milk or half and half along with it and stir until smooth and spreadable.

Cut any dome off the bottom layer with a serrated knife. Eat it immediately. Spread the dulce de leche evenly over the top of the layer, all the way to the edges.

Place the top layer on top of the dulce de leche and press down gently to make sure they stick together.

Heat the remaining dulce de leche, adding a bit of milk if necessary, and drizzle a bit over the top. Spoon most of it around the edges of the cake so it runs down in Artful Drips.

I mixed some powdered sugar with some cinnamon and dusted the top of the cake with that. You can you that or not.

Serve and enjoy.
Did You Make Any Changes?
Nutrition
Calories:
427
kcal
Carbohydrates:
64
g
Protein:
5
g
Saturated Fat:
9
g
Cholesterol:
56
mg
Sodium:
290
mg
Fiber:
3
g
Sugar:
36
g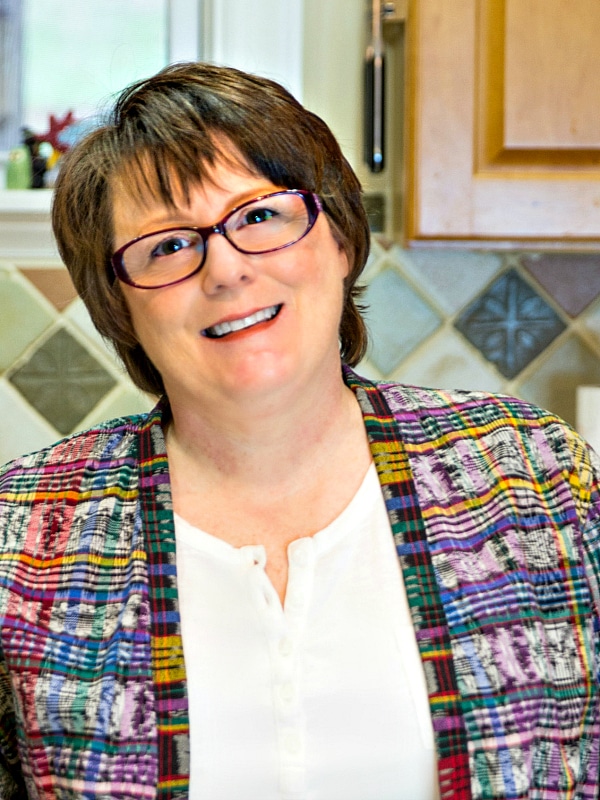 What are my qualifications to teach you baking and pastry? As a former working pastry chef and special educator, I marry my passions for both teaching and for baking into explaining techniques, methods, and developing the best possible recipes. For more info, you can read more about me.
If you'd like to receive new recipes and the occasional newsletter, I'd love for you to sign up for my Inbox Pastry Chef.
I hope your Thanksgiving is filled with fun, friends, family and delicious food. I am always thankful that you choose to spend some time here with me. Take care, and have a lovely day.