Most Recent Update:
And now for something completely different and unexpected for Thanksgiving: roasted corn cheesecake with cranberry blueberry compote.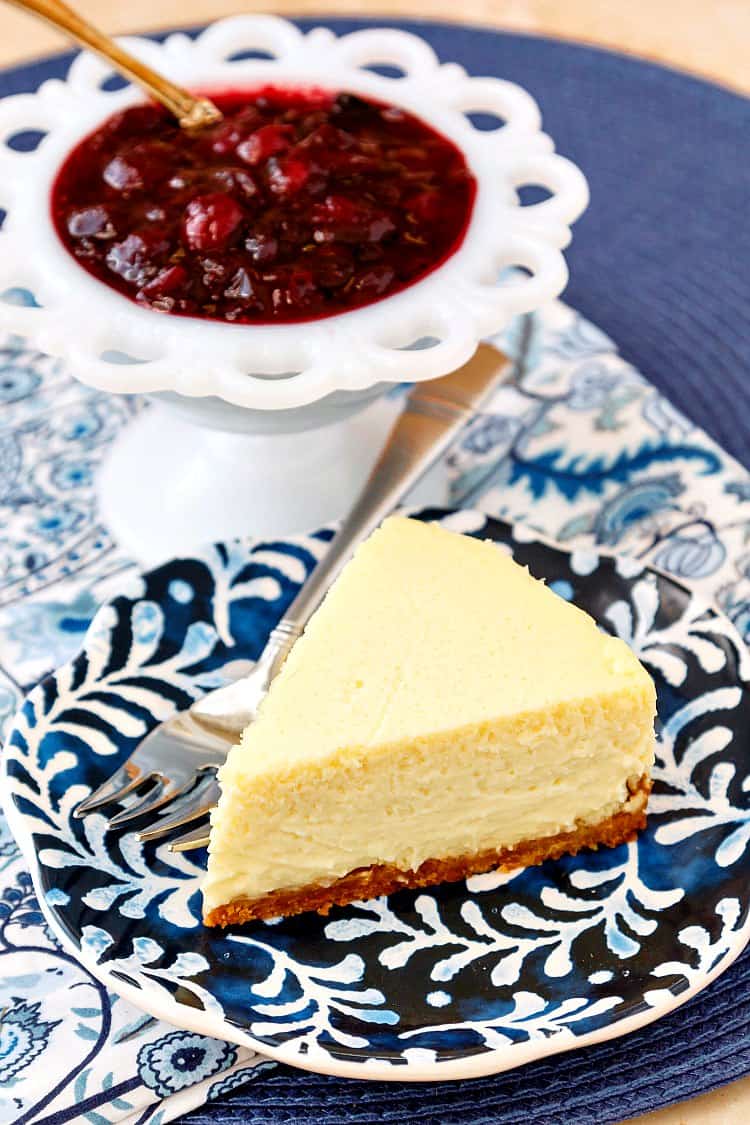 Ken's Korny Corn Maze Party
Every year, we hold a party to celebrate the fact that we live very close to a corn maze. We don't actually go to the corn maze. We just celebrate its profximity to our home. Everybody brings something to share, and the only rule is it has to contain corn in some fashion.
With such a restriction, you'd think we'd end up with nothing but a bunch of corn pudding and cornbread as far as the eye can see. Not that I would mind that in the least, but the menu is always really varied and interesting. We've had tamales, a warm corn beverage, a bunch of different salsas, cupcakes with caramel corn on top, posole, homemade corn dogs. Even cookies with crushed blue corn chips in them that were very, very good!
Last year, my friend and neighbor Roberta (neighbor Thomas's [of pumpkin cheesecake brownies, Happy Birthday Webby, and Dulce de Leche Roasted Banana Pudding fame] wife), who usually brings corn ice cream, switched things up and brought corn cheesecake.
At its heart, this recipe is hers.
She figured that if she steeped the corn in the dairy that she could infuse the flavor into it and make the cheesecake taste like sweet corn. I like to think it's because of her proximity to me–like my Genius beamed out from our house and smacked her on the head–but I think it's just because she is very smart. And that cheesecake is amazing.
She has to bring it to the corn party every year from here until eternity. Do you hear me, Roberta?! Every. Year. Thank you.
How I Switched Things Up a Bit
Because I'm me, I can't just leave Well Enough alone. And trust me, Roberta's corn cheesecake is excellent all on its own. But still, I couldn't help myself.
Roberta used 2 ears of corn. I used 3, and I roasted them first to concentrate the flavor. Why 3? Because that's how many ears came in the produce box.
Rather than using milk, I used heavy cream, and instead of one cup, I used a cup and a half. This makes my version both richer and lighter at the same time. Richer with more fat, but lighter because the set of the custard is a bit looser.
Roberta uses a graham cracker crust, and bakes in 2 standard pie pans. I used vanilla wafers and baked one cake in an 8 x 3″ one-piece pan. Either would work really well. If you were feeling spunky, you could even put some popcorn–whirred up in the food processor–in the crust. Or even some crushed plain tortilla chips mixed in with the cookie crumbs. Go crazy!
The last change was the compote. The cheesecake is incredibly good all by itself, and the corn flavor comes through better without the compote, but dang. I love a fruit topped cheesecake, and using cranberry makes it seasonal while the addition of blueberries mellows out the tartness of the cranberry and is a more traditional pairing with corn, So there you go.
Whether you like a metric ton of topping or just a bit on the side, this cranberry blueberry compote is ready to serve.
See?!
Okay, before we get started, let me see if I can anticipate some of your questions and answer them.
The following sections contain affiliate links. When you make a purchase through one of these links, I'll make a small percentage. Your price will be unaffected.
How Long Will It Take To Make Roasted Corn Cheesecake
The roasting takes about 45 minutes and can be done a day or two before. Then you heat up the cream, slice all the kernels off the corn, cut up the cobs into 3-4 pieces each, and put it all in the hot cream to infuse off the heat for a good hour or so. While the cream is infusing, you can make the crust. I just bash up the cookies in a zip top bag using my big old rolling pin, but you can also use a food processor or your blender.
Fish out the cobs and then plop everything in the blender. Then use a fine-mesh strainer to get rid of all the corn bits. What you end up with is smooth, thick cream that smells and tastes like sweet corn. Magic!
Okay, so all of that takes maybe an hour and 10 minutes or so. Mixing up the cheesecake–whether you use a stand mixer or a hand mixer–only takes about 10 minutes.
How Do I Know I Have Roasted My Corn Enough?
The corn will only be lightly golden brown, mostly on the spots where it was touching the baking tray while roasting. I turned mine about 5-6 times to try to get even color. But a better indication is that a lot of the moisture will evaporate out of the corn, so the kernels will shrink. Fresh corn kernels are really, really close together and are nice and plump. When you're done roasting your corn, there will be tiny spaces between all the kernels and they'll be noticeably "deflated."
I think I roasted my corn for maybe an hour or 1 1/4 hours at 375F. There's no real wrong way to do it unless you crank your oven up to 500F, so just take it slow and keep an eye on your corn. Once the corn is endearingly gap-toothed, you'll know it's done.
Is This Recipe Foolproof? (Cheesecake Best Practices)
Cheesecake is not hard to make, but it can be finicky. There are some rules to follow that will help ensure your success.
Bake in a water bath. I used a 9 x 13″ pan to hold my 8 x 3″ pan, and it worked out great.
It is often easier to unmold a cheesecake baked in a springform pan or a push pan. If you don't want to mess around with flipping a cheesecake upside down, get one of these models. Just wrap them in doubled aluminum foil to keep water from leaking into them in the water bath.
Regular cakes are baked when their internal temperature reaches about 195-200F. Cheesecakes are done at a much lower temperature. Even I don't trust the whole "slight jiggle in the middle" test and just take its internal temperature right in the center. I shoot for 160-165F in the center. Use an accurate instant read thermometer to check.
Once the cake is done, I usually leave it in the water bath with the oven off and the oven door cracked open for 30 minutes or so. That's so it doesn't cool so quickly that it cracks. Once I remove it from the oven, I run a thin spatula around the inside of the cheesecake to loosen it–again to help guard against cracking. Once it has cooled to mostly room temperature, it goes in the fridge overnight. These are the long, sad hours in which I am hungry.
NOTE: Another reason cheesecakes crack is that they get mixed at too high a speed. This beats air into the batter which will souffle (puff up) in the oven and then settle back as it cools. This encourages breathtaking canyons to form or the unfortunate "my edges are taller than my center" large moon crater action. Neither is what we want, as both are a sign of mixing too quickly or baking at too high a temperature. Low and slow for pulled pork and cheesecakes, y'all. Low and slow.
What About My Husband?
You know what? If he likes to grill (or if you do), have him roast the corn on the grill over indirect heat. That could be fun and bring a bit of a smoky flavor to the cheesecake.
Roasted Corn Cheesecake with Cranberry Blueberry Compote
I'm so ridiculously excited about this roasted corn cheesecake, you guys. It is completely tasty, and it's also perfect as an unexpected Thanksgiving dessert. And when sweet corn is abundant in the summer, leave out the cranberries and just make blueberry compote. A dessert for all seasons!
Love the sound of this recipe? Please consider rating and/or commenting. I love hearing from readers! And if you do make this cheesecake, share a photo with me on instagram by tagging @onlinepastrychef and using hashtag #pcorecipe, or share it in the Pastry Chef Online Facebook group. I can't wait to see your version!
Roasted Corn Cheesecake with Cranberry Blueberry Compote
Total Time:
1 hour
15 minutes
This roasted corn cheesecake with cranberry blueberry compote is an unexpected yet perfectly appropriate Thanksgiving dessert. Lighter-textured than traditional cheesecake, it almost melts in your mouth, and the cranberries and blueberries marry beautifully to complement the dessert. 
And that's pretty much it, friends. This roasted corn cheesecake may just become your family's new favorite Thanksgiving dessert. Let's all thank Roberta and make some cheesecake!
Thank you for spending time with me today. Enjoy the roasted corn cheesecake, and if you have any questions, don't hesitate to get in touch. I'm happy to help.
Take care, and have a lovely day.