And now for something completely different and unexpected for Thanksgiving: roasted corn cheesecake with cranberry blueberry compote.
Or take advantage of the sweet corn of summer and make this cheesecake for a summer party or cookout.

If you love the flavor of corn in desserts, you may also love my lemon corn buttermilk pound cake or my lemon corn panna cotta, which is light and summery.

If you like unusual cheesecake recipes, try my Pumpkin Butter Japanese Cheesecake recipe which is less sweet than American cheesecakes.
For more cheesecake resources and recipes, please check out my Cheesecake Recipes page.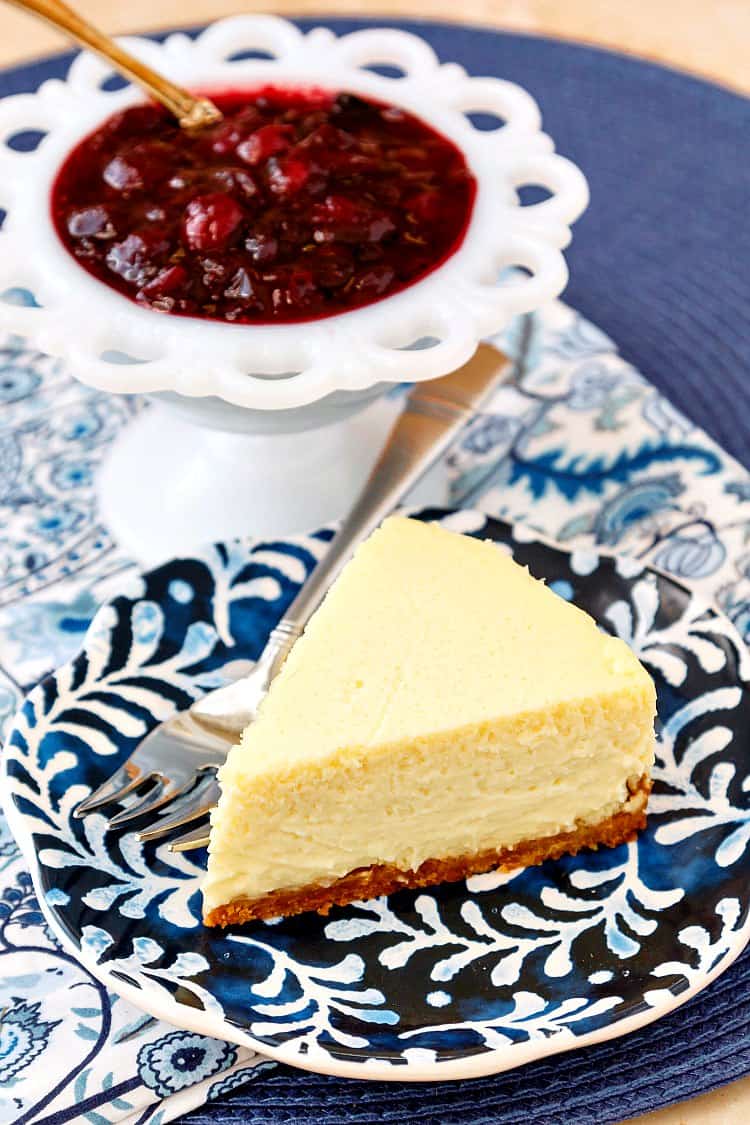 This post contains affiliate links. For more information, please see my Disclosure Policy.
Why This Cheesecake Is So Great
I'm so ridiculously excited about this roasted corn cheesecake, you guys.
It is completely tasty
it's also perfect as an unexpected Thanksgiving dessert
when sweet corn is abundant in the summer, leave out the cranberries and just make blueberry compote.
It's a dessert for all seasons!
Corn Cheesecake Topping
I originally made this corn cheesecake as a Thanksgiving dessert, so the cranberry makes it very seasonal.
I also added blueberries to mellow out the tartness and round out the flavor.
There is no wrong way, though, so if you want to serve corn cheesecake in the summer, make the compote with all blueberries.
Serving for Thanksgiving or Christmas? Go with all cranberry.
I do think of all the "standard berries" widely available in US grocery stores, your best bets are going to be blueberries or blackberries, especially if you're not a fan of assertively tart cranberries.
Whether you like a metric ton of topping or just a bit on the side, this cranberry blueberry compote is ready to serve.
See?!
Okay, before we get started, let me see if I can anticipate some of your questions and answer them.
How to Make It
Ingredients
vanilla wafers: You could also use Graham crackers or shortbread cookies
butter: I use unsalted butter
sweet corn: 3 ears. You could also use frozen corn or even canned corn, well-drained. If not using corn on the cob, you'll need roughly 2 cups of corn kernels
neutral oil: For roasting the corn. Use a neutral vegetable oil
heavy cream: You could make it slightly less rich by using half and half (single cream), or a mixture of milk and heavy cream
cream cheese: room temperature so it blends in easily
granulated sugar:
kosher salt: You definitely want salt here in a fairly good amount. It will bring out the flavor of the roasted corn
eggs: large eggs at room temperature
vanilla: My preference is Mexican vanilla, but use what you have
For the Compote:
cranberries: fresh or frozen
blueberries: fresh or frozen
salt: tempers the bitterness of the cranberry a bit while bringing out all the flavors
granulated sugar:
apple cider: Sub apple juice, cranberry juice, Cran-blueberry, etc. You could also use water
lime zest: or lemon zest
cornstarch: Just a little, to thicken the juices
Procedure
First, you'll roast the corn and then infuse it into the cream:
After roasting the corn, cut off all the kernels and then cut the cobs into pieces.
Toss kernels and cob pieces into the cream, bring to a simmer, and then let steep for an hour.
Remove all the pieces of cob, then blend the corn and cream mixture until smooth.
Strain through a fine-mesh strainer, pressing down on the solids.
You should be left with 1 1/2 cups corn-flavored cream. If you're a little short, add cream until you have 1 1/2 cups total.
Then you'll mix up your cheesecake batter:
Mix cream cheese alone until smooth.
Add sugar and salt and mix until combined.
Add eggs, 1 at a time.
Finish by incorporating the "corn cream."
Bake and cool, then chill.
Make the compote by cooking all ingredients together.
Leave it "chunky," or blend it for a smoother sauce. Your call.
How Long Will It Take To Make Roasted Corn Cheesecake?
Roasting the corn takes about 45 minutes and can be done a day or two before.
Then you:
heat up the cream
slice all the kernels off the corn
cut up the cobs into 3-4 pieces each
and put it all in the hot cream to infuse off the heat for a good hour or so
While the cream is infusing, you can make the crust. I just bash up the cookies in a zip top bag using my big old rolling pin, but you can also use a food processor or your blender.
Fish out the cobs and then plop everything in the blender. Then use a fine-mesh strainer to get rid of all the corn bits. What you end up with is smooth, thick cream that smells and tastes like sweet corn. Magic!
Okay, so all of that takes maybe an hour and 10 minutes or so. Mixing up the cheesecake–whether you use a stand mixer or a hand mixer–only takes about 10 minutes.
How Do I Know I Have Roasted My Corn Enough?
The corn will only be lightly golden brown, mostly on the spots where it was touching the baking tray while roasting.
I turned mine about 5-6 times to try to get even color. But a better indication is that a lot of the moisture will evaporate out of the corn, so the kernels will shrink.
Fresh corn kernels are really, really close together and are nice and plump. When you're done roasting your corn, there will be tiny spaces between all the kernels and they'll be noticeably "deflated."
I think I roasted my corn for maybe an hour or 1 1/4 hours at 375F. There's no real wrong way to do it unless you crank your oven up to 500F, so just take it slow and keep an eye on your corn. Once the corn is endearingly gap-toothed, you'll know it's done.
Tips for Success with Cheesecakes
Cheesecake is not hard to make, but it can be finicky. There are some rules to follow that will help ensure your success.
Bake in a water bath. I used a 9 x 13″ pan to hold my 8 x 3″ pan, and it worked out great.
It is often easier to unmold a cheesecake baked in a springform pan or a push pan. If you don't want to mess around with flipping a cheesecake upside down, get one of these models. Just wrap them in doubled aluminum foil to keep water from leaking into them in the water bath.
Regular cakes are baked when their internal temperature reaches about 195-200F. Cheesecakes are done at a much lower temperature. Even I don't trust the whole "slight jiggle in the middle" test and just take its internal temperature right in the center. I shoot for 160-165F in the center. Use an accurate instant-read thermometer to check.
Once the cake is done, I usually leave it in the water bath with the oven off and the oven door cracked open for 30 minutes or so. That's so it doesn't cool so quickly that it cracks. Once I remove it from the oven, I run a thin spatula around the inside of the cheesecake to loosen it–again to help guard against cracking. Once it has cooled to mostly room temperature, it goes in the fridge overnight. These are the long, sad hours in which I am hungry.
NOTE: Another reason cheesecakes crack is that they get mixed at too high a speed. This beats air into the batter which will souffle (puff up) in the oven and then settle back as it cools. This encourages breathtaking canyons to form or the unfortunate "my edges are taller than my center" large moon crater action. Neither is what we want, as both are a sign of mixing too quickly or baking at too high a temperature. Low and slow for pulled pork and cheesecakes, y'all. Low and slow.
Variation for Roasting the Corn
Roast the corn on the grill over indirect heat. That will bring a bit of a smoky flavor to the cheesecake.
Questions?
It would be so helpful to me and to other readers that, when you make a recipe, you rate it and leave a comment. Whether it's a recipe or an informational post, your feedback helps others decide if the post is helpful or if the recipe works as advertised.

If you could leave a star rating, that would be very helpful. Thank you for being here!
Roasted Corn Cheesecake with Cranberry Blueberry Compote
This roasted corn cheesecake with cranberry blueberry compote is an unexpected yet perfectly appropriate Thanksgiving dessert. Lighter-textured than traditional cheesecake, it almost melts in your mouth, and the cranberries and blueberries marry beautifully to complement the dessert.
Ingredients
For the Crust
40

vanilla wafers

2

oz

unsalted butter

(1/2 stick)
For the Cheesecake
3

ears sweet corn

shucked and cleaned of silk

1

Tablespoon

neutral oil

1 ¾

cups

heavy cream

(14 oz)

1

pound

cream cheese

at room temperature

5-7

oz

granulated sugar

depending on how sweet you like your cheesecake

1

teaspoon

kosher salt

maybe a bit more, to taste

3

large eggs

at room temperature

1 ½

cups

corn-infused cream

1

teaspoon

vanilla

Mexican vanilla is preferable but not mandatory
For the Cranberry Blueberry Compote
1 ½

cups

fresh or frozen cranberries

1 ½

cups

fresh or frozen blueberries

heavy pinch salt

3 ½

oz

granulated sugar

(1/2 cup)

3

oz

apple cider

(roughly 1/3 cup)

zest of one lime

2

teaspoons

corn starch
Instructions
For the Crust
Place the cookies in a zip top bag, in the bowl of your food processor or in your blender. Either bash them to dust with a rolling pin or do the same in one of the appliances.

Melt the butter and mix evenly into the cookie crumbs.

Press the crumbs evenly into the bottom of your pan.** (See Notes) This yields a relatively thick crust of about 1/3″, which I quite like. You can reduce the number of cookies to 30 for a thinner crust. Either way, bake at 350F until the crust has darkened by a shade or two, about 15 minutes. Set aside to cool.
For the Cheesecake
Rub the ears of corn with a very thin coating of neutral oil. Place on a baking sheet and roast for 1-1 1/2 hours, turning every 15 minutes or so, until the corn is lightly golden brown in spots and the kernels have shrunk.

Cut the kernels off the cob, and cut the cobs into 3-4 pieces each.

Add the 1 3/4 cup heavy cream, the corn kernels and pieces of cob to a medium pan. Heat over medium-high heat to a high simmer. Do not let it boil. Remove from the heat and let the corn steep in the cream for about an hour.

Fish out all the cob pieces and then put the cream and kernels into your blender (or use an immersion blender). Blend until fairly smooth, and then strain through a fine mesh strainer. Discard all the corn solids. You should have 1 1/2 cups of corn-infused cream.

Heat oven to 325F.

Using a stand mixer on low speed or hand mixer on no more than medium speed, cream the softened cream cheese until smooth. Add the sugar (start with the smaller amount and add more later if you need it) and the salt and mix until smooth.

Add the eggs, one at a time, still keeping the speed low. Mix until smooth, and scrape the bowl as necessary.

Mix in the corn-infused cream and vanilla. Taste and add additional sugar if you'd like your mixture a bit sweeter. I used the full 7 ounces, but it's your call.

Pour the batter onto your baked crust and smooth the top. Place in a larger pan and then fill the pan about halfway with boiling water.

Bake at 325F until the internal temperature of the cheesecake in the center is 160F-165F.

Turn off the oven and crack the door open. Let the cake cool slowly in the water bath for about 30 minutes. Remove from oven and place on a rack. Run a thin spatula around the inside of the pan to release the cake. Allow to cool completely and then chill overnight.
For the Cranberry Blueberry Compote.
Put all the ingredients into a medium saucepan and bring to a boil, stirring occasionally. Reduce the heat to maintain a high simmer and cook until pretty much all the berries have popped. Taste and adjust as necessary.

Let the compote cool, and then refrigerate it.
To Unmold the Cake and Serve
Run a thin spatula around the outside of your push pan or springform pan. Then place the push pan on a can of nuts or something and press the sides down. Voila! If you used a springform pan, unlatch it and remove the sides. If you baked in a one-piece pan like I did, grab a plate or a cake circle slightly smaller than the diameter of your cake pan. Cover with plastic wrap and spray the wrap with some pan spray. Run a thin spatula around the inside of the pan just to be sure the cake is loose. Unmold the cake by placing the plate/cake circle on the top of the cake, flipping the whole thing over, and giving it a good shake or three. Remove the pan and re-invert the cake onto a serving platter. Pile the compote up to within 1/2″ of the sides of the cake, or leave it plain and pass the compote on the side.
Did You Make Any Changes?
Notes
Baking time is approximate. Keep an eye on your cheesecake and take it's temperature in the center to be sure it's done.
Nutritionals are calculated for 1/10 of the cheesecake and of the compote.
**If you use a one-piece pan, place a parchment round in the bottom of the pan. This will assist you when it's time to unmold the cake. If you bake in a pushpan or a springform pan, parchment isn't strictly necessary, but you can use it if you want.
Don't forget to wrap the outside of any two-piece pan in a double layer of heavy-duty aluminum foil before placing in a water bath.
Nutrition
Calories:
580
kcal
Carbohydrates:
51
g
Protein:
6
g
Saturated Fat:
22
g
Cholesterol:
160
mg
Sodium:
508
mg
Fiber:
1
g
Sugar:
36
g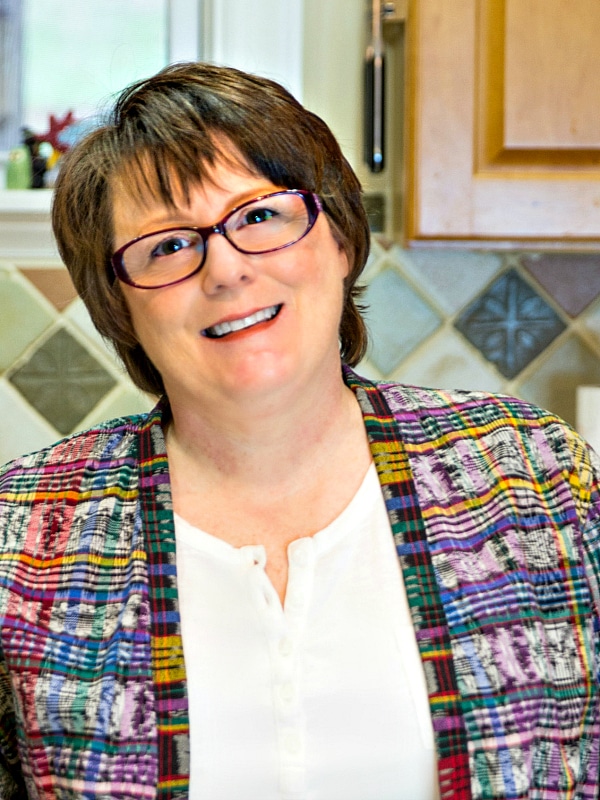 What are my qualifications to teach you baking and pastry? As a former working pastry chef and special educator, I marry my passions for both teaching and for baking into explaining techniques, methods, and developing the best possible recipes. For more info, you can read more about me.
If you'd like to receive new recipes and the occasional newsletter, I'd love for you to sign up for my Inbox Pastry Chef.
And that's pretty much it, friends. This corn cheesecake may just become your family's new favorite Thanksgiving dessert. Let's all thank Roberta and make some cheesecake!
Thank you for spending time with me today. Enjoy the cheesecake, and if you have any questions, don't hesitate to get in touch. I'm happy to help.
Take care, and have a lovely day.