This caramel pumpkin mousse is light, flavorful, and the perfect pumpkin dessert after your Thanksgiving feast.

Individual desserts are nice to serve after a large meal, and this pumpkin mousse recipe fits the bill. Just place them in front of your guests and let them dig in. No slicing. No cutting. And no need to share!

You may also enjoy my pumpkin caramel latte flan recipe.

For ease of browsing, find all of my individual dessert recipes in one place. Now let's make this mousse.
Watch my caramel pumpkin mousse web story here.
Caramel Pumpkin Mousse
I think I might create recipes backwards. Most folks will make something and then figure out what to call it. I tend to come up with a name and then figure out how to make it!
The Beloved helped me come up with this name: Caramel Pumpkin Mousse with Cocoa Nib Streusel. Yum!
The figuring out how part was actually pretty easy, and you get to benefit from my playing in the kitchen, because this mousse is super excellent and creamy and delicious!
What Is Mousse?
Mousse is the French word for foam, so a mousse is any food–sweet or savory–that is smooth, creamy and filled with tiny, tiny air bubbles, usually from folding in whipped cream and/or meringue.
The most classic flavor of dessert mousse is probably chocolate mousse or mousse au chocolat, but mousse can be made in almost any flavor. Here's how:
Decide on your flavor and incorporate it into a rich base.
Fold in whipped cream and/or a cooked meringue (to be food safe–either Swiss or Italian meringue). (Classic French mousse usually also contains yolks. If you are concerned about egg safety, use Pasteurized eggs.)
Chill and enjoy.
How to Make This Mousse
Pumpkin mousse is not hard to make. Here's the game plan, step by step:
Caramelize the sugar.
Make the base and chill.
Whip the cream and fold it into the pumpkin mixture.
Garnish and serve!
The pumpkin flavor shines through, and you also get just a hint of caramelized bitterness which keeps the dish from being too sweet.
This pumpkin mousse is flavored with traditional pumpkin spice, so it's familiar yet a bit sophisticated. Plus, it's really easy to make.
Do I Have to Make Caramel Pumpkin Mousse?
Nope. You can just make regular pumpkin mousse.
If you're not sure of your caramelizing skills, it will still be delicious.
Just heat the first amount of cream with the sugar (you may want to use a bit less than called for since caramelized sugar is less sweet than regular sugar) to dissolve it, and you're in business!
Tools You'll Need to Make Mousse
Mousse is not hard to make, but there is some equipment that can make your mousse making life easier. Whether you use a hand mixer or a stand mixer, not having to whip all the cream by hand can be a real time (and arm) saver.
A large spatula and a nice large bowl with a rounded bottom make short work of folding the components together.
Want Some Other Thanksgiving Dessert Ideas?
Thanksgiving is my favorite food holiday, so I have quite a few Thanksgiving desserts on the site. Here are some to get you started:
Questions?
A Note About Measurements
For convenience, consistency, and accuracy, almost all my recipes are written by weight, either in ounces and/or grams, even the liquids.
I strongly encourage you to purchase a kitchen scale and learn to use it.
This is the one I used for years. I love it and highly recommend it:
Best for Home Use
Escali Primo Digital Food Scale
Don't let its small price and small size fool you. The Escali Primo is an accurate and easy-to-use food scale that I have used for years. It's easy to store, easy to use, has a tare function, and easily switches between grams and ounces/pounds for accurate measurements.
This is an affiliate link which means I earn from qualifying purchases. Your price is unaffected.
Recipe
It would be so helpful to me and to other readers that, when you make a recipe, you rate it and leave a comment. Whether it's a recipe or an informational post, your feedback helps others decide if the post is helpful or if the recipe works as advertised.

If you could leave a star rating, that would be very helpful. Thank you for being here!
Caramel Pumpkin Mousse with Cocoa Nib Streusel
This Caramel Pumpkin Mousse with Cocoa Nib Streusel is surprisingly easy and fast to make, plus it makes an elegant presentation. Lighter than pumpkin pie without all that oven time. Fancy!
Ingredients
For the Mousse
7

oz

granulated sugar

1 cup

2

oz

water

1/4 cup

8

oz

heavy cream

(about 1 cup)

1 15

oz

can pumpkin

(not pie filling)

1

Tablespoon

sorghum syrup

Lyle's Golden Syrup, mild molasses or honey

½

teaspoon

fine sea salt

1

teaspoon

ground cinnamon

several gratings of fresh nutmeg

1

teaspoon

vanilla extract

12

oz

heavy cream

1 1/2 cups
For the Streusel (can easily be doubled if you want a ton)
1

oz

unsalted butter, soft

2 Tablespoons

1

oz

granulated sugar

about 2 Tablespoons

½

oz

all-purpose flour*

about 2 Tablespoons

½

oz

rolled oats*

2-3 Tablespoons

1

oz

cocoa nibs

about 2 Tablespoons

heavy pinch of fine sea salt

¼

teaspoon

vanilla extract

several shakes of chocolate bitters

(optional)
To Garnish and Serve
Lightly sweetened and softly whipped cream

(add some cinnamon if you like)

Crumbled streusel

Rosemary sprigs**
Instructions
For the Mousse
In a heavy bottomed saucepan, heat the sugar and water to boiling. Boil with the lid on for a minute to wash down any sugar crystals. Take the lid off and continue to boil until deeply caramelized. You can swirl the pan once it starts to color to keep the color even. Immediately remove from the heat and pour in the cream. Stir until smooth.

Add the pumpkin puree, salt, cinnamon, nutmeg and vanilla and stir well.

Press the mixture through a fine mesh strainer to remove any pumpkin strings or any other little bits of whatever that will keep your mousse from being smooth and silky. This is optional, but it doesn't take too long and the texture will be much better if you do this step.

Put the puree in a metal bowl, press plastic wrap down on top of it and refrigerate until at least cool if not cold, about an hour or up to four.

Whip the second amount of cream to medium to medium-stiff peaks and fold the pumpkin mixture in gently but thoroughly.

Pour into individual compotes or wee dishes or wine glasses of into whatever vessels make you happy. Chill until serving.
For the Streusel
Preheat the oven to 375F.

Combine all the ingredients in a small bowl and blend until no dry flour or sugar remains.

Spread onto a parchment-lined sheet pan and bake until golden brown and crisp, 13-18 minutes, depending on your oven.

Let cool on a rack and then break into pieces. Can be made a day or two in advance. Store in an airtight container until serving.
To Garnish and Serve
Dollop a bit of cream on each Vessel of mousse. Add a piece or three of the streusel, or chop it and sprinkle it all over–your call. Add a festive bit of greenery and serve.

Enjoy!
Did You Make Any Changes?
Notes
*If you don't like oatmeal in your streusel, substitute 4 oz flour and leave the oats out completely.
**I don't usually like to garnish with anything that isn't actually in the dish, but in this case and for a festive occasion, I think it's fine. You can also garnish using whatever herb/s you like–even a mint leaf or two would be lovely.
Nutrition
Serving:
6
oz
Calories:
433
kcal
Carbohydrates:
42.3
g
Protein:
3
g
Fat:
30
g
Saturated Fat:
18.3
g
Cholesterol:
105
mg
Sodium:
302
mg
Fiber:
2.3
g
Sugar:
35.7
g
Thank you so much for spending some time with me today.
Take care, and have a lovely day.
What's your favorite Thanksgiving recipe?
xo,
Jenni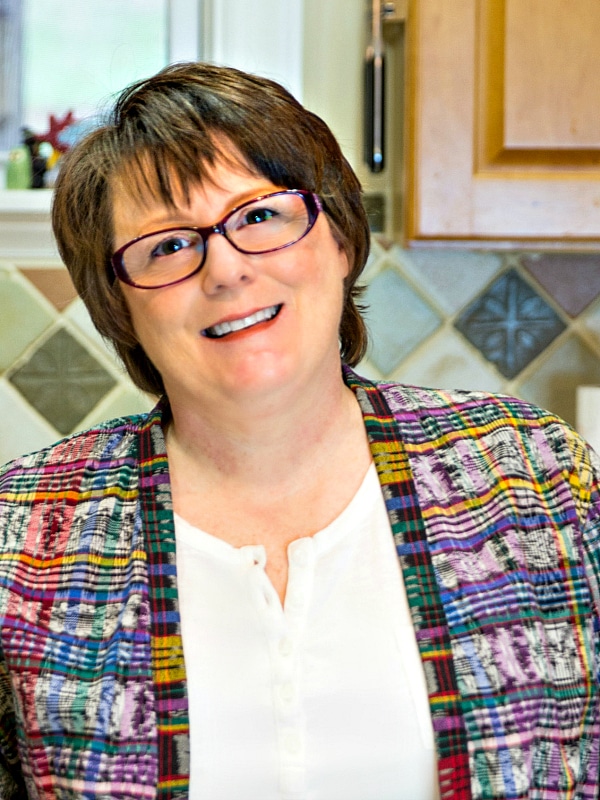 What are my qualifications to teach you baking and pastry? As a former working pastry chef and special educator, I marry my passions for both teaching and for baking into explaining techniques, methods, and developing the best possible recipes. For more info, you can read more about me.
If you'd like to receive new recipes and the occasional newsletter, I'd love for you to sign up for my Inbox Pastry Chef.