Fans of old fashioned fruity desserts such as cobblers, crisps, grunts, slumps, pandowdy, and buckles, I present to you the sonker. Friends, meet Strawberry Peach Sonker with Milk Dip.

Basically a strawberry peach cobbler, sonkers are particular to North Carolina. Read on to find out what set sets sonkers apart from cobblers and what "milk dip" is.

If you enjoy this sonker, be sure to try my blackberry cherry sonker, sweet potato sonker and my lazy peach sonker too!

For ease of browsing, check out all of my cobblers, crisps and more. Thanks for stopping by!
What is a Sonker?
There is no hard and fast answer to the question, unfortunately. That would be too easy!
It is definitely cobbler-like, and some would say that a sonker is just another name for cobbler. In fact, if you want to make a strawberry peach cobbler instead of a sonker, you may like my old fashioned peach cobbler. Add some strawberries to it and call it a sonker if you like!
If you're from Surry or Wilkes County in the foothills of North Carolina however, it is quite possible you've never heard of a cobbler and are only familiar with sonkers.
Whether you call it a cobbler or a sonker, here are some characteristics usually true of sonkers (but as with many homey desserts, rules are made to be broken):
A sonker is baked in a rectangular pan.

A sonker is a deep dish dessert.
A sonker is a very juicy dessert.
A sonker often has a lattice crust (although it can also have a plain pastry crust or even a batter, depending on who you ask)
A sonker is often served with a side of milk dip (which can also be poured over the sonker partway through the baking time)
While this last isn't usually true of all sonkers, it seems to be a uniquely sonker Thing:
the filling is often made from sweet potato. I'm pretty sure this is true only of sonker, or at least I've never heard of a sweet potato cobbler or crumble.
Milk Dip? Huh?
While many fruity desserts are enhanced by some sort of dairy topping, be it ice cream, whipped cream, creme fraiche, etc, sonker is the only one I've ever heard of served with a side of milk dip.
Think of it as an almost-Anglaise.
Rather than being thickened and enriched with egg yolks, milk dip is thickened with starch. It is pourable, so it's not as thick as pudding, but it shares some characteristics with pudding:
milk-based

sugar-sweetened

s

tarch-thickened

vanilla-flavored.
It's very easy to make, and the smooth creaminess plays very nicely with the crisp and chewy pastry and the intense fruitiness.
I was prepared to not love it, and I perhaps ended up drinking some of it.
Perhaps.
The Flavor Combination and Notes on Spicing
Strawberry is a popular sonker flavor, but when I was at the farmers' market, I also found some beautiful, meaty NC cling peaches, so I decided to combine the two to make a strawberry peach sonker.
This was a very good plan.
The fruit I found was not incredibly sweet, but the peach and strawberry flavors were very intense. This lent itself to an almost savory sonker, although this is most definitely a dessert.
If you choose to make this recipe, feel free to use a bit more sugar than I did. It will all depend on the quality of your fruit.
I played up the "meatiness" of the fruit by being fairly assertive with the salt and not using any other flavorings like lemon, vanilla, cinnamon, etc.
Again, feel free to spice yours however you'd like. While I get the feeling that a traditional sonker uses minimal spicing/flavoring and decided to let the fruit carry the day, I certainly encourage you to put your own spin on your sonker. I won't tell the good folks of Surry or Wilkes County.
Equipment You May Need
Before we get on with the recipe, let's make sure you have what you need to make it.
The Wusthof Classic is the paring knife we own. I use it for peeling ripe fruits and slicing up all manner of fruits and vegetables.
I used this Nielsen Massey Vanilla Paste to flavor my milk dip. It has a clean, pure, well-rounded vanilla flavor that won't steer you wrong.
And this set of two pourers work for milk dip, honey, pancake syrups, etc. Each will hold about 1/2 cup, so it's nice to place both on the table if you're serving more than 2-3 people.
Would you just look at that?! Crisp, flaky pastry, jammy stewed fruit, chewy poached dough and smooth, creamy milk dip.
Sonker is good for what ails you, even if what ails you is only that you're hungry for some fruity Southern dessert.
Can I Just Make a Cobbler Instead?
Well, yes. As I've said, "sonker" is a dessert that is very NC-centric–only found really in two counties here.
So you can just call this a cobbler if you want, or you can just go ahead and make this old fashioned peach cobbler and add strawberries.
Okay, let's get to it, shall we?
A Note About Measurements
For convenience, consistency, and accuracy, almost all my recipes are written by weight, either in ounces and/or grams, even the liquids.
I strongly encourage you to purchase a kitchen scale and learn to use it.
This is the one I used for years. I love it and highly recommend it:
Best for Home Use
Escali Primo Digital Food Scale
Don't let its small price and small size fool you. The Escali Primo is an accurate and easy-to-use food scale that I have used for years. It's easy to store, easy to use, has a tare function, and easily switches between grams and ounces/pounds for accurate measurements.
This is an affiliate link which means I earn from qualifying purchases. Your price is unaffected.
I really hope you love this homey NC dessert recipe, you guys!
It would be so helpful to me and to other readers that, when you make a recipe, you rate it and leave a comment. Whether it's a recipe or an informational post, your feedback helps others decide if the post is helpful or if the recipe works as advertised.

If you could leave a star rating, that would be very helpful. Thank you for being here!
Thanks, and enjoy!
Strawberry Peach Sonker with Milk Dip Recipe
Strawberry peach sonker with milk dip is a fruit dessert native to Wilkes and Surry Counties in North Carolina. Cousin to cobbler, crumble, crisps, etc, sonker is set apart by the sweet milk dip accompaniment. You're going to love it.
Ingredients
⅓

recipe Lazy Baker's Puff Pastry

(see Notes for link)

1

quart

strawberries

washed and halved (about 4 cups)

5

medium peaches

washed, peeled and sliced (about 2 cups)

3 ½

oz

granulated sugar

(1/2 cup)

1 ½

teaspoons

cornstarch

4

Tablespoons

water

2 oz or 1/4 cup

scant 1/2 teaspoon kosher salt
For the Milk Dip
2

cups

whole milk

16 oz

3 ½

oz

granulated sugar

(1/2 cup)

heavy pinch kosher salt

1

Tablespoon

cornstarch

1 ½

teaspoons

vanilla extract or paste
To finish
1

large egg

beaten with 1 teaspoon water and a tiny pinch of salt

2

Tablespoons

demerara sugar

or other sugar with large crystals
Instructions
For the Filling
Place a rack in the center of the oven and heat to 375F.

Roll out the Lazy Baker's Puff Pastry into a rough square about 1/8″. Cut off all four sides in roughly 2″ strips. You should have about a 9″ square left.

Piece the 2″ strips of dough around the insides of the baking dish leaving the bottom empty. It took 3 strips to go around the inside of my pan. I cut up the remaining strip and placed those pieces in the bottom as well because I like "dumplings." Set aside

Combine the sliced fruit, sugar, cornstarch, water, and salt in a large bowl. Toss to evenly combine.

Dump the fruit mixture into the pan and spread it out evenly.

Take the square of dough and cut into 9 strips. Place these on top of the fruit in a lattice pattern. You can weave them or just place 4 one way and 5 perpendicular to those. It's your call.

Brush the lattice with the egg wash and then sprinkle generously with the demerara or coarse sugar.
Bake for 30 minutes (Note: this is not the total baking time)
To Make the Milk Dip
While the sonker is baking, make the dip.

Combine the milk, sugar, salt, and cornstarch in a medium saucepan and whisk well.

Bring to a boil over medium high heat, whisking constantly. Allow to boil 30-45 seconds.

Pour through a fine mesh sieve to catch any lumps and stir in the vanilla.

Reserve 1/2 cup and set the rest aside to cool and then refrigerate. Rewarm the milk dip before serving.

After 30 minutes, remove the sonker from the oven and drizzle the 1/2 cup of dip evenly over the top.

Return to the oven and bake an additional 25 minutes, or until the fruit is bubbling all the way into the center, the pastry is deeply golden brown and the dip has some golden spots on it. If the pastry is browning too quickly, cover with foil until the fruit bubbles in the center.

Remove from oven and let cool to warm before serving with a generous splash or three of the milk dip. Refrigerate leftovers for up to 3 days.
Did You Make Any Changes?
Notes
Here is the recipe for Lazy Baker's Puff Pastry. You'll have to scroll down past the tart recipe to find the puff recipe. You can also substitute your favorite pie crust, either homemade or store-bought.
Please feel free to add an additional 1/4 cup of sugar if you like your desserts a bit sweeter. You can also cut back a bit on the salt, but please don't leave it out altogether because even just a bit of salt will enhance both the sweetness and fruitiness of the sonker.
Nutrition
Serving:
1
g
Calories:
331
kcal
Carbohydrates:
67
g
Protein:
6
g
Fat:
6
g
Saturated Fat:
2
g
Polyunsaturated Fat:
3
g
Cholesterol:
39
mg
Sodium:
281
mg
Fiber:
4
g
Sugar:
58
g
And there you have it, friends. This rustic dessert is definitely one of those cases of less is more.
Gorgeous, intensely flavored, ripe fruit, lightly sweetened and assertively salted to bring out the fruit's savory side–it doesn't need anything else.
But that milk dip, which is perfectly sweetened and mellow with vanilla, is a welcome accompaniment.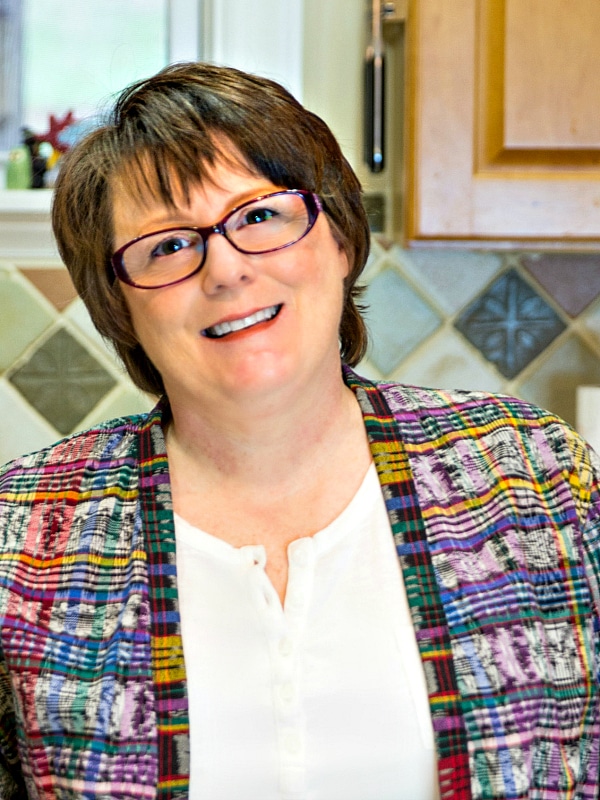 What are my qualifications to teach you baking and pastry? As a former working pastry chef and special educator, I marry my passions for both teaching and for baking into explaining techniques, methods, and developing the best possible recipes. For more info, you can read more about me.
If you'd like to receive new recipes and the occasional newsletter, I'd love for you to sign up for my Inbox Pastry Chef.
Thanks for spending some time with me today, friends. I hope you enjoy the strawberry peach sonker with milk dip as much as we are!
Take care, and have a lovely day.