Sonker is an old-fashioned, juicy, fruity dessert made in Surry County and parts of Wilkes County, NC. No two are made exactly the same way, and this cherry blackberry version is pretty excellent!

This is the second sonker I've made for the blog. The first, strawberry peach with a lattice crust top, was really delicious, and now this blackberry cherry guy can keep it company!

You might also want to try my latest sonker recipe: Lazy Peach Sonker. And for a truly traditional take, check out my sweet potato sonker recipe.

For ease of browsing, check out all of my cobblers, crisps and more. Thanks for stopping by!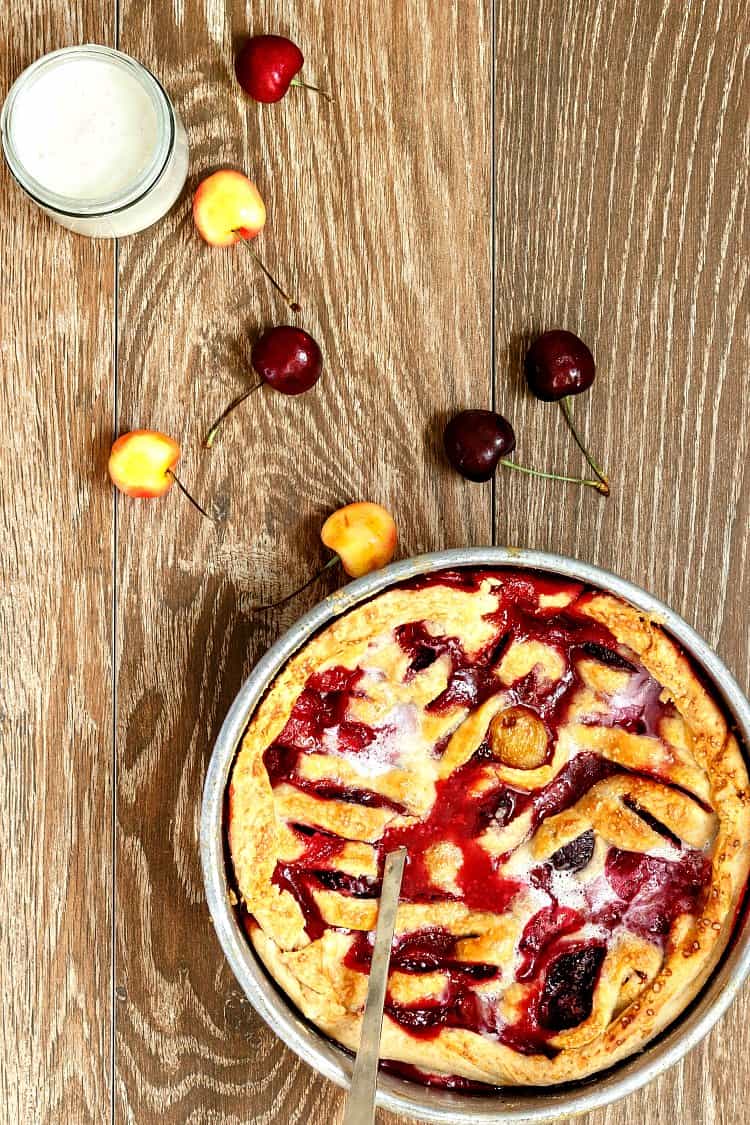 What Is Sonker?
Sonker is one of the many fruit and batter quick desserts that come together quickly and make use of fruit that might be a little bit past its peak. Of course, all these desserts–cobblers, crisps, crumbles, buckles, slumps, pandowdy, sonker, grunts, and probably more–are only made better by using perfectly ripe fruit.
While no two sonkers seem to be made exactly alike, there are a few characteristics that help to define them. Generally.
Sonkers are very juicy.
Sonkers are made to feed a crowd.
Sonkers are generally deep dish.
Sonker, specifically the sweet potato kind, is often served with a starch-thickened sweetened milk sauce. The stuff is so good, I serve it with all the sonker I make, though!
Why Do They Call It That?
I wish I knew. I've read some theories, but nobody seems to know for sure. I read in an article in Our State Magazine that the name could possibly be derived from the Scottish (?) word meaning "straw saddle." Like maybe the sheet of dough over the top sort of looked like a homely saddle. If you squint at it. In the dark.
Anyway, suffice to say sonker is the name. And if you come across a juicy, fruity dessert with a cake batter, pie crust, or biscuit filling and you happen to be in rural Surry or Wilkes Counties in North Carolina, chances are you have happened upon a sonker. No need to argue the finer points of etymology. Just dig in!
So Many Versions to Choose From
Friends, I have been on The Sonker Trail, and I have eaten many types of sonker. I will write more extensively about that soon, but for now, here's a list of the types of sonkers I've eaten.
Super juicy with a biscuit crust on the sides and on the top.
A little bit juicy with a batter poured on top and then baked.
Deep dish, thickened juices with a lattice pie crust top.
Stewed fruit with reduced juices and a batter top.
Stewed fruit with very thick juices topped with individually baked flattened rounds of biscuit
Several of the people who served us sonker (in restaurants, bakeries, and one brewery) had never heard of the milk dip, although one person said they make their sweet potato sonker with milk in the mixture. Regardless, I'm all about the dip. Tastes like melted Philadelphia-style vanilla ice cream. That could never be a bad thing!
Blackberry Cherry Sonker How-To
As I hope I've made clear, no two sonkers are exactly alike. Their main unifying characteristic that makes a sonker a sonker is that they are made in Surry and/or Wilkes Counties in North Carolina. But if you'd like to know exactly how I made this one, here's a little how-to for you.
Mix filling ingredients together in a bowl and allow to sit for awhile to draw out the juices.
Line the sides of a deep (at least 2″) dish or pan with pie crust, allowing the excess to hang over the sides.
Pour in the filling and the collected juices and dot with butter.
Cut decorative slits into the top crust.
Fit on top of the fruit and fold the excess dough from the sides over the top crust.
Brush with egg wash and sprinkle with sugar.
Pour some of the dip over the partially baked sonker and bake until the juices are bubbling all over. To serve, pass extra dip.
More Delicious Fruit Desserts
There are so many easy and delicious desserts to make, whether you're using fresh or frozen fruit. I love a good easy cherry cobbler recipe. Or maybe you're more into an apple crisp.
If you don't have a lot of fresh fruit around, consider a frozen peach cobbler.
A strawberry rhubarb crisp is a lovely summer dessert and is much easier to make than a pie.
Or go super old school and make a slump or a grunt. Substitute your favorite fruits and have fun!
Blackberry Cherry Sonker Recipe
Now that you've seen the how-to, let's do this.
For convenience, consistency, and accuracy, almost all my recipes are written by weight, either in ounces and/or grams, even the liquids.
I strongly encourage you to purchase a kitchen scale and learn to use it.
This is the one I used for years. I love it and highly recommend it:
Best for Home Use
Escali Primo Digital Food Scale
Don't let its small price and small size fool you. The Escali Primo is an accurate and easy-to-use food scale that I have used for years. It's easy to store, easy to use, has a tare function, and easily switches between grams and ounces/pounds for accurate measurements.
This is an affiliate link which means I earn from qualifying purchases. Your price is unaffected.
It would be so helpful to me and to other readers that, when you make a recipe, you rate it and leave a comment. Whether it's a recipe or an informational post, your feedback helps others decide if the post is helpful or if the recipe works as advertised.

If you could leave a star rating, that would be very helpful. Thank you for being here!
Blackberry Cherry Sonker
This sonker, a juicy, deep dish cobbler specific to Surry County, North Carolina, is bursting with summer berry flavor. You will love the milk "dip" that goes with it, as well!
Ingredients
3-3 ½

cups

blackberries

washed

3-3 ⅔

cups

sweet cherries

washed and pitted (I used Bing and Ranier)

½

cup

granulated sugar

1 ½

Tablespoons

corn starch

or flour

1

Tablespoon

lemon juice

¼

teaspoon

kosher salt

⅛

teaspoon

freshly grated nutmeg

use mace if you have it

crust for a 2-crust pie

homemade or storebought

3

Tablespoons

butter

divided use
To Finish and Bake
1

large egg

beaten with 1 teaspoon of water

2

Tablespoons

coarse sugar
For the Dip
1 ½

cups

milk

6

Tablespoons

granulated sugar

pinch

salt

2 ½

teaspoons

corn starch

1

teaspoon

vanilla extract
Instructions
Put the fruit, sugar, cornstarch or flour, lemon juice, salt, and nutmeg into a bowl. Toss to coat evenly. Allow to sit at room temperature for at least 30 minutes or up to 2 hours.

Place a sheet pan on the center rack of your oven and preheat to 375F.

Rub 1 Tablespoon of butter around the sides of a 8″ or 9″ deep cake pan (mine was 8″ x 3″. You can also do this in an 8″ or 9″ square baker.

Roll out one piece of pie crust to about 3/8″ thick. Cut into strips roughly 3″ wide. Press the strips around the insides of the pan allowing any excess to fold over the edges of the pan.

Roll out part of the other portion of dough into a circle (or square) about the same size as your pan (round or square). Cut slits in the dough–I cut mine into a herringbone pattern. Set aside for the moment.

Pour the fruit and all the collected juiced into the prepared pan and spread out evenly. Cut the remaining 2 Tablespoons of butter into small pieces and scatter over the top of the fruit.

Fit the top portion of dough on top of the fruit. Fold the excess of the bottom crust in over the top crust. No need to crimp.
To Finish and Bake
Brush the top of the sonker with egg wash and then sprinkle evenly with coarse sugar. I used Sugar in the Raw. Place on the sheet pan in the oven.

After 30 minutes in the oven, pour about 1/2 of the hot dmilk dip (how to below) over the top of the sonker.

Continue baking until well browned and until the fruit juices are bubbling all over, even in the center. This will take about 15 additional minutes. If the crust seems to be browning too much, tent loosely with foil.

Cool to warm and serve, passing the dip.
To Make the Dip
Stir together the milk, sugar, corn starch and salt in a medium saucepan.

Cook over medium high heat, whisking frequently, until the mixture comes to a boil. Cook, whisking constantly, for 2 additional minutes, and remove from the heat.

Stir in the vanilla. Use half the dip to pour over the sonker while it's in the oven. The rest is passed at the table for serving. Enjoy!
Did You Make Any Changes?
Nutrition
Calories:
342
kcal
Carbohydrates:
54
g
Protein:
5
g
Saturated Fat:
5
g
Cholesterol:
39
mg
Sodium:
226
mg
Fiber:
5
g
Sugar:
37
g
And there you have it, friends. A little sonker history for your brain and some actual sonker for your tummy! I hope you enjoy every bite.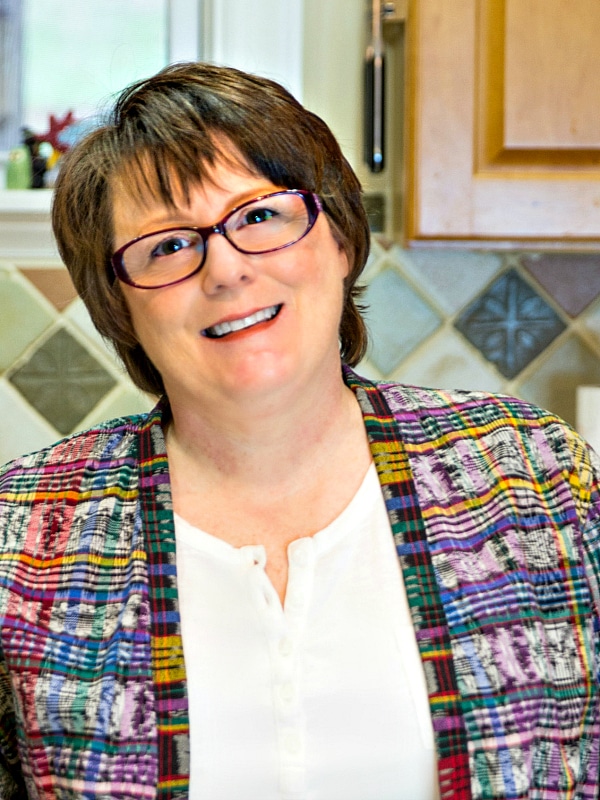 What are my qualifications to teach you baking and pastry? As a former working pastry chef and special educator, I marry my passions for both teaching and for baking into explaining techniques, methods, and developing the best possible recipes. For more info, you can read more about me.
If you'd like to receive new recipes and the occasional newsletter, I'd love for you to sign up for my Inbox Pastry Chef.
Thanks for spending some time with me today. Take care, and have a lovely day.