Friends, I'm so glad you're here today to learn about this cherry berry grunt recipe. It is juicy and delicious, and it's cooked on the stove top. Identical to a slump, (see this cherry blueberry slump, this easy and old-fashioned fruity dessert is sure to please. And allow you to keep your oven off.

For ease of browsing, you can find all my cobblers, crisps, and more in one place. Thanks so much for visiting!
Why Is it called a Grunt?
I do not know in what world the bubbles rising from berry juices and up through batter make a grunting noise, because it is obvious to anyone with a pair of ears that they bloop. For better or worse, grunt is what it is called.
A grunt is pretty much like a cobbler. Exactly like a cobbler. The only difference between a grunt and a cobbler comprised of sweetened juicy fruits with big, pillowy dumplings is that a grunt it cooked on the stove top while a cobbler is baked.
Like this easy cherry cobbler, for instance.
This means a few things:
It is a safe bet that grunts predate cobblers since stoves pre-date ovens.
The dumplings in a grunt will have a softer consistency than ones in a cobbler since there won't be any browning from Maillard reactions in the oven.
If you want a fruity baked dessert on a hot day, a grunt is preferable to a cobbler because you don't have to turn on the oven and heat up the whole house.
I'm pretty sure that you can make a grunt in a slow cooker. If you have a recipe for a cobbler made in a slow cooker, get used to the idea that what you're making is really a grunt.
Credit Where Credit Is Due
I had never made a grunt before, so I looked around at a few different recipes on the Internet, and then I sort of did my own thing. Here are the recipes I checked out before formulating my game plan.
As you'll notice, all the recipes I saw are for blueberry grunt. I am not going to go out on a limb and say that blueberries are the most popular fruits for making grunts since I also saw references to blackberry and apple grunt, and I just made one with about 5 different kinds of fruit in it. The short rule is "use what you have."
Formulating the Recipe
Almost all fruit and dumpling/topping desserts are related to each other somehow.
I found this short but informative article on the differences among them, including grunts, cobblers, Betty and pandowdy, should you be a fan of such reading.
Believe me, this is just one of many such articles, but I wasn't about to go down that rabbit hole. These types of desserts probably differed from county to county, from town to town and quite possibly even from house to house.
For my version of a grunt, I used what fruits were in the house.
I had some blueberries and blackberries from the CSA, a large handful of blackberries from our yard, some frozen sweet cherries and strawberries as well as some "mixed berries" from the warehouse store.
I sweetened the berries fairly lightly, balancing the sweetness with some Bragg's apple cider vinegar.Just a sprinkling of cinnamon in a sweetened batter (more like a cross between a biscuit dough and a batter) and spooned over the top, it needs about 30-40 minutes on the stove for the dumplings to cook–poached bottoms and steamed tops.
The finished grunt needs nothing but a short pour of heavy cream to take you to soft, sweet, juicy comfort food heaven.
It would be so helpful to me and to other readers that, when you make a recipe, you rate it and leave a comment. Whether it's a recipe or an informational post, your feedback helps others decide if the post is helpful or if the recipe works as advertised.

If you could leave a star rating, that would be very helpful. Thank you for being here!
Mixed Cherry-Berry Grunt
Make this mixed cherry-berry grunt in a 10" cast iron skillet. If you have a 10" Dutch oven, that will work too. My skillet wasn't quite deep enough, so I had to invert a large pot over it so the dumplings would steam without sticking to a regular lid.
Ingredients
For the Fruit
Enough mixed berries and cherries to fill a 10″ pan by about 1 1/2″

(fresh or frozen, or a combination)

½

cup

granulated sugar

or to taste

½

cup

orange juice

1

Tablespoon

apple cider vinegar

(I used Bragg's)

1

teaspoon

vanilla

heavy pinch of salt
For the Topping
8.5

oz

all purpose flour

2

oz

granulated sugar

2

teaspoons

baking powder

½

teaspoon

baking soda

heavy pinch of kosher salt

heavy pinch of cinnamon

4

oz

1 stick cold butter, cut into cubes

10

oz

buttermilk

1

teaspoon

vanilla
Instructions
Put all the fruit in you pan.

Sprinkle the sugar evenly over the fruit.

Pour in the orange juice, apple cider vinegar, vanilla and salt.

Bring to a boil over medium heat.

While the fruit is heating, make the topping.
For the Topping
In a large bowl, whisk together the flour, sugar, baking powder, baking soda, salt and cinnamon.

Cut or rub the butter in thoroughly until there are no pieces larger than peas.

Make a well in the center of the flour and pour in the buttermilk and vanilla.

Stir lightly with a dough whisk. (I don't have one, so I used a regular dinner knife. It worked well. Mixed everything without developing too much gluten).
Finishing
Once the fruit is at a boil, stir a couple of times and reduce the heat to a simmer.

Drop the batter by large spoonfuls all over the fruit, leaving just a bit of space in between.

Cover with a lid (or if your pan is shallow and there is no room for the topping to rise, do what I did and invert a large pot on top of the skillet to act as a very tall lid).

Make sure the fruit is still bubbling, and simmer for about 30-40 minutes. Check frequently after about 20 minutes. You want the batter to be firm with lots of little holes in it. It should not be wet on the outside. Look for an internal temperature of 200F.

Cool to warm and serve with ice cream, whipped cream or simply pour some heavy cream on each serving.
Did You Make Any Changes?
This is a great fruit dessert any time, using fresh or frozen fruit, but it's especially nice in the summer since you don't have to turn on the oven. I hope you enjoy this soft, comforting and flavorful mixed cherry-berry grunt as much as I do.
Thank you so much for spending some time with me today. Have a lovely day.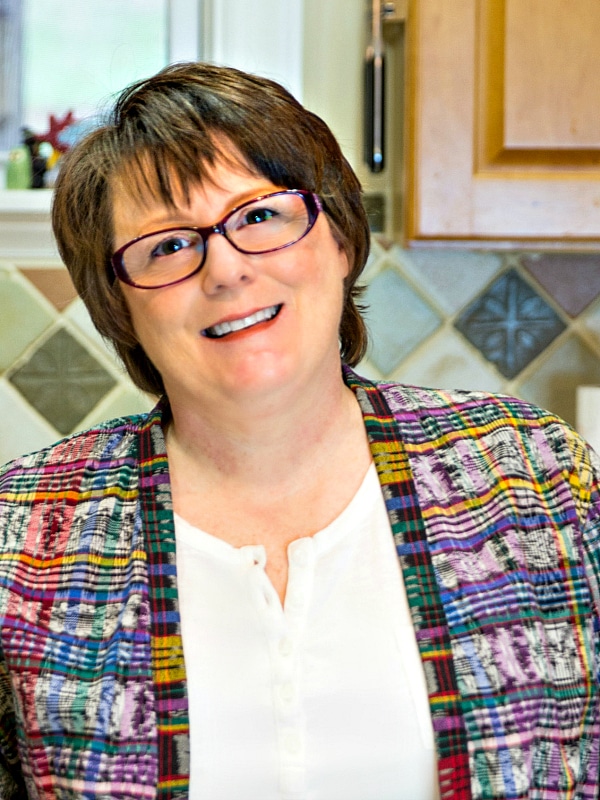 What are my qualifications to teach you baking and pastry? As a former working pastry chef and special educator, I marry my passions for both teaching and for baking into explaining techniques, methods, and developing the best possible recipes. For more info, you can read more about me.
If you'd like to receive new recipes and the occasional newsletter, I'd love for you to sign up for my Inbox Pastry Chef.