Most Recent Update:
You are going to love this lazy peach sonker, friends. I started with a recipe for spiced peaches from my friends' Jane Bonacci and Sara de Leeuw's cookbook, The Gluten-Free Instant Pot Cookbook, and then I turned them into the filling for a lazy sonker.

I have included gluten-free option for making the sonker batter so you can enjoy this classic North Carolina fruit dessert even if you are gluten free, and also to stay true to the gluten-free spirit of the cookbook.

Whether you tuck these spiced peaches into an NC peach cobbler, spoon them over pound cake, or make a gluten-free crisp, you will love the not-too-sweet juiciness and cinnamon-ginger-nutmeggy goodness!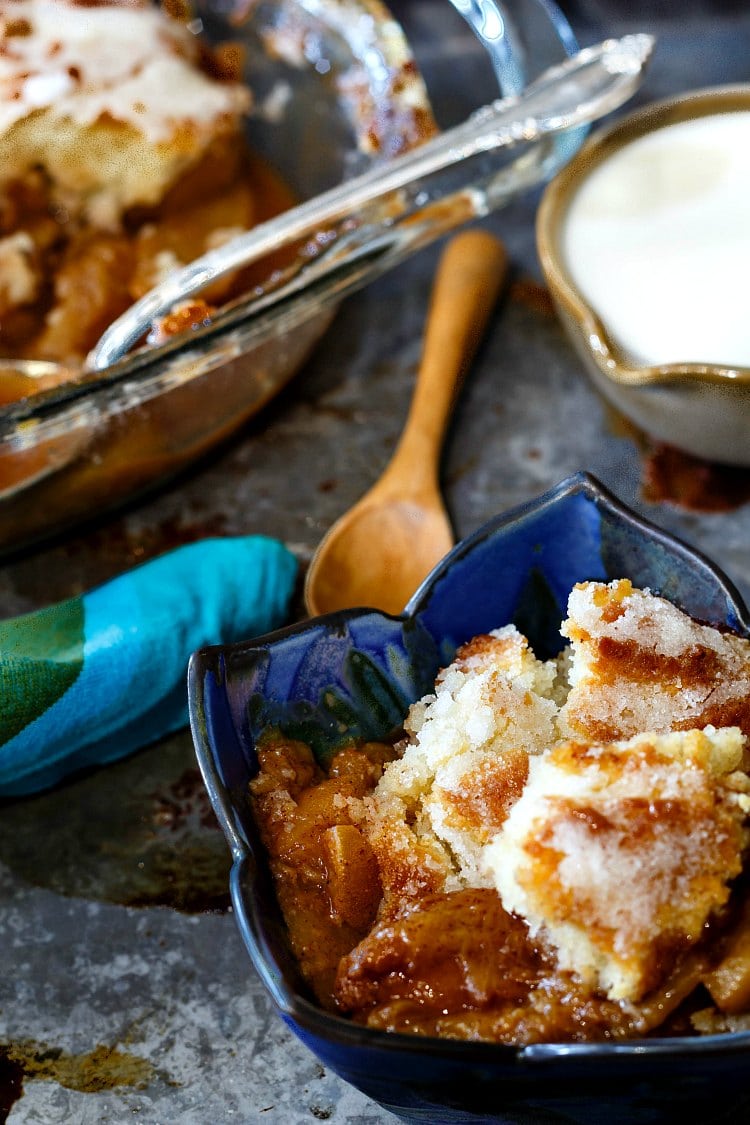 This post contains affiliate links. We are members of the Amazon Affiliate program. For any sale through our links, we earn a small commission. Your price is unaffected. For more information, please see our disclosure policy.
I received a review copy of The Gluten Free Instant Pot free of charge. Thank you, Sara, and Jane!
What Is a Sonker?
A sonker is really pretty much the same thing as a cobbler. After doing a lot of research and eating a bunch of sonker in the home of sonkers–Surry and Wilkes Counties in North Carolina–there doesn't seem to be one standard for this homey fruit dessert.
For my purposes, and mostly based on the best sonkers I've tried, sonker tends to be juicier than cobbler and made in some sort of deep dish.
The crust can be rolled out and placed on the sonker as in pie crust, dropped on like biscuits, or in this case, "lazy sonker" mixed up into a thick batter and spread on top of the cooked fruit.
One addition to a sonker that seems to be specific to sonker is milk dip, which is made by cooking together milk, sugar, some starch, and a bit of vanilla into a thin, pourable sauce" that tastes a bit like melted vanilla ice cream.
I have read that milk dip is often reserved for sweet potato sonker, but it is so good, I like to serve it with any and all sonker and cobbler varieties, including this peach cobbler.
I have a recipe for the dip in my post for strawberry peach sonker.
The Gluten-Free Instant Pot Cookbook
If you own an Instant Pot or are thinking of getting one, and also happen to either be gluten free or do a lot of cooking for people who are gluten-free, you will want to pick up a copy of Jane Bonacci and Sara De Leeuw's The Gluten Free Instant Pot Cookbook.
This is the second and expanded edition complete with 50 more recipes, gorgeous full-color photos and a ton of great information about using your Instant Pot in general and cooking and baking gluten-free in particular.
Jane and Sara were kind enough to send me a copy of their book for review, and I decided I needed these spiced peaches in my life. You can watch me make them on Facebook live here:
and Part 2:
How To Make This Lazy Peach Sonker
Time needed: 1 hour.
Time is approximate and includes making the spiced peaches and then the sonker.

Making this lazy peach sonker is a pretty straightforward process. Of course, you could just stop with the peaches and be pretty happy, but turning them into sonker takes them to the next level.
Make the spiced peaches

Make the syrup for the peaches in your Instant Pot, add the peaches and cook under pressure. Release pressure and reduce syrup. Tada!

Make the lazy sonker batter

Heat the milk and butter together until butter is melted. Whisk together all the batter ingredients.

Build and Bake

Pour the peaches and all their juices into a baking dish. Top evenly with the batter and sprinkle sugar over all. Bake at 350F for about 30 minutes.

Enjoy!

Allow the sonker to cool for a few minutes. Serve as is or top with your choice of unsweetened cream, milk dip, sweetened cream, yogurt, ice cream, etc.
Why Is It Called a Lazy Sonker?
There are many types of sonker, and lots of them call for using rolled pie dough to make either a lattice or to line the sides of your baking dish.
That requires work. Making dough, chilling, rolling, etc.
This "lazy peach sonker" is called lazy because there is no rolling out required. You just make a thick batter and spoon/spread it on top of the fruit filling, bake, and you're done!
More Sonker Recipes to Try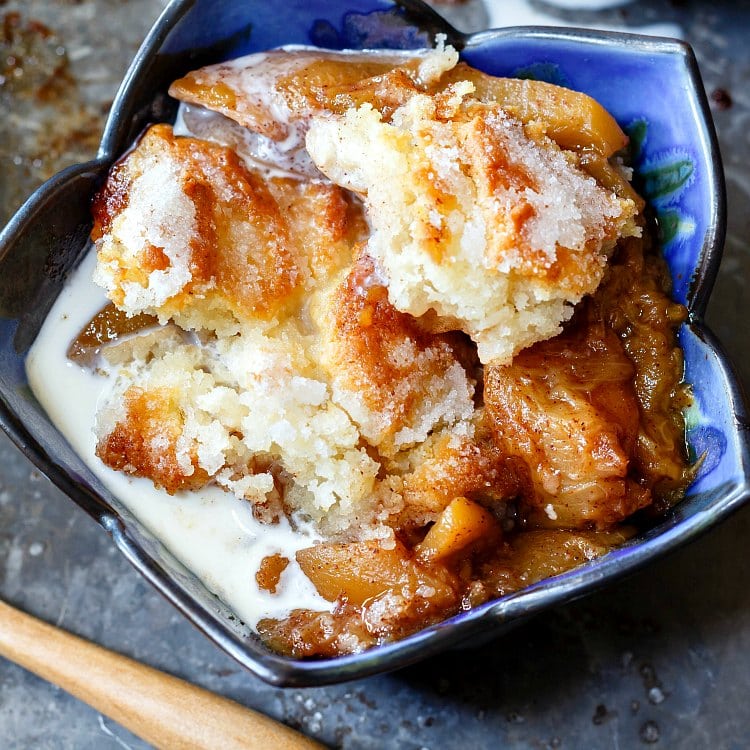 Cobbler, slump, grunt, buckle–whatever you call it, I'm all about a fruit dessert. I have to say sonker, with its Native NC roots, kind of has my heart.
Here are my other sonker recipes (so far) to try:
I really hope you love this lazy sonker recipe, you guys! If you make it, please share a photo with me, either in the PCO Facebook Group or on instagram by tagging @onlinepastrychef and using hashtag #pcorecipe. Thanks, and enjoy!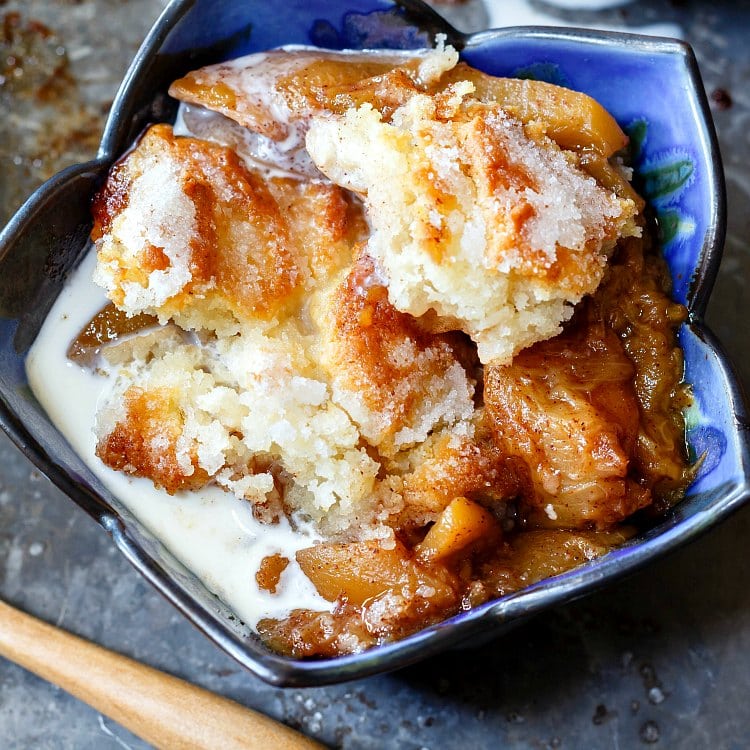 Lazy Peach Sonker (with Gluten-Free Option)
This lazy peach sonker is super juicy and spiked with warming spices. Make the filling in the Instant Pot, whip up the quick batter, and you'll be ready for dessert in no time!