Most Recent Update:
I love a fruity, summer dessert with a funny name! Make this pandowdy by covering juicy fruits with pieces of pie crust. If you're intimidated by making pie, a pandowdy might be the ticket!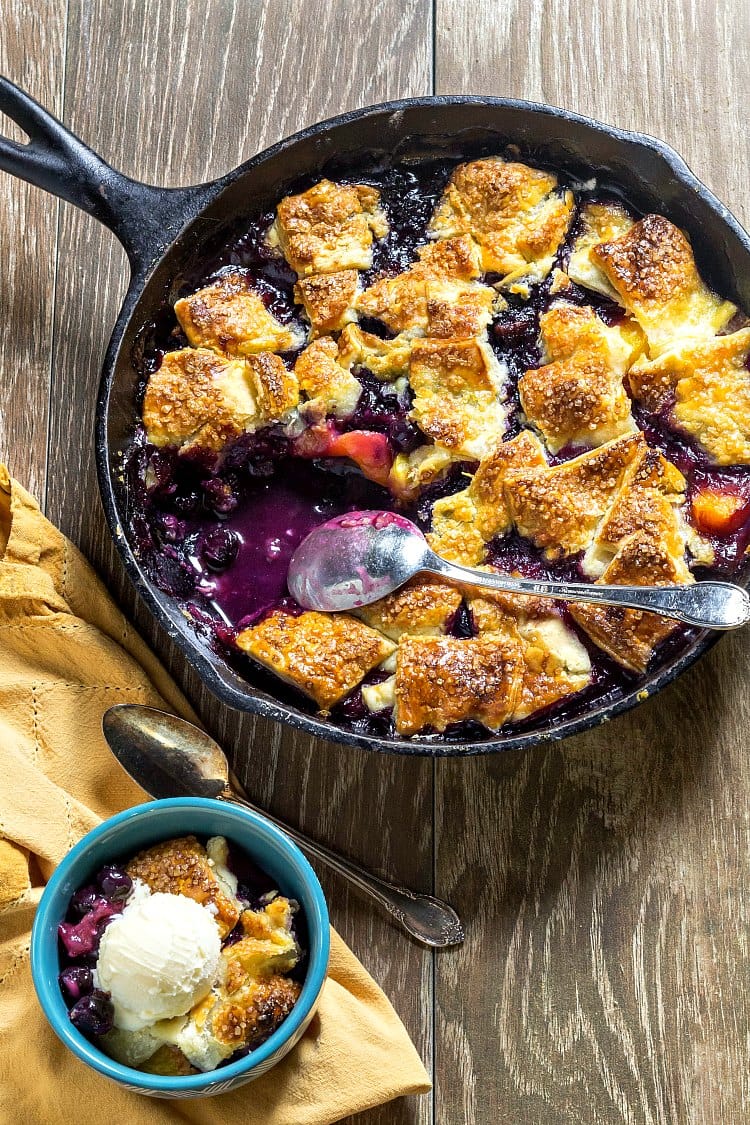 What You'll Find in This Post
hide
What's a Pandowdy, Anyway?
As with many dishes with long histories, nobody is really sure when it first showed up on family tables, but the pandowy–usually made with apples–probably came along at some point in the late 1700's or early 1800's. The story is that it's called a "dowdy" (baked in a pan, I guess, hence pandowdy) because it's sort of frumpy looking with it's haphazardly cut pastry top. 
Here's my thought, though. I sort of feel like some poor harried cook rushed her pie or stuffed it too full or baked it too hot and the top crust split. Rather than copping to making a less-than-perfect pie, I think she thought on her feet and decided to just cut the whole top up, camouflaging her mistake and making the whole affair seem very intentional. It's the classic "I meant to do that all along" save that is the stuff of legend: the chimichanga and Reese's Peanut Butter Cups fall into the same category. (Hey! You got your peanut butter in my chocolate!)
I honestly have no idea if this is the true origin of the dish, but I do know that if you're apprehensive about making a crust that you can roll onto filling in one large piece, it's much easier to just shingle on smaller pieces of dough. So whether or not the original cook meant to make the dessert this way or she just pulled a save out of the ether, this is a great starter pie.
Blueberry Peach Pandowdy
We are in the thick of summer here in the south, I decided to forgo the traditional apple filling and work with peaches and blueberries. Fortunately, local blueberries have started to make their appearance. Juicy, ripe, North Carolina peaches are still a few weeks away, so I used frozen. Feel free to use frozen or fresh blueberries and/or peaches. Do use ripe fruit, though, because you'll need their juices once you dowdy up your crust!
I went all in with the pastry in this dessert, pushing some pieces under the fruit before baking and shingling the others on top. The pieces submerged from the beginning are basically little fruit syrup-soaked dumplings. What's not to love about that? Add to that lovely, fruity, chewy texture some crisp, sugar-sprinkled pieces on top, and this dessert, while a bit homely looking, has a really nice interplay of textures in each bite. Winner!
First though, let's make sure you have what you need to make this peach blueberry pandowdy.
Shop This Recipe
The cast iron skillet is the same one I used to make this pandowdy. You already know I don't want you to live without a bench knife, so go ahead and grab one–you will use it for so much. The tapered pin is my favorite kind of rolling pin, because it's so easy to maneuver, and the cooling rack is something everyone should have at least one of. I think I own about 8 cooling racks, some round and some rectangular.
As always, thank you for supporting PCO by shopping through my affiliate links.
amzn_assoc_placement = "adunit0";
amzn_assoc_search_bar = "true";
amzn_assoc_tracking_id = "pascheonl-20";
amzn_assoc_ad_mode = "manual";
amzn_assoc_ad_type = "smart";
amzn_assoc_marketplace = "amazon";
amzn_assoc_region = "US";
amzn_assoc_title = "Let's Make Blueberry Peach Pandowdy";
amzn_assoc_linkid = "2d7dd4048e4a14d126ef6197ee78fcd3";
amzn_assoc_asins = "B00008GKDG,B000SSZ4Q4,B000IYYFIQ,B06XBWNZJV";
And now, let's make this pandowdy, shall we?
Blueberry Peach Pandowdy
Total Time:
1 hour
15 minutes
This blueberry peach pandowdy tastes like summer. With buttery pieces of pie dough both tucked into and baked on top of lightly sweetened, spiced peaches and blueberries, this is one dowdy dessert that will be right at home at either a picnic or a dinner party.
And there you have it–my homey (homely?) blueberry peach pandowdy. I think you're going to love it!
Thanks for spending some time with me today. Take care, and have a lovely day!