I love a fruity, summer dessert with a funny name! So if blueberry peach pandowdy sounds like a winner, pull up a chair!

If you're the same way, you may some of my other funny-sounding desserts: lazy peach sonker or mixed cherry berry grunt.

Today, however, we're talking pandowdy.

While apple pandowdy might be the most notable version, I am partial to this juicy, fruity blueberry peach number.

For ease of browsing, you can find all my cobblers and other fruit desserts in one place. Thanks so much for visiting!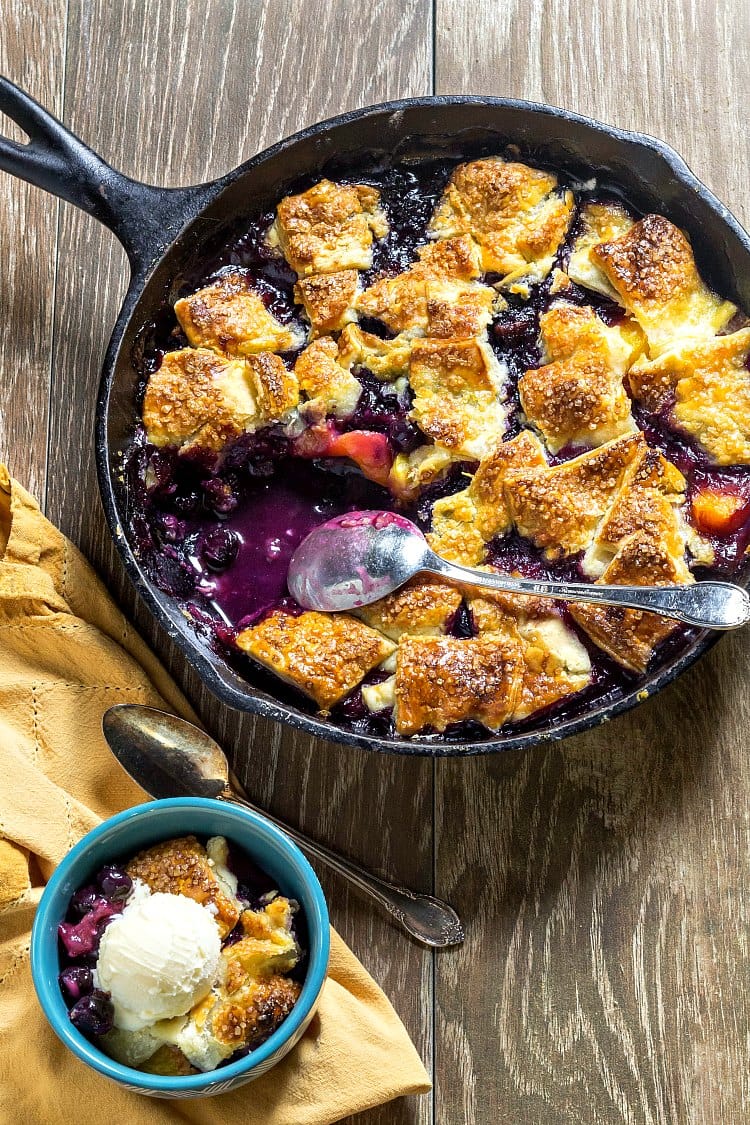 The (Questionable) Beginnings of Pandowdy
Here's my thought. Totally apocryphal and also believable!
I sort of feel like some poor harried cook rushed her pie or stuffed it too full or baked it too hot and the top crust split.
Rather than copping to making a less-than-perfect pie, I think she thought on her feet and decided to just cut the whole top up, camouflaging her mistake and making the whole affair seem very intentional.
It's the classic "I meant to do that all along" save that is the stuff of legend: the chimichanga and Reese's Peanut Butter Cups fall into the same category. (Hey! You got your peanut butter in my chocolate!)
I honestly have no idea if this is the true origin of the dish, but I do know that if you're apprehensive about making a crust that you can roll onto filling in one large piece, it's much easier to just shingle on smaller pieces of dough.
Whether or not the original cook meant to make the dessert this way or she just pulled a save out of the ether, this is a great starter pie.
As with many dishes with long histories, nobody is really sure when it first showed up on family tables, but the pandowy–usually made with apples–probably came along at some point in the late 1700's or early 1800's.
The story is that it's called a "dowdy" (baked in a pan, I guess, hence pandowdy) because it's sort of frumpy looking with it's haphazardly cut pastry top.
Use Fresh Juicy Fruit When Available
In the summer when there is so much fruit to be had, you don't have to go with a traditional apple pandowdy. Save that for the winter.
Work with peaches and blueberries, blackberries, cherries–any ripe juicy fruit you can find, because you'll need their juices once you dowdy up your crust!
I went all in with the pastry in this dessert, pushing some pieces under the fruit before baking and shingling the others on top.
The pieces submerged from the beginning are basically little fruit syrup-soaked dumplings. What's not to love about that?
Add to that lovely, fruity, chewy texture some crisp, sugar-sprinkled pieces on top, and this dessert, while a bit homely looking, has a really nice interplay of textures in each bite. Winner!
First though, let's make sure you have what you need to make this peach blueberry pandowdy.
Pandowdy-Making Tools
This is the cast iron skillet I used to make this pandowdy. You already know I don't want you to live without a bench knife, so go ahead and grab one–you will use it for so much.
The tapered rolling pin is my favorite kind of rolling pin, because it's so easy to maneuver, and cooling racks are something everyone should have at least one of.
A Note About Measurements
For convenience, consistency, and accuracy, almost all my recipes are written by weight, either in ounces and/or grams, even the liquids.
I strongly encourage you to purchase a kitchen scale and learn to use it.
This is the one I used for years. I love it and highly recommend it:
Best for Home Use
Escali Primo Digital Food Scale
Don't let its small price and small size fool you. The Escali Primo is an accurate and easy-to-use food scale that I have used for years. It's easy to store, easy to use, has a tare function, and easily switches between grams and ounces/pounds for accurate measurements.
This is an affiliate link which means I earn from qualifying purchases. Your price is unaffected.
It would be so helpful to me and to other readers that, when you make a recipe, you rate it and leave a comment. Whether it's a recipe or an informational post, your feedback helps others decide if the post is helpful or if the recipe works as advertised.

If you could leave a star rating, that would be very helpful. Thank you for being here!
Blueberry Peach Pandowdy
This blueberry peach pandowdy tastes like summer. With buttery pieces of pie dough both tucked into and baked on top of lightly sweetened, spiced peaches and blueberries, this is one dowdy dessert that will be right at home at either a picnic or a dinner party.
Ingredients
1

pint

fresh blueberries

rinsed

3

cups

peeled and sliced peaches

fresh or frozen

⅓

cup

granulated sugar or demerara

1 ½

Tablespoons

flour or corn starch

½

teaspoon

ground cinnamon

several gratings whole nutmeg

or 1/4-1/2 teaspoon, ground

juice of half a lemon

1

teaspoon

vanilla extract

heavy pinch kosher salt

pie crust for a single crust pie

homemade or store-bought
To Finish
1

large egg

beaten

2

Tablespoons

coarse sugar for sprinkling
Instructions
Place a rack in the center of the oven. Preheat to 425F.

Place the fruit in a large bowl.

Add the sugar, flour or corn starch, spices, lemon juice, vanilla, and salt. Toss everything together evenly.

Loosely pile into an 8″ cast iron skillet or similar-sized pie plate or baking dish.

Roll out the pie crust fairly thinly into a rough rectangle. Generously trim the edges to leave a square of dough. Cut up the trimmings into 2″ pieces and tuck 6-8 of these in and under the fruit in the pan.

Cut the remaining square of dough into 2″ squares and shingle these onto the fruit.
To Finish and Bake
Brush the dough lightly but thoroughly with the beaten egg. Sprinkle on the sugar evenly and fairly generously.

Bake the pandowdy for 25 minutes. Remove from the oven, and turn the oven down to 375F.

With a heat-safe spatula, cut down in between the squares of dough, pressing some of it down into the juices. It might not be super juicy quite yet, but it will be. Don't worry.

Bake an additional 35 minutes, or until the pastry is deep golden brown and the juices are bubbling all over the pie–not just around the edges. If some of the pastry is starting to get too dark, cover those areas with some foil. Just keep an eye on things to make sure you don't over-brown your pandowdy.

Cool to warm before serving with a scoop of vanilla ice cream, frozen yogurt, or some barely sweetened whipped cream.
Did You Make Any Changes?
Notes
If you'd like to make the same pastry I did, I made Lazy Baker's Puff Pastry from the cookbook Baking by Hand. (Scroll down quite a way to grab that recipe.) I used 1/3 of the linked recipe, and I've frozen the other 2/3 to use some other time.
If you are not using any frozen fruit, your baking time could be 10 minutes or so less, so just keep an eye on your guy and make sure it doesn't over-brown.
Nutrition
Serving:
1
/8
Calories:
318
kcal
Carbohydrates:
59
g
Protein:
3
g
Fat:
8
g
Saturated Fat:
3
g
Polyunsaturated Fat:
5
g
Cholesterol:
23
mg
Sodium:
167
mg
Fiber:
3
g
Sugar:
27
g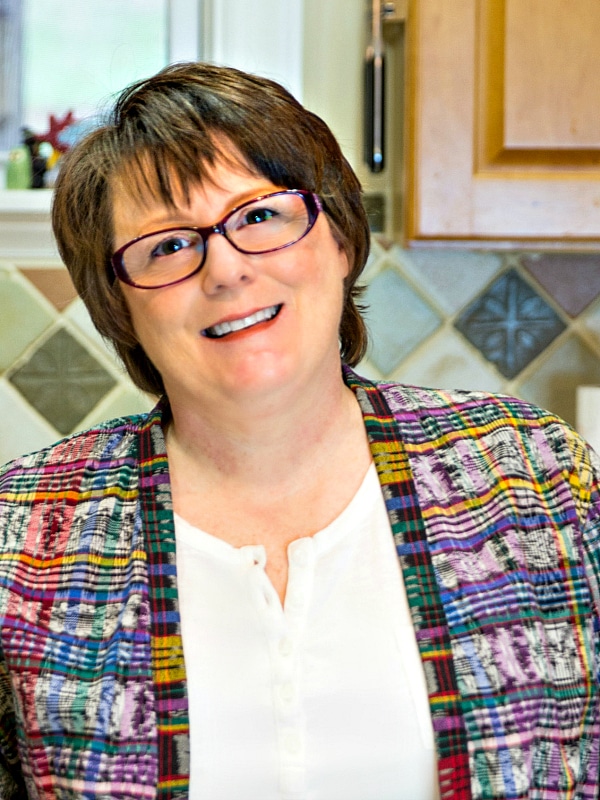 What are my qualifications to teach you baking and pastry? As a former working pastry chef and special educator, I marry my passions for both teaching and for baking into explaining techniques, methods, and developing the best possible recipes. For more info, you can read more about me.
If you'd like to receive new recipes and the occasional newsletter, I'd love for you to sign up for my Inbox Pastry Chef.
And there you have it–my homey (homely?) blueberry peach pandowdy. I think you're going to love it!
Thanks for spending some time with me today. Take care, and have a lovely day!