This is the stabilized whipped cream of your dreams, friends.

With no gelatin, it's vegetarian. It doesn't have any chalky or other off-tastes that some stabilizers can leave, and it doesn't get spongy, even after 36 hours.

Once whipped, it stays soft and creamy. You can even pipe it after it has been sitting in a pastry bag in the fridge for 24 hours.

For this recipe, I whipped the cream by hand, but you can also use a hand mixer or stand mixer. I am excited to tell you all about it.

For ease of browsing, you can find all my icing, filling, and frosting recipes in one place. Thanks so much for visiting.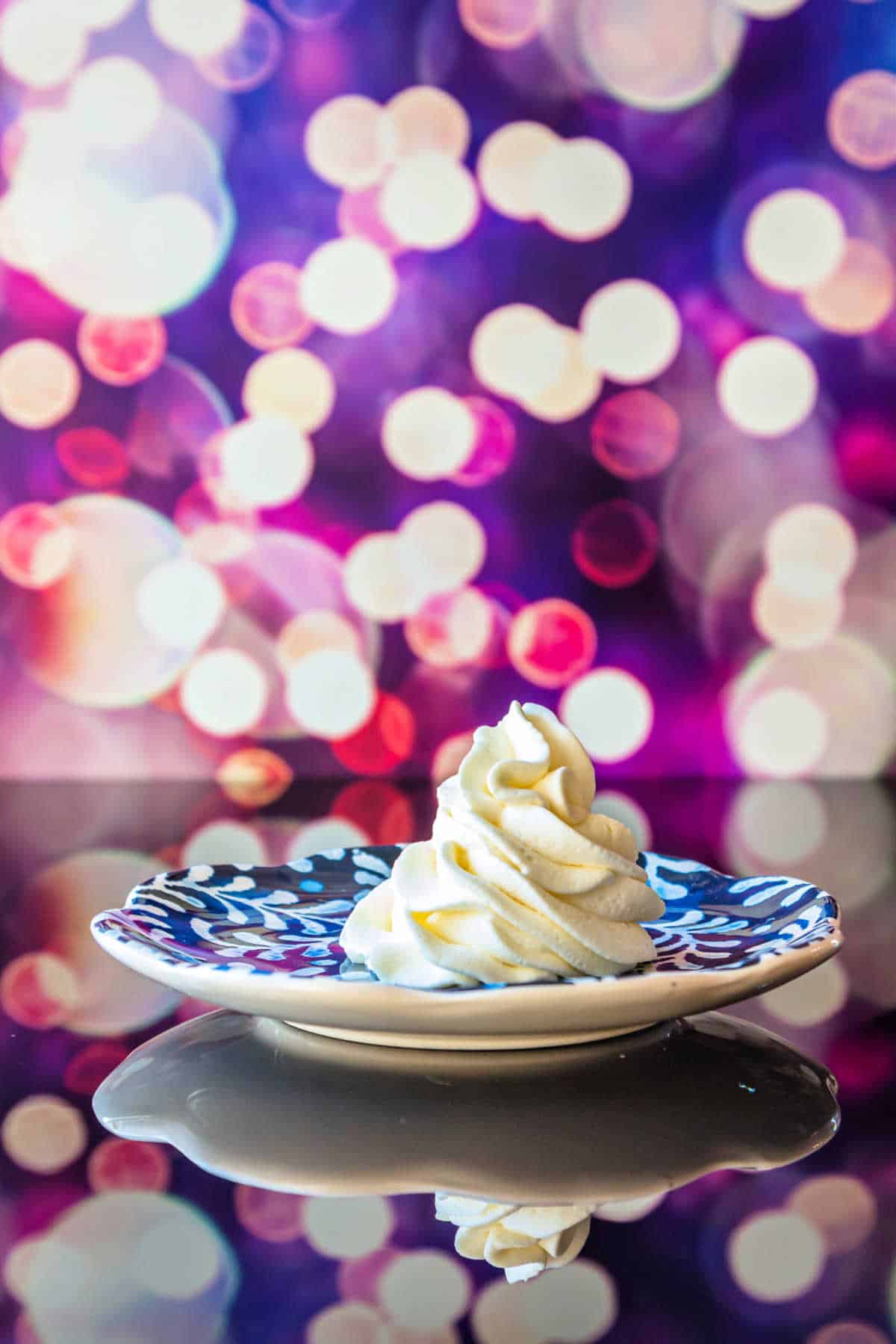 There Are Many Ways to Make Stabilized Whipped Cream
A friend pointed me to a video that a guy recorded to test 8 different methods for stabilizing cream.
He showed how cream stabilized with all the different methods held up in the fridge and at warm temperatures.
I have a gelatin-stabilized fruit mousse on the site, which is basically just whipped cream flavored with fruit puree and stabilized with gelatin. So that counts.
I've seen people use pudding mix, cream cheese, a high ratio of sugar, and more.
While all of these methods of stabilizing cream work reasonably well, the method I have settled on is to use a small amount of Instant Clear Jel.
What Is Instant Clear Jel?
This magical thickener is made by taking a kind of cornstarch and cooking it with liquid so the starches swell up and gelatinize.
Then, it's dried and ground back into a powder. (I am sure I am leaving out a bunch of technical steps, but this is the gist.)
The result is a thickener that works almost instantly in to thicken cold liquids.
Modified food starch/cornstarch is the magic ingredient that thickens instant pudding, so if you've ever made that, you know it will thicken cream, too.
The trick is to only use enough to increase keeping properties and trap moisture without affecting the texture of the cream.
Why This Stabilized Whipped Cream is So Good
Although there are plenty of ways to stabilize whipped cream, each of them has its downsides.
Gelatin is not vegetarian, so that limits who can eat it.
Cream cheese works, but adds a tang and heaviness that might not be welcome in all applications (although definitely top your cheesecake with it).
Using additional sugar does work to trap the moisture, but if you don't want super-sweet whipped cream, this may not be the way to go.
What makes this method of stabilizing cream so foolproof is that the Instant Clear Jel (modified food starch) is vegetarian, adds no additional flavor or texture, and doesn't require a lot of sugar.
The Difference Between Using Instant Pudding and Instant Clear Jel
I don't know the percentage of modified food starch that's contained in pudding mix, but let's just arbitrarily say it's 50%. That leaves 50% sugar and additives, which include artificial colors and flavors.
If you are trying to stay away from artificial ingredients, instant pudding is out.
Plus, it does lend a sort of "artificial vanilla" flavor to your whipped cream.
Modified food starch contains no sugar and no additives. It's 100% starch.
Most recipes call for 1 Tablespoon instant pudding to 1 cup of heavy cream.
In my experience, that's way too much. Even at 50% modified cornstarch, that is 1 1/2 teaspoons of starch.
My recipe calls for 1/2 teaspoon modified food starch per cup of heavy cream.
This yields a cream that doesn't weep, even after 24 hours. (During testing, I held piped whipped cream made with Instant Clear Jel at a warm room temperature of 84F for several hours).
More importantly, this amount of starch does not set up so firmly that you can't pipe it later.
That is often the downfall of stabilized cream, that once you make it and it sets up, you're done working with it.
This is fine when you're using it as cake frosting where you only apply it once and that's it.
But say you want to make your cream one day and pipe it the next?
You won't be able to do that unless you cut way back on the amount of starch, using enough so it will hold its shape and won't weep but not so much that it sets up into a spongy texture that is unworkable.
This stabilized cream held well in a piping bag overnight and then piped beautifully in the morning.
I'd like to see gelatin-stabilized whipped cream do that! (Spoiler alert: it can't.)
If you only have instant pudding, use twice the amount. So for every 1/2 teaspoon of modified cornstarch, use 1 teaspoon of instant pudding. Just know that your cream may taste a bit different because of the flavorings in the instant pudding mix.
How To Make
Here's what you'll need and how to make whipped cream that can safely sit out for a few hours or hold in the fridge for days without degrading.
Ingredients and Substitutions
heavy cream: If you cannot find heavy cream, go with "whipping cream." Anything with less butterfat will not whip for you. Light cream will not work.
salt: I like fine salt here because it dissolves more readily in the cold cream than salt with larger crystals. You don't need much: just a healthy pinch (maybe 1/8 teaspoon, if that) per cup of cream
Instant Clear Jel: There are two types of Clear Jel: cooktype and Instant. You want to use the Instant kind, because this is the kind that thickens in cold liquid, not requiring heat for the starches to swell up and thicken
sugar: You can use any granulated or powdered sweetener, including granulated white, dark or light brown sugar, or powdered sugar. You can even use powdered sugar substitute such as Monk Zero. I often use this to save myself some carbs and sugar.
vanilla: Or your preferred flavoring. My other favorites are mint or orange
Procedure
The most important thing to remember is to whisk the Instant Clear Jel into the sugar mixture before adding it to the cream.
If you forget and add the Clear Jel by itself, you'll end up with bumpy whipped cream full of little bits of gelatinized starch that will not whip into the cream, period.
Trust me. I speak from experience.
Noting that, it's the first thing I do now:
Whisk Instant Clear Jel and sugar together thoroughly.
Add cream, salt, and vanilla to a large bowl or to the bowl of your mixer.
Whisk (or whip) until the cream has thickened a bit, and then add the sugar/Clear Jel mixture.
Continue to whip until the cream holds stiff peaks.
This cream will hold at room temperature for several hours or in the refrigerator for several days.
If you want to pipe it later, go ahead and fit a piping bag with your desired tip and then load the bag with your whipped cream.
Put this whole shebang in a covered bowl or in a zip-top bag and pipe as desired within 2-3 days.
Piping the Cream
You can either pipe the cream right away and then hold it until you need it (within reason–3-4 days), or you can fill a piping bag with your finished cream and then pipe it when you need it (again, within reason).
The "poof" of whipped cream that you see in the collage above was piped right after whipping.
The cream in the photo below was piped 24 hours after whipping:
Here's the texture of the inside of the whipped cream "poof" after being refrigerated for several hours:
Here is what the "poof" looks like on the inside after 36 hours, some spent at room temperature and some in the fridge.
The cream is just slightly spongy with zero weeping and is more than serviceable for topping a dessert.
Your best bet is to pipe or use your cream right away, but it is very good to know that, if you have to hold it for awhile, it will still be useable.
What If You Use Too Much Starch?
This is not generally too much of an issue unless you intend to pipe it after holding the cream for several hours or you want to spoon it on a dessert after the cream has been sitting in the fridge for 5-6 days.
After being in a container for a week, this is what my stabilized whipped cream made with 1 1/2 teaspoons of modified food starch looked like.
Note it was smooth and beautiful for a few hours after whipping. This cream worked fine the day I made it, and it would have made a good stabilized whipped cream frosting, but you can see that, once it sets up, with more starch in it, there is no way to pipe it.
Equipment You May Need
The main thing you need to get is the Instant Clear Jel. It is not interchangeable with regular, cooktype Clear Jel, so be careful when ordering that the package says "instant" on it.
This stuff is super stable at room temperature, as long as you keep it dry, so get a fair amount and keep it tightly sealed. It will last a Very Long Time in your pantry so you can pull it out whenever you need it.
The brand I have is by Hoosier Hill.
Buy 1.5 pounds of Hoosier Hill Instant Clear Jel on Amazon.
Buy 1 pound of Instant Clear Jel on Nuts.com.
Buy 8 oz of Instant Clear Jel from King Arthur.
Equipment-wise, you'll need a large bowl and a balloon whisk, a hand mixer, or if you do a lot of whipping and mixing, a stand mixer.
Variations
It is easy to vary the flavor of your whipped cream.
Try a sprinkle of cinnamon or pumpkin pie spice for a topping for your pumpkin or apple pie.
A little citrus zest is also lovely in whipped cream, either to pair with citrus desserts, berries/berry desserts and chocolate.
Melt and drizzle in some white chocolate, a particular dreamy combination with orange or dark chocolate.
Tips for Success
This is a pretty foolproof method of stabilizing whipped cream, so I only have a couple of tips for you:
To ensure perfectly smooth whipped cream, always, always whisk the Instant Clear Jel and sugar together before adding it to your cold, thickened cream.
Stabilized Whipped Cream Q & A
What if all I have is regular cornstarch?
You can use regular cornstarch, but you will have to cook it first. Stir together 1/2 to 1 teaspoon of cornstarch with 1/4 cup of cream. In a small saucepan, bring it to a boil, whisking the whole time. Cool to room temperature, and then as you whip the rest of your cream, stream this mixture into it after it has thickened somewhat.
How long will this last in the fridge?
I didn't test it beyond 36 hours, but there was zero weeping, even when several hours were spent at room temperature. I would expect you could easily get 3-5 days.
Can I use this to frost a cake?
Absolutely. If using as a frosting or icing, you can safely use double the amount, so 1 teaspoon per cup of heavy cream. The resulting cream will set more firmly and have a light-but-substantial mouthfeel that works really well as a frosting.
Can I freeze stabilized whipped cream?
Yes! If you're preparing for a dinner party, a few days before your soiree, pipe your garnishes on a parchment-lined baking sheet and freeze. When it's serving time, remove the tray from the freezer about an hour before time to serve dessert. Use an offset spatula to transfer your beautiful poofs of whipped cream from the sheet to each serving of dessert. Tada!
Serving Suggestions
Use stabilized whipped cream wherever you'd use regular whipped cream:
Use it as an ice cream or hot fudge sundae topping
Mix some freeze-dried fruit powder into it and serve it with pound cake like I did for my strawberry pound cake.
Spoon it onto cake or pie for serving. Need pie ideas? Try chess pie or chocolate chess pie
Garnish your hot chocolate or fancy coffee drink
Top your pancakes, waffles, or oatmeal with it
Whisk a little lemon curd into your whipped cream
Top any kind of pudding: lemon pudding, chocolate pudding, butterscotch pudding, etc
Frost a cake (in that case, you can safely double the amount of modified cornstarch you use since you won't need to pipe it later)
Make a savory whipped cream and use it as a dip for roasted vegetables
Just eat it straight because it's in your fridge.
Questions
It would be so helpful to me and to other readers that, when you make a recipe, you rate it and leave a comment. Whether it's a recipe or an informational post, your feedback helps others decide if the post is helpful or if the recipe works as advertised.

If you could leave a star rating, that would be very helpful. Thank you for being here!
Stabilized Whipped Cream (Vegetarian)
This stabilized whipped cream is stabilized with Instant Clear Jel, which is modified cornstarch. It stands up well with no weeping, even after several hours at room temperature. The texture is light, and it it tastes purely of sweetened cream.
As far as I'm concerned, using modified food starch/cornstarch is the very best way to stabilize cream to increase its keeping properties without adversely affecting flavor or texture.
Ingredients
2-4

Tablespoons

sugar

depending on how sweet you like things

½

teaspoon

Instant Clear Jel

8

oz

heavy cream

1 cup, cold

healthy pinch of salt

about 1/8 teaspoon

1

teaspoon

vanilla extract
Instructions
Thoroughly whisk together the sugar and Instant Clear Jel.

Add the cream, salt, and vanilla to a large bowl or to the bowl of your stand mixer.

Whisk until the cream starts to thicken, about 1 minute.

Add the sugar mixture and continue to whip until the cream holds medium-stiff to stiff peaks.
Did You Make Any Changes?
Notes
Stabilized whipped cream will hold for several hours at room temperature or in the fridge for several days.
If using to frost cupcakes or cake, you can safely double the amount of Instant Clear Jel to 1 teaspoon per cup of cream. If you want to pipe it later, use the amount called for in the recipe, or 1/2 teaspoon per cup of cream.
Nutrition
Serving:
1
/4 cup
Calories:
115
kcal
Carbohydrates:
4
g
Protein:
1
g
Fat:
11
g
Saturated Fat:
7
g
Polyunsaturated Fat:
3
g
Cholesterol:
34
mg
Sodium:
25
mg
Sugar:
4
g
Thanks for spending some time with me today.
I hope you love this way of stabilizing whipping cream. It'll save you, especially at the holidays when you already have enough to worry about!
Take care, and have a lovely day.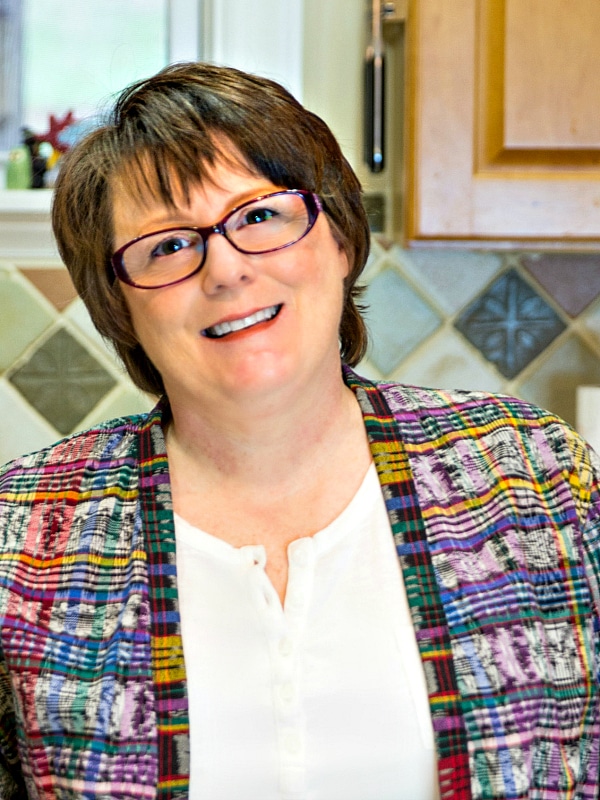 What are my qualifications to teach you baking and pastry? As a former working pastry chef and special educator, I marry my passions for both teaching and for baking into explaining techniques, methods, and developing the best possible recipes. For more info, you can read more about me.
If you'd like to receive new recipes and the occasional newsletter, I'd love for you to sign up for my Inbox Pastry Chef.