This strawberry pound cake gets its pronounced strawberry flavor from freeze-dried strawberries and a ribbon of intensely-flavored strawberry reduction.

With a serving suggestion of simple strawberry glaze as well as stabilized strawberry whipped cream, a rather humble pound cake becomes a symphony of strawberry dessert goodness.

In this post, I'll walk you through the perils–and eventual triumph–of developing a strawberry cake that has a really assertive strawberry flavor without resorting to artificial flavors or colors.

If you are a fan of strawberry dessert, you may also enjoy my strawberry moscato pound cake.

For ease of browsing, you can find all my pound cake recipes in one place. Thanks so much for being here!
The Trouble with Strawberry Pound Cake
Cooked strawberries are not a beautiful color. I said it.
And even though freeze-dried strawberry powder is gorgeous and bright pink, when combined with the eggs and butter and whatnot in the batter, it gets dulled down too.
While I have settled on using a strawberry reduction for a swirl, I originally tried to use it as the liquid in the cake, and it was just too wet. And the more you cook it, the less strawberry-y it is.
The trick with coming up with a strawberry cake recipe is to get all the ingredients in balance to make sure it has a nice crumb, rises nicely, has a good texture, and pronounced strawberry flavor.
It's kind of a tall order, but I am here to let you know that I believe I have done it, so I am ready to share it with you all.
Why Make This Recipe?
If natural flavors and colors are important to you, you'll like this cake.
It has a full pound of strawberries cooked into the swirl and 3 full ounces of freeze-dried strawberry powder in the batter.
The flavor is definitely strawberry without any artificial strawberry extract or Jello.
The crumb is velvety and tight, and the texture is moist but not wet.
It slices beautifully, too.
Plus, a loaf cake is a nice size. You'll get 12 substantial but not ridiculous slices of cake, and then it's gone.
Most of my other pound cakes, including my mom's chocolate pound cake recipe, fill a 12-cup Bundt pan, so they're a bit of a commitment to finish, especially if you have a small family or nobody to share it with.
How To Make Very Strawberry Pound Cake
In this section, I'll go over all the ins and outs of making this cake, suggest substitutions where possible, and provide some shortcuts as well as variations.
First up, here's what you'll need to make the reduction and the cake.
Ingredients and Substitutions
For the Reduction
strawberries: Fresh or frozen–I have made it both ways
sugar: Regular granulated sugar
salt: Brings all the flavor into focus. I use Morton's kosher salt. If using fine salt, you may want to scale back to 1/2 teaspoon total as opposed to the 3/4 teaspoon total as written
Instant Clear Jel: Helps to thicken up the reduction and bind up any water that might otherwise make the swirl weep and make the cake soggy
For the Cake
flour: Standard, all-purpose flour for bulk, structure, and crumb.
baking powder: For leavening. Reacts with the liquid in the recipe to create bubbles, and then reacts with the heat of the oven to produce more bubbles. That's why it's called "double acting."
baking soda: For leavening, but also to balance the acidic berries and the acid in the sour cream
freeze-dried strawberry powder: provides a measure of sweetness along with intense berry flavor. The color shines in the glaze. Less so in the batter.
salt: See Above
butter: I use unsalted butter. For this recipe and mixing method, you want the butter to be pretty soft but not greasy or melted.
sour cream: Lightens the batter somewhat, making it easier for the leavening to do its job. Adds a bit of a tang to the batter, which is very nice with the strawberries. You can substitute Greek yogurt, plain yogurt or buttermilk
milk: Used to thin out the thick sour cream. Use it if using Greek yogurt, too. If using buttermilk or plain yogurt that's a bit runny, add an extra ounce of either rather than using milk
vanilla extract: Rounds out the flavor somewhat and provides some floral notes. If you have strawberry extract, by all means add that in place of or in addition to the vanilla
the strawberry reduction: Follow my procedure for this, or substitute a good quality strawberry jam as a shortcut. You can also take a look at Rose Levy Beranbaum's recipe and procedure for making an intense strawberry puree and substitute that in place of the reduction or jam.
While freeze-dried strawberry powder is becoming easier to find in grocery stores, if it's hard for you to find locally, you can always purchase it from Amazon.
Jenni's Pick
This is an affiliate link which means I earn from qualifying purchases. Your price is unaffected.
Procedure
First, make the puree.
Place the fresh or frozen strawberries in a large pot with some sugar and salt. Start to break them up with a chopper or the back of a wooden spoon.
Allow them to sit until very juicy, and continue chopping until they are very finely chopped.
Simmer over medium heat, stirring frequently, until reduced to 7-8 ounces (roughly by half), about 20-25 minutes.
Once you make the reduction, it needs to cool to room temperature.
You can help it along by putting it in the fridge or freezer and stirring frequently.
Then, it's time to use the reverse creaming method to make the batter.
Whisk all the dry ingredients together in the bowl of your stand mixer, and add the softened butter.
Mix until the butter is completely incorporated.
Add the eggs all at once and beat for 2 minutes.
Scrape the bowl as necessary.
Add the sour cream mixture and mix in on low, finishing the mixing by hand.
Layer into the prepared pan alternately with blobs of the reduction.
If you'd like, you can also put the berry reduction in a piping bag and pipe it out in ribbons between your layers.
Equipment You May Need
This recipe fits perfectly in a 9″x5″ loaf pan that is 8″x4″ across the bottom.
Jenni's Pick
This is an affiliate link which means I earn from qualifying purchases. Your price is unaffected.
Use precut sheets of parchment and then fold so it fits into your pan. This makes clean-up really easy.
You'll also want to use an offset spatula to spread the batter into the pan.
Variations
If you prefer using The Creaming Method to make cakes, you can go for it. Reverse creaming seems kind of weird and counterintuitive, but it definitely makes a nice, tender cake.
The recipe will still work using The Creaming Method, and it may rise a bit higher.
The jammy swirl is fairly heavy, so the extra lift of the creaming method may be a good plan.
You can also opt to leave the swirl out altogether and serve the reduction spooned over your cake.
You can also make a raspberry pound cake variation by substituting 1:1 both the powder and fresh or frozen raspberries. Consider upping the amount of sugar in the reduction, but taste it first to see if it needs it.
I tested this recipe 7 times, and at a certain point, with the flavor on point, you just have to say "enough testing!"
Tips for Success
If using the reverse creaming method, make sure your butter is very soft–softer than you'd want it for creaming, but not greasy or melted.
Definitely tent the cake loosely with foil during the last 30 minutes of baking to prevent over-browning.
Strawberry Pound Cake Q & A
Can you freeze this cake?
Yes. Freeze whole, or slice and wrap individual pieces. Either way, wrap in a double-layer of plastic wrap followed by either a heavy-duty zip-top freezer bag or heavy-duty aluminum foil. It will keep well for up to 3 months. For best results, freeze the cake unglazed.
How many servings will I get?
I have written the recipe to reflect 12 servings, although you can get more or fewer slices depending on how thin/thick you make the slices.
Serving Suggestions
Aside from serving with stabilized whipped cream, you could also serve strawberry pound cake with a scoop of vanilla or chocolate ice cream.
You could also make extra reduction and either spoon that over the slices or fold it into your whipped cream.
Consider toasting slices, too!
Questions
A Note About Measurements
For convenience, consistency, and accuracy, almost all my recipes are written by weight, either in ounces and/or grams, even the liquids.
I strongly encourage you to purchase a kitchen scale and learn to use it.
This is the one I used for years. I love it and highly recommend it:
Best for Home Use
Escali Primo Digital Food Scale
Don't let its small price and small size fool you. The Escali Primo is an accurate and easy-to-use food scale that I have used for years. It's easy to store, easy to use, has a tare function, and easily switches between grams and ounces/pounds for accurate measurements.
This is an affiliate link which means I earn from qualifying purchases. Your price is unaffected.
It would be so helpful to me and to other readers that, when you make a recipe, you rate it and leave a comment. Whether it's a recipe or an informational post, your feedback helps others decide if the post is helpful or if the recipe works as advertised.

If you could leave a star rating, that would be very helpful. Thank you for being here!
Very Strawberry Pound Cake (All-Natural Color and Flavor)
This strawberry pound cake gets its intense strawberry flavor from freeze-dried strawberry powder as well as a serious strawberry reduction. Garnished with strawberry glaze and strawberry whipped cream, there is no doubt about the strawberry flavor!
Ingredients
For the Strawberry Reduction
1

pound

fresh or frozen strawberries

¼

teaspoon

kosher salt

I use Morton's

2

oz

granulated sugar

divided use

2

teaspoons

Instant Clear Jel
For the Cake
168

grams

granulated sugar

6 oz or about 3/4 cup

182

grams

all-purpose flour

6.5 oz or about 1 1/2 cups

2

teaspoons

baking powder

½

teaspoon

baking soda

½

teaspoon

salt

84

grams

freeze-dried strawberry powder

3 oz

140

grams

unsalted butter, soft but not melted

5 oz or 1 1/4 stick

3

large eggs

1

teaspoon

vanilla extract

112

grams

sour cream

4 oz or a generous 1/2 cup

28

grams

1 oz or 2 Tablespoons milk

all the strawberry reduction
Instructions
For the Strawberry Reduction

Place the strawberries, half the sugar, and salt in a heavy-bottomed saucepan.

Whisk together the remaining sugar and Instant Clear Jel and set aside.

Mash the strawberries with the back of a spoon and let them sit for about 45 minutes until they get really juicy.

Heat them over medium heat until they come to a boil.

Reduce the heat and simmer until you have 7-8 ounces of puree, about 20-25 minutes. Keep mashing the berries until you have a reasonably smooth puree. Stir frequently to prevent sticking. The berry mixture will be very thick.

Whisk the sugar/Instant Clear Jel mixture into the hot berries.

Let the berries cool for about 15 minutes, stirring frequently to promote cooling. Refrigerate or place in the freezer until they reach room temperature, about 30 minutes in the freezer or an hour or so in the fridge. Stir every so often until cool.

For the Cake

Set a rack in the center of your oven, and preheat to 350F.

Lightly spray a standard loaf pan with pan spray. Fold a sheet of parchment paper into a strip that you can fit into the bottom and up the two long sides of your pan. Fold the excess down over the edges of the pan. Set aside.

Mix the sour cream, milk, and vanilla together until well combined. Set aside.

In the bowl of your stand mixer, combine sugar, flour, baking powder, baking soda, salt, and strawberry powder. Whisk a few times to combine.

Add the softened butter to the bowl and mix, using the paddle attachment, until the butter is evenly distributed and there are no large chunks remaining. The mixture should look sandy and be darker in color than when you started mixing.

Add the eggs all at once and beat on medium speed for 2 minutes, scraping the bowl as necessary.

Mix in the sour cream/milk/vanilla mixture on low speed, mixing until mostly combined. Finish mixing by hand, folding well until there are no streaks of sour cream visible.

Spread about 1/3 of the batter evenly into the pan. Dot liberally with half the cooled strawberry reduction.

Repeat with another 1/3 of the batter and the rest of the puree.

Dollop on the last of the batter and spread evenly.

Take a knife and stick it into the batter all the way down to the bottom. Zig-zag the knife up and down the pan and then from side to side to swirl the berry reductions into the batter. Smooth out the top of the batter.

Bake for about 1 hour to 1 hour and 15 minutes. The temperature in the center of the cake should be 195F-200. If the top is browning too quickly, tent with foil for the last 30 minutes or so of baking.

Once the cake is done, remove to a cooling rack to cool for about 15 minutes. Loosen the short ends of the cake from the pan with a thin knife or small offset spatula and lift the cake out using the overhanging parchment.

Allow to cool another 30 minutes or so, and then carefully remove the parchment paper so the cake can cool completely.

Serve as is, with a dusting of powdered sugar or freeze-dried strawberry powder, or see the NOTES section below for glaze and stabilized strawberry whipped cream as seen in the photos.

Store the cake, tightly covered, in the fridge for up to 5 days. Allow slices to come to room temperature before serving.
Did You Make Any Changes?
Notes
For the Optional Glaze
4 oz (about 1 cup) powdered sugar
1 oz freeze-dried strawberry powder
pinch of salt
1/4 teaspoon vanilla extract
1-2 teaspoons freshly squeezed lemon juice
2-3 Tablespoons milk
Combine everything but the milk in a medium-sized bowl.
Whisk in the milk, a bit at a time, until you have a glaze of your desired consistency. Drizzle over the cake. It will take 3-4 hours to set completely.
For the Optional Stabilized Strawberry Whipped Cream
about a cup of whipped cream
1-2 oz freeze-dried strawberry powder
pinch of salt
1/2 teaspoon vanilla extract
3 Tablespoons powdered sugar
1 teaspoon Instant Clear Jel
Whisk the powdered sugar and Instant Clear Jel together. Set aside.
Whip cream, strawberry powder, salt, and vanilla until the whisk starts to leave tracks in the cream.
Sprinkle in the sugar mixture and continue whipping until the cream reaches stiff peaks.
Pipe or spread decoratively on the cake or poof some on individual slices.
Shortcut
If you do not want to make the strawberry reduction, use 8 oz of best-quality strawberry jam.
Storing
Keep cake tightly covered in the fridge for storage. For best texture and flavor, cut slices and allow them to come to room temperature for about 30-45 minutes before serving.
Freezing
For longer storage, wrap the cake in a double layer of plastic wrap and then foil. Freeze for up to 3 months. Allow to thaw in the fridge overnight.
Slice and the allow pieces to come to room temperature before serving.
Freeze slices individually by wrapping them in plastic wrap and then foil or by putting the plastic-wrapped slices in a heavy-duty freezer bag. Thaw as stated above.
Nutrition
Thanks for spending some time with me today.
Can't wait for you to wow your friends with the best white chocolate sauce around.
Take care, and have a lovely day.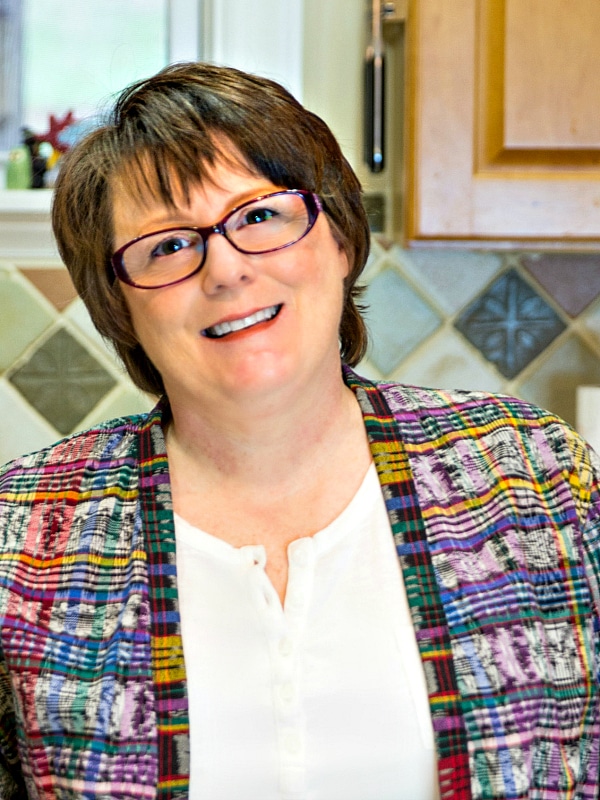 What are my qualifications to teach you baking and pastry? As a former working pastry chef and special educator, I marry my passions for both teaching and for baking into explaining techniques, methods, and developing the best possible recipes. For more info, you can read more about me.
If you'd like to receive new recipes and the occasional newsletter, I'd love for you to sign up for my Inbox Pastry Chef.