Today I have a wonderful chocolate pudding recipe for you guys. I call it easy chocolate pudding because it doesn't have any eggs in it. And if dairy is an issue for you, I have a kinda surprising non-dairy alternative for you as well.

If you love chocolate as much as I do, you may want to check out my classic chocolate mousse recipe.

For ease of browsing, check out all of my custard and pudding recipes
.
Read on, not only for this recipe, but to see everyone else's recipes for today.
This post and recipe was created for #HalloweenTreatsWeek! I was sent samples by some of the sponsor companies but as always opinions are 100% mine.

This post and recipe was created for #HalloweenTreatsWeek! I was sent samples by some of the sponsor companies but as always opinions are 100% mine.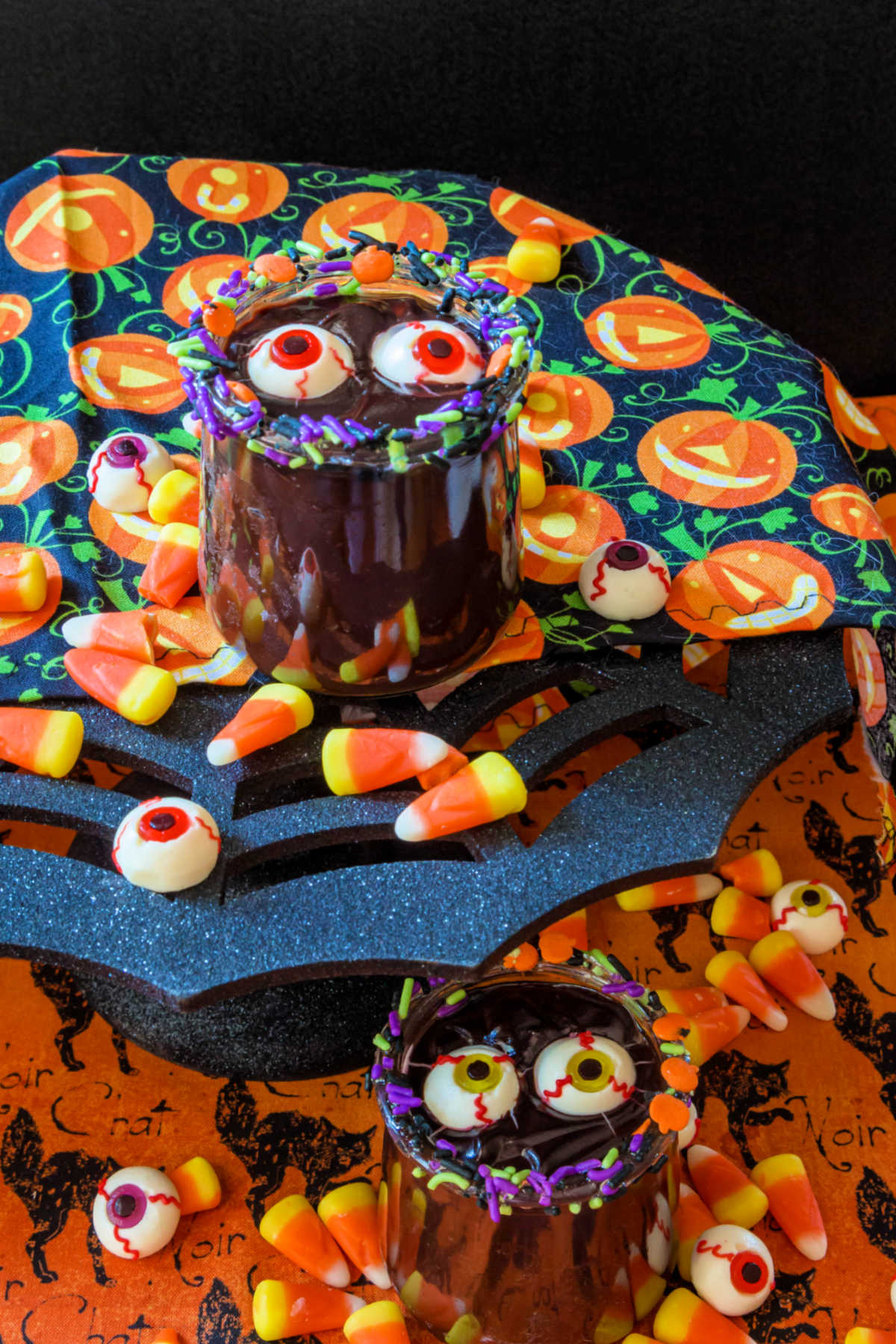 Watch my chocolate pudding recipe web story here.
What Makes This Recipe Work
I have been a pudding afficianado for years, and I've made all kinds of pudding.
I like to think I've perfected this recipe.
Here's what's great about this recipe:
It uses both cocoa powder and chocolate chips for well-rounded chocolate flavor
This is a no-egg recipe, so it's great for folks who can't have eggs.
You can make it with either flour or cornstarch, so it also works for gluten free folks
It uses brown sugar for a deeper flavor than using granulated sugar
It makes 4 servings, although it is easy to scale up to serve more if you need to
It's equally delicious chilled or warm
How to Make It
Pudding is a pretty straightforward dessert, and it's often my go-to for a comforting dessert.
You probably own most of these ingredients already:
Ingredients
cornstarch: you can also use flour if you prefer. If using cornstarch, boil the pudding for 2 full minutes. If using flour, boiling for 30 seconds or so will do
salt: I use kosher salt. You can also use table salt, but only use 1/4 teaspoon
milk: I use whole milk. You may also use 2% or 1% milk or a plant based milk
brown sugar: I like brown sugar for the deeper flavor it provides, but you can use granulated sugar as well. Dark or light brown will work equally as well
cocoa powder: I wanted a pretty dark chocolate pudding, so I went with Hershey's special dark cocoa powder which is a mixture of Dutch process and regular cocoa. Any cocoa powder will do here.
chocolate chips: To stick with the theme, I also used Hershey's special dark chocolate chips, but again, any dark chocolate chips or even chopped dark chocolate will work just fine
vanilla extract: the vanilla rounds out the chocolate nicely.
Procedure
As I said, it's a really straightforward and easy process. I'm listing all the steps here so you know what to expect, but the short version is stir, bring to a boil, strain, and then pour into jars.
Put chocolate chips and vanilla in a bowl.
Heat milk, brown sugar, cocoa powder, and salt together.
Bring to a boil, whisking constantly.
Strain into the bowl with the chocolate chips.
Stir until the chips are melted and the pudding is smooth.
Pour into containers for serving.
How to Spooky Up Your Chocolate Pudding for Halloween
Ever rimmed a margarita glass with salt? Then you'll have no problem with this technique.
Instead of lime juice, wet your dessert glass rims with corn syrup.
And instead of salt, rim your glasses with Halloween sprinkles.
Go ahead and pour your pudding into your glasses while it's warm, but wait until it cools down before putting any decorations on top, like candy eyes. They might melt!
PRO TIP: Don't add candy decorations to your pudding until it cools or they may melt!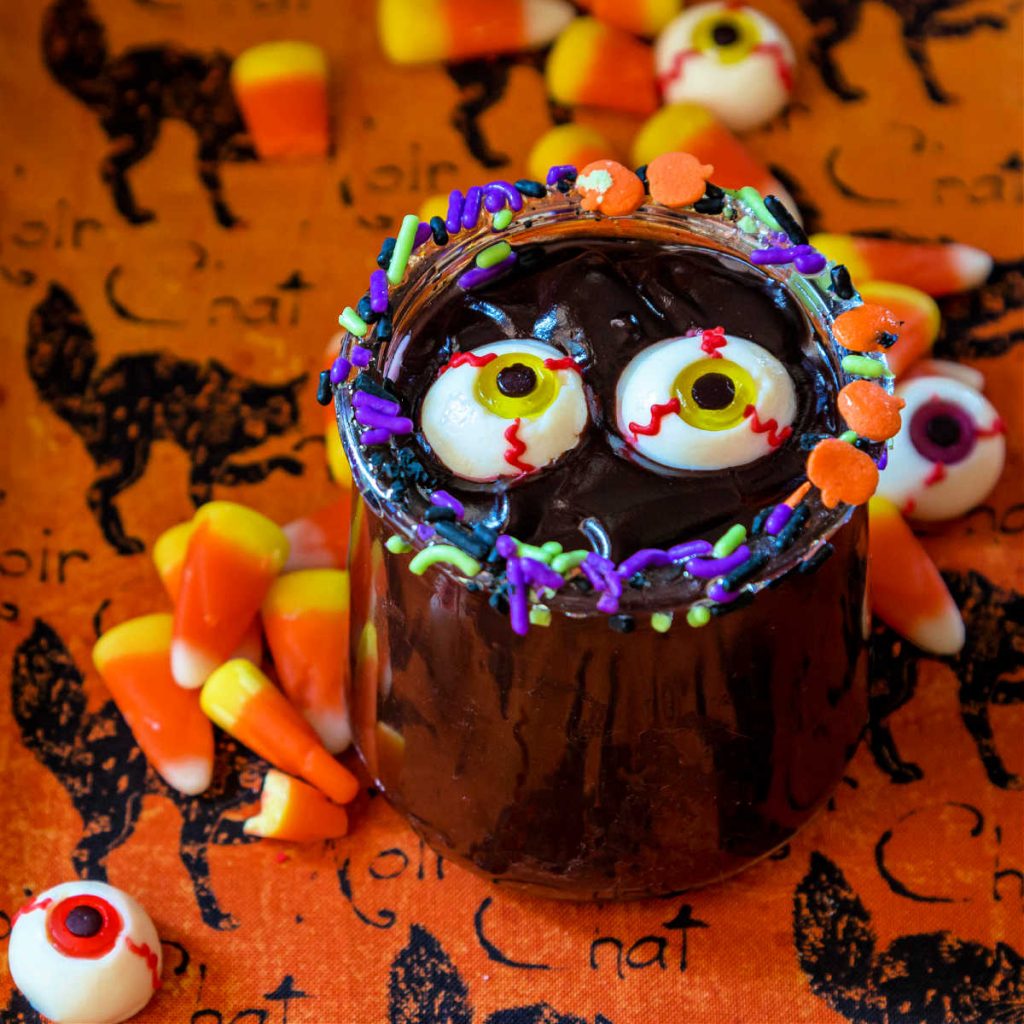 More Tips for Success and Equipment Recommendations
Tips and tricks are all from me. Any equipment recommendations are Amazon links, and I will earn a small commission on any sales through those links. Your price is unaffected.
Keep the pudding moving so it doesn't scorch. I like to use a pan with sloped sides like a saucier and a nice balloon whisk to keep things from sticking.
I always recommend straining any pudding, whether it has egg or not. It ensures that it's silky smooth. I use a fine mesh strainer for all my custards.
Pudding Q & A
Can I double this recipe?
Absolutely. Pudding recipes are easy to double. No weird math. Just multiply the amount of all ingredients by 2. You can also make a ton by tripling or even quadrupling this recipe.
Can I make chocolate pudding with water?
The surprising answer is yes! I tried it with water, and the chocolate flavor is a bit more intense without the dairy to mellow it, and I really liked it. The pudding doesn't set up quite as thick, so you can add an additional 1-2 teaspoons of cornstarch or flour to make up for that.
Can I make it gluten free?
Use cornstarch as the thickener and be careful of your ingredient labels for everything else, and this makes a great gluten-free dessert option.
How long will it last in the fridge?
It'll be just fine in the fridge for 4-5 days. Make sure you cover each jar/container individually with some plastic wrap so the top of the pudding doesn't dry out and form a skin.
Can I make pudding pops with this?
Yes you can! Pour your finished pudding into popsicle molds and freeze them. In just a few hours, you'll have frozen pudding goodness on a stick!
Can I freeze it?
Yes, and if you are going to freeze it, you may as well make pudding pops.
Serving Suggestions
You can serve this as is, of course, but consider topping it with a little bit of whipped cream.
Make it super decadent by drizzling it with some chocolate syrup or quick hot fudge sauce.
Or make pudding parfaits by layering this with some caramel chocolate pudding and some butterscotch pudding. Yum!
Add some crunch by serving with cookies. Keep with the chocolate theme by making some chocolate chocolate chip shortbread, or bring in some fruit flavors with these raspberry shortbread sandwich cookies.
Questions?
A Note About Measurements
For convenience, consistency, and accuracy, almost all my recipes are written by weight, either in ounces and/or grams, even the liquids.
I strongly encourage you to purchase a kitchen scale and learn to use it.
This is the one I used for years. I love it and highly recommend it:
Best for Home Use
Escali Primo Digital Food Scale
Don't let its small price and small size fool you. The Escali Primo is an accurate and easy-to-use food scale that I have used for years. It's easy to store, easy to use, has a tare function, and easily switches between grams and ounces/pounds for accurate measurements.
This is an affiliate link which means I earn from qualifying purchases. Your price is unaffected.
It would be so helpful to me and to other readers that, when you make a recipe, you rate it and leave a comment. Whether it's a recipe or an informational post, your feedback helps others decide if the post is helpful or if the recipe works as advertised.

If you could leave a star rating, that would be very helpful. Thank you for being here!
Remember to keep scrolling after the recipe for the prize descriptions and to enter the #HalloweenTreatsWeek giveaway!
Easy Chocolate Pudding Recipe (Without Eggs)
This easy chocolate pudding contains no egg and, as the name implies, is super easy to make. Whisk everything together in a pan, bring to a boil, and then pour over chocolate chips and some vanilla.

Decorate it festively for Halloween, or just serve it in pretty classes or cups.
Ingredients
3

oz

1/2 cup dark chocolate chips (I used Hershey's Special Dark)

2

teaspoons

vanilla extract

6

oz

about 3/4 cups, lightly packed brown sugar

1.3

oz

6 Tablespoons cocoa powder (I used Hershey's Special Dark)

2

Tablespoons

plus 1 teaspoon flour or cornstarch

⅜

teaspoon

kosher salt

20

oz

2 1/2 cups whole milk
Instructions
Put the chocolate chips and vanilla into a medium bowl. Place a fine mesh strainer on top of the bowl and set aside convenient to the stove.

Combine brown sugar, cocoa powder, flour or cornstarch, and salt in a medium saucepan.

Whisk in about half the milk, and whisk until the cocoa combines with the rest of the ingredients.

Add the remaining milk and whisk.

Heat over medium to medium-high heat until it comes to a boil, whisking constantly.

If using cornstarch, boil a full 2 minutes. If using flour, boil for about 30 seconds.

Pour the pudding through the strainer into the bowl. The mixture will be thick, so press it all through with a silicone spatula. Don't forget to scrape the underside of the strainer to get all the chocolate goodness!

Allow the mixture to sit for a minute or two so the chips melt.

Whisk until smooth, and pour into four containers.
Did You Make Any Changes?
Notes
To Decorate for Halloween
Pour 2 Tablespoons of corn syrup onto a plate and tilt to allow it to spread.
Pour your favorite Halloween sprinkles out onto a plate.
Dip the rim of your cups or glasses into corn syrup and then into the sprinkles.
Set upright for 30 minutes so the corn syrup becomes tacky. Some of your sprinkles might slide down the inside or the outside of the glass. Just push them back into place right before filling your glasses.
If desired, decorate the top of the pudding with candy eyes.
Non-Dairy Option
Believe it or not, you can make this pudding with water. It will be a bit thinner than pudding made with milk, so you may want to increase the flour or cornstarch by 2 teaspoons.
The bonus is that the chocolate flavor really shines through since there is no dairy to mute the flavor. I made this pudding with both water and with milk to see, and unless I tasted them side by side one after the other, I'm not sure I could tell the difference between the two.
You of course can also use a plant-based milk as a non-dairy alternative if you'd rather.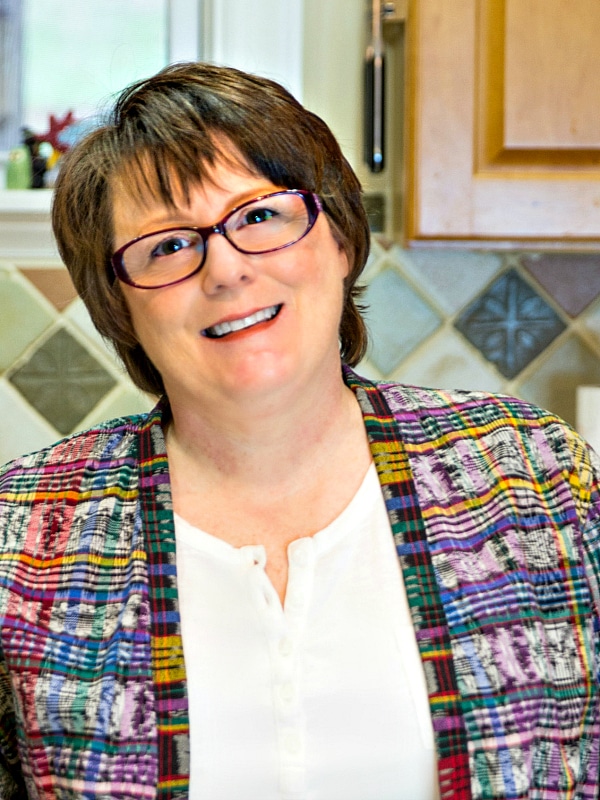 What are my qualifications to teach you baking and pastry? As a former working pastry chef and special educator, I marry my passions for both teaching and for baking into explaining techniques, methods, and developing the best possible recipes. For more info, you can read more about me.
If you'd like to receive new recipes and the occasional newsletter, I'd love for you to sign up for my Inbox Pastry Chef.
Halloween Treats Week Recipes for Wednesday
Halloween Cookies & Bars:
Halloween Cakes & Cupcakes:
Halloween Brownies:
Halloween Pies & Cheesecakes:
Halloween Drinks:
Chilled Halloween Treats:
Easy Chocolate Pudding from Pastry Chef Online (You're here!)
Sweet Halloween Treats:
Savory Halloween Recipes: