This chocolate chess pie recipe tastes like a rich, super gooey, fudgy brownie in a crust. It's an easy to make, old-fashioned pie made for true chocolate lovers. If that sounds good to you, read on!

There are plenty of versions of chess pie. This one happens to contain cornmeal, but others are made with a little flour. Some chess pie recipes call for dairy like buttermilk or evaporated milk.

To be clear, this is a chess pie without evaporated milk. The only dairy in my version is a little bit of butter, and that's part of what makes it so rich and fudgy! I like to think of it as a pie that Grandmama would've made (if my Grandmama was a baker). And I certainly would've appreciated eating!

Click to find more old fashioned pie recipes.
Another delicious old fashioned pie is my vinegar pie.

For ease of browsing, here are all of my pie and tart recipes in one place. Thanks for stopping by!

Watch my chocolate chess pie web story here.
Reader Rave
What Is a Chess Pie?
Chess pie recipes vary from region to region, so it's hard to make sweeping generalizations about them.
Some contain milk or evaporated milk.
Others use flour and eggs for thickening.
Some recipes use a mixture of flour and cornmeal, and while some recipes call for chocolate, most I've seen call for cocoa powder.
I think the main things to remember are that:
chess pie needs eggs because it is a simple custard and
keep it simple
Where Did the Name Come From?
Chess Pie is as southern as the day is long. A simple plain custard thickened with egg and some flour or cornmeal, flavored with vanilla, lemon or chocolate.
It's Just Pie. Or as we say in the South, "Jes' Paah" which eventually became "chess pie."
"Whatcha makin'?"
"It ain't nuthin'. Jes' paah."
Ingredients
As I've said, this is "just pie," so I promise you don't need any fancy ingredients.
Aside from the pie crust (I make pate brisee), run go check and see if you have the following:
butter: stick with unsalted so you can better control the salt content. The biggest deal with making this pie is melting the butter so it is very, very soft but creamy. You don't want it to separate. Melt it in very short bursts on medium power in the microwave, whisking well after each burst. You can substitute vegan butter to make this pie dairy-free.
dark brown sugar: you can use granulated sugar if you'd like. I like the depth of flavor the molasses gives. If you don't have dark brown sugar, add a touch of molasses–maybe 1-2 teaspoons–to light brown sugar, or add about 1 1/2 Tablespoons of molasses if you are using granulated sugar
cocoa powder: this is where the chocolate flavor comes from. Ounce for ounce, cocoa powder packs more chocolate flavor because it's made up overwhelmingly of powdered cocoa solids rather than a mixture of cacao, sugar, fats, etc
eggs: the eggs allow the custard to set and provide gooey richness
finely ground cornmeal: do not substitute cornstarch or the much more coarsely ground grits or polenta
espresso powder or instant coffee (optional but nice): deepens the chocolate flavor
vanilla: rounds out the flavor profile
kosher salt: keeps bitterness in check and brings all the flavors into focus
And remember: no evaporated milk? No problem! You don't need it for this chess pie.
If your pantry and fridge looks more or less like mine, the only thing you might not have is the cornmeal and possibly the espresso powder or instant coffee. So, your shopping list will be pretty short!
Other "Desperation Pie" Recipes
This pie is "jes'" one of four "desperation pies" I made for an old-fashioned pie series. Here are the rest.
this one right here
What Makes This Recipe the Best?
Most recipes for this old-fashioned pie add some cocoa powder to the custard to make it chocolatey. But honestly, I've not been a super fan of those versions.
Even when The Beloved and I went to The Angus Barn, the very well-known and highly regarded steakhouse between Durham and Raleigh, I was underwhelmed by their chocolate chess pie.
Even though the Los Angeles Times apparently raved about this pie at one point, it was just too sweet and not chocolatey enough for me.
And you know there is nothing worse than getting a chocolate dessert and having it just taste sweet and brown.
Fortunately, it doesn't take much to enrich the pie so that it's as deeply chocolatey as its color implies it will be.
Pro Tips for Maximum Chocolaty-ness
Use brown sugar in the filling. That bit of molasses helps to deepen the chocolate flavor.
Don't add dairy. We don't want a milk chocolate pie, so other than a bit of butter, let the cocoa powder do all the talking for you. Leave the evaporated milk on the shelf and back away.
Add a touch of espresso powder to further deepen the chocolate flavor. It won't taste like a mocha pie unless you go overboard, so don't worry about adding a teaspoon or two of espresso powder to the mix.
Here's How I Made the Crust Design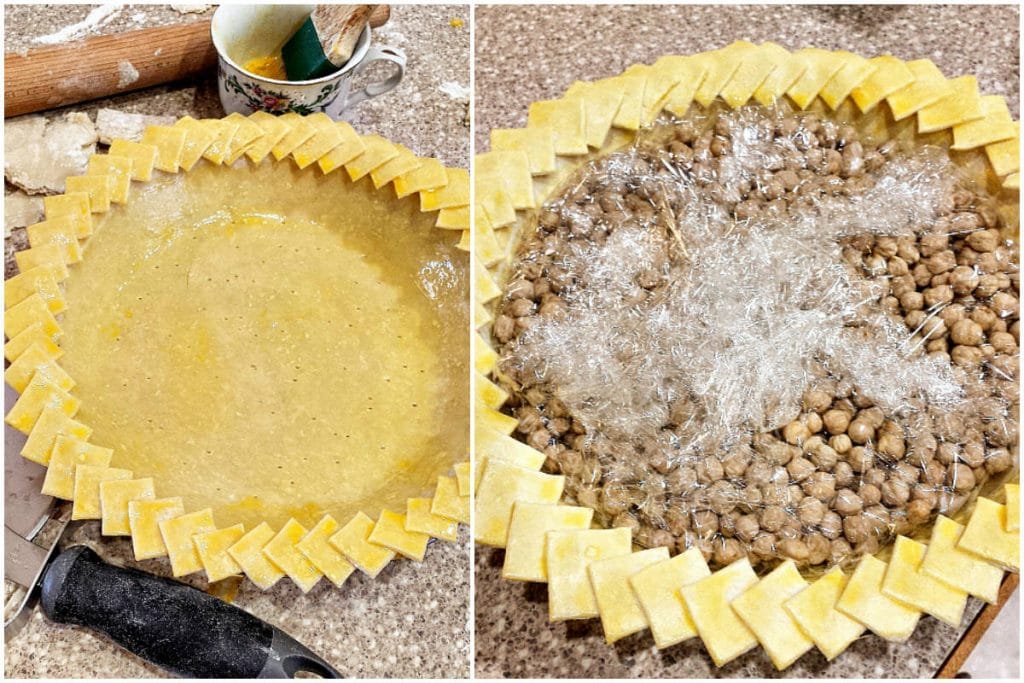 After lining the pie pan with the crust, I trimmed it to about a 1/2″ overhang and then folded the excess under to make a double-thickness around the rim (you can see that in the photo of the baked pie).
Then I simply cut wee squares of scrap dough and glued them down with egg wash.
I did blind-bake my crust for about 15 minutes (10 with the weights you see: dried chickpeas and about five without), but that is a totally optional step. I didn't blind-bake for either the cinnamon sorghum custard pie or the shoo fly pie, and you don't have to either.
Jenni Says: While blind-baking can yield a crisper crust, it's not strictly necessary when you're making a pie with a baked filling. Bake your pie on a baking stone to ensure a crisp crust.
For such a short ingredient list, you're rewarded with a beautiful texture, a ton of rich, chocolate flavor, and a heavenly scent as it bakes and cools. This pie really is a winner!
No bells and whistles. No swoops of meringue or avalanches of whipped cream. It's short and humble. Modest. It's Jes' (delicious) Paah.
Q & A
Can I make this pie dairy free?
Yes you can. Use a dairy-free crust recipe (or get a dairy-free storebought crust) and substitute 1 stick of plant-based butter for the dairy butter. Note that most plant-based butter is salted, so you may need to cut back on additional salt by a little bit.
Why does my chocolate chess pie sometimes separate?
It's mainly two issues. One is you need to whisk the eggs in really well so the batter doesn't separate as it bakes, and another is that your butter is too hot. When you melt butter all the way, it separates into pure butterfat and milk solids. This separated butter can make a runny layer in your chess pie. What you want to do is melt the butter without breaking the emulsion, and that means making sure it stays creamy and opaque but very very soft so it's easily whisked into the rest of the batter.
Why is my chess pie sometimes runny?
It could be underbaked, or it could also be the separation issue I mentioned above. With this recipe, between the 3 eggs, the cornmeal, and taking the time to melt the butter slowly so it doesn't break or separate, your pie will bake up into a sort of moist/gooey brownie texture, or as one reader said, like pecan pie. Once cooled, it will slice beautifully into wedges.
How can I tell if my pie is done?
Once fully baked, your pie will still have a bit of a wobble in the center, but the outsides and to within about 1-2u0022 of the center will be puffed up and firm to the touch. The pie will sink as it cools. Don't worry, that's just what chess pie does. If you want to be super sure your pie is done, check for a temperature of 160F in the center of the pie.
Serving Suggestions
This pie practically begs for a scoop of vanilla ice cream or a nice big swoosh of hand-whipped cream.
You can also pipe stabilized whipped cream all over the top for a different spin and look.
Also, if you are really into chocolate desserts, spread a thin layer of my hot fudge sauce all over the top of the pie for more of a mudslide-type pie.
Seriously, with a chocolate chess pie as the base, you really can't go wrong!
Questions?
If you have a question about this post and it is not time-sensitive, you can leave your question in the comments section here under the post.
If your question is more time-sensitive, the best way to reach me is by email. I will get back to you in under four hours unless I'm sleeping.
To email, simply click the button below:
A Note About Measurements
For convenience, consistency, and accuracy, almost all my recipes are written by weight, either in ounces and/or grams, even the liquids.
I strongly encourage you to purchase a kitchen scale and learn to use it.
This is the one I used for years. I love it and highly recommend it:
Best for Home Use
Escali Primo Digital Food Scale
Don't let its small price and small size fool you. The Escali Primo is an accurate and easy-to-use food scale that I have used for years. It's easy to store, easy to use, has a tare function, and easily switches between grams and ounces/pounds for accurate measurements.
This is an affiliate link which means I earn from qualifying purchases. Your price is unaffected.
It would be so helpful to me and to other readers that, when you make a recipe, you rate it and leave a comment. Whether it's a recipe or an informational post, your feedback helps others decide if the post is helpful or if the recipe works as advertised.

If you could leave a star rating, that would be very helpful. Thank you for being here!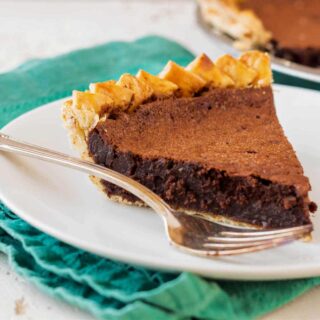 Old-Fashioned Chocolate Chess Pie Recipe
This chocolate chess pie is thickened with fine cornmeal and eggs, and the chocolate is reinforced with the addition of just enough instant coffee and salt to make it sing.
Ingredients
1 9

" pie crust

, frozen using your favorite pie crust recipe or store-bought

2

oz

1/2 stick unsalted butter

10.5

oz

1 1/2 cups, packed dark brown sugar*

1

oz

1/3 cup cocoa powder, sifted

3

eggs

2

Tablespoons

finely milled cornmeal

2

teaspoons

espresso powder

(or finely ground instant coffee)

1

teaspoon

vanilla extract

¾

teaspoon

kosher salt

(use slightly less if using fine sea salt)
Instructions
Place a rack in the center of the oven and preheat to 350F.

Slowly melt the butter so that it remains creamy. It should stay emulsified and not separate into clear yellow, runny butter. I melted mine in the microwave in short bursts at medium power until it was mostly melted, then I whisked it until all the butter was melted. Pour the creamy melted butter into a medium-sized bowl.

Add the dark brown sugar,* making sure there are no lumps in it, the cocoa powder, eggs, cornmeal, epsresso powder, vanilla and salt.

Whisk very well to make a smooth batter. Scrape the bowl a couple of times to make sure all the ingredients are evenly incorporated in the batter.

Pour the batter into the frozen pie crust.

Bake for 35-45 minutes or until the entire pie is puffed up but is still a little jiggly in the center. You may have to cover the crust with foil after the first 20 minutes or so to prevent over-browning, so keep an eye on it.

Remove the pie from the oven and let cool to room temperature. Serve warm or cold, with or without ice cream or whipped cream.

Enjoy!
Did You Make Any Changes?
Notes
*If you can't find dark brown sugar, use 10.5 oz light brown sugar and 1 Tablespoon molasses.
Nutrition
Serving:
1
/8 pie
Calories:
332
kcal
Carbohydrates:
51
g
Protein:
4
g
Saturated Fat:
6
g
Cholesterol:
76
mg
Sodium:
390
mg
Fiber:
1
g
Sugar:
36
g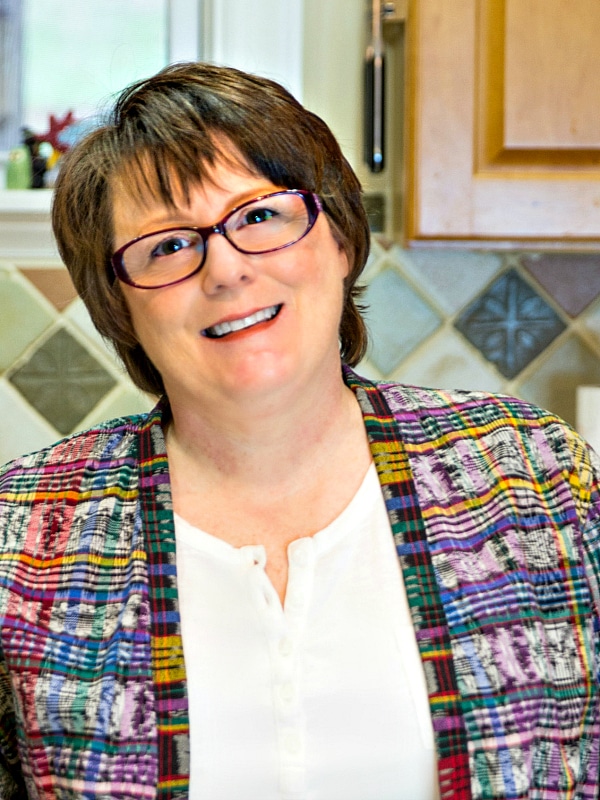 What are my qualifications to teach you baking and pastry? As a former working pastry chef and special educator, I marry my passions for both teaching and for baking into explaining techniques, methods, and developing the best possible recipes. For more info, you can read more about me.
If you'd like to receive new recipes and the occasional newsletter, I'd love for you to sign up for my Inbox Pastry Chef.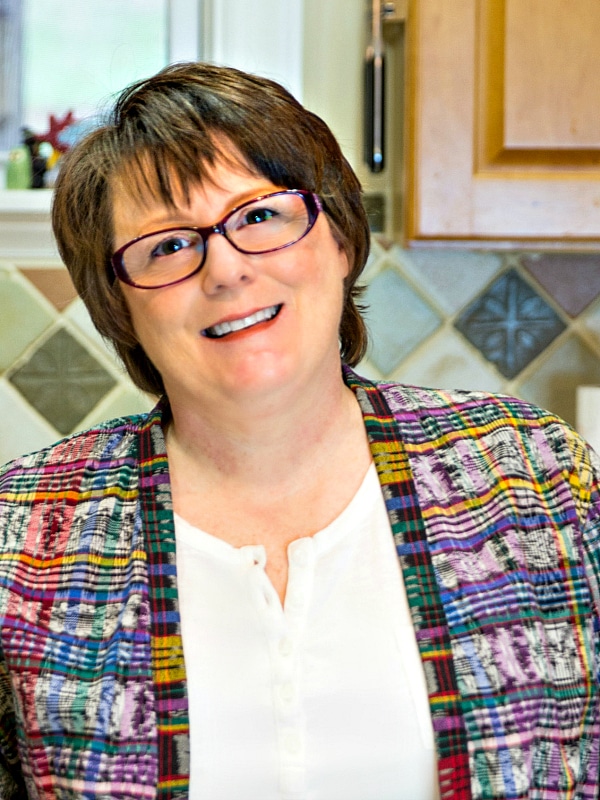 What are my qualifications to teach you baking and pastry? As a former working pastry chef and special educator, I marry my passions for both teaching and for baking into explaining techniques, methods, and developing the best possible recipes. For more info, you can read more about me.
If you'd like to receive new recipes and the occasional newsletter, I'd love for you to sign up for my Inbox Pastry Chef.
Thank you for spending some time with me today, friends.
Enjoy this simple, delicious chess pie, and have a lovely day.