Most Recent Update:
Chocolate chess pie tastes like a rich, super gooey, fudgy brownie in a crust. It's an easy to make, old-fashioned pie made for true chocolate lovers. If that sounds good to you, read on!

There are plenty of versions of chess pie. This one happens to contain cornmeal, but others are use a little flour. Some chess pie recipes call dairy.

This recipe doesn't have evaporated milk in it. The only dairy in my version is a little bit of butter, and that's part of what makes it so rich and fudgy!

Click to find more old fashioned pie recipes.
This post contains affiliate links. We are members of the Amazon Affiliate program. For any sale through our links, we earn a small commission. Your price is unaffected. For more information, please see our disclosure policy.
What Is a Chess Pie?
Chess pie recipes vary from region to region, so it's hard to make sweeping generalizations about them.
Some contain milk or evaporated milk.

Others use flour and eggs for thickening.

Some recipes use a mixture of flour and cornmeal, and while some recipes call for chocolate, most I've seen call for cocoa powder.
I think the main things to remember are that chess pie needs eggs because it is a simple custard and not to get too fancy with it.
Where Did the Name "Chess Pie" Come From?
Chess Pie is as southern as the day is long. A simple plain custard thickened with egg and some flour or cornmeal, flavored with vanilla, lemon or chocolate. It's Just Pie. Or as we say in the South, "Jes' Paah" which eventually became "chess pie."
"Whatcha makin'?"
"It ain't nuthin'. Jes' paah."
Chocolate Chess Pie Ingredients
As I've said, this is "just pie," so I promise you don't need any fancy ingredients.
Aside from the pie crust, run go check and see if you have the following:
butter
dark brown sugar
cocoa powder
eggs
finely ground cornmeal
espresso powder or instant coffee (optional but nice)
vanilla
kosher salt
If your pantry and fridge looks more or less like mine, the only thing you might not have is the cornmeal and possibly the espresso powder or instant coffee. So, your shopping list will be pretty short!
Other "Desperation Pie" Recipes
This pie is "jes'" one of four "desperation pies" I made for #tbt in January, 2016. Here are the rest.
this one right here
As you can see, I used a different treatment for every crust. Scroll down a bit, and I'll show you how I did the treatment for the old fashioned chocolate chess pie. If you like the button crust on the Indiana Sugar Cream Pie (it's my favorite),
Chocolate Chess Pie for Christmas
Looking for a Christmas version of this pie? Check out my Mexican Hot Chocolate Pie.
What Makes the Best Chocolate Chess Pie?
Most recipes for this old-fashioned pie add some cocoa powder to the custard to make it chocolatey. But honestly, I've not been a super fan of the chocolate chess pies I've had before.
Even when The Beloved and I went to The Angus Barn, the very well-known and highly regarded steakhouse between Durham and Raleigh, I was underwhelmed by the chocolate chess pie. Even though the Los Angeles Times apparently raved about this pie at one point, it was just too sweet and not chocolatey enough for me.
And you know there is nothing worse than getting a chocolate dessert and having it just taste sweet and brown.
Fortunately, it doesn't take much to enrich a chocolate chess pie so that it's as deeply chocolatey as its color implies it will be.
Pro Tips for Making the Chocolatiest Chess Pie
Use brown sugar in the filling. That bit of molasses helps to deepen the chocolate flavor.
Don't add dairy. We don't want a milk chocolate pie, so other than a bit of butter, let the cocoa powder do all the talking for you.
Add a touch of espresso powder to further deepen the chocolate flavor. It won't taste like a mocha pie unless you go overboard, so don't worry about adding a teaspoon or two of espresso powder to the mix.
Here's How I Made the Crust Design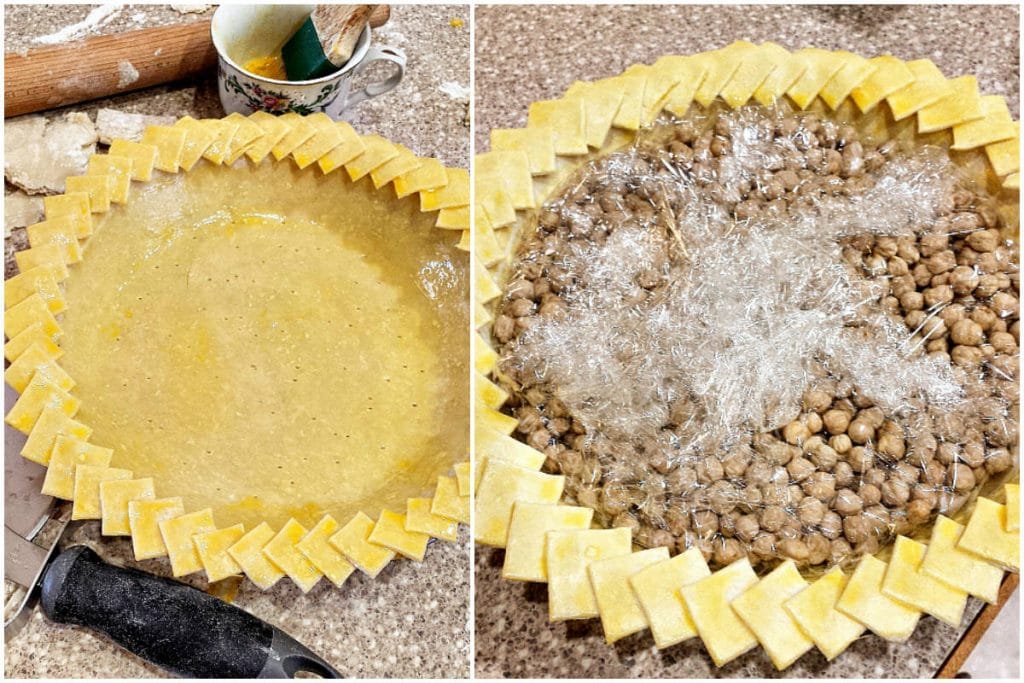 After lining the pie pan with the crust, I trimmed it to about a 1/2″ overhang and then folded the excess under to make a double-thickness around the rim (you can see that in the photo of the baked pie).

Then I simply cut wee squares of scrap dough and glued them down with egg wash.

I did blind bake my crust for about 15 minutes (10 with the weights you see: dried chickpeas and about five without), but that is a totally optional step. I didn't blind bake for either the cinnamon sorghum custard pie or the shoo fly pie, and you don't have to either.
Blind baking is an option if you want a crisper crust, but it is by no means necessary in pies where the filling also must be baked.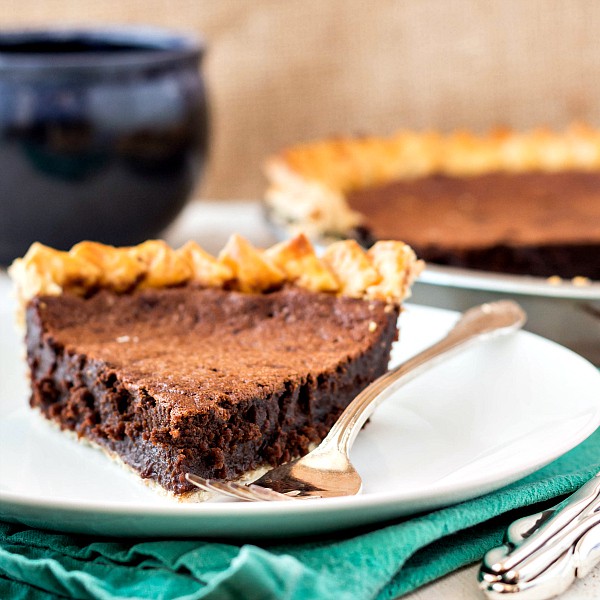 Other Chocolate Chess Pie Variations
Here are a few more chocolate chess pie recipes, including the one from Angus Barn.
For such a short ingredient list, you're rewarded with a beautiful texture, a ton of rich, chocolate flavor, and a heavenly scent as it bakes and cools. Like the other #tbtfood pies I've baked, this humble guy really shines.
No bells and whistles. No swoops of meringue or avalanches of whipped cream. It's short and humble. Modest. It's Jes' (delicious) Paah.
I really hope you love this recipe, you guys! If you make it, please share a photo with me, either in the PCO Facebook Group or on instagram by tagging @onlinepastrychef and using hashtag #pcorecipe. Thanks, and enjoy!
Thank you for spending some time with me today, friends. Enjoy this simple, delicious chocolate chess pie, and have a lovely day.