Welcome, breakfast lovers who don't want to share! Here you will learn the secrets of making self-rising flour pancakes for one. Namely, yourself.

This no egg pancake recipe is scalable and you can make it to feed a crowd. The nice thing about this recipe is that the proportions are easy to remember and you can also vary it in many ways.

Made with self-rising flour, vary them however you like by adding citrus zest, spices, blueberries, etc.

If you do feel like sharing, I recommend my yeast raised chocolate chip pancakes.

For ease of browsing, here are all of my breakfast recipes in one place. Enjoy!
Watch my pancakes for one recipe web story here.
Making pancakes using self-rising flour
Why use self-rising flour in this pancake recipe?
If you happen to have self-rising flour, it makes it really easy to whip up these guys quickly.
Self-rising flour, sometimes called self-raising flour, already contains leavening and salt, so you only need to measure 1 ingredient rather than 3.
And the self-rising flour already has the perfect amount of leavening in it so you don't have to guess. Sweet!
What You Need to Make Pancakes for One
Barring a box of mix or a frozen brick of pancakes from the big box store in your freezer, here's what you'll need. You probably own most of this stuff already.
Ingredients and Substitutions
self-rising flour Self-rising flour is a great shortcut to have in your pantry. If you don't have any, substitute 1/2 cup all-purpose flour, 1/2 teaspoon baking powder, and a heavy pinch of salt
sugar (granulated sugar, brown sugar, or even a sugar substitute like Lakanto Monkfruit Sweetener, which I sometimes use to partially offset all the syrup I pour on them)
milk: I use whole milk. 2% will work fine, and you can also substitute your favorite nut milk or other plant-based milk
spice: I often add a touch of cinnamon or nutmeg. Cardamom would also be nice in these
vegetable oil I recommend a neutral oil that doesn't have an assertive flavor. It serves to tenderize the pancakes just a bit, but not so much that they won't hold together without eggs. I don't recommend you use melted butter unless your milk is at room temperature or the butter will just re-solidify in tiny blobs
butter: this is for topping the pancakes. You just can't beat the flavor.
real maple syrup (yes, it is worth it)
How to Make a Substitute for Self-Rising Flour
I usually have self-rising flour around, but it does lose its potency after a few months.
It's always good to have a backup plan.
Remember this formula:
To substitute for one cup of self-rising flour, whisk 1 cup of all-purpose flour together with 1 teaspoon baking powder and 1/4 teaspoon fine salt. Scale up or down as necessary.
Can you really make pancakes without eggs?
Yes, you can!
In fact, sometimes using eggs can make your pancakes almost rubbery.
Making pancakes without eggs and mixing just until the ingredients come together yields fluffy, tender pancakes.
It's my preferred way to make pancakes. No eggs, thanks very much.
You may now consider this your go-to no egg pancake recipe!
Equipment you'll need
a well-seasoned cast iron skillet or griddle (an electric fry pan works here too)
one bowl
one spoon (a regular teaspoon will do)
a half-cup measure (or use a kitchen scale if weighing your ingredients)
a pancake turner or other thin spatula-type Item
Jenni's Pick
Lodge 12" Cast Iron Skillet with Red Silicone Handle Sleeve
I make almost all my smashed burgers (and a bunch of other things) in this Lodge 12" cast iron skillet. It's heavy, which is great for smashed burgers. It holds heat and allows the burgers to cook evenly.
Plus, over time, it builds up its own, natural, magic non-stick coating. So the burgers stick when you need them to for browning, but then they're pretty easy to flip as well. Best of both worlds!
This is also my go-to pan for making pancakes.
This is an affiliate link which means I earn from qualifying purchases. Your price is unaffected.
How To Make Small-Batch Pancakes
Here's how it's done. Follow these steps To The Letter, and you, too, can be enjoying a fresh, peaceful and delicious meal of pancakes without eggs in about 20 minutes. All by yourself.
Note that pancake batter is best made using The Muffin Method.
Heat your griddle or skillet. You want your pan to be nice and hot, so go ahead and give it a head start on medium-high heat while you mix your ingredients. (If you make a lot of pancakes, having an electric griddle or an electric skillet is a nice luxury that will help them cook evenly.)
Whisk together dry ingredients. In this case, dry ingredients include self-rising flour and a little sugar. If you don't have self-rising flour, you can still make these. See the recipe notes. You can also whisk in some spices such as cinnamon, nutmeg, or cardamom if you'd like.
Whisk wet ingredients together. You'll need milk (I like whole milk, but you can make these dairy-free by using your favorite nut milk.)
Whisk in some neutral vegetable oil and any extract. If you're using citrus zest, you can whisk it in with your milk and oil.
Mix wet into dry. Pour the milk mixture into the flour mixture and stir until it just comes together. A few lumps are just fine.
Cook. Add a bit of butter or a spritz of pan spray to your pan and cook your pancakes, 1/3 of the batter at a time. Once you pour the batter into the pan, that's when you can add fruit or chocolate chips. Let them cook until set and dry around the edges. Flip and cook an additional couple of minutes.
Plate and Enjoy. I like to put butter on my plate, add a pancake, add more butter, add a pancake, add butter, then top with a pancake. But I like butter! You can just add a pat of butter on top, douse in syrup, and enjoy your pancakes for one. You deserve them.
Visual How-To
Here are a few photos so you can see how easy it is to make this batter.
I weigh my flour and eyeball the spice. If weighing, you're going for 70 grams/2.5 oz/ 1/2 cup, give or take a tiny bit.
Then, I whisk the flour and spice together.
I add my milk to a pitcher (75 grams/2.7 oz/ 1/3 cup) along with the oil and vanilla.
Then, the wet goes into the dry and gets a quick whisk to combine.
Here's a photo of what the pancakes will look like right before it's time to turn them. You'll notice they have bubbles all over the top that have popped but not filled in, and the edges are dry.
I flipped that pancake as soon as I took this photo, and here it is, all lovely and perfect.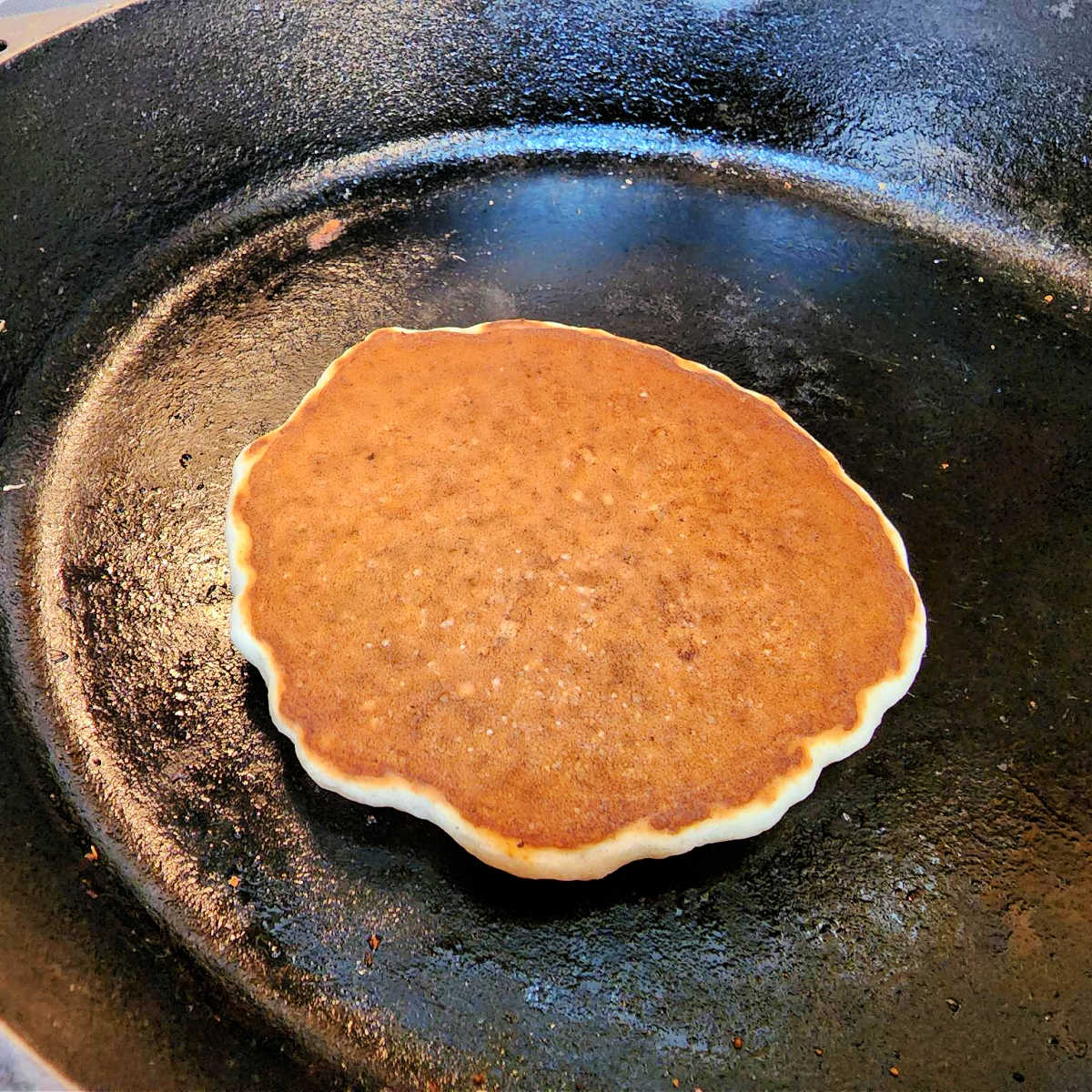 Tips for Success
If cooking one pancake at a time, put them in the toaster oven or oven on "warm." They'll be fine for the amount of time it will take you to cook the rest.
If your pancakes sit out too long, or you leave them too long in the oven, they may get a little crisp on top. To soften and heat them back up, wrap in a damp paper towel and microwave them for about 20 seconds.
Recipe Variations
Add lemon zest to the batter and add fresh or frozen blueberries to each pancake while the batter is still wet and before you flip them
Add orange zest and add mini chocolate chips to each pancake (as above)
Spice with cinnamon and add a sprinkling of chopped, spiced or candied nuts to each pancake
Add minced, crystalized ginger to each pancake and top with spiced peaches
For a fun dessert variation, add cinnamon to the batter and then top with whipped cream and spiced pumpkin caramel sauce.
You really are only limited by your imagination, so please have fun with this basic recipe and use your favorite flavor combinations
Pancakes for One Q & A
How do I make pancakes without a mix?
Once you realize that mixes are mostly just pre-mixed dry ingredients with a few artificial ingredients added in for good measure, you'll realize that with self-rising flour alone, you have gone a good way to making your own pancake mix. Plus no weird ingredients.
How do you make pancakes rise?
In this case, it's the chemical reaction between the leaveners present in self-raising (self-rising) flour and liquid and the heat of the griddle.
Can I make small-batch blueberry pancakes?
Of course. Add a little lemon zest to your batter. Once you pour some into your skillet, allow it to set up a minute, and then sprinkle on a handful of blueberries. When the pancake is ready, flip it over and continue cooking. The berries will cook right into your pancakes.
Can I make small-batch chocolate chip pancakes?
Absolutely. There are tons of ways to vary this basic recipe. Add vanilla to the batter, and use the same procedure as for blueberry pancakes. Add batter to the skillet, top evenly with chocolate chips, then flip and finish cooking. The chocolate chips will definitely be melty. You may have a little burning/sticking where the chocolate touches the skillet, but otherwise, you'll have lovely, chocolate chip pancakes.
Serving Suggestions
Obviously, you should serve pancakes with copious amounts of butter and real maple syrup.
But, should you need some other ways to enjoy it, consider spreading them with lemon curd or using an unexpected sauce like this mixed berry Chambord sauce.
Make them silver dollar sized and spread them on a board along with a pitcher of syrup, fruits, nuts, etc for a brunch board. Maybe add some quartered crepes, too, just for fun.
Other pancake recipes to enjoy
If you're a fan of this pancake recipe, here are a couple more from my site and from some of my friends. Enjoy!
A Note About Measurements
For convenience, consistency, and accuracy, almost all my recipes are written by weight, either in ounces and/or grams, even the liquids.
I strongly encourage you to purchase a kitchen scale and learn to use it.
This is the one I used for years. I love it and highly recommend it:
Best for Home Use
Escali Primo Digital Food Scale
Don't let its small price and small size fool you. The Escali Primo is an accurate and easy-to-use food scale that I have used for years. It's easy to store, easy to use, has a tare function, and easily switches between grams and ounces/pounds for accurate measurements.
This is an affiliate link which means I earn from qualifying purchases. Your price is unaffected.
It would be so helpful to me and to other readers that, when you make a recipe, you rate it and leave a comment. Whether it's a recipe or an informational post, your feedback helps others decide if the post is helpful or if the recipe works as advertised.

If you could leave a star rating, that would be very helpful. Thank you for being here!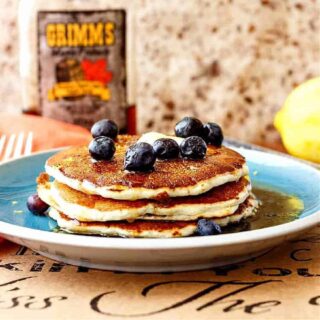 Pancakes for One
When you want an indulgent breakfast or breakfast-for-dinner on those days you're home alone, turn to this easy recipe for pancakes for one. No egg recipe for tender pancakes. You're going to love them!
Ingredients
For the Pancakes
70

grams

2.5 oz or 1/2 cup self rising flour

1

Tablespoon

sugar or sweetener of choice

75

grams

2.7 oz or 1/3 cup whole milk

1

Tablespoon

vegetable oil

I use avocado oil

a sprinkle of cinnamon or other pancake-y type spice

optional

splash of vanilla/citrus zest/chocolate chips–whatever

optional
For Serving
1

Tablespoon

butter

Real maple syrup
Instructions
The Procedure
Preheat the skillet over medium/medium-high heat. Set the timer for five minutes.

In your bowl, whisk together all dry ingredients, including zest, if using. Do not mix in any "chunky" mixins here–only spices or zest

Stir oil into milk, and add vanilla, if you're using it.

Pour over dry ingredients and whisk slowly until just incorporated.

Let the batter sit until the timer goes off.

Rub a little butter onto your skillet.

Pour 1/3 of your pancake batter into the skillet. (I use 1/4 cup measure, and I get three same-sized pancakes every time)

While your pancake cooks, heat up the maple syrup so it's ready to go.

Let pancake cook until the bubbles around the edges pop but don't fill back in with batter, about 3-4 minutes. If using blueberries, cinnamon chips, chocolate chips, etc, sprinkle on a few evenly over the top of the pancake before flipping.

Flip pancake and cook about 2 minutes.

While the second side of the pancake cooks, put a wee pat of butter on your plate.

Place this pancake onto plate on top of butter.

Make 2 more pancakes the same way you made the first.

Put a wee pat of butter on top of your first pancake.

Pile on the other 2 pancakes as they finish cooking, adding a small pat of butter in between each pancake.

Turn off stove.

Pour syrup on top of pancakes.

Eat.
Did You Make Any Changes?
Notes
Rather than plating each pancake before plating the next, you can keep the cooked pancakes warm in a toaster oven and then plate everything all at once.
As a special treat, rather than using plain maple syrup, try some of the Bourbon barrel-aged maple syrups that are out now. Very good! It's pricey, but these are pancakes for one, and that means you're not sharing with your kids or your husband. Indulge!
Nutritionals calculated without the butter (or syrup) for serving. Just so you know.
I made my pancakes for one with lemon zest in the batter and fresh blueberries sprinkled on top of each pancake as they cooked.
Nutrition
Serving:
3
pancakes
Calories:
442
kcal
Carbohydrates:
61
g
Protein:
10
g
Saturated Fat:
13
g
Cholesterol:
8
mg
Sodium:
36
mg
Fiber:
1
g
Sugar:
16
g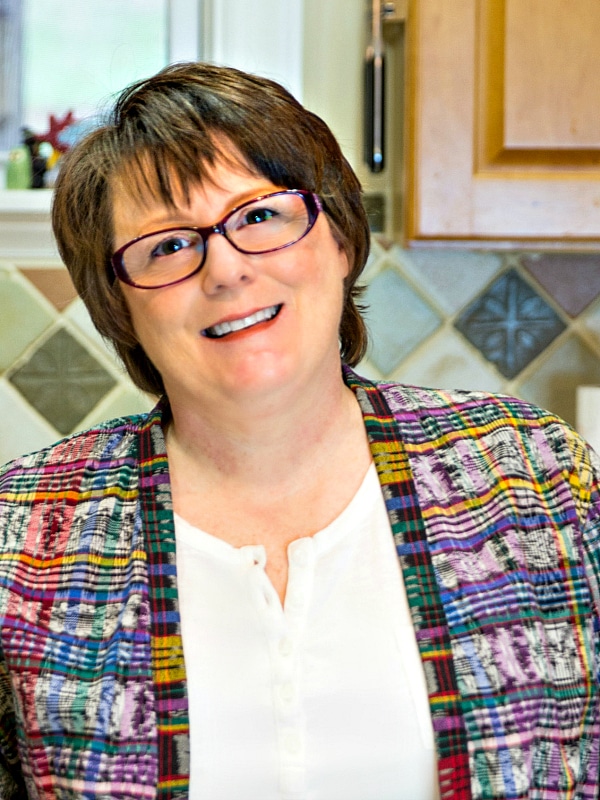 What are my qualifications to teach you baking and pastry? As a former working pastry chef and special educator, I marry my passions for both teaching and for baking into explaining techniques, methods, and developing the best possible recipes. For more info, you can read more about me.
If you'd like to receive new recipes and the occasional newsletter, I'd love for you to sign up for my Inbox Pastry Chef.
Thank you for spending some time here today. Enjoy your pancakes that you don't have to share with anyone! Take care, and have a lovely day.