Warm, cheesy lasagna hits the spot on cold days. This hot Italian sausage lasagna has tons of flavor as well as five different kinds of cheese.

I'll show you how to make the sausage sauce, how to make the ricotta layer, and how I layer mine up to bake.

If you love the shortcut of cooking with flavorful sausage, you may also enjoy my Easy Italian Sausage Pasta Sauce.

For ease of browsing, check out all of my Pasta Recipes here. Thanks for stopping by!
Why Make Lasagna with Sausage?
Sausage is, by nature, a heavily-spiced ground meat product. It also generally has a fair amount of fat in it.
Those two Things are great for making lasagna.
You can make a very flavorful sauce with a relatively short ingredient list since all the seasonings in the sausage give you a headstart.
And, as we all know, fat carries flavor.
A lasagna made with sausage is going to carry all that delicious flavor right into your mouth and make you very, very happy.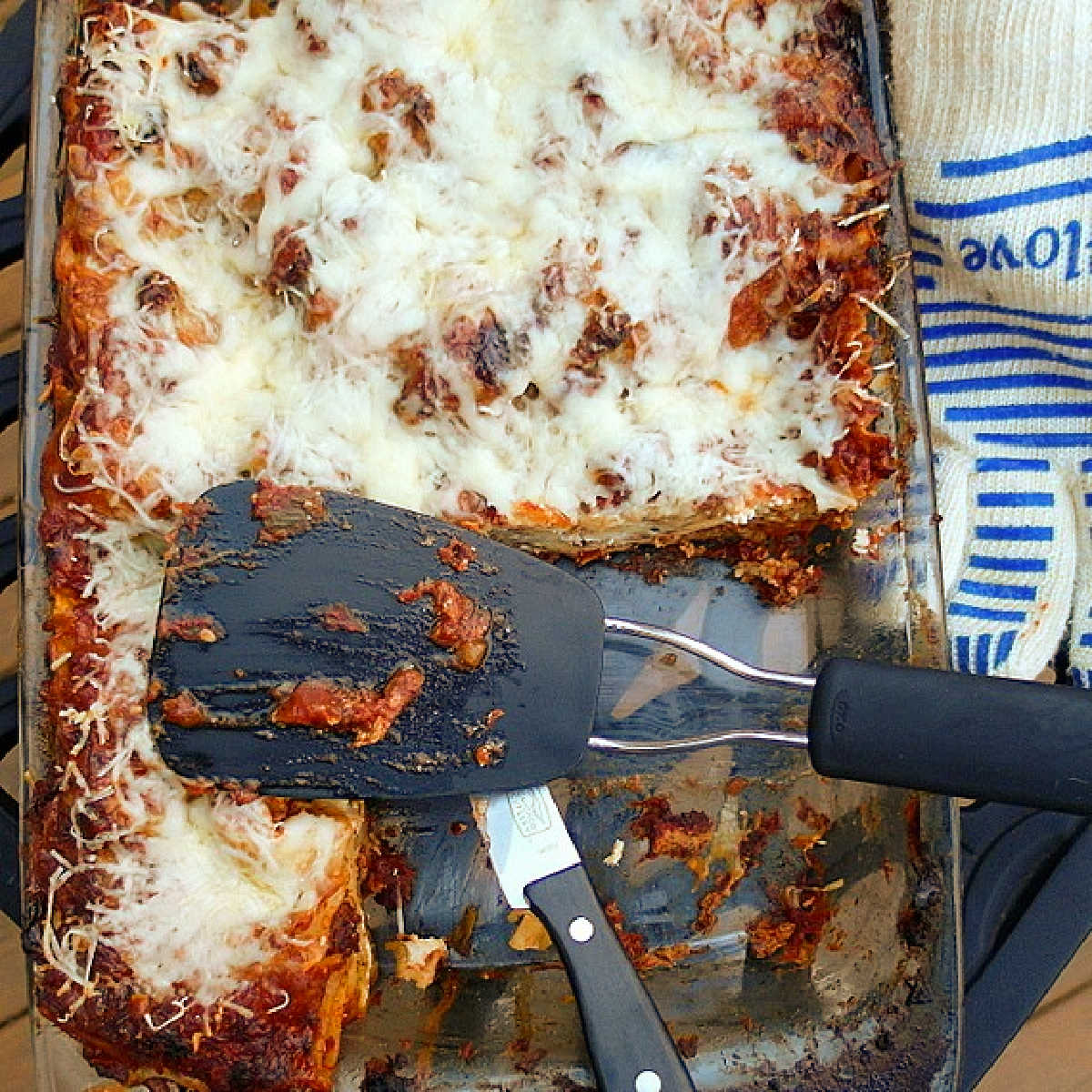 How to Make Sausage Lasagna
Lasagna is a dish made up of different components that are layered together and baked.
For this sausage lasagna recipe, the components are:
Italian sausage sauce
Ricotta mixture
Lasagna noodles
Grated cheeses
As pizza should mostly be about the crust, lasagna should mostly be about the pasta. The other ingredients are there to enhance the pasta and not drown it.
If you want a lasagna-type dish in which the pasta plays much more of a supporting role, consider a skillet lasagna or even a lasagna soup recipe.
Ingredients and Substitutions
Let's go component by component. The sauce is the most complex component.
Here's what you'll need. I will offer substitutions where possible.
For the Italian Sausage and Mushroom Sauce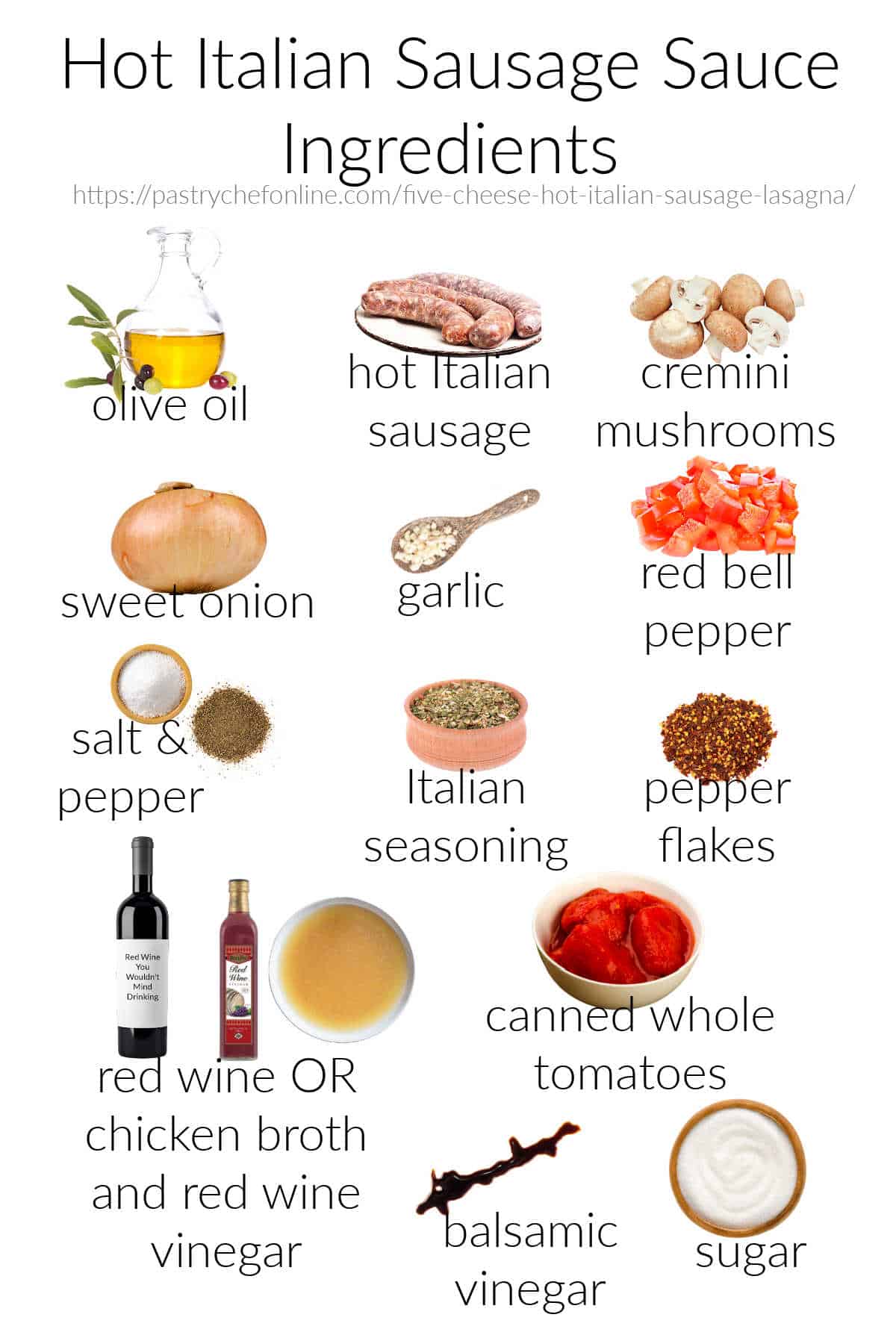 olive oil: Use good olive oil, but not a super fancy one
Italian sausage: Hot or sweet. I used hot, because I love it. NOTE: I also love the flavoring in Italian sausage so much (lots of fennel), that I added some ground fennel seed as well. It's completely optional.
Cremini mushrooms: Use your favorite mushrooms here. I minced mine up pretty fine, but if your preference is to just slice them, by all means go for it
onion: I used sweet onion. White or yellow will also work just fine. You may need to add a touch extra balsamic and/or sugar
garlic: Freshly minced or from a jar of minced. It's fine.
red bell pepper: If you have an aversion to bell pepper, you can leave it out. For additional sweetness, consider finely dicing a carrot to cook with the onions
salt & pepper: I use Morton's kosher salt and freshly ground black pepper
Italian seasoning: If you don't have it, use dried oregano and thyme. If you happen to have fresh basil, you can mince a few leaves and add them at the very end of cooking
pepper flakes: Just for extra heat. You could also consider using hot smoked paprika or even a touch of cayenne
red wine: About half a bottle of solid drinking wine. If you do not drink alcohol, you can use red wine vinegar and chicken broth or stock in place of the wine
canned whole tomatoes: San Marzano tomatoes are preferred, but any whole, canned tomatoes will work just fine
balsamic vinegar: I add a bit for some tang and additional sweetness, more or less to taste
sugar: If, after adding some balsamic, the flavor still needs a bit of brightening, add just a touch of sugar toward the end of cooking
For the Ricotta Mixture
Here's what I use in the ricotta mixture. Again, I will offer substitutes where possible.
ricotta cheese: Part skim or whole mild ricotta. You can substitute small curd cottage cheese if you prefer
Parmesan cheese: Not "sprinkle cheese." Save that for popcorn. Use freshly grated. You can buy a piece of Parm and grate it yourself or sometimes you can find pre-grated or shaved in the fancy cheese section
Asiago cheese: Grate using a Microplane or the fine side of your box grater. If you don't want to get both Asiago and Parm, just use twice as much of one or the other
egg: 1 large egg. Not strictly necessary. It does help the layer set up a bit more firmly and adds a touch of richness from the yolk
salt & pepper: I use Morton's kosher salt and freshly ground black pepper
Italian seasoning: If you don't have it, use dried oregano and thyme
lemon zest: Optional but lovely. Adds a bit of citrus brightness to the layer that really shines through in the finished dish
The Five Cheeses
I include the ricotta as one of the five cheeses. Here's the full line-up:
You certainly do not need to use all five cheeses, nor do you have to use the same ones I used.
I think ricotta is generally a given in lasagna, unless you're making the kind that calls for besciamella sauce.
Mozzarella is also wonderful for stretch, while the fresh mozzarella provides a lovely "milkiness" that the other cheese really don't have.
The other two, Parmesan and Asiago, are their for their assertive umami sharpness. You can substitute other hard grating cheeses such as Grana padano, Pecorino Romano, or even a firm, aged Fontina or Provolone.
Procedure
I will go into all the ins and outs with detailed instructions in the recipe card below, but in a nutshell, here's what you'll do to make your sausage lasagna.
Make the sauce. This is about a 4 hour process, so I like to make the sauce the day before and let it chill in the fridge overnight.
Mix the ricotta layer.
Grate the hard cheeses. Slice the fresh mozzarella.
Layer lasagna noodles (dry or only partially cooked–I generally layer mine in dry. No need to buy "no-cook" lasagna noodles which are kind of weird) with the other components.
Cover and bake.
Uncover to let the cheese brown.
For the neatest slices, allow your lasagna to cool for at least 30-45 minutes before slicing. If you try to slice it straight out of the oven, you'll end up having to scoop it onto the plates. It will still be delicious, but you won't be able to see the pretty layers.
Do I Have to Cook the Lasagna Noodles
In short, no you don't.
The most recent time I made this lasagna (when I took these process shots), I used noodles that had been soaking in hot water–they weren't traditionally "cooked."
I have also used them straight from the box and have never had an issue.
As long as your sauce isn't bone dry, between the moisture in the sauce and in the ricotta mixture, there is more than enough liquid in the recipe to ensure your noodles cook through as the casserole bake, as long as you keep it tightly covered for the first hour.
If you don't cover the lasagna, all the liquid will evaporate out into the oven instead of cooking your pasta.
Visual How-To
For the Sauce
Chop the vegetables in roughly the same-sized pieces to promote even cooking. Honestly, though, don't get crazy about it, because the sauce is going to simmer for hours. Believe me, all the vegetables will be cooked!
Cook the Italian sausage, chopping it up into bits as it browns.
Add in the vegetables and spices and cook until the vegetables soften.
Add the wine or vinegar/stock and let simmer until reduced by 1/2 to 2/3. Then add the tomatoes and simmer over medium-low heat until thick and lovely.
Add balsamic, sugar, and/or more salt, as necessary.
For best flavor and ease of building your lasagna, cool and then chill the sauce overnight. Trying to layer a lasagna with hot sauce just melts the cheese before you're ready.
For the Ricotta Mixture
This is the easiest part of making lasagna: just put all the ingredients in a bowl and stir them up. That's it.
If you'd like two ricotta layers (it's your lasagna, after all), double everything.
Layering the Lasagna
As far as I'm concerned, there are not a ton of hard and fast rules about building the layers for your Italian sausage lasagna, or any lasagna, really.
I do like to put a thin layer of sauce down in the bottom of the pan before the first layer of noodles. The sauce provides some insulation so the noodles don't stick in the bottom of the pan and potentially scorch.
My other loose "rule" is don't make any layer too thick, and don't use more than 2 thin layers of components in any one layer.
Other than that, I just go for it.
You should have enough sauce to layer it in 4-5 times, including the layer on the bottom and another layer on the top layer of noodles.
For reference, there are about 1 1/2 cups of sauce spread on the bottom of the pan. Each subsequent sauce layer is roughly a cup's worth.
Finish off the layering with a liberal blanket of shredded mozzarella, grated Asiago, and grated Parm (or your favorite mix).
You can add other layers if you'd like. You're limited by the depth of your pan and the amount of sauce you made, so plan accordingly.
Other layers could include:
pesto
sauteed spinach, chard, or kale
Cooked Italian link sausage, sliced into about 1/4″ slices
Sauteed mushrooms
Equipment You May Need
If layering in a 9″ x 13″ pan, you will need 4 full lasagna noodles and then about 2/3 of a fifth noodle to fit the empty end of the pan.
To avoid this breaking-a-lasagna-noodle thing as well as being able to get away with using only 1 box of noodles, use a 9″ x 11″ lasagna pan.
And if you're into epic lasagna with lots of layers, you will want a deeper lasagna pan that can accommodate all that goodness.
If your pan doesn't have a lid, cover the pan tightly with foil for the first hour. For food safety, place a sheet of parchment, cut to fit, on top of your food before covering with foil so no aluminum leeches into your food.
Sausage Lasagna Q & A
Can I make this gluten-free?
Yes written, the only gluten-containing ingredient is the noodles, so use your favorite gluten-free lasagna.
How long will lasagna keep in the fridge?
Store in the fridge for up to 5 days. Reheat thoroughly before serving leftovers. The internal temperature of the reheated lasagna should be at least 165F.
If I need to freeze it, can I do it before or after baking?
Either way will work. If unbaked, allow the lasagna to thaw in the fridge for a night or even two. Then cover tightly, and bake as directed. If baked, thaw overnight. Then you can either cut slices and reheat them individually or cover the lasagna and reheat the whole thing until hot. I like to heat slices in the microwave for about 2 minutes (it's dense!) and then put in the toaster oven for another 10 minutes or so at 350F.
Serving Suggestions
You really don't need much more than some nice crusty bread or focaccia and a side salad to make Italian sausage lasagna into a meal.
Since lasagna is rich, you may try serving it with a lightly-pickled vegetable salad like cucumber salad.
If you need a low-carb version, you might like my low-carb lasagna made with cauliflower noodles.
Questions?
It would be so helpful to me and to other readers that, when you make a recipe, you rate it and leave a comment. Whether it's a recipe or an informational post, your feedback helps others decide if the post is helpful or if the recipe works as advertised.

If you could leave a star rating, that would be very helpful. Thank you for being here!
Five Cheese Hot Italian Sausage Lasagna
This is the way I made my five cheese hot Italian sausage lasagna yesterday. It was delicious, but that is by no means a guarantee that this is how I will make my lasagna the next time I get a hankering. Still, this is a fantastic version, and I am happy to share it with you. I hope you will find it as flavorful and delicious as we did.
Ingredients
For the Meat Sauce
2

Tablespoons

olive oil

1

pound

hot Italian sausage

(bulk or links with the casings removed)

1

pound

baby bella or button mushrooms

cleaned, stemmed, and minced

2

medium sweet onions

diced (or 1 large)

2

cloves

garlic

minced

1

sweet red bell pepper

seeded and diced

kosher salt and freshly cracked black pepper

to taste

2

teaspoon

dried Italian seasoning

1/4-1/2

teaspoon

hot pepper flakes

to taste

½ 750

ml

bottle red wine

(for non-alcoholic, 3 Tablespoons red wine vinegar and 2 cups broth or stock of your choice)

2 28

oz

cans whole tomatoes

pulsed in the blender until just a bit chunky. You can also add them whole and just break them up with the back of a spoon

2-3

Tablespoons

sweet balsamic vinegar

to taste

2-4

teaspoons

sugar

if necessary
For the Ricotta Mixture
2

cups

ricotta cheese

¼

cup

each freshly and finely grated Parmesan or Grana

(an "American Parm"–they are very similar) and Asiago cheese

1

whole egg

kosher salt and freshly ground black pepper

to taste

½

teaspoon

Italian seasoning

zest of one small lemon or half a large lemon

optional
The Rest
1

box regular

(not no-boil) lasagna noodles

1

large round fresh mozzarella cheese

(the "ball" kind)

1 ½

cups

freshly grated mozzarella cheese

(from a soft block)

½

cup

each freshly and finely grated Parmesan

(or Grana) and Asiago cheese
Instructions
For the Meat Sauce
Heat a large, heavy-bottomed saucepan over medium heat.

Add the oil and let it get hot.

Add the sausage and break it up well with a wooden spoon or some other fun kitchen implement. You don't want any big chunks of sausage, so be thorough.

When the sausage is starting to brown, add the onions, garlic, mushrooms, and red bell pepper along with some kosher salt, freshly ground black pepper, Italian seasoning pepper flakes.

Cook over medium to medium-high heat until the vegetables release all their liquid and are starting to turn golden.

Add the wine and simmer until reduced by half. (Non-alcoholic: add the red wine vinegar and let it cook until dry. Then add the stock and reduce by half)

Add the 2 cans of still-kind-of-chunky-but-blended tomatoes and bring to a boil. Reduce heat to a simmer and add 2 Tablespoons balsamic vinegar.

Taste and adjust seasoning, but hold back a bit since the sauce will be reduced and the saltiness will eventually get concentrated.

Simmer uncovered over low heat, stirring occasionally, until the sauce is very thick, about 2 1/2-3 hours.

Taste and add the sugar if you think the flavor is a bit muddy. Adjust the salt last if necessary.
For the Ricotta Mixture
Combine all the ingredients in a bowl and stir until thoroughly combined.
To Assemble
Preheat oven to 375F.

Slice the ball of mozzarella into thin rounds. Try to get about 12 of them. Set aside.

In a 9"x13" glass baking dish (or similar), add about 1 1/2 cups of the meat sauce and spread evenly. Top with 5 uncooked lasagna noodles. (**See Note below) I can get four across, overlapping slightly. Then I break one to fit perpendicular to the rest at the end of the pan.

Add another cup or so of the sauce and spread evenly. (***See Note below)

Place slices of the fresh mozzarella evenly over the sauce.

Top with another layer of noodles. Put the perpendicular slice on the opposite end of the pan from the first layer of noodles. Alternating like this will make the lasagna easier to slice and more likely to hold together later.

Press down a bit on this layer of noodles just to make sure everything is compacted a bit. (This is another advantage of not boiling the noodles first. It gives you something to press down on!)

Add another cup or so of the meat sauce and spread it out in a thin layer.

Top evenly with the ricotta layer and spread it out to the edges of the noodles.

Top with another layer of noodles (this is layer 3 of noodles). Press down to compact a bit.

Add half of the remaining sauce and then top with layer number 4 of noodles.

Spread the last of the meat sauce over these noodles and then top with the grated mozzarella, Parm (or Grana) and Asiago.

Cover tightly with a sheet of non-stick foil and press the whole shebang down just a bit. For food safety, place a cut-to-fit piece of parchment on top of the cheese before covering with foil. If you have a lidded lasagna pan, use the lid.

Place the covered lasagna on a sheet tray to catch any drips and bake for an hour.

Remove the foil and reduce the heat to 350 (for a softer top) or keep it at 375F for a crunchier top. Bake for an additional 20 minutes.

The lasagna should be bubbling all over. It may have spilled over some onto your sheet pan. Be glad you were smart enough to use one and know that I didn't think of it until there was already lasagna liquid on the floor of my oven.

Remove lasagna from the oven and let cool for at least 30-45 minutes or so before slicing and serving.

To get the cleanest cuts. Cool to room temperature and then refrigerate overnight. Reheat before slicing. If you do this, add another thin layer of mozzarella, Parm/Grana and Asiago to the top so you will still get to experience some gooey cheese.

Enjoy!
Did You Make Any Changes?
Notes
**I never boil my lasagna noodles before assembling lasagna. No, I don't buy the no-boil kind. I just use regular lasagna noodles. I find that they cook in the oven just fine and even soak up some of the excess liquid that can make lasagna be a pain to slice and serve. If you don't boil yours, follow the directions for baking in the recipe. If you decide to pre-boil your noodles, figure it will only take about 30-40 minutes of baking.
***I used every drop of sauce in making the lasagna, so don't think you can save some out for a snack later.
Nutrition
Serving:
1
g
Calories:
325
kcal
Carbohydrates:
17
g
Protein:
18
g
Fat:
19
g
Saturated Fat:
8
g
Polyunsaturated Fat:
10
g
Cholesterol:
57
mg
Sodium:
577
mg
Fiber:
2
g
Sugar:
8
g
I will be making lasagna again for our rescheduled dinner. It might not be just like this one, but at least I finally have something in writing and you have a new lasagna recipe to try!
Thanks for spending some time with me today. Have a lovely day.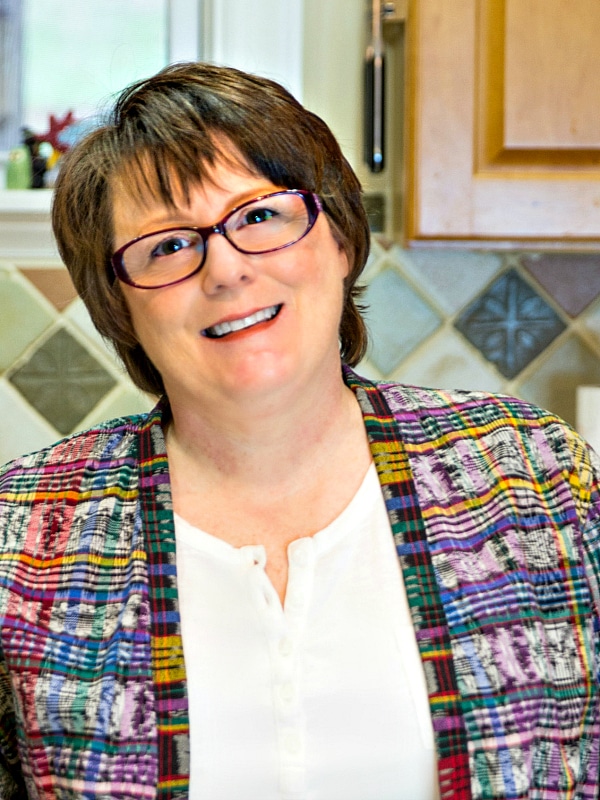 What are my qualifications to teach you baking and pastry? As a former working pastry chef and special educator, I marry my passions for both teaching and for baking into explaining techniques, methods, and developing the best possible recipes. For more info, you can read more about me.
If you'd like to receive new recipes and the occasional newsletter, I'd love for you to sign up for my Inbox Pastry Chef.