This is my last post for #SummerDessertWeek, and it's one of my favorite cakes I've ever come up with. Meet lemon corn buttermilk pound cake. And don't forget to scroll down to enter the giveaway and see everyone else's wonderful recipes!
This post and recipe was created for #SummerDessertWeek! I was sent samples by some of the sponsor companies but as always opinions are 100% mine.
A Love Affair with Pound Cake
I love pound cake. I mean, really love it. I have a whole category dedicated to pound cakes on the blog, and I like to come up with new flavors almost every time I make it.
A few years ago, I toyed with the idea of writing a cookbook all about pound cake, and while I have since decided I don't think I have a cookbook in me right now, I have quite a few recipes I developed for the book that will find their way to the blog at some point.
This lemon corn buttermilk pound cake is one of these cakes. And it's pretty magical, friends. Don't take my word for it, though. Indulge me by reading some of my recipe testers' comments after testing this recipe:
"The cake is still divine – even on day 2. The lemon flavor is more pronounced while the corniness has mellowed. I'm bringing the rest of the cake with me to the office tomorrow because I can't be trusted."–Susan B.
"I love this cake. A humble cornbread has now become a glamourous pound cake. Everyone who ate it could not believe the ingredients in it. And even after 5 days, the cake was very moist and the flavours deepened. This is definitely a favorite of mine."–Sita K.
"So…this insane cake haunts me…Making it for the fourth time tonight…"–Larry N.
How Do You Make Pound Cake
Pound cakes were originally made with a pound each of butter, sugar, eggs, and flour. An easy, no-nonsense formula you could scale up or down.
The 1:1:1:1 ratio yields a cake with a tight crumb, one that isn't overly sweet and one that can tend towards dryness after a day or two.
Modern variations on the pound cake tend to increase the sugar and decrease the eggs. For example, my basic pound cake recipe calls for 3/4 pound butter, 1.25 pounds of sugar, 1/2 pound of eggs, and just over 3/4 pounds of flour.
Other pound cake components that weren't included in the original formula:
milk, cream, buttermilk, etc to lighten the batter to assist the rise
some baking powder to keep the crumb from being very dense
salt and flavorings. Originally, the cake probably called for salted butter, but these days, most bakers use unsalted and then add in controlled amounts of salt.
How To Make Pound Cake Moist
If you've ever had dry, crumbly pound cake, you will want to know the secret to moist pound cake. Even traditional pound cake can be made more moist if you wrap it up as soon as you take it out of the pan.
If you let your cake sit out to cool to room temperature, a fair amount of moisture evaporates during that process, and pound cake needs as much liquid as it can get. Wrapping it in plastic wrap and refrigerating it until it reaches room temperature ensures that the vast majority of the liquid stays in the cake where it belongs.
Pro Kitchen Tip: Use the wrapping trick for any cake you bake. You'll be able to tell the difference!
Before we get to the buttermilk pound cake recipe, please take a peek at all the other dessert entries for today. So much goodness, you guys.
Summer Dessert Week Recipes for July 12, 2018
Ice Cream Recipes:
Pies of Summer:
No-Bake Treats:
Baked Desserts:
Lemon Corn Buttermilk Pound Cake
If you love the sound of this recipe, and I really hope you do, please rate and/or comment. I love hearing from you guys! And if you do make it, please share a photo with me on Instagram, tagging @onlinepastrychef and using hashtag #pcorecipe or share in the Pastry Chef Online Facebook Group. I cannot wait to see!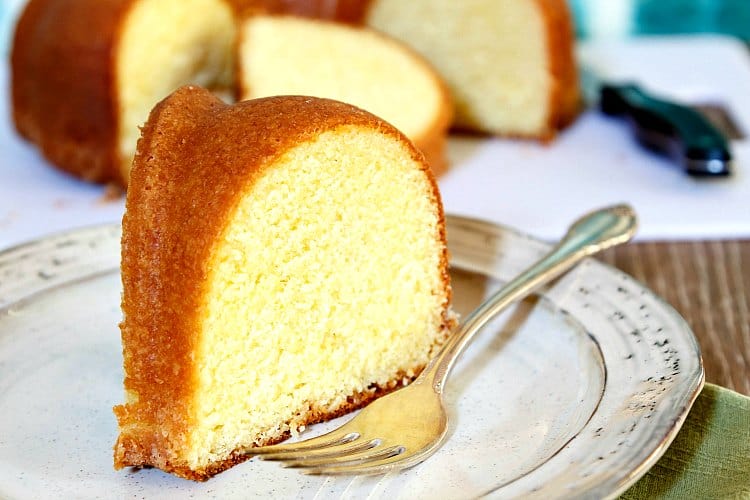 #SummerDessertWeek Giveaway Information
Welcome to the 2nd Annual #SummerDessertWeek event hosted by Angie from Big Bear's Wife. This sweet week-long event is filled with fun dessert recipes from amazing bloggers and some great giveaways from our generous sponsors! We can't wait to share all of these summer-themed desserts with y'all and celebrate summertime sweets all week long!
There are 23 wonderful bloggers participating in this year's event! With over 60 recipes being shared this week we just know that you're going to find a new summer favorite! Plus, don't forget that we have 5 (five) great giveaways for you this week too!
Scroll down to take a look!
PRIZE #1
Prize #1 — Dixie Crystals is giving away one (1) Instant Pot (8 Qt) to one lucky winner!
PRIZE #2
Prize #2 — Adam's Extract is giving away – One bottle of Adams Best Vanilla Flavor, Adams Best Prize Winning Pound Cake Mix, Adams Extract Twice as Stong Vanilla and Adams Extract Lemon Extract
PRIZE #3
Prize #3– Red Star Yeast is giving away an Insulated Tote Bag, "I Knead to be Loaved" Apron, "The New Artisan Bread in Five Minutes a Day" Cookbook, Printed recipe ebook, Yeast (three 3-strips of Platinum), French Rolling Pin, Measuring Spoons, Bench Scraper/ Dough Cutter, Dough Whisk, Oven Mitt and Kitchen Towel
PRIZE #4
Prize #4 — Susquehanna Glass Co. is giving away one set (4 glasses) of Mermaids Stemless Wine Glasses. (like the Mermaid glasses you'll see in some of our recipes this week!)
PRIZE #5
Prize #5 — Lodge Cast Iron is giving away one (1) 12-inch Cast Iron Skillet.
Giveaway open to US Residents 18 years or older. No PO Boxes Please. giveaway runs from July 9th until July 15th at 12AMEST. Winners will be selected soon afterward and contacted by e-mail. Winners will have 48 hours to respond or a new winner will be chosen. There are a total of 5 (five) prizes and therefore we will have a total of 5 (five) winners.
Disclaimer: These posts and recipes are part of the week-long event, #SummerDessertWeek but all opinions are 100% mine! We would like to Thank our amazing sponsors: Dixie Crystals, Adam's Extract, Red Star Yeast, Susquehanna Glass Co. and Lodge Cast Iron! These wonderful sponsors provided the prize packs for our giveaways and also sent samples and products to the #SummerDessertWeek bloggers to use in their recipes.