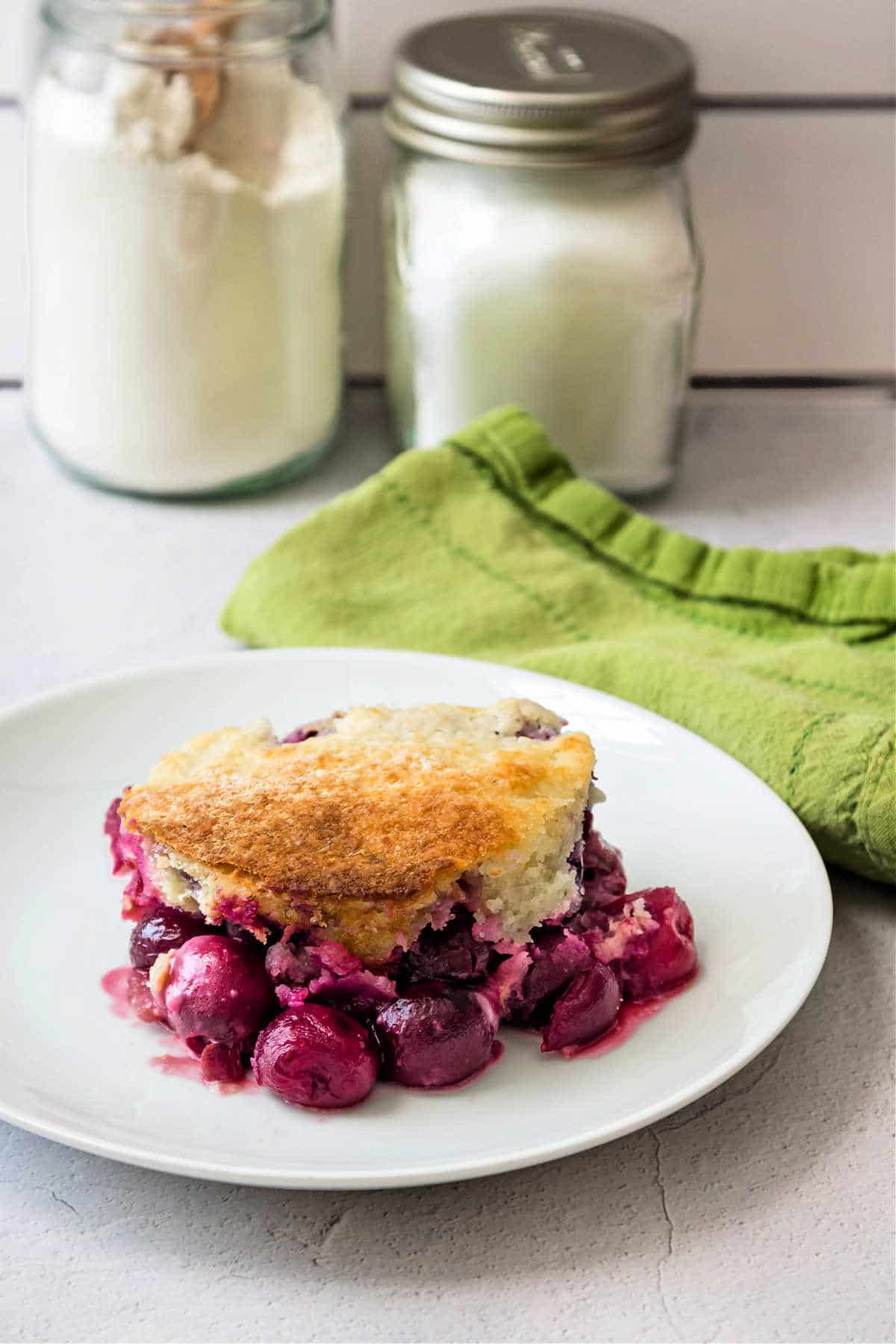 Why You Should Make This Cobbler Recipe
It's no secret that I'm a fan of the fruity dessert. I am partial to the NC-centric sonker like this blackberry cherry sonker, but there is almost nothing better than a fresh and bubbling cherry cobbler.
Here's what makes this one so good, and why you should make one immediately.
Easy: You don't have to make a pastry crust. For the pie crust- and biscuit-averse, this cobbler is topped with a simple batter than cozies down among the cherries.
No hard-to-source ingredients: Lightly flavored with vanilla and nutmeg. Mace is called the cherry pie spice, but many folks don't have mace on hand. Nutmeg, which naturally is covered by what is called mace, is the next best thing, and most people have nutmeg.
Portable. Not too soupy. Some cobblers glory in their juiciness. This cobbler has just enough juice to pool just a bit around the fruit but not so much that you have to serve it in a bowl. This makes it more portable for eating outdoors.
Tasty at different temperatures: Delicious at room temperature or heated. Even though I store mine in the fridge (and you should too), nothing bad will happen if you put a serving or two into a container and go on a hike and then eat your cobbler while sitting on a huge boulder at the base of a waterfall, for instance.
How to Make It
This cobbler has two simple-to-make components: the fruit and the batter. Here's what you'll need to make them:
all-purpose flour: You could also use cake flour here. If all you have is self-rising flour, you can absolutely use that. In that case, you can eliminate the baking powder and a touch of salt
sugar: provides sweetness in both the fruit layer and the topping. It also tenderizes the batter and assists with browning.
baking powder: provides leavening so the batter is nice and light with a lovely crumb once you bake it
baking soda: While it's often used as a leavening, in this case, it's here to neutralize the acidity of the buttermilk in the batter
milk: provides the liquid for the batter. Adds a minimal amount of both protein, fat, and milk sugars. Because of the fat and sugar, it will aid in browning.
buttermilk: does double duty as a liquid for the batter and also an acid to give a slight tang to the batter. Acid can also help to make gluten more fragile so your topping isn't tough
salt: Brings all the flavors into a focus in both components of the cobbler. Counteracts any potential bitterness from any of the other ingredients
cherries: You may use fresh or frozen. Take great care that you remove all the pits if using fresh, and check your frozen fruit to make sure none were missed. They don't call cherry pits "stones" for nothing, and eating dessert should never break your teeth.
lime juice: provides a nice acidic lift to the fruit layer. You may also substitute lemon juice or even a small amount of a sweeter vinegar such as blush wine vinegar or white balsamic.
vanilla extract: provides a nice mellow note in both the batter and the fruit
nutmeg: perfumes the fruit layer and brings out the cherry flavor
butter: gets cut in tiny pieces and scattered all over the fruit. Assists in browning, carries flavor, and makes everything taste Very Very Good.
Procedure
Whisk together dry ingredients.
Whisk together milk and buttermilk.
Pour milk mixture over dry and fold to combine. Set aside.
Toss cherries together with lime juice, sugar, salt, vanilla, and nutmeg.
Pour into a greased 2 quart baking dish.
Cut butter into pieces and dot all over the top of the fruit.
Pour batter evenly over the fruit.
Bake for an hour, covering after 40-45 minutes to prevent over-browning.
Serve warm or at room temperature.
Tips and Tricks for Success
I would classify this as a beginner recipe, so if you are new to baking, here are some tips that will help make sure your cherry cobbler turns out beautifully.
Spray your baking pan with pan spray to make clean up easier.
The more gently you mix your batter together, the more tender the resulting cakey layer will be. Rather than whisking or mixing, fold the wet ingredients together with the dry ingredients. (You're basically using The Muffin Method here)
If you want a juicier filling, add 1/2 cup of fruit juice or water and cook in a pan for about 15 minutes before adding it to your baking dish and topping with butter and the batter. If you want those juices to thicken, add a tablespoon of cornstarch. Truly, it's as easy as that!
Bake your cobbler on a tray, or at least on a sheet of aluminum foil on the rack. This will catch any potential spills.
The batter will be nicely browned before the fruit filling is completely baked, so loosely cover the top of the cobbler with foil once it is as browned as you like. This will give the fruit a chance to "catch up" without the top getting overbaked.
My Best Tip, Friends
I rarely suggest you get a piece of kitchen equipment that is too specialized, but if you're going to be working with cherries even a few times per year, a cherry pitter is pretty essential.
Plus, you can use it for olives if you want.
Anyway, I love the models that come with a little splatter guard. You wouldn't think that little piece of plastic would be super useful, but it makes a huge difference.
You can further reduce splatters by holding the end of the pitter guard down onto a cutting board. That way, you won't shoot any pits to the far recesses of your kitchen.
You can also be certain that you got all the pits. If the pit isn't there on the cutting board when you raise up the pitter, you'll know for sure you need to try again.
Cherry Cobbler Q & A
Is this a healthy cobbler?
Sort of? I mean, it has real fruit in it, but it's not otherwise health food. I use a minimal amount of sugar in the recipe, so I guess you could call it a low-sugar cobbler, but it's not diet food. You can certainly use a sugar substitute for the sugar in both the fruit filling and the batter rather than using conventional granulated sugar. That will save you a few calories and carbs.
Can I make this gluten-free?
Yes. There are many gf flour blends out there. The best way to convert this particular recipe is to substitute the all-purpose flour with a cup for cup gluten-free flour blend
Can I make this a vegan cobbler?
Yes, use a plant-based butter, margarine, or even coconut oil in place of the butter and use your favorite plant-based milk for the batter. Leave out the buttermilk and omit the baking soda since it won't be necessary. Make sure the sugar you use is vegan as well.
How long will it keep?
Your cobbler will hold up well for about 5 days in the fridge. Before serving, bring to room temperature or warm it, covered, 1t 350F in a conventional oven for a few minutes or in the microwave for a few seconds.
Can I freeze it?
You can, although I tend to think of a cobbler as a quick dessert, quickly eaten. I'd freeze it in portions unless you want to make it and serve the whole thing at a later date. In that case, I'd bake it in a pan you won't need the next day, allow it to cool, wrap it well in plastic wrap and foil, and then freeze it for up to 3 months. Thaw for 2 days in the fridge, then set it out to allow it to come to room temperature. Reheat, covered with foil, (remove that plastic wrap first!) at 350F until heated through.
Questions?
If you have a question/questions about this or any other post, whether recipe or technique, don't hesitate to get in touch. I'm happy to help.
You can leave a comment on the post, and I will respond within 24 hours. If you need an answer more urgently, please email me, and I will respond within about 4 hours (unless I'm sleeping) and often much more quickly than that.
Either way, I will answer as completely as I can. That's why I'm here!
If you make this recipe and/or have enjoyed or learned from reading this post, I'd appreciate it if you could share this!

I have Convenient share buttons that float to the left on desk top and on mobile which invite you to share on Pinterest, Facebook, Twitter or Yummly.

If you make the recipe, please consider rating it a rating and a review. You can do this via the recipe card in the post.
Reviews really help sell the recipe, and negative reviews help me tune into what people really want to have explained better, so any ratings and reviews are helpful!

Also feel free to tag me on Instagram at @onlinepastrychef with #pcorecipe so I can find your creation. Thank you!
Easy Cherry Cobbler Recipe
Total Time:
1 hour
10 minutes
Cheery cobbler with self-rising flour is a very forgiving dessert. This one is made with a simple fruit filling and a batter topping. Enjoy!
Ingredients
For the Filling
1 pound sweet cherries, pitted
1/4-1/2 cup sugar (depending on how sweet you like your fillings)
pinch of salt
juice of half a lime or lemon
1/2 teaspoon vanilla extract
1/4 teaspoon nutmeg
1/4 teaspoon salt
1/2 stick butter (2 ounces), cut into pieces
For the Batter
1 cup all-purpose flour
1/3 cup sugar
2 teaspoons baking powder
1/4 teaspoon baking soda
1/4 teaspoon salt
1/2 cup milk
1/2 cup buttermilk
1/2 teaspoon vanilla extract
Instructions
For the Filling
Place a rack in the center of your oven. Heat oven to 375F.
Spray a 1 1/2 quart casserole with pan spray. Set aside.
Mix all the filling ingredients except for the butter evenly together. Pour into your prepared pan.
For the Battter
Whisk together the flour, sugar, leaveners, and salt.
Mix the milk and buttermilk together and pour into the dry ingredients.
Gently but thoroughly fold the batter together.
To Finish and Bake
Scatter the bits of butter evenly over the cherry filling.
Pour the batter evenly over all the butter and fruit.
Bake for an hour, tenting the cobbler with foil after about 40-45 minutes if the batter is browning a little too much.
The cobbler is finished when the batter is golden brown and the whole cobbler is bubbling. Any fruit peeking out of the batter in the middle of the cobbler will be bubbling some too. If you are baking in a glass dish, you'll be able to see that the batter that has cozied itself down inside the pan to envelop the fruit is also a lovely golden brown.
Allow to cool to warm before serving with ice cream, whipped cream, or some vanilla yogurt (which is what I did).
Notes
I didn't add any flour, corn starch or other thickener to the fruit, because I knew the filling wouldn't be super juicy.
For a juicier filling, cut the cherries in half or even quarters and/or add a little water or fruit juice to the filling. If you do add liquid, add maybe a tablespoon of cornstarch to the fruit so the juices thicken up a bit. Or you could just leave the juices to their natural consistency and serve your cobbler in bowls.
Either way, no one will be sad.
Mmmm. Fruity-juicy goodness.
Spork cobbler, indeed.
Thank you for spending some time with me today. Now that you know what to do with a bag of self-rising flour, I hope you enjoy this cherry cobbler, or whatever kind of cobbler you decide to make.
Have a lovely day.
Want me to occasionally drop into your inbox? You can make that happen by signing up for my newsletter!
And there you have it, friends. Enjoy the cherry cobbler, take care, and have a lovely day.