Welcome, breakfast lovers who don't want to share! Here you will learn the secrets of making pancakes for one. Namely, yourself.

This pancake recipe is scalable and you can make it to feed a crowd. The nice thing about this recipe is that the proportions are easy to remember and you can also vary it in many ways.

Add a handful of blueberries or chocolate chips, toasted nuts, shredded coconut–pretty much anything you can think of. Flavor the batter with cinnamon or apple pie spice or citrus zest.

But do make these pancakes. And one time, make them just for yourself, because we don't always want to share!
This post contains affiliate links. We are members of the Amazon Affiliate program. For any sale through our links, we earn a small commission. Your price is unaffected. For more information, please see our disclosure policy.
Making Pancakes Using Self-Rising Flour
Why use self-rising flour in this pancake recipe?
If you happen to have self-rising flour, it makes it really easy to whip up pancakes quickly.
Self-rising flour, sometimes called self-raising flour, already contains leavening and salt, so you only need to measure 1 ingredient rather than 3.
And the self-rising flour already has the perfect amount of leavening in it so you don't have to guess. Sweet!
You Can Make Only One Serving of Pancakes. And You Should!
We interrupt your regular programming to bring you the following Public Service Announcement:
You. Yes, you. You who are eyeballing that yellow plastic bottle, contemplating adding some water and shaking it to make pancakes. Put. It. Down.
Walk away from the scary shake-and-pour. Turn your back on the microwaveable pancakes. Because, guess what? Give up?
Come a little closer so I can let you in on a little secret:
You are never more than 20 minutes away from homemade pancakes!
Oh, sorry. Did I hurt your ears? But, it's true. You are this close to homemade pancakes. Yes, even if you live alone or all your family is out at the movies.
What Do I Need to Make Pancakes?
Barring a box of mix or a frozen brick of pancakes from the big box store in your freezer, here's what you'll need. You probably own most of this stuff already.
Ingredients You'll Need
self-rising flour
sugar
milk (you can use non-dairy milk)
vegetable oil
butter
real maple syrup (yes, it is worth it)
You don't need eggs to make pancake batter.
Equipment You'll Need
a well-seasoned cast iron skillet or griddle (an electric fry pan works here too)
a timer
a stove (only if not using an electric fry pan!)
one bowl
one spoon (a regular teaspoon will do)
a half-cup measure
a pancake turner or other thin spatula-type Item
a plate
a fork
How to Make Pancakes without Eggs (for One or for All)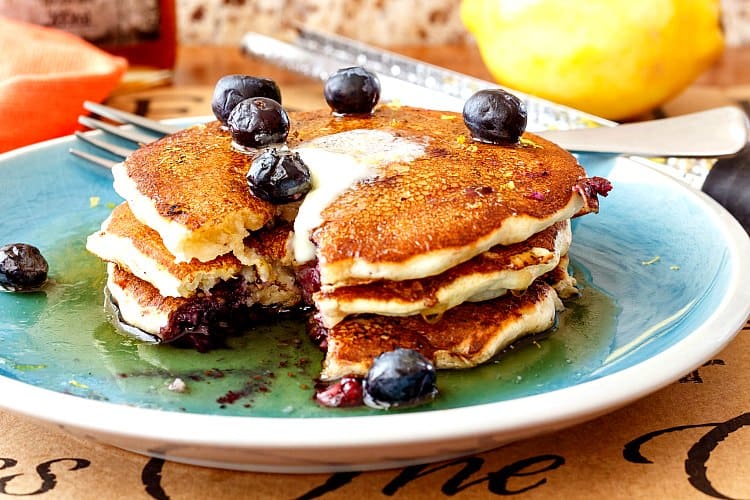 Here's how it's done. Follow these steps To The Letter, and you, too, can be enjoying fresh, a solitary and delicious meal of pancakes in just a bit longer than it takes to listen to (okay, read) this announcement.
Heat your griddle or skillet. You want you pan to be nice and hot, so go ahead and give it a head start on medium-high heat while you mix your ingredients. (If you make a lot of pancakes, having an electric griddle or an electric skillet is a nice luxury that will help your pancakes cook evenly.)
Whisk together dry ingredients. In this case, dry ingredients include self-rising flour and a little sugar. If you don't have self-rising flour, you can still make these. See the recipe notes. You can also whisk in some spices such as cinnamon, nutmeg, or cardamom if you'd like.
Whisk wet ingredients together. You'll need milk (I like whole milk, but you can make these dairy-free by using your favorite nut milk.)
Whisk in some neutral vegetable oil and any extract. If you're using citrus zest, you can whisk it in with your milk and oil.
Mix wet into dry. Pour the milk mixture into the flour mixture and stir until it just comes together. A few lumps are just fine.
Cook pancakes. Add a bit of butter to your pan and cook your pancakes, 1/3 of the batter at a time. Once you pour the batter into the pan, that's when you can add fruit or chocolate chips. Let the pancakes cook until set and dry around the edges. Flip and cook an additional couple of minutes.
Plate and Enjoy. I like to put butter on my plate, add a pancake, add more butter, add a pancake, add butter, then top with a pancake. But I like butter! You can just add a pat of butter on top, douse in syrup, and enjoy.
So, next time you think about taking the Low Road with the shake-n-pour, remember, you now know the secret of Homemade Pancakes for One in about 20 minutes.
Other Pancake Recipes for You To Enjoy
If you're a fan of this pancake recipe, here are a couple more from my site and from some of my friends. Enjoy!
Recipe for Pancakes for One
Pancakes for One
When you want an indulgent breakfast or breakfast-for-dinner on those days you're home alone, turn to this easy recipe for pancakes for one. No egg recipe for tender pancakes. You're going to love them!
Ingredients
1/2 cup self rising flour
1 Tablespoon sugar
1/3 cup whole milk, about 1/4" shy of the top of the half cup measure
1 Tablespoon vegetable oil, I use avocado oil
a sprinkle of cinnamon or other pancake-y type spice, optional
splash of vanilla/citrus zest/chocolate chips--whatever, optional
For Serving
Instructions
The Procedure
Preheat the skillet over medium/medium-high heat. Set the timer for five minutes.
In your bowl, whisk together all dry ingredients, including zest, if using. Do not mix in any "chunky" mixins here--only spices or zest
Stir oil into milk, and add vanilla, if you're using it.
Pour over dry ingredients and whisk slowly until just incorporated.
Let the batter sit until the timer goes off.
Rub a little butter onto your skillet.
Pour 1/3 of your pancake batter into the skillet.
While your pancake cooks, heat up the maple syrup so it's ready to go.
Let pancake cook until the bubbles around the edges pop but don't fill back in with batter, about 3-4 minutes. If using blueberries, cinnamon chips, chocolate chips, etc, sprinkle on a few evenly over the top of the pancake before flipping.
Flip pancake and cook about 2 minutes.
While the second side of the pancake cooks, put a wee pat of butter on your plate.
Place this pancake onto plate on top of butter.
Make 2 more pancakes the same way you made the first.
Put a wee pat of butter on top of your first pancake.
Pile on the other 2 pancakes as they finish cooking, adding a small pat of butter in between each pancake.
Turn off stove.
Pour syrup on top of pancakes.
Eat.
Notes
Rather than plating each pancake before plating the next, you can keep the cooked pancakes warm in a toaster oven and then plate everything all at once.
As a special treat, rather than using plain maple syrup, try some of the Bourbon barrel-aged maple syrups that are out now. Very good! It's pricey, but these are pancakes for one, and that means you're not sharing with your kids or your husband. Indulge!
Nutritionals calculated without the butter (or syrup) for serving. Just so you know.
I made my pancakes for one with lemon zest in the batter and fresh blueberries sprinkled on top of each pancake as it cooked.
Nutrition Information
Amount Per Serving
Calories

442
Saturated Fat

13g
Cholesterol

8mg
Sodium

36mg
Carbohydrates

61g
Fiber

1g
Sugar

16g
Protein

10g
The stated nutritional information is provided as a courtesy. It is calculated through third party software and is intended as a guideline only.
Thank you for spending some time here today. Enjoy your pancakes that you don't have to share with anyone! Take care, and have a lovely day.