Most Recent Update:
So pleased to be working with my friends at the Idaho® Potato Commission to bring you this post on how to make German pancakes. Including some Idaho® Potatoes ups not only ups the nutrition, but it yields a more rustic pancake with a custardy-gorgeous center. This post contains affiliate links. For more information, please see my disclosure page.
Wait. That Looks Like a Dutch Baby.
See that guy up there? Looks like a Dutch baby, doesn't it? Well, it is a Dutch baby. So why call them German pancakes? Because the origin of these pancakes is German, or Deutsch (which Americans called Dutch). The German word for these lightly sweetened, puffed pancakes is pfannkuchen. Literally pan (pfann) + cake (kuchen).
Confession time:
I had never made puffed pancakes of any sort, German or otherwise, before my IPC friends asked me to give it a go. I was a bit apprehensive because I thought the potatoes would hinder the rise. While it's true this particular Dutch baby didn't rise as spectacularly as his non-potato-having relations, he did indeed puff rather nicely.
The final result is a rustic and craggy puff pancake that crisps up on the edges a bit like hash browns. The crags and crannies in the top of the pancake holds onto the mixed berry sauce (or whatever sauce you choose to use), and the interior is gorgeously custardy. When The Beloved and I tried them? Well, we were both sold. So very delicious, you guys. And easy to make.
Dutch Babies, Popovers, and Yorkshire Pudding, Oh My.
If you think Dutch babies are similar to popovers and Yorkshire pudding, you are 100% correct. The batters are almost identical, and you make them the same way:
preheat pan in a hot oven
add the fat and let it melt and sizzle
pour in your batter and wait for the puff magic to happen.
Popovers are less sweet and are made in individual portions, while savory Yorkshire pudding is made with beef fat and also soaks up the drippings from the roast which is traditionally roasted above the pudding. (Although these days, you'd probably just spoon some of the jus over the puddings at the table.)
How Much Nutrition Does the Idaho® Potato Add?
Even though we're not talking about a lot of potato in this recipe–only 1/4 cup to make sure the pancake would indeed rise–you still get the added benefit of nutrients from the potato including a bit of protein and fiber, some B Vitamins including niacin and folate, and Vitamin C. All in all, I'd say adding some Idaho potatoes to your delicious puffy oven pancake is an excellent plan, both for flavor and nutrition. Before we make one, let's make sure you're all set with what you'll need.
I made my "Dutch" baby in my 10″ cast iron chef's skillet. I love it because it has sloped sides so you can easily tip out delicate omelets and, well, puffy pancakes! It is very well seasoned, so if you are at all unsure about yours, use a non-stick pan that will work in high heat.
How To Make German Pancakes
Now that we've done some shopping, let me show you how to make German pancakes with some tasty and nutritious Idaho® russet potato snuck in for good measure!
German Pancakes
Yield: 4 servings

Prep Time: 10 minutes

Cook Time: 25 minutes

Total Time: 35 minutes

This Dutch Baby Pancake made with Idaho® Potatoes and served with mixed berry sauce is easy to make and even easier to eat. The outside texture is a bit more rustic than a traditional Dutch baby, and it doesn't puff quite as much. But the potato brings a lovely custardy texture to the insides of the pancake while the edges crisp almost like hash browns. You won't want to miss this one!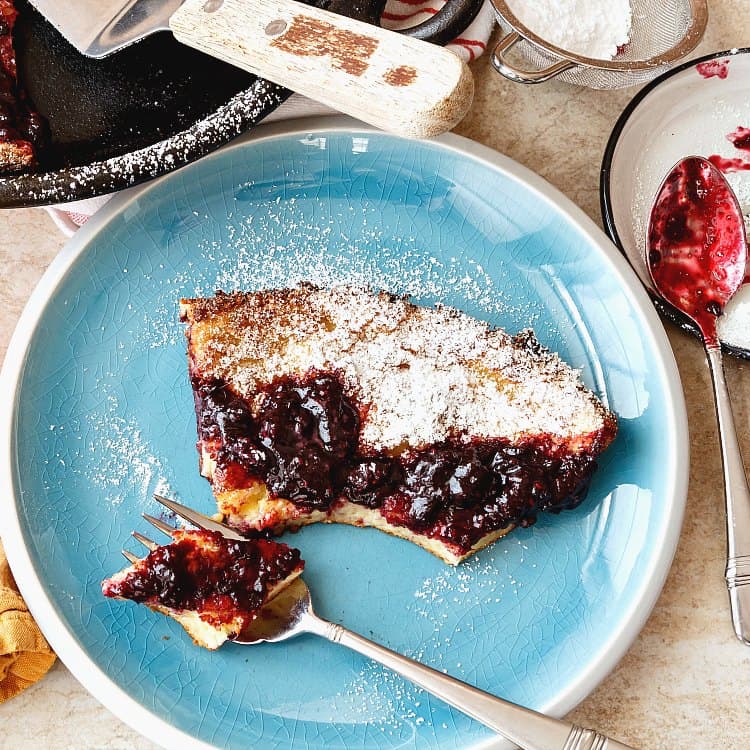 Well, friends, there you have it. Whether you call it a puffy pancake, an oven-puffed pancake, a German pancake, or a Dutch baby, know that it will be completely delicious. I'm really pretty happy that my Idaho® Potato Commission friends asked me to show folks how to make German pancakes using Idaho® potatoes. Otherwise, it may never have occurred to me, and I would be going through life puffy pancake-less and sad.
Thank goodness this won't happen to you, though! Enjoy this guy–maybe make one or two for Mother's Day or even as part of your Easter brunch. You won't be sorry!
Thank you for spending some time with me today. Enjoy the pancake/s and have a wonderful day.
Feeling Pinnish?
Pin this "How to Make German Pancakes" post for later.