Pound cake. I have made so many that I have my standard formula memorized. I will show you.
13 oz cake flour
18-20 oz sugar (depending)
12 oz (3 sticks) butter
5 large eggs
10 oz some combination of dairy or other liquids
1 teaspoon baking powder plus a bit of soda if I'm using acidic ingredients
1 1/4 teaspoon fine sea salt
The rest is just flavorings and/or add-ins. You don't technically even need the leavening, but I do like to use just a bit as insurance. For reference, when making a "regular" cake, I allow 1 teaspoon baking powder per cup of flour. This recipe uses 3 cups of flour (13 oz), but I still only use the 1 teaspoon. I want a nice, tight, velvety crumb. Something that will slice cleanly and not leave crumbs everywhere like a "regular birthday cake" can.
This most recent iteration of the Van Halen Pound Cake, the cake that started my pound cake renaissance, is a slightly adapted version of Aunt Charlotte's "Selfish-Making Pound Cake" I'm calling chocolate espresso pound cake. I thought I would share it with you again since I just made it to be sold at a bake sale last Saturday. The batter was delicious, and the glaze turned out so pretty, so I figured I could tell you about how I did all of that, too.
Chocolate Espresso Pound Cake
This chocolate espresso pound cake is deeply chocolatey and moist. Double glazed with both ganache and espresso glaze, it's also a show stopper.
Ingredients
For the Cake
10.5

oz

cake flour

2.5

oz

non alkalized cocoa powder

sifted so it's free of lumps

1

teaspoon

baking powder

¼

teaspoon

baking soda

2

Tablespoons

espresso powder

(or instant coffee ground to a powder)

12

oz

3 sticks unsalted butter at cool room temperature

1 ¼

teaspoons

fine sea salt

18

oz

light brown sugar

2

teaspoons

vanilla extract

5

large eggs

lightly beaten

4

oz

sour cream

6

oz

whole milk
For the Ganache
3

oz

semi sweet chocolate

(high quality chips are fine)

3

oz

half and half
For the Espresso Glaze
1

cup

powdered sugar

small pinch fine sea salt

1

teaspoon

espresso powder or instant coffee ground to a powder

⅛

teaspoon

vanilla extract

enough milk to get it to drizzling consistency

about 1-2 Tablespoons
Instructions
For the Cake
Thoroughly pan spray a 12-cup Bundt pan. Dust the inside liberally with sifted cocoa powder, knocking out excess. Set aside.

Preheat oven to 350F.

Whisk together the flour, cocoa powder, baking powder, soda and espresso powder until well combined. Set aside.

In the bowl of your stand mixer fitted with the paddle attachment, cream the butter until smooth and creamy.

Add the salt and brown sugar and cream on medium speed until very light and fluffy, scraping bowl as necessary. This will take about 10 minutes.

Whisk the vanilla into the beaten eggs and slowly drizzle the eggs into the batter with the mixer running. Do this gradually, a bit at a time, over about 5 minutes. Scrape bowl as necessary.

Whisk together the sour cream and milk.

With the mixer off, add 1/2 of the dry ingredients to the bowl. Mix on low for a few seconds and stream in about half of the milk/sour cream mixture. Scrape bowl as necessary.

Add another half of the dry ingredients followed by the rest of the milk/sour cream. End with the dry ingredients.

Fold batter by hand to make sure all the flour is incorporated.

Scrape into the prepared pan and bake on the center rack of the oven for about an hour. It takes 1 hour, 5 minutes in my oven for the cake to be done and register 200F on an instant read thermometer.

Remove from oven and cool in the pan for 20 to 30 minutes. Turn cake out onto a rack to cool completely before glazing.
For the Ganache
Place the chocolate chips in a small bowl.

Bring the half and half to a boil and pour over the chocolate chips. Let sit a minute and stir slowly until smooth and glossy.

Spoon evenly over the cooled cake. It won't give you full coverage, and that's just fine.
For the Espresso Glaze
Whisk together the dry ingredients. Add a tablespoon of milk and the vanilla. Stir well and check consistency. It should be a fairly thin glaze that will flow freely from the end of a spoon or the tines of a fork. Stir in milk, a teaspoon at a time, until you reach the desired consistency.

Pull some glaze out of the bowl with a spoon or a fork and move it over the cake in a circular motion. Continue until you have pretty even coverage all over the top and about halfway down the sides of the cake.

Store cake at room temperature. Enjoy.
Did You Make Any Changes?
Here's your fun printable Christmas recipe card. If you'd like, you can download all three templates here.
Shop This Recipe
Pound cake is one of my favorite things to make. I do recommend you have a stand mixer for most cake making (except for ones made using the Dissolved Sugar Method like my stout cake and chocolate creamsicle cake). And while you can bake them in loaf pans, I prefer baking in Bundt pans, partly because it gives them more presence and partly because I love all the fun designs! Here are some of my recommendations for you. Please note that the holiday pans won't hold an entire recipe. When that happens to me, I always bake the extra batter in muffin tins.
I think you are really going to enjoy this chocolate espresso pound cake. It's the kind of cake, too, that gets better with age. While it's tasty on day one, it gets fudgier and deliciouser by day 3 and 4, if you can keep it around that long.
For convenience, consistency, and accuracy, almost all my recipes are written by weight, either in ounces and/or grams, even the liquids.
I strongly encourage you to purchase a kitchen scale and learn to use it.
This is the one I used for years. I love it and highly recommend it:
Best for Home Use
Escali Primo Digital Food Scale
Don't let its small price and small size fool you. The Escali Primo is an accurate and easy-to-use food scale that I have used for years. It's easy to store, easy to use, has a tare function, and easily switches between grams and ounces/pounds for accurate measurements.
This is an affiliate link which means I earn from qualifying purchases. Your price is unaffected.
Thank you for spending some time with me today. Take care, and have a lovely day and the very best Christmas ever.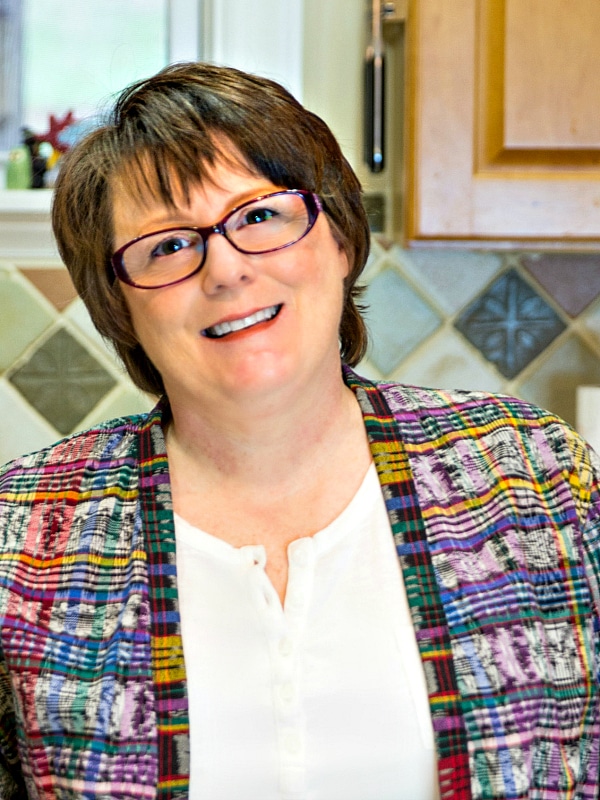 What are my qualifications to teach you baking and pastry? As a former working pastry chef and special educator, I marry my passions for both teaching and for baking into explaining techniques, methods, and developing the best possible recipes. For more info, you can read more about me.
If you'd like to receive new recipes and the occasional newsletter, I'd love for you to sign up for my Inbox Pastry Chef.