You are in exactly the right place! I know you are here to find Cool Whip Substitutes, and I am here to help you. Because you can do so much better than popping the lid off a tub of Cool Whip. I have seven different Cool Whip Alternatives for you, so I'm sure you'll be able to find something to your liking!

If you are interested in more information about using whipping cream, see my post on how to hand-whip cream.

This post is part of my Fundamentals series, so if you like this type of deep-dive information, you can find all my Fundamental Friday posts in one place. Thanks so much for visiting.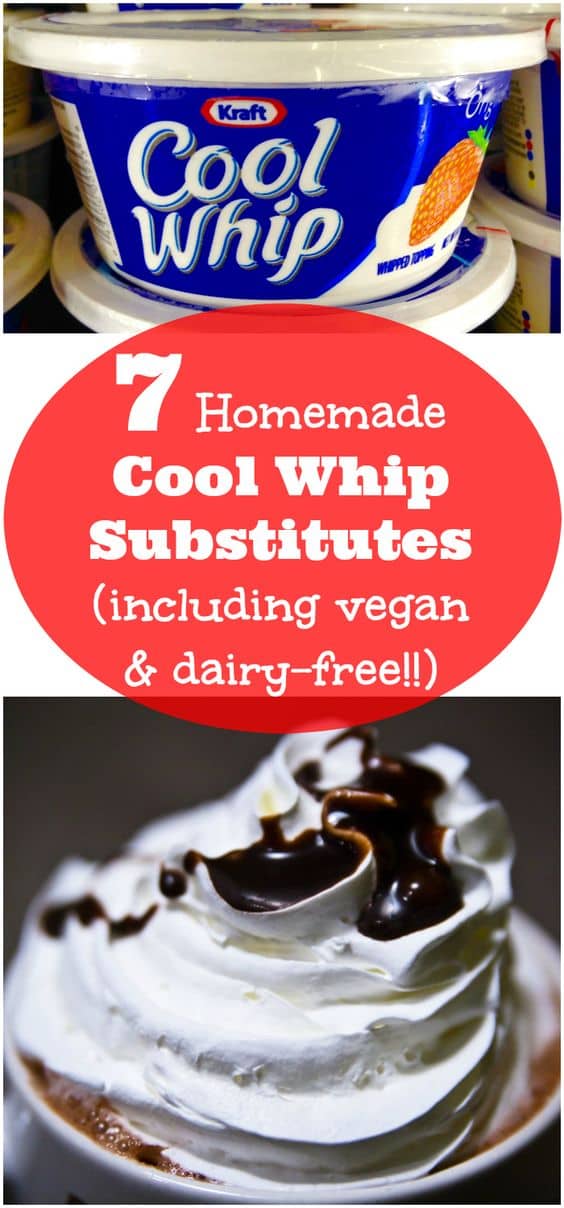 Why You May Want To Use an Alternative to Cool Whip
The easiest way to illustrate why it's important to have a wide array of Cool Whip substitutes on hand is to answer some questions about Cool Whip.
Then you can decide for yourself if you still want to buy it or make your own alternatives.
What is Cool Whip?
Cool Whip is an alternative to whipped cream referred to as "whipped topping." Some people like it because it is light, airy, and holds its shape well. It has a longer shelf-life than cream, but it doesn't have the warm, buttery flavor of real whipped cream.
Is Cool Whip Non-Dairy?
Cool Whip isn't dairy-free or non-dairy, because it contains skim milk.
What are the Cool Whip Ingredients?
Original Cool Whip contains the following ingredients: water, corn syrup, high fructose corn syrup, hydrogenated vegetable oil (coconut and palm kernel oils), skim milk, and less than 2% of light cream, sodium caseinate (a milk ingredient), natural and artificial flavor, xanthan and guar gums, modified food starch, polysorbate 60, sorbitan monostearate, sodium polyphosphate, beta carotene
How many carbs are in Cool Whip?
Again, referring to Cool Whip Original, 2 Tablespoons of Cool Whip contains 3 grams of carbohydrates.
So, while Cool Whip is indeed an alternative to whipped cream, it has a few marks against it.
It isn't non-dairy, which also means it won't work for vegans.
There are WAY too many weird ingredients in it, including high fructose corn syrup
It's basically an emulsion of fat and sugar held together with gums and thickeners
So as far as I'm concerned, there are a lot of way more natural Cool Whip Substitutes out there.
Let's look at 7 substitutes that aren't hard to make and don't contain any weird ingredients.
Cool Whip Alternatives
I hear you asking what else you can use to top your pies or your cakes. As usual, I've got your backs; I'm here to help.
Here are some searches I've been seeing:
How do I make whipped cream from scratch?
Is there an alternative to whipped cream because someone in my family doesn't like it? (!!)
"How do I make a Cool Whip Substitute?
If folks are actually searching for a Cool Whip substitute, I'm not going to let you down.
So here, for your edification, I present Seven Options for Cool Whip Substitutes. They're very different from each other, but all have two things in common:
All are made from normal, everyday ingredients.
None of them contain any partially hydrogenated anything.
Whipped Cream
Softly whipped cream (or, to use the French term, creme chantilly) is a wonderful topping to spoon on top of some fresh berries or onto a slice of chocolate pound cake, for that matter.
Since it's soft, it will sort of slowly sink into the berries.
Cream whipped to medium-to-firm peaks is your best Cool Whip substitute, because you can do that perky little dollop on top so that your pie looks like the pie in the Cool Whip commercials.
If you need your whipped cream to hold for hours-to-days without weeping or breaking down, you can make stabilized whipped cream. This may be the ultimate dairy (not non-dairy) alternative to Cool Whip.
The Best Way to Stabilize Whipped Cream as a Cool Whip Substitute
I've tried many ways of stabilizing cream and read about many more.
Hands down, my pick is to use Instant Clear Jel as a stabilizer.
Best Cream Stabilizer
Hoosier Hill Farm Instant Clear Jel, 1.5 Lbs.
Instant Clear Jel is a modified food starch. In layman's terms, it means the starch has already been mixed with water and brought to a boil so it thickens. Then it is dried and ground into a powder. And now, magically it thickens almost instantly in cold liquids. This makes it perfect for making instant pudding, and it's the #2 ingredient in instant pudding right behind sugar. And it also makes it the perfect ingredient for binding up liquid in cream so that it stays whipped and beautiful for days without weeping.
This is an affiliate link which means I earn from qualifying purchases. Your price is unaffected.
Here's how you whip cream by hand:
Take some cold heavy cream and put it in a metal bowl like this one.
Start whisking. You don't have to whisk it crazy-fast or anything, just fast enough that you get some air incorporated.
Once the cream has thickened a bit, add in some sugar (superfine sugar is nice because it dissolves quickly), a pinch of salt and a wee splash of flavoring. Taste, and add a little more sugar if you need to.
Whisk until the cream is at the perfect thickness for what you want to do with it.
If you want more in-depth information, you can read my post on how to whip cream by hand.
As you can see, whipped cream isn't really a recipe. It's more of a technique.
It's more about keeping things cold and whisking well and less about how many teaspoons of sugar you are using.
Here's a tip for getting really dense, creamy whipped cream. I don't think that many people know about this secret, so come a little closer.
If you whip your cream in the food processor, it will be dense and smooth and creamy.
You have to be careful, because the food processor is pretty harsh, and you could end up with butter if you don't pay close attention.
I'm serious, though, guys–cream whipped in a food processor or with an immersion blender has a dense texture that you just can't get when whipping by hand or with a hand or stand mixer.
Whipped Creme Fraiche
This is some seriously good stuff, folks.
While true creme fraiche is pretty pricey, a very reasonable facsimile of creme fraiche can easily be made at home.
Stir buttermilk and heavy cream together. For every 1 cup of cream, you'll need 1 TBSP of buttermilk. We used to make a 12 quart recipe at the restaurants, so this formula scales up very easily.
Okay, so you just stir them together and let it sit out at room temperature, covered, until thickened.
This can take anywhere from 12 to 36 hours, depending on how much you're making and on the temperature in your kitchen, so be patient.
Once your cream has thickened, refrigerate until cold.
The chilled creme fraiche will be pretty thick–almost like soft-serve ice cream.
Don't worry, though. You can whip it just like cream.
When you start whisking, it will thin out and then start to thicken again. Use the same technique that you used for making whipped cream, above.
The tang of the creme fraiche is a nice complement to very sweet dishes and is a little more of an adult flavor.
Italian Meringue
This kind of topping won't be as rich as whipped cream or whipped creme fraiche, but Italian Meringue is fat-free!
Here's how to make it:
take a cup of sugar and put it in a pot with a little water, just enough to get it wet.
Heat and stir to dissolve the sugar, and then bring to a boil.
Put the lid on and let it boil for a couple of minutes to wash any sugar crystals off the sides of the pan.
Bring the sugar syrup up to 245 degrees, F. (PLEASE buy an instant-read thermometer!)
While the sugar is coming to temperature, in the bowl of your stand mixer, whip 5 egg whites together with a pinch of salt and either a teaspoon of lemon juice or 1/4 teaspoon of cream of tartar.
Whip the whites to medium peaks.
With the mixer on low, slowly and carefully pour the sugar syrup in a thin stream down the inside of the bowl.
Once you've added all the syrup, increase the speed to medium-high and whip until the whites are stiff and glossy and cool.
Flavor it with some vanilla or mint or lemon or any kind of extract.
At the restaurant, we used to pipe little dollops of Italian meringue on parchment and store them in the walk-in freezer. (They don't get hard in the freezer, they just keep nicely).
Then, when it was time to plate, we'd bring out a frozen dollop and hit it with a torch to brown it. You don't have to brown this meringue, though. It's cooked!
Whipped Sour Cream
This Cool Whip Alternative is an easy topping with a slight tang. Here's what to do:
Whip cold, heavy cream to medium peaks, and then add an equal amount of sour cream.
Continue whipping until nice and thick.
Sweeten, salt and flavor as desired.
Don't think that you can mix the sour cream and the cream together and then whip them. It doesn't work. Trust me; I know.
Make sure you bring your cream to medium peaks before adding the sour cream.
Silken Tofu Whipped Topping
This silken tofu Cool Whip substitute is a good one is for lactose intolerant or vegan folks.
In a food processor or blender, mix together a package of firm tofu (10.5 oz.), 2 TBSP sugar/brown sugar/agave nectar/what have you, a pinch of salt, and a wee splash of vanilla and lemon juice.
Blend or process until smooth. If it's too thick, thin with a little soy milk and blend again. If you want it sweeter, add another TBSP or two of sweetener
Whipped Coconut Cream
Another option for our vegan or lactose-intolerant or vegan friends, try whipping coconut cream.
Buy full-fat coconut milk and let it sit in the fridge upside down over night.
Carefully skim off the very thick cream, leaving the watery part behind (you can use it in your recipes–it's great as a liquid in cakes or in Thai curries).
Chill and sweeten to taste.
Whip it for a few minutes using your stand mixer or a hand mixer and use immediately for topping…whatever.
Key lime pie seems a good bet. A hint of lime juice is great in this, by the way.
Sour Cream Topping
This Cool Whip substitute might be my favorite. It's not whipped and poofy. It's cold, dense, and creamy.
This is the sour cream topping that my mom bakes on top of the chocolate cheese birthday pie, and I love it.
All you do is add
1/3 cup of sugar and 1 1/2 tsp vanilla per cup of sour cream.
Stir in a pinch of salt, and that's pretty much it.
Let it sit for a few minutes so the sugar dissolves, stir it, and then you pour this on top of a just-out-of-the-oven cheese cake or a hot chocolate pie, put it in the oven for 5 minutes at 300 degrees, F, let cool, and you've got a fantastic tangy-sweet semi-set topping that, well, it's just the best.
And that's why I saved it for last.
This is also my preferred fruit dip, so rather than reaching for Cool Whip when you're serving fresh berries, top them (or dip them in) this wonderful sour cream topping!
Ways to Make Your Cool Whip Alternatives More Interesting
Some other ideas for you:
try using brown sugar, agave syrup, honey or maple syrup in place of the sugar when whipping cream or creme fraiche or even your tofu
Add citrus zest or cinnamon or espresso powder. Give some thought to what you'll be putting your topping on and use complementary flavors.
For a bit of texture, consider folding in some grated chocolate, cacao nibs, toasted and finely ground nuts (all depending on what you're making, of course)
There is nothing wrong with just using a little vanilla. Sometimes, less is more.
Fold some thick fruit puree into whipped cream for a simple mousse or "fool."
I really hope you find at least one Cool Whip substitute to love, you guys!
If you make one and love it, please share a photo with me before you devour them, either in the Pastry Chef Online Facebook Group or on instagram by tagging @onlinepastrychef and using hashtag #pcorecipe.
I'd also love to have you join my PCO newsletter, The Inbox Pastry Chef!
Thanks, and enjoy!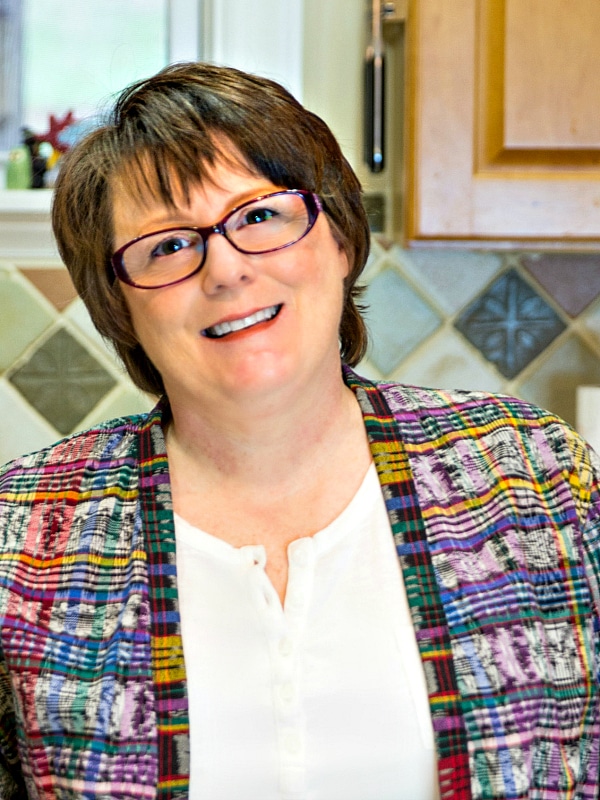 What are my qualifications to teach you baking and pastry? As a former working pastry chef and special educator, I marry my passions for both teaching and for baking into explaining techniques, methods, and developing the best possible recipes. For more info, you can read more about me.
If you'd like to receive new recipes and the occasional newsletter, I'd love for you to sign up for my Inbox Pastry Chef.