A rich, tangy cultured cream product, crème fraîche is most similar to American sour cream.

It is not routinely stocked at the regular grocery store, so it's a great idea to learn how to make creme fraiche at home for when you need it.

Creme fraiche is also whippable, so read up on how to whip cream by hand. The same principles apply.
What Is Creme Fraiche?
Creme fraiche is basically the French version of sour cream, made by introducing beneficial and tangy cultures into heavy cream.
Unlike American sour cream, creme fraiche contains no gums or other thickeners. It's just thickened naturally.
Advantages of Using Creme Fraiche Over Sour Cream
Aside from the flavor, which is lovely, there are other advantages to using creme fraiche over sour cream:
It doesn't break (or curdle) when boiled
you can whip it just like you can whip heavy cream
It doesn't contain any gums or thickeners. Sour cream can contain modified food starch, locust bean gum, guar gum, etc.
How to Make Creme Fraiche
You can use real crème fraîche if you can find it at a specialty store, but it's pretty expensive. Make a reasonable and very tasty substitute by combining cream and buttermilk. Here's the formula:
8 oz heavy cream: use heavy cream here, not just whipping cream. You want all that butterfat so your creme fraiche will be nice and rich and thick
1 oz buttermilk: I use whole buttermilk, but you can also use lowfat/notfat buttermilk if that is all you have
For every 1 cup of heavy cream, you'll need 1/2 oz buttermilk or yogurt. I generally use full-fat buttermilk to make my creme fraiche.
Pro Tip
You'll have better results if you can find cream that is not ultra-high pasteurized (UHP), but it's not the end of the world if you can't find it. Just something to look for, most likely at natural food stores.
Procedure
In a clean container, whisk cream and buttermilk together thoroughly.
Cover, and let sit out for a few hours in a warm place until it has thickened somewhat
Speed the process up by placing in a warm place. In the restaurant, we'd put the containers on top of the ovens.
Scale this recipe up as needed, keeping the same proportions. By volume, you want 2 tablespoons of buttermilk for each cup of heavy cream. I've made batches using up to 12 quarts of cream, so don't hesitate to up the recipe if you need to.
This could take up to 36 hours. You will know it is ready when your shake the container and the contents sort of shimmy rather than ripple. Refrigerate. Your creme fraiche will continue to thicken in the fridge. It should taste somewhat tangy and nutty.
The Best Way to Let It Thicken
If you don't work in a restaurant, you'll have to get a bit creative to find a warm enough place for your creme fraiche to "develop." Here's what I do:
My oven shows the temperature whenever it gets above 100F, so I set the temperature to 350F and then preheat only until the temperature reads about 105F.
Then, I turn off the oven, but I leave the light on.
I take my container of cream and buttermilk–my proto creme fraiche–cover it loosely with plastic wrap, and put it on the bottom rack in the oven after I've turned it off.
With the light on, the oven will maintain about a 100-110F temperature for several hours, and even overnight.
I let my cream thicken up in the oven for about 36 hours. I may have to "recharge" the oven a couple of times over 36 hours by removing the creme fraiche, preheating until the oven registers about 110F, then turning it back off and putting the covered creme fraiche back on the bottom rack.
Once it has gotten fairly thick–more like regular yogurt than heavy cream, I put it in the fridge.
Under refrigeration, the creme fraiche will thicken up enough to allow me to turn the container upside down and not have it move.
See?
Use your creme fraiche within a week or two. You will love the subtle tang and body it gives to your sauces and whipped toppings.
Serving Suggestions
whip and use in place of whipped cream
use it in place of sour cream in recipes. Creme fraiche is great because, unlike sour cream, it doesn't curdle if it comes to a boil. Some suggestions: use it as the topping for my chocolate cheesecake pie or stir some into this comforting hamburger macaroni casserole supreme.
substitute it for buttermilk, cream, or sour cream in baking recipes. When subbing for heavy cream in baking recipes, add an additional 1/4 teaspoon of baking soda for each cup of creme fraiche to neutralize the acid in the creme fraiche and keep the recipe balanced.
Use creme fraiche in place of heavy cream in quiche recipes. That's one of my favorite ways to use it!
Mix it into cream soups and sauces. This creamy pasta sauce would be even more fabulous with a shot of creme fraiche in it.
Use it as the base for creamy dips or salad dressing
Whip it half and half with heavy cream to impart a subtle tang to your whipped topping.
Crème fraîche is great for quenelling as a garnish for anything that you'd use whipped cream on. It is a bit more sophisticated and complex a flavor than whipped cream (which is yummy as well, and will certainly do in a pinch).
Questions and Answers
How long can I store creme fraiche?
Store in the fridge for up to two weeks. Even though the acid in the creme fraiche will inhibit spoiling/bacterial growth, food safety is something you don't want to play fast and loose with. I generally try to only make what I know I will use in a week.
Does it whip just like whipping cream?
Yes. Even if it is super thick, once you start whipping, it will thin out some and then thicken back up. You can whip it straight up or mix it with heavy cream for a more subtle tang. It will also increase in volume just like heavy cream, so 1 cup of creme fraiche will whip up into about 2 cups of rich, whipped goodness.
Can I scale this recipe up?
Absolutely. I used to make it with 12 quarts of heavy cream at the restaurant! Just remember the ratio: 8 oz heavy cream to 1 oz buttermilk and do the math. For example, to make 3 times as much, you'd use 24 oz heavy cream (8×3) and 3 oz buttermilk (1×3).
Questions?
A Note About Measurements
For convenience, consistency, and accuracy, almost all my recipes are written by weight, either in ounces and/or grams, even the liquids.
I strongly encourage you to purchase a kitchen scale and learn to use it.
This is the one I used for years. I love it and highly recommend it:
Best for Home Use
Escali Primo Digital Food Scale
Don't let its small price and small size fool you. The Escali Primo is an accurate and easy-to-use food scale that I have used for years. It's easy to store, easy to use, has a tare function, and easily switches between grams and ounces/pounds for accurate measurements.
This is an affiliate link which means I earn from qualifying purchases. Your price is unaffected.
It would be so helpful to me and to other readers that, when you make a recipe, you rate it and leave a comment. Whether it's a recipe or an informational post, your feedback helps others decide if the post is helpful or if the recipe works as advertised.

If you could leave a star rating, that would be very helpful. Thank you for being here!
Homemade Crème Fraîche Recipe
Homemade creme fraiche is easy to make whenever you need some. It's also less expensive to make it than to buy it.
Ingredients
8

oz

1 cup heavy cream

1

oz

2 Tablespoons buttermilk (full fat preferred)
Instructions
In a clean container, combine the cream and buttermilk.

Stir very well.

Cover the container and let sit out in a warm place until thickened, about 24-36 hours.

Refrigerate. The cream will continue to thicken as it chills.
Did You Make Any Changes?
Notes
Storing: Use within 2 weeks. Although the acid in the creme fraiche will inhibit bacterial growth, you do not want to play around with food safety.
Nutrition
Serving:
1
g
Calories:
101
kcal
Carbohydrates:
1
g
Protein:
1
g
Fat:
11
g
Saturated Fat:
7
g
Polyunsaturated Fat:
3
g
Cholesterol:
34
mg
Sodium:
8
mg
Sugar:
1
g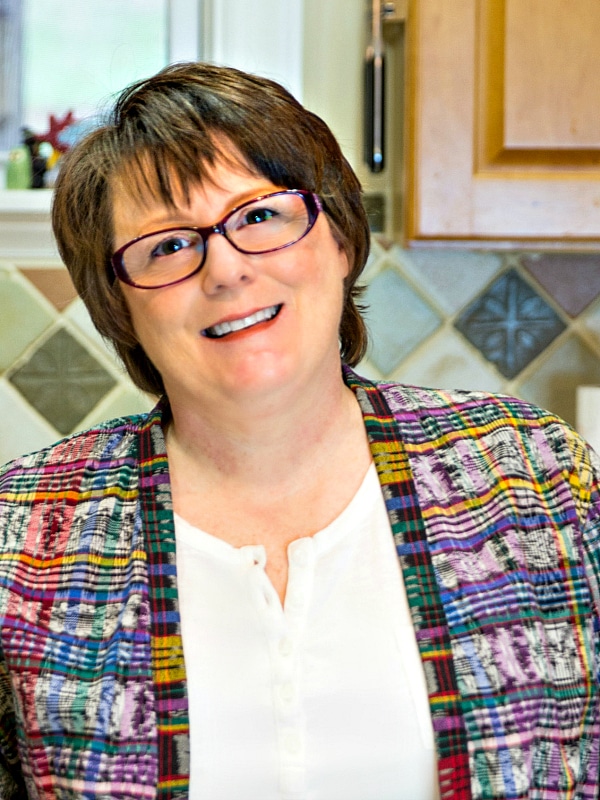 What are my qualifications to teach you baking and pastry? As a former working pastry chef and special educator, I marry my passions for both teaching and for baking into explaining techniques, methods, and developing the best possible recipes. For more info, you can read more about me.
If you'd like to receive new recipes and the occasional newsletter, I'd love for you to sign up for my Inbox Pastry Chef.