This recipe for mint chocolate cake is based on the chocolate mayonnaise cake already on my site. While the modifications to the original cake are minimal, adding just a touch of mint oil changes the entire character of the cake, so I felt it needed its own post.

Don't miss the frosting either. Swiss mint buttercream is perfect on this cake, but would also be wonderful on any chocolate or vanilla cake, or whenever a little shot of mint would be welcome.

For ease of browsing, here are all of my cake recipes. Thanks for stopping by!
Watch my easy chocolate mint cake web story here.
Why Not a Layer Cake?
Hey, I love a good layer cake. I'm all about a beautiful 3-layered red velvet cake or even a birthday ice cream cake, but sometimes, sheet cake is what is needed because it is:
Easy to make–no dividing the batter between pans
No turning out of the pan
No stacking or icing the sides
Takes less time
Mint Oil or Mint Extract?
This is a personal preference, but I like to stick to mint oil. Mainly because the mint flavor is extremely pure and concentrated so you only need a few drops to get wonderful mint flavor.
If all you have is mint extract, expect to need 1/2 to 1 teaspoon to get a nice mint flavor to shine through the chocolate.
If you use mint oil, you will only need maybe 4-6 drops.
What If I Want to Make a Layer Cake?
Oh, you absolutely can turn this into a layer cake by baking the batter in 2 8″ cake pans as opposed to 1 9″x 13″ pan.
Baking time will probably be reduced by about 10 minutes.
What Mixing Method Do You Use?
While the vast majority of American-style cakes are made using The Creaming Method–cream butter and sugar, add eggs 1 at a time, alternate wet and dry, beginning and ending with wet–the mixing method for this cake is a little bit harder to classify.
The first step in making this cake is to whip eggs and sugar together, which is also how the egg foam method starts.

Then, you beat in the fat (mayonnaise, in this case), and lastly, you alternated dry-wet-dry-wet-dry ingredients.
So I'm not sure there is one mixing method that this mint chocolate cake really falls under. It's sort of a hybrid between the egg foam method and the creaming method.
What's the Texture?
The wonderful news about this cake is that it is super moist and stays that way for days.
It's the kind of cake where, if crumbs fall off, you can pick them up by pressing down on them with the back of your fork. Fudgy.
And because it is not a butter cake, it stays nice and soft in the fridge, too.
The crumb is not too tight, is very even, and slices beautifully.
Pro Tips
You can either frost and serve the cake straight from the pan, or you can turn it out so you can frost the sides, too. If you do turn it out onto a cooling rack, place another cooling rack on top and carefully flip everything so the cake can cool upright.
If you don't have a stand mixer, you can absolutely make this cake with a hand mixer. Make sure to spend extra time whipping the sugar and eggs so they get nice and fluffy before adding more ingredients.
More Easy Cake Recipes
My most recent favorite easy cake is my butterscotch sheetcake. It's a wacky cake, so it doesn't contain eggs. It's also a lovely, moist cake, so you may want to give it a try.
If you're a pound cake fan, consider taking my brown sugar cinnamon pound cake for a spin. Wonderful flavor and a dreamy glaze too.
This chocolate stout cake is also excellent. It's pretty much a one-bowl cake, and you can pair with with the burnt caramel buttercream or go with a cream cheese frosting with a touch of Bailey's in it for some kick.
About the Video
The video for this recipe is a live video, so it's long–maybe 22-23 minutes long.
It takes you through the whole process of mixing the batter, showing what the ribbon stage looks like, and all the steps you need to take.
While a "hands in pans" video is fun to watch and doesn't take up much of your time, I think a real-time video best shows how to make something, what the batter should look like, etc.
If you do not want to watch the whole thing or don't need to, you can always skip forward. But if you have any questions about making the batter, watching the whole video will be helpful.
If you do have some questions after watching the video, I'm only an email away, and I will respond and help you. Promise.
A Note About Measurements
For convenience, consistency, and accuracy, almost all my recipes are written by weight, either in ounces and/or grams, even the liquids.
I strongly encourage you to purchase a kitchen scale and learn to use it.
This is the one I used for years. I love it and highly recommend it:
Best for Home Use
Escali Primo Digital Food Scale
Don't let its small price and small size fool you. The Escali Primo is an accurate and easy-to-use food scale that I have used for years. It's easy to store, easy to use, has a tare function, and easily switches between grams and ounces/pounds for accurate measurements.
This is an affiliate link which means I earn from qualifying purchases. Your price is unaffected.
I really hope you love chocolate mint cake, you guys!
It would be so helpful to me and to other readers that, when you make a recipe, you rate it and leave a comment. Whether it's a recipe or an informational post, your feedback helps others decide if the post is helpful or if the recipe works as advertised.

If you could leave a star rating, that would be very helpful. Thank you for being here!
Mint Chocolate Cake Recipe
This moist and rich chocolate sheetcake is a mayonnaise cake with just a couple of slight modifications. While it would be wonderful with any mint frosting, mint Swiss buttercream is a really wonderful pairing. This is a great cake for a picnic, a pot luck, or to serve for dessert on any day. Easy dessert recipe to make, and even easier to eat! Modified slightly from my friend Jill O'Connor's wonderful (affiliate) Cake, I Love You.
Ingredients
280

grams

2 cups all-purpose flour

60

grams

3/4 cup American cocoa powder

1

teaspoon

baking powder

¾

teaspoon

kosher salt

400

grams

2 cups granulated sugar

2

large eggs

240

grams

1 cup full fat mayonnaise

4-6

drops peppermint oil

or 1/2-1 teaspoon of peppermint extract depending on how strong a mint flavor you want

320

milliliters

1 1/3 cup boiling water, (1 1/3 cup)
Instructions
Position your oven rack in the center of the oven. Preheat to 350F. Spray a 9"x13" rectangular cake pan with pan spray. Set aside.

Sift together the flour, cocoa powder, baking powder, and salt. Set aside.

In the bowl of your stand mixer fitted with the paddle attachment, beat the sugar and eggs on medium high speed until they reach the ribbon stage, about 5 minutes.

Add the mayonnaise and mint oil or extract, and beat until smooth, scraping the bowl as necessary.

With the mixer on low speed, alternate adding the sifted dry ingredients in three additions with the boiling water in two additions. Begin and end with the dry ingredients. Scrape bowl as necessary.

Scrape the batter into the prepared pan and bake for 40-45 minutes or until the cake springs back when pressed in the center, the edges are just starting to shrink from the sides of the pan, and the internal temperature of the cake is between 195F and 200F.

Remove to a rack to cool completely.

Frost with your favorite frosting, but man is this good with mint Swiss buttercream!
Did You Make Any Changes?
Notes
You can freeze this cake, either frosted or unfrosted, for up to 2 months. I think it is easier to freeze by the slice if you have the room in your freezer. That way, you can take out the pieces you need to thaw them. Thaw either in the fridge (for the whole cake) or on the counter (for individual slices).
Nutrition
Serving:
1
slice
Calories:
151
kcal
Carbohydrates:
28.6
g
Protein:
2.2
g
Fat:
4.1
g
Saturated Fat:
0.8
g
Cholesterol:
18
mg
Sodium:
150
mg
Fiber:
1.1
g
Sugar:
17.4
g
And there you have it, friends. I hope you enjoy this minty chocolate cake as much as I do!
Thanks for spending some time with me today. Take care, and have a lovely day.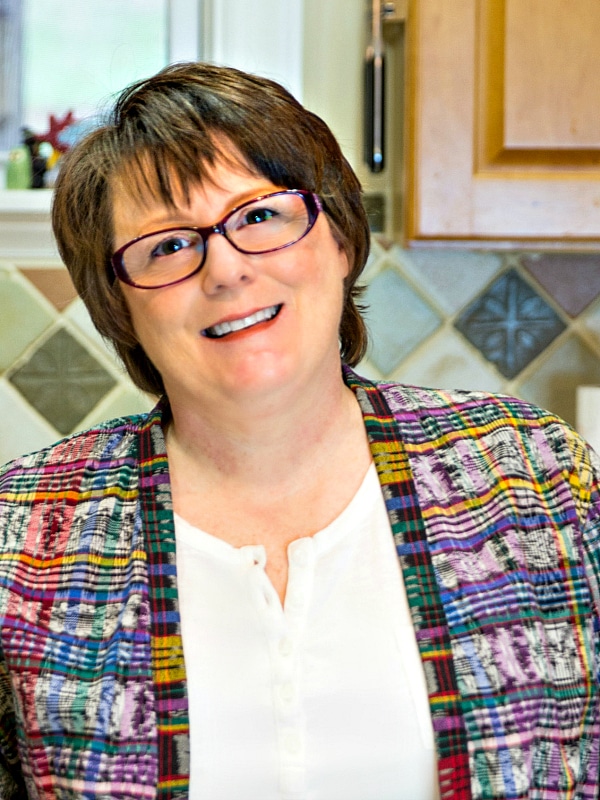 What are my qualifications to teach you baking and pastry? As a former working pastry chef and special educator, I marry my passions for both teaching and for baking into explaining techniques, methods, and developing the best possible recipes. For more info, you can read more about me.
If you'd like to receive new recipes and the occasional newsletter, I'd love for you to sign up for my Inbox Pastry Chef.