Welcome to my post on the egg foam method for mixing cakes. The egg foam mixing method is not as prevalent in American baking as it is in European, but it's an excellent method for making jellyroll, spongecake, and genoise. Since these types of cakes tend to be dryer by design, they are made to be brushed with a flavorful, sweet syrup to add moisture and tenderness.

Find my discussion of egg white foams (talking about macarons and mousse).

If you are interested in all the cake mixing methods, you can find them all in one place. This post is also one of my Fundamental Friday posts that answer baking and pastry questions from readers. For ease of browsing, you can find them all in one place. Thanks for being here!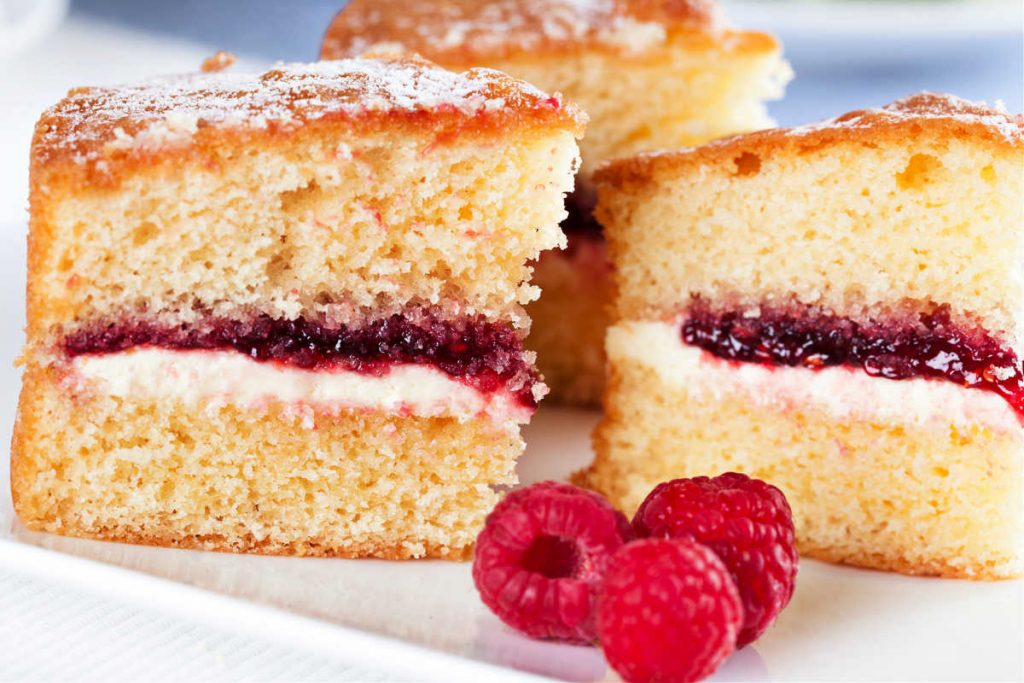 The Question
A reader, Li, asked:
"When I first started baking I used recipes from Sweden's top-selling book "Sju sorters kakor" (Seven kinds of cakes/cookies).
"The method mostly used starts by whipping sugar and eggs until they turn light and then adding dry ingredients and melted butter.
"In most American recipes, the creaming method is often used.
Have you heard of this Swedish method? Is there a name for it? What do you think of it?
"I find that the Swedish method in baking muffins makes the muffin tops… not crunchy but more caramelized or something while the creaming method makes them softer."
Not only is this a great question, but Li also makes some great observations about the differences in the final product depending upon mixing method.
I don't know this method as the Swedish Method, per se, but I am familiar with this as the "sponge," "genoise," or "egg foam method."
American Cakes Vs European Cakes
Before I get all ahead of myself, we need to make a distinction between American-style cakes and European-style cakes.
American cakes contain relatively high amounts of fat. The fat carries flavor, acts as a tenderizer, and helps with leavening, specifically in The Creaming Method, but also in The Two-Stage Method.
European-style cakes contain relatively little, if any, fat. This means that European cakes have a more delicate flavor, are drier and also tougher than American-style cakes.
Ew. That doesn't sound good at all, does it. Who wants a dry, tough, tasteless cake? And how can this be, anyway?! The Europeans are known for their creative and delectable cakes. What gives?
Take a dry, tough-ish genoise and soak it with simple syrup flavored with a little liqueur, and you've changed the whole ball game.
This dry, kind of neutral-tasting cake soaks up the syrup and, rather than getting mushy like an American-style cake might get when wet, transforms into a lighter-than-air yet moist cake. Really, really tasty.
Why the Difference?
Why this big difference in cake styles? Why would Europeans opt for sturdy, light cakes that need to be soaked with a syrup to be tasty while Americans just load in a bunch of fat?
The primary reason is flour. I'm not a comparitive botonist (is that even a real job?) so I don't know all of the reasons why, but the deal is that the wheat flours used in Europe have a much lower protein content than American wheat flours. Knowing this fact helps to clarify things a little.
Remember, flour and eggs play together on Team Structure. Fat and sugar are on Team Tender.
If European flour is low in protein content (gluten), it stands to reason that the eggs will have to step up their game and play a more front-and-center role in giving the cake structure.
Since American flours are higher in protein, more gluten can develop.
So why not just dump some syrup on it?
If you activate too much gluten when making an American-style cake with American flour, your cake will be chewy. Syrup can add moisture to a dry cake, but it can't hide chewy.
How to Do the Egg Foam Method
Whisk dry ingredients together thoroughly.
Whip eggs/yolks/whites (depending on your recipe) with sugar until very light in color, tripled in volume and creamy. You'll know it's ready when a bit of egg mixture dropped back into the bowl sits on top of the rest for at least 10 seconds before sinking back in. This is called the ribbon stage. The egg mixture will be very light and poufy. Some recipes will call for whipped yolks and whites. In this case, whip the yolks first, as the emulsifiers in the yolk will allow this mixture to stand for a few minutes without deflating. If you beat the whites first, you'll end up with a watery mess. I'm telling you.
Pour/scrape egg mixture into a large bowl.
Sift dry ingredients over the egg mixture and gently but thoroughly fold together
Fold in melted butter at the end (if your recipe calls for it).
After baking, egg-foam cakes are generally completely cooled in the pan upside down (so they don't collapse before the proteins in the eggs and flour set up).
Egg Foam Method Q & A
Another reader, Addi, asked a lot of really great questions about egg foams and the egg foam mixing method.
I'm adding this section to the post to give my best answers and hopefully help everyone better understand the method and how/why it works.
You mentioned that American flours have more proteins, therefore more gluten will develop. I don't understand why this fact has something to do with American cakes tend to be greasy and European cakes being dry before pouring syrup.
For me, American cakes aren't greasy. They are generally pretty moist because they contain a lot of fat and sugar (both of which help to inhibit gluten formation).

European cakes tend to be fairly dry because they contain relatively little sugar and fat, allowing for a dry but airy structure perfect for soaking up syrups without becoming soggy.

Since American cakes are fairly-to-very moist to begin with, I rarely add a syrup as the more tender crumb can get soggy and mushy. And that's just gross. So, to answer the question, it's not so much the amount of protein in the flour (although that is a factor) as it is the addition of fat and sugar that contribute to the more tender crumb of an American-style cake.
Sugar is a tenderizer and it stablizes the egg white foams in angel cakes. Does it act the same 2 roles as in whole egg foaming and egg yolk foaming.
The short answer is yes, but to a bit lesser degree.

Since yolks contain emulsifiers, a foam made from yolks or whole eggs will be more stable than a whites-only foam.

In all egg foams containing sugar, the sugar dissolves in the watery part of the whites and prevents the proteins from binding together too tightly–that can result in a grainy, runny mess. But, its role is more crucial in an egg white foam since it's the only thing standing between foam perfection and over-whipping.

A cake made with a yolks-only or whole egg foam will be more tender the more sugar you add (up to a point), as well.
My head is spinning with all the mentioned leavening methods. Experimentally speaking, can we add battered butter in cream method to egg foams, with baking soda/ baking powder, and create a super cake? Or, we can enhance the foaming by doing any two of the three methods?
I think I know what you're asking here: if chemical leaveners are magical, and egg foams are magical, can we combine the different methods to create a very magic cake?

A cake leavened with the power of creamed butter, chemical leaveners plus egg foam?

What a great question. Here's what I know without whipping out my lab coat. Yes.

Often we do this in a modified creaming method in which we cream the fats and sugar, then add in the yolks followed by alternating wet and dry and lastly folding in beaten whites.

This can, indeed, provide more oomph for cakes, but it can also result in an oddly dry texture. Which is kinda weird when you consider that it's exactly the same ingredients, just with the eggs separated.

But when you beat whole eggs into creamed fat and water, the yolks help to emulsify the watery part of the eggs into the creamed fat/bubble matrix.

When you leave out the whites, you're basically just adding more fat into the creamed fat and sugar. Folding whites in at the end will work, of course, but since the watery part isn't truly emulsified–just kinda mixed in–you're left with an almost all-protein web that sort of surrounds the super fatty batter. And the protein web sets up dry, like glue.

That's not to say that you can't use this method–it does work well. Just know that you might need to brush or spray a cake made this way with some simple syrup to keep it from tasting dry.

Now, as to foaming whole eggs and then folding them in at the end: I honestly have never tried this. It would be like marrying a butter cake to a genoise.

In theory, it sounds like it would work, although you'll probably have to sacrifice some of the lift of the egg foam by beating in 1/4 of it to the batter to lighten it so that folding can Happen.

One (at least) caveat that I can think of is that the creamed mixture will bake up very tender because very little water-type liquid (thanks for the term, Shirley Corriher) will be present to allow much gluten to form (the water in the whites is pretty substantial, after all).

And then, folding in the creamy and much-less-dry-than-egg-whites-only whole egg foam might not allow the cake enough structure. To combat this potential, I'd maybe go ahead and add half the amount of white called for after you get the fat and sugar creamed and then whip the remainder of the whites with the yolks to fold in at the end. Again, this is all conjecture, because I haven't tried it, but it makes sense to me.

If anyone out there has tried this method, please let us know How It Went. Thanks.
You have this great article about whole egg foam. Can you dive in further in explaining separate egg foaming and whole egg foaming? What criteria determine which method to use?
I think I touched on this bit in the above response. The rule of thumb, I believe, would be This: if you want a more tender cake, use the whole egg foam method. If you want a drier cake, use the separated egg foam method.

For example, when I make sponge cake to be dipped in syrup and then used as a dessert component, I use the separated egg foam method: foaming the whites + half the sugar and the yolks + the other half of the sugar separately, and then folding both together with the dry ingredients (usually without additional leavening).

This results in a ridiculously dry cake that can be soaked in syrup indefinitely (within reason) and can literally be (gently) squeezed out like a sponge without dissolving into a nasty, pasty mess. (See: these ladyfingers)

A genoise, however, which is based on whole egg foam, become very fragile once "syruped." For this reason, I like to use genoise when the cake is pretty much going to stand alone (other than some icing).

I like the separated egg foam method when the cake will be one layer in another dessert, as in a trifle or tiramisu.
I thought yolks hinder egg whites from foaming because they contain oil.
Fat can and does hinder foam development in egg whites. And a little bit of yolk can keep your egg whites from rising to dizzying heights by weakening the protein matrix. But read on…
Why do we beat whites and yolks together when the recipe requires whole eggs instead of separated eggs?
I think I probably answered this question above, but I'll add a bit more here.

In European-style cakes (low butter, low sugar, probably no chemical leaveners) that require whole eggs, whipping them together to make a whole egg foam is generally preferred to foaming the whites and yolks separately because of the Tenderness Factor.

But, I do want to mention a Very Cool Thing about eggs here: Whole eggs contain the perfect amount of lecithin in their yolks to whip up all creamy and beautiful kind of a like a mayonnaise.

This is why just a bit of yolk in your whites will inhibit foaming while whole eggs whip up perfectly (even if it does take longer).
Your recipe suggests separate eggs, does that mean it's better to separate eggs when we make sponge cakes?
I think this question is answered above, as well. It all boils down to what you're going to use the finished cake for as to which method–whole egg foam or separated egg foam–you use.
In separated eggs foaming, beaten yolk (with oil or without oil) to the ribbon stage might include air bubbles in the yolk mix, do we also add sugar here to straighten the bubbles? In separated eggs foaming, beaten yolk (with oil or without oil) to the ribbon stage might include air bubbles in the yolk mix, do we also add sugar here to straighten the bubbles?
We add salt to a recipe to bring out its flavor. Salt makes everything taste better. I've written extensively on this, but here's a good overview: Salt in Desserts.

Deciding when to start adding ingredients that toughen versus ingredients that tenderize can make a big difference in your final product. My rule is this: the more tender you want your product to be, the more fat has to coat the flour before starting to add water-type ingredients.

This is why cakes made with the creaming method are a bit less tender than those made with the two-stage method.

Yolks belong on team tender while whites belong on team tough. When making American style cakes, I tend to alternate between the creaming method, which adds whole eggs after the fat and sugar are creamed and the two-stage method which adds the eggs and a portion of the liquid at the same time as the dry ingredients (plus sugar) and the softened fat.

I make this decision based solely on how tender I want my cake to be.

I think your question is about mixing in foamed yolks along with the fats and waiting to add foamed whites at the end. I think. Honestly, I don't think I'd go to the trouble of foaming yolks that will be creamed in after the fat and sugar. And, as I mentioned earlier, I only fold in foamed whites at the end of mixing if I know I'm going to use a syrup on my finished cake.

At the end of the day, to my knowledge, there hasn't been a lot of "cross pollinating" of European and American mixing methods.

Aside from angel food cakes and chiffon cakes, egg foams rarely play a large role in American style cakes. And most European-style cakes are fairly low in fat and so don't bother with the creaming method. Since there is so little fat and sugar to begin with, creaming certainly wouldn't add much lift, so they just skip that step, deferring to the eggs to provide the vast majority of Oomph to the batter.
If you enjoyed this post and would like to sign up for my newsletter, I'd love to have you! Here's how: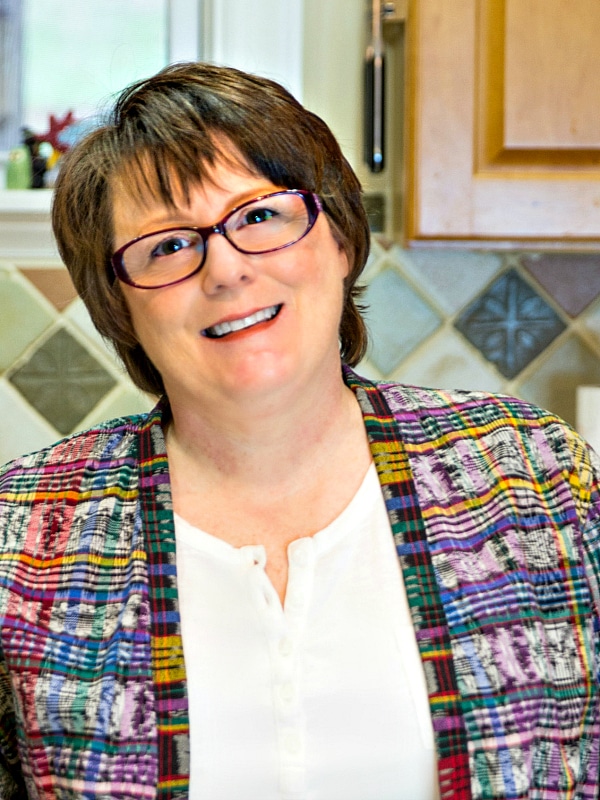 What are my qualifications to teach you baking and pastry? As a former working pastry chef and special educator, I marry my passions for both teaching and for baking into explaining techniques, methods, and developing the best possible recipes. For more info, you can read more about me.
If you'd like to receive new recipes and the occasional newsletter, I'd love for you to sign up for my Inbox Pastry Chef.
Thanks so much for joining me for this discussion of the egg foam method of making cakes.
Take care, and have a lovely day.