If you've never had panna cotta before, it's time to get to know it! This lemon corn panna cotta is easy to make, contains only a handful of ingredients, and is a light, summery dessert.

This is my first of 3 recipes for Summer Dessert Week this year (follow #summerdessertweek), a relaxed, unsponsored event that bloggers are participating in just for the love of desserts! (Update: the other two posts are up: creamy coffee panna cotta and the best chocolate panna cotta)

If you are intrigued by lemon corn flavor combination, you may also really love my lemon corn poundcake and my roasted corn cheesecake recipes. Lots of possibilities with sweet corn as a dessert flavor!

For ease of browsing, here are all of my individual desserts in one place. Thanks for stopping by!
What Is Panna Cotta?
Panna cotta is an Italian cream-based, gelatin-set dessert. Panna cotta means "cooked cream."
Panna cotta can be served in bowls or jars as pictured, or you can turn them out to serve on a plate in a pool of sauce or garnished in any number of ways.
The amount of gelatin you use has an affect on the texture of the dessert. Less gelatin will give you a very "wobbly" panna cotta that is very delicate and softly set.
Using more gelatin will give a firmer set.
If you do want to serve yours on a plate, a firmer panna cotta is the way to go.
How Much Gelatin To Use
The standard rule of thumb for using unflavored gelatin to set desserts is 1 teaspoon per cup of liquid, dairy in this case.
For this lemon corn panna cotta, I used 3/4 teaspoon gelatin per cup of dairy as I knew I wouldn't be unmolding it to serve.
Why Corn?
Yeah, I guess it doesn't seem like the most likely suspect for a dessert flavor, but consider that some cornbread is so sweet that it's almost a cake.
And then there are corn muffins (that Jiffy mix is really pretty dang good!) and corn pudding, both of which are sweet.
Most fresh sweet corn, at least where I'm from, is pretty sweet right off the cob, and corn ice cream is truly a thing of beauty.
Since heavy cream picks up flavors so well due to its high butterfat content, it makes sense to steep all sorts of goodies in your cream to flavor your panna cotta.
Cold Infusion Vs Warm Infusion
If you have 24 hours to spare, you can do a cold infusion for your cream.
This means adding your ingredients to cold cream and allowing the flavors to infuse for about 24 hours before proceeding with your recipe.
If you are more pressed for time, heat the cream up with whatever you want to infuse into it, in this case corn kernels and lemon zest, let it steep for 30 minutes or so, blending, and then straining.
This is usually the method I use, because y'all know I'm not a very good planner.
Usually it doesn't make much difference which way you go, but some flavors can get bitter if heated too long, so for those flavors, consider doing a cold infusion.
Ingredients
At its most basic, panna cotta consists of
heavy cream
gelatin
sugar
a touch of salt
flavoring
A friend who lives in Italy recently told me the cream is so amazing there that all they use is cream, gelatin, and sugar. No salt or flavoring. Just pure cream. Magic!
The ingredients for this panna cotta are:
heavy cream
whole milk
buttermilk
corn
lemon zest
gelatin
salt
vanilla
Why Use Three Types of Dairy?
Sometimes a dessert that contains straight-up heavy cream is just too rich, especially if you're serving it at the end of a big meal, so allowing the cream to carry the flavor while adding additional volume with other dairy keeps the dessert lighter.
I add the buttermilk in this case for a bit of a tang that goes beautifully with the lemon and corn. Think of buttermilk cornbread. But sweet!
Procedure
Because we're steeping some Stuff in our dairy, there are quite a few steps to making this particular panna cotta, but none of the steps are difficult.
Here's how it goes:
Heat some of the cream, milk, salt, corn, and lemon zest. Allow to steep.
Bloom gelatin in some of the cream.
Strain cream mixture, add in the sugar and bloomed gelatin and heat until hot but not boiling. The mixture should not be at all grainy, either from sugar crystals or from the gelatin.
Off the heat, add the buttermilk and vanilla.
Stir.
Portion into serving containers and chill.
Extra Tips for Refining Your Panna Cotta
What I've written above will give you a perfectly passable and tasty panna cotta.
But with a few tips from me from my pastry chef days, you can turn a perfectly serviceable dessert into a masterpiece.
Issues with "Regular" Panna Cotta
A couple of things can happen with making panna cotta as I've described above:
Since the mixture is thin when you pour it into your molds, all your specks of vanilla bean (if you're using vanilla paste) will fall to the bottom. This is especially an issue if you use enough gelatin that you can unmold your panna cotta. Then all the specks are on the top. It just looks…messy.
As your mixture slowly chills and sets in the fridge, there's a chance it can separate a little. The cream will rise to the top and make one layer while underneath will be a set layer of the milk/buttermilk. Again, this is not the end of the world, but I have a couple of tips to help you make one smooth, creamy mixture, top to bottom.
Tips for Making the Creamiest Panna Cotta
The good news is, one fix pretty much handles both of the issues above.
Once you make your panna cotta mixture, take the time to stir it over an ice bath. This will chill the mixture until the gelatin begins to set, thickening the mixture just enough to keep the specks of vanilla bean suspended throughout the dessert.
Another thing you can do is hold back a portion of the heavy cream and whip it just until it thickens and the whisk leaves tracks.
Once you chill the rest of your mixture over an ice bath, you can quickly fold in the thickened cream into the thickening gelatin mixture. Be thorough so all the cream gets mixed in evenly.
This will result in a lovely creamy rather than "slick" panna cotta. It's a texture I much prefer. Keep "slick" for fruit juice-based gelatin. But I want to enjoy the creaminess of dairy in my panna cotta!
Summer Dessert Week Recipes, Monday, 5/6/2020
Welcome to the 4th Annual #SummerDessertWeek event hosted by Angie from
Big Bear's Wife
.
We're celebrating all things summer with a week-long event that is absolutely filled with some of the best summer dessert recipes! Follow the hashtag #SummerDessertWeek on social media to find recipes and make sure to check out the bottom of this post for even more summer desserts!
Check out the amazing #SummerDessertWeek recipes from our bloggers today!
Ice Cream & Chilled Desserts:
Summertime Pies:
Sweet Summertime Cakes and Cupcakes:
No Bake Treats:
Baked Desserts:
A Note About Measurements
For convenience, consistency, and accuracy, almost all my recipes are written by weight, either in ounces and/or grams, even the liquids.
I strongly encourage you to purchase a kitchen scale and learn to use it.
This is the one I used for years. I love it and highly recommend it:
Best for Home Use
Escali Primo Digital Food Scale
Don't let its small price and small size fool you. The Escali Primo is an accurate and easy-to-use food scale that I have used for years. It's easy to store, easy to use, has a tare function, and easily switches between grams and ounces/pounds for accurate measurements.
This is an affiliate link which means I earn from qualifying purchases. Your price is unaffected.
It would be so helpful to me and to other readers that, when you make a recipe, you rate it and leave a comment. Whether it's a recipe or an informational post, your feedback helps others decide if the post is helpful or if the recipe works as advertised.

If you could leave a star rating, that would be very helpful. Thank you for being here!
I really hope you love this lemon corn panna cotta, you guys!
Thanks, and enjoy!
Lemon Corn Panna Cotta Recipe
This lovely, summery lemon corn panna cotta recipe has corn and lemon zest steeped into the dairy. Panna cotta is an easy dessert to make and really easy to make variations just by steeping different ingredients in the cream. I made an easy blueberry sauce to serve with it, but sweet caramelized corn and/or some candied lemon would also make a lovely garnish.
Ingredients
kernels from 2 ears of sweet corn

white or yellow (you can also substitute in 1 cup of frozen corn)

zest of 2 lemons

10

oz

heavy cream

divided use

1 ½

teaspoons

unflavored gelatin

4

oz

whole milk

4

oz

full fat buttermilk

pinch

of salt

⅓

cup

sugar

½

teaspoon

vanilla extract or paste
Instructions
Place the corn kernels, lemon zest, 6 oz (3/4 cup) heavy cream, whole milk and salt in a small saucepan. (NOTE: If using fresh corn, you can cut up the 2 cobs into 2=3 pieces each and add them to the pan as well for extra flavor)

Heat over medium heat until steaming but not boiling.

Remove from the heat, put a lid on the pan and let sit for 30 minutes.

In a small pan, pour in 4 oz (1/2 cup) heavy cream and sprinkle the gelatin over the top. Let bloom for at least 10 minutes.

After your corn and lemon have steeped for 30 minutes in the cream/milk mixture, remove cobs (if using) and then strain the rest through a fine mesh strainer into a bowl. Press down hard to get all the flavor and milk you can out of the corn kernels. You should have 1 cup of liquid. If you are a little short, add a touch more cream to equal 1 cup (8 oz).

Rinse out the pan and dry it

Return the strained cream mixture to the pan, and add the sugar and bloomed gelatin/cream mixture. Heat over medium heat until hot, the sugar has dissoved, and the mixture does not feel grainy at all. Do not let it boil.
Pour into a bowl and stir in the cold buttermilk and the vanilla.

Pour into 4 small 5-6 oz containers and chill at least 4 hours before serving.

WAYS TO REFINE YOUR PANNA COTTA (Not necessary for flavor but for presentation)

Before pouring your mixture into your containers, place your liquid panna cotta in a bowl inside a larger bowl filled with ice: an ice bath.

Whisk/stir every couple of minutes until the mixture begins to thicken. This will ensure your vanilla bean specks get suspended in your panna cotta rather than all falling to the bottom.

To get a nice, creamy finish to your panna cotta, hold out a portion of your heavy cream–maybe 2-3 oz–and whisk it unitl it just begins to thicken. Once your panna cotta starts to thicken in the ice bath, gently and thoroughly fold the thickened cream evenly into the panna cotta and then fill your containers. Not only will your panna cotta have lovely suspended specks of vanilla, it will also have a more creamy mouthfeel.

Did You Make Any Changes?
Notes
Sauce
Make a simple blueberry sauce by cooking together 1 cup of fresh blueberries, 2 tablespoons of sugar, 1/4 cup water, and a pinch of salt. Allow this to come to a boil and keep at a low boil for 10 minutes. Finish with a little squeeze of lemon juice off the heat. Chill and serve alongside or spooned on top of your panna cotta.
Serving
For best flavor, allow panna cottas to sit at room temperature for 30 minutes before serving. This will take some of the chill off and allow the flavor to really shine.
Storing
Gelatin will continue to become more and more firm in the fridge, so panna cotta is best eaten within 2-3 days of making it. If you need to store it for longer before serving, see the freezing instructions, below.
Freezing
Freeze individual panna cottas covered with plastic wrap. Freeze for 2 weeks. To serve, allow to temper in the refrigerator for 24 hours before serving.
Nutrition
Serving:
1
g
Calories:
258
kcal
Carbohydrates:
27.9
g
Protein:
4.6
g
Fat:
15.5
g
Saturated Fat:
9.4
g
Cholesterol:
55
mg
Sodium:
102
mg
Fiber:
1.1
g
Sugar:
20.9
g
And there you have it. Enjoy the recipe and all the other delicious Summer Dessert Week recipes!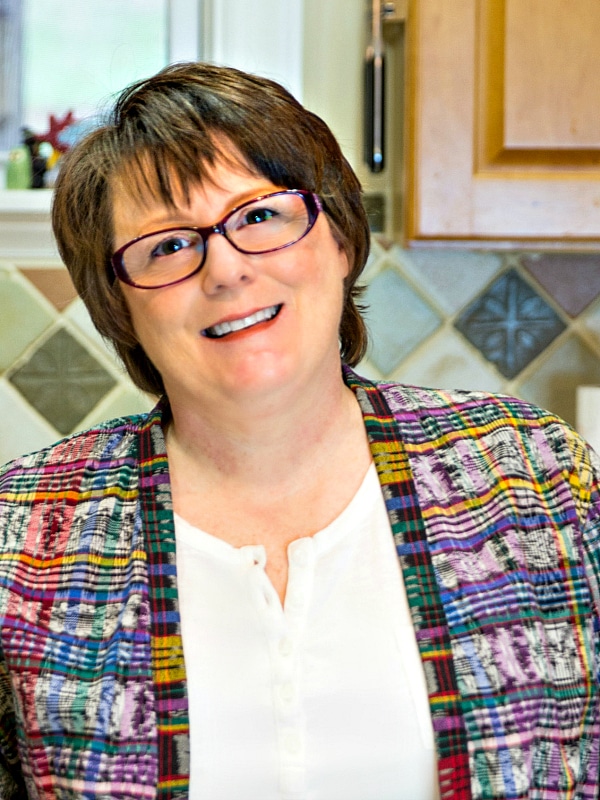 What are my qualifications to teach you baking and pastry? As a former working pastry chef and special educator, I marry my passions for both teaching and for baking into explaining techniques, methods, and developing the best possible recipes. For more info, you can read more about me.
If you'd like to receive new recipes and the occasional newsletter, I'd love for you to sign up for my Inbox Pastry Chef.
Take care, and have a lovely day.