There is nothing–nothing–like the flavor of Traditional Pretzel Buns. The dough itself is a fairly standard, firm, yeast dough: a bit of melted butter for richness and some unrefined liquid sugar (malt extract or I use molasses) to keep the yeast happy, and nothing else surprising.

Also check out this recipe for Grits Bread and Burger Buns for rolls that are a bit softer.

For ease of browsing, here are all of my bread and roll recipes. Thanks for stopping by!
What Makes a Pretzel Bun a Pretzel Bun?
What sets a pretzel bun apart from other buns is the surface treatment.
Before baking, the shaped dough gets a one-to-two minute dunk in a 3% lye solution (1000g water with 30g food-grade lye dissolved in it) before baking.
(So, no jumping straight to the recipe, y'all. You need to read the list of precautions.)
I tried the lye bath a couple of ways:
dunking the balls directly after shaping, then allowing them to rise, slashing and baking
allowing them to rise before getting the alkali bath, then slashing and baking.
The finished rolls didn't seem appreciably different, either outside or inside, and they were certainly more fragile once risen. For this reason, I vote you give your buns a bath directly after shaping and then let them rise before slashing and baking.
Why Slash the Buns?
The slashing isn't strictly necessary, but it is traditional, can often help the buns rise evenly and keep the crust from splitting, and the contrast of the creamy white interior against the burnished brown crust is striking.
Difference Between Lye and Baking Soda Treatment
I made pretzel buns using a baking soda wash for my Got To Be NC Burgers, and this is exactly the same recipe for the dough as I used for those buns.
The only difference is they get a dip in room temperature "lye water" as opposed to a boiling baking soda bath.
See the subtle difference in the finished buns in the photos below? Yeah, the lye bath is definitely the way to go if you're looking for authenticity and that deeply burnished color.
Read on for precautions so you don't hurt yourself when working with lye.
Safety Precautions for Working with Lye
Here are some caveats about working with lye, because no doubt about it, the stuff is poison. Handle it correctly, though, and you will be rewarded with Traditional Pretzel Buns that you just can't get any other way.
When working with lye, wear one or two layers of latex or non-latex gloves or brand new/clean dishwashing gloves.
Wear eye protection–either your glasses or onion goggles if you have them. The likelihood that you will splash it in your eye is pretty small, but it is much better to err on the side of caution, so protect your eyes!
When mixing your lye solution, measure the water first and then slowly pour the lye crystals into the water. The bottle states to never pour water into lye, so be sure to follow that direction and pour your lye into the water.
Stir the water gently to dissolve the lye. No splashing!
Place your pretzels or pretzel buns into the water. Don't drop them in like they're Alka-Seltzer. Again, you want to avoid splashing. Lower them in gently either in a spider or with your gloved hand, flip gently and then remove to several layers of paper towel to drain for a few seconds before placing them on a parchment-lined and pan-sprayed cookie sheet.
That's right, spray your parchment with pan spray. This may seem like overkill, but wow, for some reason, pretzels stick to parchment like crazy, and the pan spray keeps that from happening.
Don't touch the dipped buns with your naked hands. The lye could potentially cause stinging or burning. Don't worry about eating them, though. Their trip through the oven renders them perfectly delicious and edible!
Carefully dispose of leftover lye solution immediately after using by pouring it down the drain and then washing everything well. Lye is the main ingredient in drain cleaner. A 3% solution isn't necessarily going to clean your pipes, but it won't hurt them either.
Here's what the bottle of lye crystals I bought looks like. If you'd like to purchase some to use safely when making traditional pretzel buns and pretzels, here's an affiliate link for you.
How To Make Traditional Pretzel Buns
First up, the videos. Do take a few minutes to watch them. I think they will help you feel more confident yet respectful when working with lye.
Part I
Scaling and shaping the dough. True confessions about something I left out of the dough. Shout out to Theresa of Food Hunter's Guide who made pretzels dipped in lye last month and inspired me to give it a go. Approximately 9 minutes.
Part II
Mixing the solution, dipping the pretzels, general gingerly handling of dough. Approximately 10 minutes.
Part III
Reveal of baked traditional pretzel buns and dipping some after rising. (Watch to see why I preferred dipping before rising). Approximately 10 minutes.
Traditional Pretzel Buns Recipe
A Note About Measurements
For convenience, consistency, and accuracy, almost all my recipes are written by weight, either in ounces and/or grams, even the liquids.
I strongly encourage you to purchase a kitchen scale and learn to use it.
This is the one I used for years. I love it and highly recommend it:
Best for Home Use
Escali Primo Digital Food Scale
Don't let its small price and small size fool you. The Escali Primo is an accurate and easy-to-use food scale that I have used for years. It's easy to store, easy to use, has a tare function, and easily switches between grams and ounces/pounds for accurate measurements.
This is an affiliate link which means I earn from qualifying purchases. Your price is unaffected.
Questions?
As always, if you have any questions about this recipe (or any other baking/cooking questions, I am happy to help. Just shoot me an email. I promise to respond quickly!
I really hope you love these pretzel rolls, you guys!
It would be so helpful to me and to other readers that, when you make a recipe, you rate it and leave a comment. Whether it's a recipe or an informational post, your feedback helps others decide if the post is helpful or if the recipe works as advertised.

If you could leave a star rating, that would be very helpful. Thank you for being here!
Traditional Pretzel Buns
These traditional pretzel buns get their deeply burnished crust from a dip in a lye solution before baking. You can use baking soda, but the results you can get with lye are in my opinion far superior. Please be sure to read the precautions and watch the videos I made of me dipping the pretzels in the lye solution before getting started.
Ingredients
For the Dough
11

oz

room temperature water

(start with 11 oz and only add another teaspoon or so of water if things seem to dry. This dough should be pretty firm and not at all sticky)

½

oz

malt syrup or dark corn syrup. You can also use molasses if you'd like

2¼

teaspoons

kosher salt

22

oz

all purpose flour

2

oz

melted butter

¼

oz

.25 oz active dry yeast
For the Lye Bath
1000

g

room temperature water

30

g

food grade lye

(sodium hydroxide)
To Finish (Optional)
Pretzel salt

other coarse salt, sesame seeds or poppy seeds for sprinkling, optional
Safety Equipment
latex or non-latex gloves

eye protection

(glasses or onion goggles)
Instructions
Put all the ingredients in the bowl of your stand mixer in the order listed.

Fit your mixer with the dough hook and mix on low speed until all the flour is incorporated. Increase speed to medium-low to medium and knead until the dough is smooth, not at all sticky, and nicely elastic, about 10-12 minutes. Check it after 2-3 and add the tiniest bit of extra water if the dough seems too stiff.

Once kneaded, shape the dough into a ball, and place it back in the mixer bowl. Spray the dough with span spray or brush it with some oil, cover, and let rise in a warm place until doubled, about 1 1/2 hours.

Once the dough has risen, turn it out onto a dry, unfloured surface and press out the gases. Divide the dough into 9 even pieces (if you have a scale, scale them at 4 oz each).
For the Lye Bath
Cover two cookie sheets with parchment paper, and then spray the parchment paper with pan spray. You do not want your pretzels to stick.

Make sure you're wearing eye protection and that you are wearing 1-2 pair of gloves.

In a bowl, measure out the water.

Carefully measure the lye crystals into a small bowl or cup and then slowly pour them into the water.

Stir carefully with a metal spoon until all the crystals are dissolved. Rinse the spoon.

Using a spider or your gloved hand, carefully lower two pretzel buns into the water. Let soak for 45-seconds to a minute. Gently flip them over and allow to soak an additional 45 seconds to 1 minute.

Using a slotted spoon or spider, carefully remove the rolls from the lye solution. Let drain on paper towel for a few seconds and then place them on the cookie sheet.
To Finish
Slash the tops of the buns in a decorative pattern (a cross or two or three parallel lines, for example).

Sprinkle on the optional toppings, cover with plastic wrap and allow to rise until almost doubled (or just about hamburger bun size), about 45 minutes to an hour.About 30 minutes before baking, preheat the oven to 375F.

Remove the plastic wrap and bake in the center of the oven* for 10 minutes. Rotate the pan and bake an additional 2-5 minutes or unitl they are very deeply burnished and the internal temperature reads 200F-205F.

Remove from oven, then use a spatula to transfer the buns to a rack to cool completely.
Did You Make Any Changes?
Notes
Please note that prep time does not take into account rising time of approximately 2-2 1/2 hours.
*I bake one pan at a time so they brown evenly. If you have a convection oven, set it for 350F, place a rack in upper and lower thirds of your oven, and bake the two pans at the same time, rotating the pans and switching racks after 8 minutes or so.
Nutrition
Serving:
1
roll
Calories:
304
kcal
Carbohydrates:
54.4
g
Protein:
7.5
g
Fat:
5.8
g
Cholesterol:
14
mg
Sodium:
686
mg
Fiber:
2
g
Sugar:
0.6
g
And there you have it friends, gorgeous, deeply burnished, supremely pretzelly and delicious traditional pretzel buns. You are going to love them!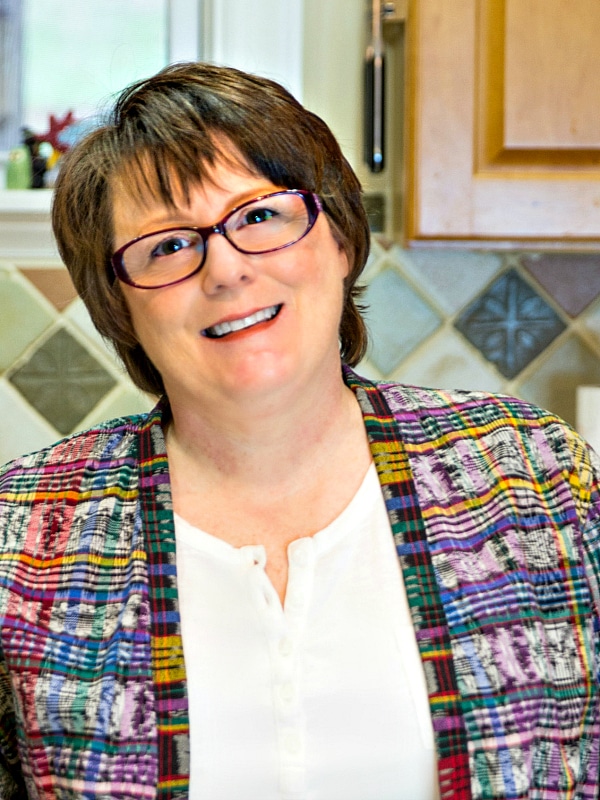 What are my qualifications to teach you baking and pastry? As a former working pastry chef and special educator, I marry my passions for both teaching and for baking into explaining techniques, methods, and developing the best possible recipes. For more info, you can read more about me.
If you'd like to receive new recipes and the occasional newsletter, I'd love for you to sign up for my Inbox Pastry Chef.