Y'all, I think you are really going to enjoy this brown sugar cinnamon pound cake. Pound cake is one of my very favorite cakes to make and eat, and I have lots of variations on the site.

You might be interested in my whipping cream pound cake for this year's summer dessert week or my lemon corn buttermilk pound cake I made for last years' celebration of summer dessert!

This brown sugar cinnamon number is my ode to the brown sugar cinnamon PopTart, and it's a great pound cake to make almost any time of year.
For ease of browsing, here are all of my pound cake recipes and also all of my cake recipes in one place.

This post was sponsored for Summer Dessert Week, 2019. Thank you, sponsors, for sending treats for us to use! You can find the sponsor list at the bottom of this post.
Brown Sugar-Cinnamon Pound Cake
I developed this brown sugar cinnamon version of my master pound cake recipe because I have always liked the idea of brown sugar cinnamon Pop-Tarts.
But then I'd eat one and it would be dry and stupid, and I'd be sad.
This cake has all the flavor of a brown sugar cinnamon Pop-Tart, but it's so much better. It is moist and tender and wonderful.
Before I get to the recipe, I want to make sure you'll have success making it. Please watch the video included with the recipe showing me making 2 cakes at once using the creaming method, the same method used for making this cake.
And I promise you don't have to make 2 cakes at once!
Then read on for some helpful tips and tricks about mixing the batter and decorating your finished cake (or cakes).
Please Make Sure To Sift Your Brown Sugar
I was so pleased that Dixie Crystals sent me bags of brown sugar to bake with! No matter how high the quality of sugar–and I always use Dixie Crystals sugar–there will be little bits of sugar that are stuck together by molasses into little sugary pebbles.
It's unavoidable–molasses is sticky!
To ensure these little pebbles don't get in the batter and sink down to the bottom, I always sift my brown sugar, and you should, too.
I use a medium strainer to do this, because a fine mesh strainer won't allow even loose sugar crystals to pass through.
Take the time to do this, friends. You will be rewarded with a cake with a beautiful, even crumb rather than one that has little tunnels in it left by the sinking sugar pebbles.
What If I Don't Have the Right Size Pan to Bake My Cake?
Not everyone has a 12-cup Bundt pan. I love mine and use it frequently, but for those of you who don't make a lot of large cakes, you may only have round cake pans, cupcake tins, and/or loaf pans.
You can still make this cake by dividing the batter among your different pans. A good rule of thumb is to fill whatever pan you're using no more than 2/3 full to allow for the rise.
If you'd like to know for sure how much batter fits in different sized pans, sponsor Wilton has a fantastic Cake Baking and Serving Guide that tells you how many cups of batter will fit in different sized round pans, square pans, and more.
I refer to it often and have for years. Yet another reason I'm happy about their being a sponsor of Summer Dessert Week!
How Thick Should My Pound Cake Glaze Be?
Granted, not everyone feels the need to decorate or glaze a pound cake, but since sponsors sent me fun sprinkles, I decided to go for it! Thank you, Sweets & Treats Boutique and Wilton for sending all the fun sprinkles!
And I can't add sprinkles without adding glaze for them to stick to.
I always like to glaze my pound cakes, even without sprinkles.
You'll notice I used 3 different textures or thicknesses of glaze to decorate my different cakes.
While all three glazes may look different, they're all based on the exact same ingredient list. The only thing I changed was the amount of milk I added.
Brown Sugar Cinnamon Loaf Cake Glaze
I started with the thickest glaze on the loaf cake. It's much easier to thin out a glaze than it is to thicken one up.
First, I melted about 4 tablespoons of butter and added it to roughly 4 cups of powdered sugar. (I never measure when I make glazes.)
I tossed in a heavy pinch of salt and a little vanilla extract. I whisked and whisked while adding some milk–very slowly. I added just enough milk to get a spreadable consistency.
Then I simply used an offset spatula to spread it over the top of the pound cake. The cake was just a little warm, which I was counting on to smooth out my glaze.
In general, you should wait until your cake has completely cooled before glazing, because a warm cake will melt your glaze.
Round Cake Glaze
See that fun pan? That's a 8″ x 1 1/2″ Bake & Bring pan that the lovelies at Wilton also sent. So I used him!
Since it's a fairly shallow pan, I only filled it halfway, just to make sure I wouldn't have an Incident.
For this glaze, which I drizzled over the cake using my whisk, I added just a tiny bit of extra milk to the glaze remaining after I spread it on the loaf cake.
This glaze still holds its shape and doesn't run together. That way you can see swirls of glaze with cake peeking through. Then I added sprinkles from Sweets & Treats Boutique.
Cupcake Glaze
Even though I am not generally a Cupcake Person, I really like the finish on these little brown sugar cinnamon guys.
For this effect, I again added just the tiniest amount of milk to the last of the glaze. It is by no means a runny glaze, but you can see how it ever-so-slightly draped over the edges of the cupcakes.
To Glaze Cupcakes
If using sprinkles, put your sprinkles in a shallow dish or pie plate. Use way more than you think you will need so you get good coverage.
Make sure your cupcakes are completely cool. If they are delicate, you may even want to refrigerate them for 30 minutes or so. This will also help the glaze to firm up once applied.
Brush off any crumbs on the top or edges of the cupcakes.
Holding the cupcake by the bottom, dip the top of the cupcake into the glaze, twisting it gently back and forth and being careful not to squoosh the cupcake against the bottom of your bowl.
Lift the cupcake out of the glaze and tip it so any excess glaze runs off.
Dip the glazed tops of the cupcakes into the dish of sprinkles. Make sure to dip the edges too so the glaze is completely covered.
If you don't get complete coverage dipping them, you can add additional sprinkles by hand.
Let the glaze firm up before serving, about two hours.
Can I Make a Brown Sugar Cinnamon Glaze for My Pound Cake?
Yes you can.
Since brown sugar is granulated and won't give you a nice smooth glaze, I'd use a touch of molasses in your glaze instead of brown sugar, because all brown sugar is is granulated sugar plus molasses.
To make a brown sugar cinnamon glaze (and again, I don't measure for glazes) here's what I'd do:
Whisk together 2 cups of confectioners sugar (also called 10x, powdered sugar, or icing sugar with 1/2 teaspoon cinnamon and a pinch of salt.
Melt 2 Tablespoons butter with 2 teaspoons molasses.
Whisk into the powdered sugar mixture, and slowly add milk, a bit at a time, until the glaze is the consistency you want.
Taste and adjust as necessary. You may want a tiny bit more cinnamon and/or molasses to suit your taste.
Use The Creaming Method to Make Your Brown Sugar Cinnamon Pound Cake
Once you know how to do the steps in the creaming method, you will be able to do it without even looking at the recipe.
In a nutshell, these are the steps:
Cream butter until smooth.
Add the sugar and cream until light and fluffy.
Add the eggs, one at a time, beating well between each addition. (NOTE: I modify this step by beating my eggs first and then slowly drizzling them in, because I think the batter ends up more billowy and beautiful when done this way)
Add dry ingredients in 3 additions alternately with your wet ingredients, beginning and ending with dry.
(EXTRA STEP for this cake)Gently whip cream and gently but thoroughly fold into the finished batter.
Pan up and bake.
It goes quickest if you get all your ingredients scaled out and ready.
Here's what I do to prepare my ingredients for this particular cake:
Get 3 sticks of butter and 5 eggs out of the fridge and let them sit out on the counter for a good 45 minutes before starting to make your batter.
Crack the eggs into a bowl and whisk them up.
Measure 3/4 cup buttermilk and let that sit out along with the eggs and butter.
Measure 1/2 cup heavy cream into a bowl and leave in the fridge.
Whisk together the 13 oz flour and leavening (1 teaspoon baking powder and 1/4 teaspoon baking soda)
Scale out my 2 sugars: 12 oz brown sugar and 8 oz granulated sugar. Whisk them together so they're ready to go.
Measure out 1 1/4 teaspoons salt, 2 teaspoons vanilla, and 2 teaspoons cinnamon into a little bowl or container.
Once I have all that prepped, it only takes a few minutes to put the batter together.
Most of your time will be spent getting your butter and sugar mixture really light and fluffy and adding your beaten eggs nice and slowly.
A Note About Measuring
All my measurements (except teaspoons) are by weight. I do try to give volume measures as well in the recipes, but I always recommend you get a scale for ease of measuring, accuracy and consistency.
This is the scale I use and love:
For convenience, consistency, and accuracy, almost all my recipes are written by weight, either in ounces and/or grams, even the liquids.
I strongly encourage you to purchase a kitchen scale and learn to use it.
This is the one I used for years. I love it and highly recommend it:
Best for Home Use
Escali Primo Digital Food Scale
Don't let its small price and small size fool you. The Escali Primo is an accurate and easy-to-use food scale that I have used for years. It's easy to store, easy to use, has a tare function, and easily switches between grams and ounces/pounds for accurate measurements.
This is an affiliate link which means I earn from qualifying purchases. Your price is unaffected.
It would be so helpful to me and to other readers that, when you make a recipe, you rate it and leave a comment. Whether it's a recipe or an informational post, your feedback helps others decide if the post is helpful or if the recipe works as advertised.

If you could leave a star rating, that would be very helpful. Thank you for being here!
Before I share the recipe for my brown sugar cinnamon pound cake (that I hope you will make), please check out all the other great Summer Dessert Week recipes:
Other Summer Dessert Week Recipes
Ice Cream & Frozen Desserts
Summertime Pies
Sweet Summertime Cakes and Cupcakes
No-Bake Treats
Baked Desserts
Candies
I really hope you love this brown sugar cinnamon pound cake, you guys! It is seriously delicious! If you make it, please share a photo with me, either in the PCO Facebook Group or on instagram by tagging @onlinepastrychef and using hashtag #pcorecipe. Thanks, and enjoy!
Brown Sugar Cinnamon Pound Cake
This brown sugar cinnamon pound cake is light and tender. The full recipe will make a 12-cup Bundt cake. If you don't have one, you can bake it in cake pans, loaf pans, or a 10 cup Bundt along with a few cupcakes. Serve it plain, with a dusting of powdered sugar, or make a simple glaze and have fun with sprinkles!
Ingredients
12

oz

brown sugar

about 2 cups lightly packed, sifted

8

oz

sugar

about 1 cup

12

oz

unsalted butter

3 sticks

1 ¼

teaspoons

fine sea salt

2

teaspoons

vanilla

5

large eggs

beaten

13

oz

all purpose flour (about 2 1/2 cups

1

teaspoon

baking powder

¼

teaspoon

baking soda

2

teaspoons

ground cinnamon

¾

cup

buttermilk

4

oz

whipping cream

whipped until thickened and whisk leaves track marks in the cream
Instructions
Preheat the oven to 350F and prepare your Bundt-type pan with pan spray and flour. (Or use a combination of loaf pans, cake pans, etc, if you don't have a 12 cup Bundt pan).

Whisk together the flour, baking powder, baking soda. Set aside.

Cream butter until smooth. Add salt, vanilla, and cinnamon. Since fat carries flavor, this seems like an excellent time to add the flavoring agents.

Add sugars, making sure that your brown sugar is sifted.

Cream on medium-high speed until very light and fluffy, making sure to scrape the sides of the mixing bowl as necessary.

Drizzle the eggs in a bit at a time, beating on medium speed.

These next additions all get mixed in on low speed for 10 seconds each: half the dry ingredients, half the buttermilk, half the remaining dry ingredients, the rest of the buttermilk, the rest of the dry ingredients

Scrape down the sides and bottom of the bowl and then mix on high speed for about 3 seconds. Seriously–no more than that.

Pour in your very softly whipped cream and fold it in by hand.

If using a 12 cup Bundt, pour into your prepared pan and bake in the center of the oven for an hour. Test for doneness and bake another five-ten minutes if necessary. Timing for cake layers will be less, as will cupcakes. If you bake in a loaf pan/s, that will take about an hour as well. Just check for doneness by gently pressing the tops of the cakes. They're done when they spring back. They will be a very deep golden brown, may have some cracks in the top, will be just beginning to pull away from the sides of the pan, and will read about 200F on an instant read thermometer.

Let cool on a rack in the pan for twenty minutes. Turn the cake out on a rack and let it cool completely.

Glaze and decorate as desired, or leave plain.
Did You Make Any Changes?
Notes
How to Do the Creaming Method
Cream butter until smooth.
Add the sugar and cream until light and fluffy.
Add the eggs, one at a time, beating well between each addition. (NOTE: I modify this step by beating my eggs first and then slowly drizzling them in, because I think the batter ends up more billowy and beautiful when done this way)
Add dry ingredients in 3 additions alternately with your wet ingredients, beginning and ending with dry.
(EXTRA STEP for this cake)Gently whip cream and gently but thoroughly fold into the finished batter.
Pan up and bake.
Approximate Baking Times if not using a 12 cup Bundt pan:
the cupcakes took about 25 minutes. Please be sure to sift your brown sugar before using, especially if making cupcakes. Little pellets of rocky brown sugar will sink to the bottom during baking, deflating your cupcakes. No fun.
The 8" cake took about 40 minutes.
The loaf cake took about an hour.
VIDEO
The video shows how I do the modified creaming method with beaten eggs, times two. Once you get the hang of it, you won't even need to read the directions to make your cake.
NOTE: The cakes in the video are a vanilla pound cake and a lemon pound cake. You would perform the same steps as I did. After mixing, you'll fold in the thickened whipping cream before panning and baking.
Nutrition
Serving:
1
g
Calories:
289
kcal
Carbohydrates:
36
g
Protein:
3
g
Fat:
15
g
Saturated Fat:
9
g
Polyunsaturated Fat:
5
g
Cholesterol:
77
mg
Sodium:
181
mg
Fiber:
1
g
Sugar:
24
g
Disclaimer:
These posts and recipes are part of the week-long event, #SummerDessertWeek but all opinions are 100% mine! We would like to Thank our amazing sponsors:
Dixie Crystals, Adam's Extract,

Wilton

,

Sweets and Treats Shop

and Anolon!
These wonderful sponsors provided the prize packs for our giveaways and also sent samples and products to the #SummerDessertWeek bloggers to use in their recipes.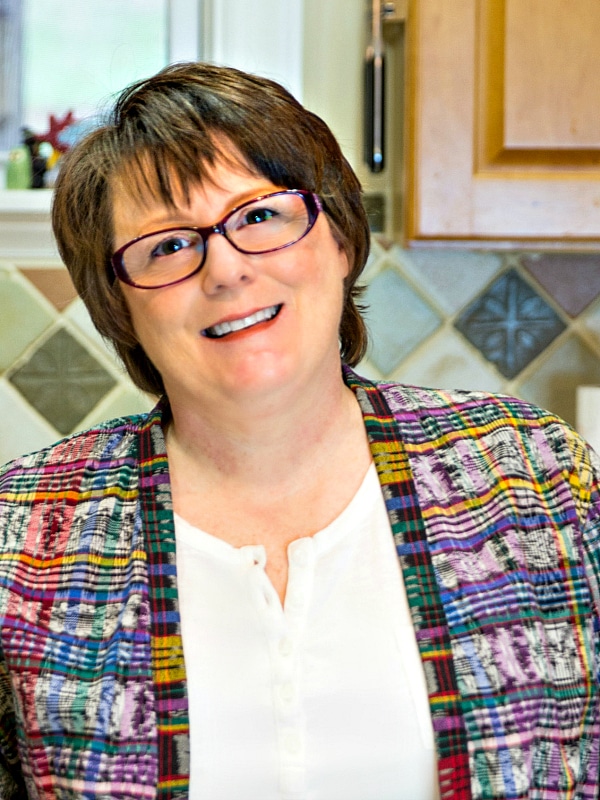 What are my qualifications to teach you baking and pastry? As a former working pastry chef and special educator, I marry my passions for both teaching and for baking into explaining techniques, methods, and developing the best possible recipes. For more info, you can read more about me.
If you'd like to receive new recipes and the occasional newsletter, I'd love for you to sign up for my Inbox Pastry Chef.