Hello, friends! I'm very excited to bring you this recipe for white chocolate sauce. With this white chocolate syrup recipe in your arsenal, you'll be able to make your very own homemade fancy seasonal mocha, and I guarantee it'll taste better than the storebought ones!

We'll break down what white chocolate is–and what it isn't–and I'll show you how to introduce the elements into your sauce even if you can't find the high-quality stuff.

You'll also learn some variations and I'll give you substitutions where I can. Read on for this info as well as the recipe. If you'd like to skip straight to the recipe, use the jump to recipe button at the top of the post.

You may also be interested in my chocolate syrup and butterscotch coffee syrup recipes.

For ease of browsing, you can find all my dessert sauce recipes in one place. Thanks for being here!
Watch my white chocolate coffee syrup web story here.
Why You Need to Make This White Chocolate Sauce Recipe
If you're looking for an excellent white chocolate sauce, you really need look no further than this recipe.
It contains all the elements necessary for good white chocolate–dairy, cocoa butter, and vanilla–separately.
This is so you don't have to rely on getting the high-quality stuff, which can be very difficult to find.
I based the ingredients on the ingredient list from a very well-known brand of sauce used in many coffee shops, so all the elements you love are there.
I did a side-by-side taste comparison of my homemade sauce and the national brand I purchased, and honestly, my recipe tastes like delicious, creamy, pourable white chocolate.
Their's does…not. I found it had an almost tropical flavor that tasted nothing like white chocolate.
The Difference Between White Chocolate and White Baking Chips
You can make a very tasty sauce by melting high-quality white chocolate in hot milk or half and half.
The problem is, it is very difficult to find it in the store, and it's almost non-existent in the baking aisle.
What you will generally find is almond bark or white baking chips.
To be classified as white chocolate, it must contain cocoa butter along with dairy, vanilla, and some stabilizers/emulsifiers (which do not contribute to flavor).
White baking chips generally do not contain cocoa butter. Even the very recognizable brand from San Francisco uses palm kernel oil and not cocoa butter, so it cannot be called white chocolate.
White almond bark is also made with a range of vegetable fats with no cocoa butter to be found.
To be called white chocolate, it must contain cocoa butter. Period.
How To Make White Chocolate Syrup
Now that we know what's in white chocolate, it's easy to see those elements in this recipe.
And while the national brand says that it does contain cocoa butter, it's in such a small quantity that it may as well not be there at all.
Here's what you'll need:
Ingredients and Substitutions
water: Like most syrups, this one starts with a simple syrup, where part of the sugar is replaced by sweetened condensed milk. So water is a must.
sugar: I use white granulated, but for a deeper flavor, you could certainly use raw sugar or light brown sugar. I wouldn't use dark brown as that much molasses might mask the delicate flavor of the cocoa butter
sweetened condensed milk: You can use skim or regular sweetened condensed milk. If you want to make your sauce vegan, substitute sweetened condensed coconut milk and be sure to use vegan sugar. Do NOT substitute evaporated milk
pure cocoa butter: Look for food or cosmetic-grade cocoa butter. I used the brand (affiliate link) Terrasoul and am very happy with the flavor and the way it melted into the sauce
vanilla: Either extract or paste works well here. Use extract if you prefer not to have little specks of vanilla seed in your sauce
salt: Just a pinch helps to round out and bring out the flavor in the cocoa butter and dairy
Jenni's Pick
This is an affiliate link which means I earn from qualifying purchases. Your price is unaffected.
Procedure
As with most syrup recipes, this one is very easy to make, and probably easier than you might expect:
Put water, sugar, sweetened condensed milk, and salt in a pan.
Heat to a boil and let boil for five minutes.
Add the cocoa butter, and whisk in well.
Boil for two additional minutes.
Whisk in vanilla off the heat.
Tips for Success
To a great extent, the final texture depends on how much water evaporates during boiling. Use a wider pan for more evaporation and a thicker sauce. Use a taller pan with a smaller diameter for less evaporation and a thinner sauce.
Dairy likes to boil over. Use a pan that is taller/larger than you think you need. Watch it carefully and adjust the heat if it boils up too much for comfort!
Equipment You May Need
You won't need much specialized equipment to make this recipe at all.
A good, heavy-bottomed saucepan and a whisk are really all that you need.
And, as always, I do recommend getting a good kitchen scale for accuracy in measuring.
Variations
This syrup is really excellent as-is, but a little bit of extra spice is never a bad thing.
It's particularly good with a little shake of cinnamon in it.
You could also add 2-3 drops of peppermint oil for a white peppermint mocha that will be out of this world!
Short-Cut Version
If you can find white chocolate that actually contains cocoa butter (read the labels), you can substitute that for the sweetened condensed milk, cocoa butter, and vanilla.
Use 6 oz chopped white chocolate in place of the other three ingredients and pour 8 oz (1 cup) of heated (not boiling) milk over the chocolate.
Add the salt and whisk until smooth.
Visual How-To
Here are some short video clips to illustrate a few of the steps to making this coffee syrup.
I hope you find them helpful.
Stirring water, sugar, sweetened condensed milk, and salt together.
Bring the sauce to a boil. You can control the thickness of the final sauce by keeping it at a low boil for thinner sauce and at a rolling boil for thicker sauce.
You can also use a narrower pan for less evaporation.
Chop the cocoa butter pretty finely. It's very easy to chop it up.
Also, that is Sam, our ill-behaved foster cat.
Here's what the sauce will look like once it is done.
White Chocolate Sauce Q & A
How long will this sauce last in the fridge?
Since it contains dairy, I would only keep this sauce in the fridge for up to 10 days. It could stay good longer, but I wouldn't push it.
Can I freeze this sauce?
Yes, you can freeze this. It may not freeze solid, but you can extend its u0022shelf lifeu0022 by storing it in the freezer for up to 3 months. Thaw in the fridge. If it has separated, heat in the microwave for 30 seconds or so, and then blend it with an immersion blender or just whisk it really well.
Is white chocolate sauce gluten-free?
As written, this recipe is gluten-free. To be double sure, check packaging to make sure none of the ingredients are manufactured on shared equipment.
How To Make The Best White Chocolate Mocha
Make coffee or espresso to your desired strength.
Add your homemade white chocolate syrup for sweetness and flavor, about 2 Tablespoons per cup of coffee.
Top off with steamed/foamed milk.
Top with some grated nutmeg or a dusting of cinnamon if you're feeling fancy.
Enjoy every sip.
Serving Suggestions
Although I expressly made this sauce to be able to make a homemade mocha whenever I want, by no means should you limit its use to Just That.
Consider using this sauce on pancakes or waffles.
Pour it over ice cream. Or chocolate mousse!
Drizzle it over pound cake.
Use it as a fruit dip.
Try it as a sauce for bread pudding.
Make your own version of a dirty soda by adding a splash to your root beer float.
Whisk some into whipped cream and then put that on…whatever you want!
Questions
A Note About Measurements
For convenience, consistency, and accuracy, almost all my recipes are written by weight, either in ounces and/or grams, even the liquids.
I strongly encourage you to purchase a kitchen scale and learn to use it.
This is the one I used for years. I love it and highly recommend it:
Best for Home Use
Escali Primo Digital Food Scale
Don't let its small price and small size fool you. The Escali Primo is an accurate and easy-to-use food scale that I have used for years. It's easy to store, easy to use, has a tare function, and easily switches between grams and ounces/pounds for accurate measurements.
This is an affiliate link which means I earn from qualifying purchases. Your price is unaffected.
It would be so helpful to me and to other readers that, when you make a recipe, you rate it and leave a comment. Whether it's a recipe or an informational post, your feedback helps others decide if the post is helpful or if the recipe works as advertised.

If you could leave a star rating, that would be very helpful. Thank you for being here!
Recipe
White Chocolate Sauce Recipe
Make this delicious white chocoalte sauce and be rewarded with the best white chocolate mocha you've ever had.
But don't stop there, pour this on everything from pancakes, to cake, to ice cream!
Ingredients
1

cup

water

½

cup

sugar

½

cup

sweetened condensed milk

¼

teaspoon

salt

1

oz

cocoa butter

chopped finely

½

teaspoon

vanilla extract
Instructions
Pour the water, sugar, and sweetened condensed milk into a saucepan.

Add the salt.

Bring the mixture to a boil, stirring frequently. It will boil up, so keep an eye on it and regulate the heat so it doesn't boil over.

Boil the milk mixture for 5 minutes. (See Notes)

Off the heat, whisk in the cocoa butter as well as you can.

Return to the heat and boil for 2 additional minutes. The agitation from the boil will help to emulsify the cocoa butter into the sauce.

Remove from heat and whisk in the vanilla.

Pour into a heat-safe container and cool until just warm. Store in the fridge for up to 10 days.
Did You Make Any Changes?
Notes
To Control the thickness of the final sauce
Cook in a narrower pan for less evaporation and a thinner syrup.
Cook in a wider pan for more evaporation and a thicker syrup.
You can also control the thickness by keeping your sauce at a low boil for a thinner sauce and at a full, rolling boil for a thicker sauce.
Storage
Keep in the fridge for up to 10 days. Freeze for up to 3 months.
Short-Cut Recipe
Replace the water with milk.
Replace the sweetened condensed milk, sugar, and vanilla with 6 oz chopped high-1uality white chocolate (check the label)
Heat the milk and salt until steaming.
Pour it over the chopped chocolate and whisk until smooth.
Nutrition
Serving:
2
Tablespoons
Calories:
95
kcal
Carbohydrates:
15
g
Protein:
1
g
Fat:
3
g
Saturated Fat:
2
g
Polyunsaturated Fat:
1
g
Cholesterol:
4
mg
Sodium:
61
mg
Sugar:
15
g
Thanks for spending some time with me today.
Can't wait for you to wow your friends with this fabulous coffee syrup.
Take care, and have a lovely day.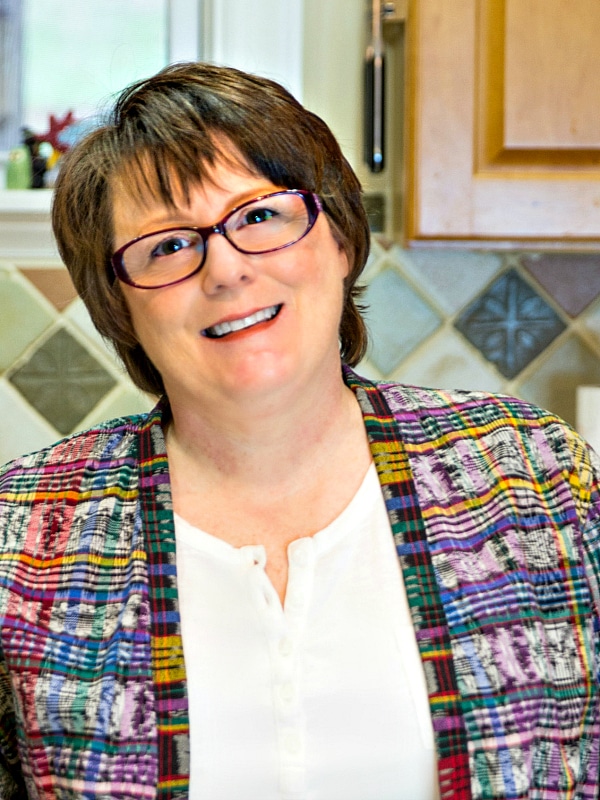 What are my qualifications to teach you baking and pastry? As a former working pastry chef and special educator, I marry my passions for both teaching and for baking into explaining techniques, methods, and developing the best possible recipes. For more info, you can read more about me.
If you'd like to receive new recipes and the occasional newsletter, I'd love for you to sign up for my Inbox Pastry Chef.