Today, I'm sharing with you this recipe for quick hot fudge sauce. I still stand by the recipe for my best hot fudge sauce in the world, because it is truly The Best, but sometimes you want an ice cream sauce that tastes like it took a long time to make but didn't!

Easy hot fudge sauce that's ready in about 5 minutes, you guys. There are plenty of recipes out there for 5 minute fudge sauce, but this one tastes like it took way longer to make.

This recipe uses a couple of "secret ingredients" to amp up the flavor and complexity of the sauce without having to cook it a long time, and I think you will love it.

If white chocolate is more your thing, you may enjoy this white chocolate sauce recipe. And for ease of browsing, find all my dessert sauces in one place.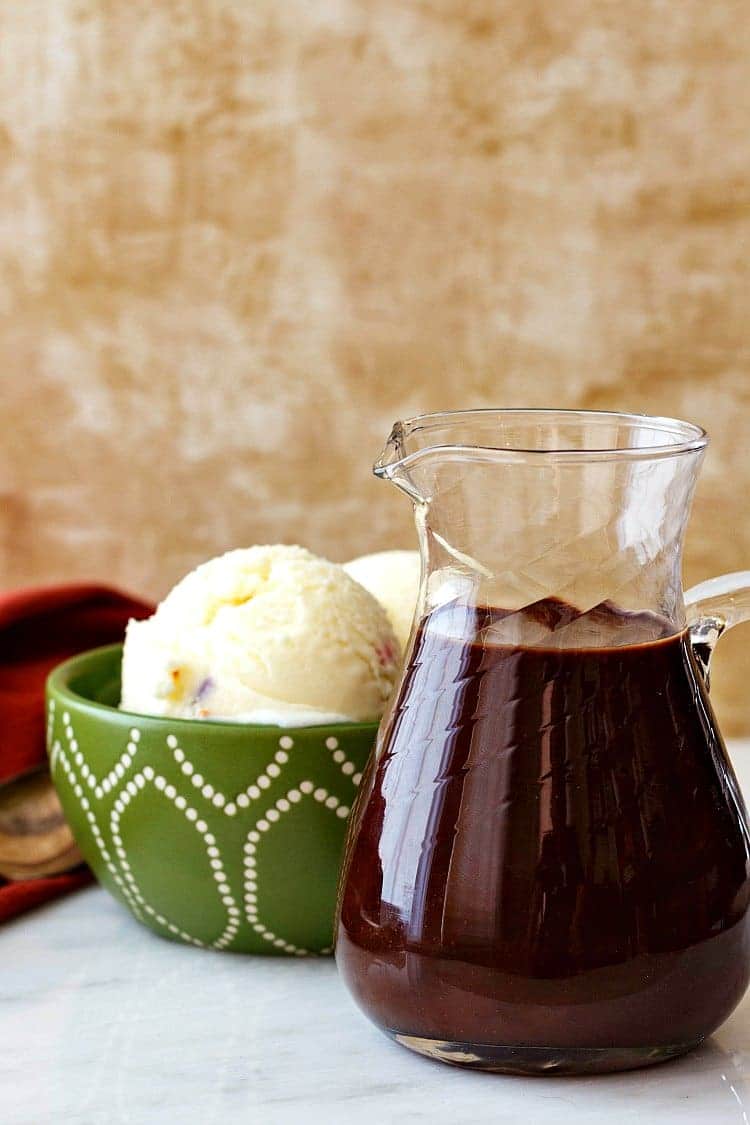 Why This Recipe is Special
Half of the ingredients for this easy ice cream sauce are ones you'd expect to see in a quick fudge sauce:
sweetened condensed milk (which is really just milk and sugar reduced in volume)
chocolate
salt (counteracts bitterness and brings out flavors)
vanilla extract
The "secret ingredients" are:
corn syrup (just a touch adds gloss to the sauce and contributes body) You can sub honey or maple syrup here if you have an aversion to corn syrup.
malted milk powder (this has gluten, so if you're gluten-free, leave it out)
coffee (either brewed or made with instant coffee or espresso powder and hot water
chocolate extract (amps up the chocolate flavor)
How to Make It
This is one of those recipes that is honestly super easy to make.
Put the chocolate chips, sweetened condensed milk, salt, corn syrup, malted milk powder, and coffee into a medium saucepan
Heat over medium heat, stirring frequently, until the chocolate melts and the mixture is hot but not boiling
Remove from the heat and stir in the vanilla extract and chocolate extract (if using)
The End
Tips for Success
Even though this fudge sauce is easy to make, I do have a couple of tips for you to ensure success.
Use the lesser amount of coffee for a thicker sauce and the greater amount for a sauce that pours more easily
Heat the sauce over medium heat. You don't want to burn it, and it is not necessary for it to boil.
How Long Does This Sauce Keep?
Keep your magical quick hot fudge sauce in the fridge for up to 2 weeks. And don't forget to pour it all over some French vanilla ice cream!
More Ice Cream Sauce Recipes
If you are the kind of person who loves all the ice cream sauces and wants to put 2 or even three over their ice cream, stick with me. I have a seriously dreamy blood orange caramel sauce on the site as well as a coffee butterscotch that will knock your socks off. I've even published a lovely mixed berry Chambord ice cream sauce recipe. Or maybe you're in the mood for peanut butter hot fudge sauce.
If you're looking for a really "kid friendly" and easy sauce recipe, try my homemade chocolate syrup. It's less intense than hot fudge, but it's still super flavorful and perfect on ice cream or in chocolate milk or hot chocolate!
It would be so helpful to me and to other readers that, when you make a recipe, you rate it and leave a comment. Whether it's a recipe or an informational post, your feedback helps others decide if the post is helpful or if the recipe works as advertised.

If you could leave a star rating, that would be very helpful. Thank you for being here!
Best Quick Hot Fudge Sauce
This quick hot fudge sauce only takes about 5 minutes to make, but thanks to a couple of "secret" ingredients, it tastes like it took much longer. You're going to love it.
Ingredients
1 14

oz

can sweetened condensed milk

8

oz

bittersweet chocolate chips

1

Tablespoon

corn syrup

(light or dark)

heavy pinch salt

*2-4 oz brewed coffee or water + instant coffee

1/4-1/2 cup

*1.5 oz malted milk powder

(about 1/4 cup)

1

teaspoon

vanilla extract

*1/2 teaspoon chocolate extract
Instructions
In a medium saucepan, mix together the sweetened condensed milk, chocolate chips, corn syrup, salt, coffee, and malted milk powder.

Heat over medium heat, stirring frequently, until chocolate chips are completely melted. Don't let it boil.

Off the heat, stir in the extracts. Serve warm. Refrigerate leftovers for up to 2 weeks.
Did You Make Any Changes?
Notes
*These ingredients are optional but add to the complexity of the sauce. If you wish, you can substitute water for the coffee and just leave out the malted milk powder and chocolate extract.
Using 1/4 cup of coffee or water will give you a thick fudge sauce that you might have to spoon onto your ice cream. If you'd like to pour it, use 1/2 cup. It'll still be nice and thick, but it will pour more easily. It's going to be great either way, so it's your call.
Nutrition calculated for 1/4 cup, which is a generous serving. Calorie count will vary if you use more or less.
Nutrition
Serving:
1
/4 cup
Calories:
451
kcal
Carbohydrates:
54
g
Protein:
10
g
Fat:
22
g
Saturated Fat:
13
g
Polyunsaturated Fat:
8
g
Cholesterol:
24
mg
Sodium:
141
mg
Fiber:
5
g
Sugar:
43
g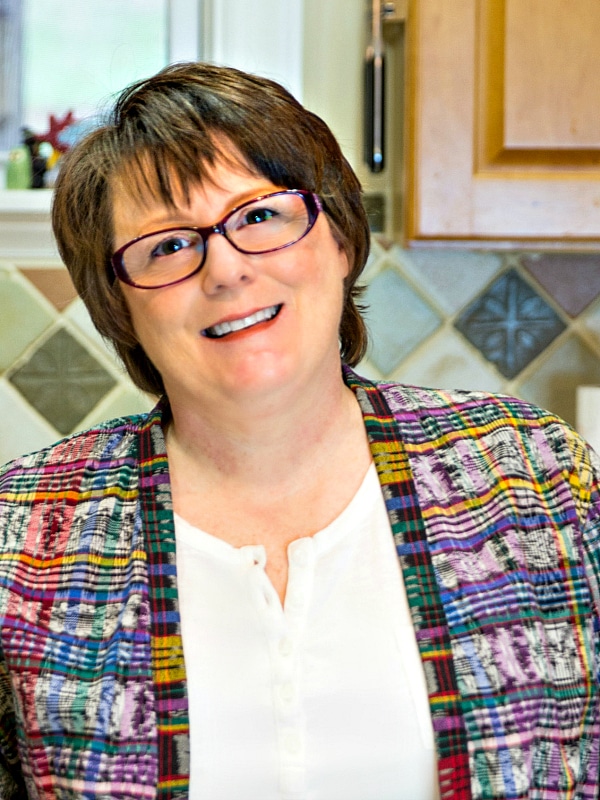 What are my qualifications to teach you baking and pastry? As a former working pastry chef and special educator, I marry my passions for both teaching and for baking into explaining techniques, methods, and developing the best possible recipes. For more info, you can read more about me.
If you'd like to receive new recipes and the occasional newsletter, I'd love for you to sign up for my Inbox Pastry Chef.
And there you have it friends. The best quick hot fudge sauce in all the land.
Thanks for spending some time with me today. Take care, and have a lovely day.