Y'all are in for a treat with this recipe for stuffed French toast you guys! Shaped like a heart and stuffed with creamy apple butterscotch filling, it makes the perfect Valentine's Day breakfast in bed for you and your sweetie!

I developed this recipe for the lovelies at the Idaho®Potato Commission who I so enjoy partnering with, so of course I used potato bread to make it. You may also enjoy my gooey cinnamon rolls or my rustic German pancakes I also made using Idaho® potatoes.

And since butterscotch is one of my favorite flavors, you can find all my butterscotch recipes in one place, including this one!
For ease of browsing, here are all of my breakfast recipes in one place. Thanks for stopping by!
Fried French Toast Vs Baked French Toast
First, let me just go on record as saying that French toast is A-OK in my book no matter how you cook it. I love deep fried French toast, French toast muffins, French toast casserole. I love it all.
But, when talking straight up French toast, there's a time to fry and a time to bake.
I fry French toast when the slices are thin–no more than 3/4″ or so. That's because I want my French toast–and the custard that has soaked into the bread–to cook all the way through.
Nobody wants uncooked eggy stuff in the center of their French toast.
For thinner slices of bread, I choose to fry my French toast.
Frying also ensures you get some really nice color on your French toast. Those Maillard reactions equal more flavor, and that's never a bad thing.
With stuffed French toast, I bake it because the slices are thicker–usually about 1 1/2″-2″ to accommodate the filling.
I still make sure to soak the pieces long enough to saturate the bread, but it doesn't make sense to fry such a thick piece of bread. The outsides will be overcooked before the custard inside the bread has had a chance to cook.
For thicker slices of bread and for stuffed French toast, baking ensures the custard cooks all the way through without burning the outsides.
Another reason you'd consider baking your French toast, even if the slices are thin, is if you're making French toast for a crowd and want to cook all the slices at once.
A half sheet pan is perfect for this, and you can probably bake up to 12 slices of French toast at a time.
That means no frying 2-3 pieces at a time and putting the already cooked pieces in the oven to keep warm.
Why Use Potato Bread?
First of all, flavor. Adding mashed Idaho® Russet potatoes to the bread dough gives it more flavor, and that makes your French toast taste more interesting.
Another reason? Slipping in a bit of extra nutrition. While stuffed French toast is not health food, you can absolutely get some additional nutrition into your French toast with potato.
A cup of mashed potato added to the bread dough will get you (not per slice, but per cup of mashed potato):
25% of your Vitamin C
16% of your potassium
7% of your Vitamin A
almost 4 grams of fiber
And if you need a third reason, the cooked potato also serves to keep the bread fresh for several days which is important for French toast.
For more nutrition information about potatoes, please visit my friends at the Idaho® Potato Commission, and they will hook you up.
The first step in making this Valentine's treat is to let the loaf of bread sit out for 3-4 days, wrapped in a lint-free kitchen towel.
During this time, the crust gets firmer, and this makes the bread easier to cut into heart shapes.
But the center of the bread remains soft enough to slice a pocket in the side and stuff it without it disintegrating.
Potato bread is the perfect bread for making stuffed French toast!
What Temperature Should You Bake French Toast?
Since French toast is soaked in a custard, and we don't want our custard to curdle, a lower oven temperature is ideal.
I like to bake my French toast at 325F. The oven is hot enough to ensure that your French toast browns nicely but cool enough that your custard should bake up nice and smooth.
To make sure the custard is set all the way to the middle, I check the temperature with an instant read thermometer and take them out when they reach 160F.
PRO TIP: For the prettiest color, serve your stuffed French toast with the side that was on the baking sheet up.
How to Make This Stuffed French Toast
Ingredients
There are a few components to this fancy Valentine's breakfast (or dessert, for that matter). None of them are hard to make.
If it seems daunting, I will suggest substitutes for the homemade components and ways to spread the production out over 2-3 days.
Here's what you'll be making and what you'll need:
Apple Butterscotch Filling
butter
brown sugar
salt
shredded apple
cream cheese
French Toast Batter
milk
eggs
brown sugar
cinnamon
salt
vanilla
Apple Butterscotch Sauce
butter
brown sugar
salt
apple cider
And of course, you'll need an uncut loaf of potato sandwich bread.
Here's how to put it all together.
How to Make the Apple Butterscotch Filling
The procedure for the filling sounds a little unconventional, but it works really well and is delicious.
You do not have to add the cream cheese if you want a more pronounced apple flavor. I used it because I will put cream cheese in everything, and I like the slight cheesecake vibe it lends.
Anyway, here's how to do it.
Make butterscotch by cooking the butter, brown sugar, and salt together until the butter browns and the sugar caramelizes. It will darken in color, smell like caramel, and maybe even start to just barely smoke. All good.
Immediately take the pan off the heat and add the shredded apple. The apple will release its juice and the caramelized sugar in the butterscotch will seize up. Cook over medium heat until the butterscotch melts.
Continue cooking, stirring occasionally, until the apple juice has reduced to a thick syrup.
Melt in the cream cheese. Chill. The filling will firm up nicely in the fridge making it pretty easy to scoop up a spoonful and stuff it into the French toast.
Making the Batter
Making French toast batter is as easy as whisking all the ingredients together.
Since cinnamon likes to float and does not enjoy getting incorporated into the batter, you'll have to whisk pretty aggressively to get it to behave. And even then, it may just float on top, disapprovingly.
I do have one tip for you that is by no means necessary, but it can make your French toast look better once it has baked (or fried, for that matter).
PRO TIP: For a completely smooth custard, whisk the eggs together and then strain them into the custard.
I say this because you know how sometimes when you make scrambled eggs or French toast, you'll have streaks of cooked whites in it? That's partly because the albumin, especially that thick part around the yolk, likes to stick together.
Whisking the eggs before adding them and then straining them into the mix will catch all the little white threads or chalazae from the egg, and it will force the albumin to stop clumping together so it can be mixed evenly.
See how the strainer catches all the wee bits of chalazae? This ensures the smoothest possible custard mixture.
It's not so much for the texture of the finished French toast because there's already bread and apples in it, but for presentation, so there are no white streaks on your hearts once they've baked.
Again, this is by no means a necessary step, but it will make your presentation that much more fancy.
And you can do this with any egg dish, from creme brulee to scrambled eggs to French toast.
How to Make Stuffed Baked French Toast
You can do this if you have ever cut out a heart from a folded piece of paper in kindergarten and if you've ever cut bread.
Easy!
The photos are pretty self-explanatory. To Recap:
cut a heart template from a piece of paper, making sure it's as big as possible without being too big. We're looking for Just Right so it fits inside the crust.
Trim down all around the template using a serrated knife. Make the cuts as straight down as you can.
Cut a slit in the side of the heart so you can put a big spoonful of filling inside.
Save all the scraps to make a baked French toast or bread pudding. Or DIY stuffing cubes!
The last photo is of a heart that I stuffed and soaked in the custard. He's ready to go.
Baking the Hearts
There are just a few things to remember when you dip and bake your French toast.
Since your bread is a few days old, you can let it soak in the custard for about 30 seconds per side.
Pressing down gently on the bread while it's in the custard will "squoosh" it down, and when it unsquooshes, it will suck up a bit more custard into the center. I highly recommend the squooshing maneuver once on each side of the heart.
Choose the prettiest side of your French toast and place it, that side down, on the baking pan. This will become the top, which is nicely browned from direct contact with the pan.
Some of the custard will leak out during baking. Trim this off with a sharp knife or with the edge of your spatula.
I really hope you love this Valentine's recipe, you guys!
It would be so helpful to me and to other readers that, when you make a recipe, you rate it and leave a comment. Whether it's a recipe or an informational post, your feedback helps others decide if the post is helpful or if the recipe works as advertised.

If you could leave a star rating, that would be very helpful. Thank you for being here!
And do check out the Idaho® Potato Commission website. There are tons of recipes for cooking and baking with potatoes!
Thanks, and enjoy!
Apple Butterscotch Stuffed French Toast
This stuffed French toast is fancy enough for a very special breakfast or brunch. And if you are ever feeling like an indulgent breakfast, go with this one, because you're worth it!
The apple butterscotch filling and sauce add a little something extra to what otherwise is a standard French toast. Do make this using the potato bread I made using Idaho®Potatoes. It really is perfect for this French toast since it has so much flavor on its own.
Ingredients
1

loaf uncut Potato Bread

3-4 days old
For the Shredded Apple Butterscotch Filling:
2

Tablespoons

unsalted butter

4

Tablespoons

dark brown sugar

packed

Heavy pinch of salt

1

apple

your favorite sweet-tart variety

2

oz

1/4 block cream cheese
For the French Toast Batter:
2

cups

whole milk

may sub 2%

3

large eggs

beaten

2

Tablespoons

brown sugar

packed

Heavy pinch salt

½

teaspoon

ground cinnamon

½

teaspoon

vanilla
For the Apple Butterscotch Sauce:
4

Tablespoons

unsalted butter

⅓

cup

dark brown sugar

packed

Heavy pinch of salt

1 ½

cups

apple cider
For Serving (all optional)
Use the apple butterscotch syrup or the syrup of your choice

lightly sweetened whipped cream or sour cream

optional

toasted chopped nuts

optional
Instructions
For the Shredded Apple Butterscotch Filling

In a medium saucepan, melt the butter over medium heat.

Once melted, add the brown sugar and salt.

Turn up heat to medium high and cook, stirring constantly, until the butterscotch comes together smoothly, darkens in color, and starts to smell like caramel. You may see a few wisps of smoke.

Remove from the heat and immediately add the shredded apple. The apples will start to give off liquid almost immediately, and the butterscotch may harden up in the pan.

Return the pan to medium heat and cook, stirring constantly, until all the butterscotch has melted. The liquid will be very thin because of all the juices from the apple.

Continue to boil until the juices reduce down to a thick, syrupy texture.

Cut the cream cheese into bits and stir into the apple mixture. Cool and then chill.


For the French Toast Batter

Whisk together all the ingredients until evenly combined. If you'd like, you can strain it to get out any egg bits, but it is not strictly necessary.

Pour into a shallow, flat-bottomed dish like an 8×8" pan or similar. Refrigerate until ready to make your French toast.



For the Apple Butterscotch Sauce

In a pan that's much larger than you think you need, melt the butter.

When the butter is mostly melted, add the brown sugar and salt.

Cook together over medium high heat, stirring constantly, until the butterscotch comes together into a smooth and bubbling sauce. It will darken in color and start to smell like caramel. You may see a few wisps of smoke.

Remove the butterscotch from the heat and pour in the apple juice or apple cider. It will sputter and boil and the butterscotch will harden into candy.

Place over medium heat, and cook, stirring, until the butterscotch has all melted.

Bring to a boil and boil until reduced to a thick syrup, stirring frequently. NOTE: The mixture will darken and thicken and sometimes it will rise up in the pan. If it does and threatens to boil over, just remove the pan from the heat and let it calm down.

Continue cooking the sauce down until you have about ½ cup of sauce.

Pour into a heat-safe measuring cup and allow to cool to warm. At this point you can refrigerate the sauce until you're ready to use it. Reheat briefly to pouring consistency.

To Form, Stuff, and Bake the French Toast

Preheat your oven to 325F.

Line a half sheet pan or cookie sheet with parchment. Set aside convenient to the oven.

With your serrated knife, slice off each heel of the bread.

Cut the remaining loaf into 5 even pieces of about 1 ½" each.

Fold a 6" square piece of parchment in half and hold it on top of one of the slices of bread. Mark where the top and bottom are, and then draw a half heart (remember when you did this as kids?!) sized to just fit inside the crust of the bread.

Cut out the heart and use this as a template to cut each thick slice of bread into a heart shape.

Simply place the heart template so it's centered on the slice and the cut straight down all around, using the template as your guide.

When done, trim up any ragged looking edges.

Again using your serrated knife, cut a pocket halfway down the side of each thick slice, and cutting to within about an inch of the other side. Don't make the cut at the top of the heart where the "bow" is, but along one side to keep the heart shape as evident as possible.

Gently fill each pocket with a heaping tablespoon of apple filling, tucking it inside away from the edge as much as you can without tearing the heart.

Soak each heart in the French toast batter for about 30-45 seconds per side, pressing down gently with a spatula to encourage the custard to soak into the heart.

Pick up each heart with a slotted spatula and let drain over the batter for a few seconds.

Place each filled and soaked heart, prettiest side down, onto a parchment-lined baking sheet.

Bake until the internal temperature of each heart is 165F, about 30 minutes or so. The hearts will have puffed up some and will look dry on the top. NOTE: Some of the custard may have run out and made little "feet" at the edges of your hearts. That's okay. Remove the French toast from the oven, and use a sharp knife or the edge of a metal spatula to cut away the little "feet."

Turn them over to the pretty side again. They should be a beautiful golden brown.

Place each heart on a plate, and serve with the apple butterscotch sauce and (optional) chopped, toasted pecans.

Did You Make Any Changes?
Notes
Cook time does not include the time it takes to make the filling or the sauce, only how long it takes to bake the toast hearts. Each component will take about 10-15 minute cook time.
Splitting This Recipe Up Into Sessions
Admittedly, there is a lot going on in this recipe. Here are some ways to keep from being overwhelmed:
Buy a whole loaf of bread at your local bakery rather than making your own bread. Make sure you let it sit out for a day or two. (If it's not potato bread, it will stale more quickly.)
Make the filling a day or two ahead of time
You can make and stuff the hearts a day before making the French toast
You can make the batter a day or two ahead and keep it in the fridge
You can opt to NOT stuff the bread, saving yourself from having to make a filling12121q11
If you want an easier filling, use some apple pie filling. Make sure to chop it up so big chunks of apples don't tear your bread
Use maple syrup or any other syrup you like rather than making the apple butterscotch sauce
What To Do with the Trimmings from the Bread
The bits of bread leftover are great for making bread pudding–you can even use the leftover custard to soak it in.
If you'd rather not make bread pudding, cut the bread up in small cubes and freeze until Thanksgiving or the next time you want to make stuffing. You can turn these bits into your own stuffing cubes.
A Note on the Nutritionals
The nutrition information does not take into account the amount of custard that is leftover after making the toast, nor does it take into account the nuts or the whipped cream/sour cream if you decide to use either of those garnishes.
Nutrition
Serving:
1
g
Calories:
439
kcal
Carbohydrates:
47
g
Protein:
11
g
Fat:
24
g
Saturated Fat:
14
g
Polyunsaturated Fat:
8
g
Cholesterol:
169
mg
Sodium:
273
mg
Fiber:
2
g
Sugar:
42
g
And there you have it friends. A Valentine's Day breakfast fit for a queen or a king! Enjoy it.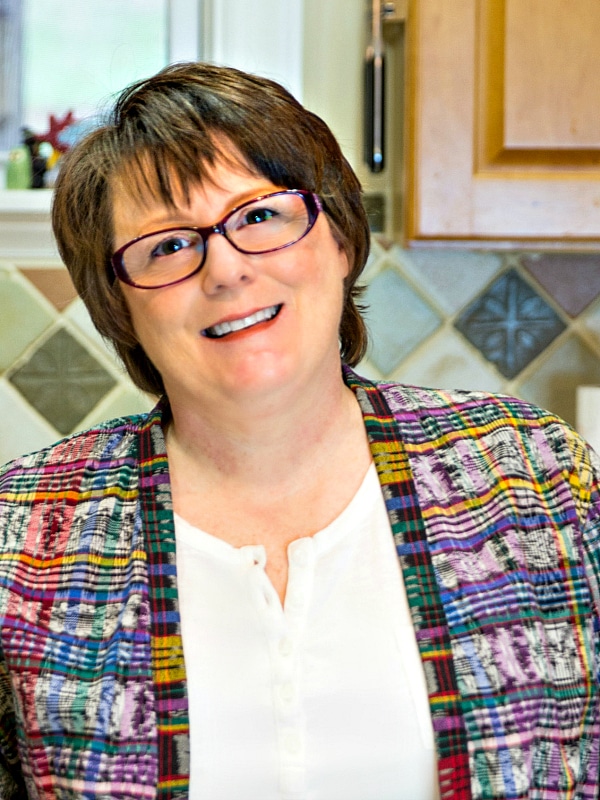 What are my qualifications to teach you baking and pastry? As a former working pastry chef and special educator, I marry my passions for both teaching and for baking into explaining techniques, methods, and developing the best possible recipes. For more info, you can read more about me.
If you'd like to receive new recipes and the occasional newsletter, I'd love for you to sign up for my Inbox Pastry Chef.
Thanks for spending some time with me today. Take care, and have a lovely day.