Today, we're making soft cinnamon rolls using Idaho Potatoes, you guys. If you've ever wondered how to make gooey cinnamon buns, I have the answer for you:

Potatoes!

Potatoes work wonders in bread, and I've used them to make soft sandwich rolls, soft dinner rolls, and more.

For ease of browsing, here are all of my bread and roll recipes and my sweet yeast bread recipes all in one place.

But today, let's focus on the use of potatoes in sweet, enriched dough to make the best cinnamon rolls ever. I hope you're ready for the soft cinnamon rolls of your dreams. These are so good!
I am honored to partner with the Idaho® Potato Commission to bring you these soft gooey cinnamon rolls.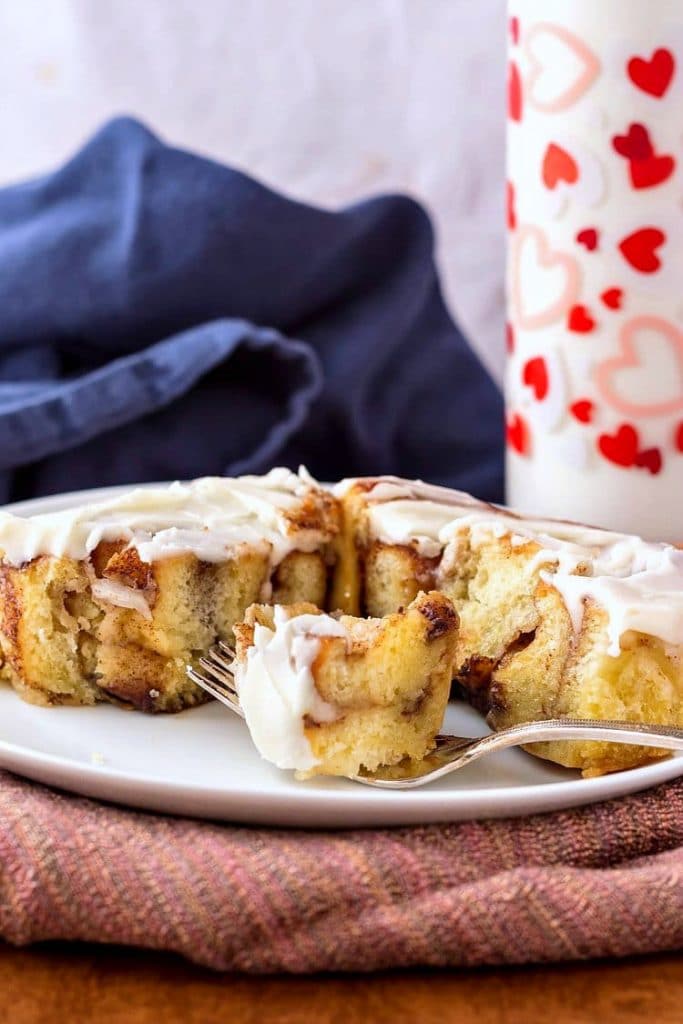 Baking with Potatoes
Potatoes are almost endlessly versatile. You love 'em in soup, in stew, stuffed to overflowing, roasted, spiralized, baked in wedges and on and on. I do, too.
But you know what else I love? Cinnamon rolls. Soft cinnamon rolls. I am in seriously, long-lasting, deep-and-abiding love with gooey cinnamon buns.
So when I had the opportunity to work with the lovely folks at the Idaho® Potato Commission, I suggested I develop a sweet yeast dough made with Idaho® potatoes. Ulterior motive? Turn that sweet dough into soft cinnamon rolls.
I am here to tell you, friends, that I succeeded in a big way.
With a 1:2 ratio of potato to flour by weight, this dough is truly a potato dough.
This dough contains a full 8 ounces of mashed Idaho® Russet spuds. That keeps things nice and moist so these soft cinnamon rolls hold onto their gooey cinnamon roll goodness on the counter for 2-3 days and even longer when well-wrapped and frozen.
How To Make Gooey Cinnamon Buns
In a word: potatoes. Always use the starchy kind. I like Idaho® russets.
The starches in the potatoes swell up and hold onto water, and they don't let go.
Plus, since we're substituting 8 oz (1 cup) of mashed potatoes for 8 oz (2 cups, give or take) of flour, we're down 2 cups of flour's worth of gluten. And the less gluten, the more tender.
The tradeoff is that the dough is pretty soft.
A long, slow rise in the fridge definitely helps the dough to firm up and be workable, but when working with potato dough, your bench knife will be your best friend. (Please see the videos to see how much I use the bench knife when working with this dough.
Once you have your soft dough, you'll add a gooey cinnamon sugar filling and top the baked rolls with gooey icing. With those 3 components, I promise you will end up with legendary gooey cinnamon buns!
Soft Cinnamon Rolls with Idaho® Potatoes, Q & A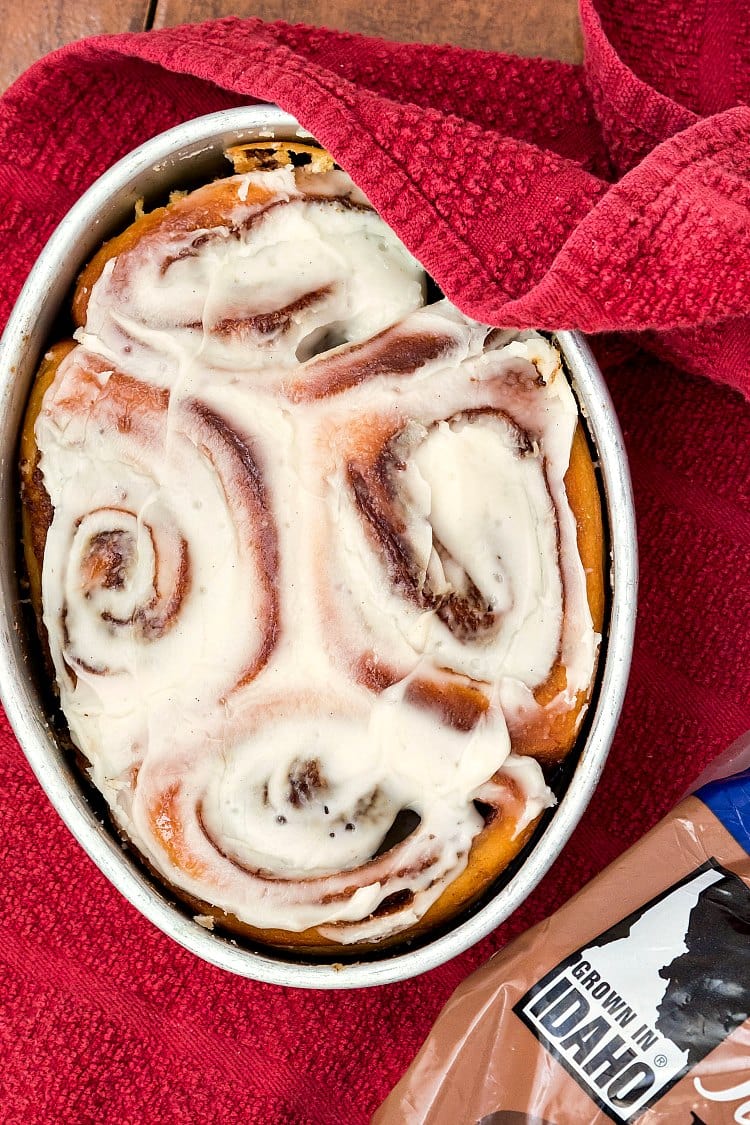 Here are a few pro tips and answers to baking questions that should help you be successful when making these cinnamon rolls.
PRO TIPS
Use active dry or instant yeast to make these rolls.

If you use active dry, use a portion of the milk from the recipe to give the yeast a head start and get bubbly before adding the rest of the ingredients.
If you're using instant yeast, everything can go in the mixer at the same time.

If you have a marble countertop or a marble pastry board, use it. It will help keep the delicate dough colder and relatively easy to work with.
Roll the dough out as quickly as you can so it doesn't warm up too much. The potato sweet dough is very soft and delicate at room temperature, so work fast!
If the dough gets too soft for you to work with, you can roll it up with the help of your bench knife and then refrigerate it before cutting the rolls and panning them up.
Cinnamon Roll Q & A
Do I have to use this dough to make cinnamon rolls?
No. The sweet dough itself can be used in all sorts of preparations, from yeasted coffee cake to King Cake to monkey bread to, well, almost any kind of sweet roll you can think of.
Do I need any special equipment?
Since the dough is so soft, I strongly recommend using a stand mixer when making it. Other than that, all you really need is a rolling pin, a bench knife, bowls to mix up the filling and icing, and a pan to bake them in.
Can you freeze soft cinnamon rolls?
You can. Almost all breads do well in the freezer for up to a month or a bit longer. To freeze your cinnamon rolls, cool them completely, put them in a single layer in freezer bags (you'll need to use 3 or 4 freezer bags), and press out as much air as you can before sealing them up and storing them in the freezer.

Let them thaw on the counter, still in the bag/s, until they come to room temperature. Heat them in the microwave for a few seconds or warm them up in a 300F oven for about 10 minutes.

NOTE: I would wait to ice them until after they come out of the freezer. It's just less messy.
How long will they stay fresh at room temperature?
The potato keeps these gooey cinnamon rolls soft and fresh for a good 2-3 days. Traditional cinnamon rolls tend to get a bit stale after only a day, so the potato dough is wonderful if you're not planning on eating or sharing your rolls all in one day.
What can I do with leftover cinnamon rolls?
I didn't know there was such a thing! But seriously, if time gets away from you and you are left with 2-3 cinnamon rolls that are a bit past their prime, cut them up and use them to make bread pudding. Or dunk them in a custard batter and make cinnamon roll French toast.
Making Soft Cinnamon Rolls on Facebook Live
If you'd like to see video of me making these with my friend Brandy from Nutmeg Nanny on Facebook Live, you can watch us make the dough here and then finish up by rolling out, filling, shaping, and baking here.
I'm including the embeds of the videos if you'd prefer not to click away to get your soft cinnamon roll-making-video fix.
First, here we are making the sweet dough:
And here's the portion where we roll out, fill, shape, and bake the rolls:
Gooey cinnamon buns made with Idaho® Potatoes. It seriously doesn't get much better than this. They truly are the softest, gooiest cinnamon rolls I've ever made, and I have made my share! I hope you enjoy them!
More Potato Dough Recipes
I've made a lot of potato dough recipes working with my friends at Idaho Potatoes.
If dinner rolls are what you're craving, aside from the garlic chive ones linked above, try my Garlic Parmesan dinner roll recipe. They are pretty amazing!
And if you want more sweet yeasted goodness, you seriously cannot go wrong with my Moravian Sugar Cake recipe. Lord.
If you have any questions about this or any other recipe or post on the site, there are a few ways to get in touch.
You can leave a comment on the post, and I'll be back in touch within 24 hours.
If your question is more pressing, don't hesitate to email me, and I should be back in touch within 4 hours (unless I'm asleep) or often much more quickly than that.
This is the kitchen scale that I recommend for home cooks and bakers. Using a scale will help you be more accurate and consistent in your measurements.
It is lightweight, easy to store, accurate, and very easy to use.
Best for Home Use
Escali Primo Digital Food Scale
Don't let its small price and small size fool you. The Escali Primo is an accurate and easy-to-use food scale that I have used for years. It's easy to store, easy to use, has a tare function, and easily switches between grams and ounces/pounds for accurate measurements.
This is an affiliate link which means I earn from qualifying purchases. Your price is unaffected.
I hope you've learned something from this post or that you've decided to make the recipe.

It would really help me and other readers out if you'd rate the recipe using the star ratings in the recipe card.

It's also very helpful to me and to other readers if you leave a comment and/or a recipe review.

Thank you so much for being here and for helping others find my recipes by sharing on your social platforms!
Soft Cinnamon Rolls Recipe
Total Time:
8 hours
55 minutes
These soft cinnamon rolls are super soft, stay fresh for several days, and are really hard to stop eating. They're sweet, but not too sweet, and the recipe contains a half pound of mashed Idaho potatoes!
Ingredients
For the Sweet Dough
8 oz Idaho potatoes, (I used russet)
4 oz unsalted butter
6 oz whole milk
2.3 oz granulated sugar, (1/3 cup)
1 egg
2 egg yolks
2 teaspoons kosher salt
1 pound all purpose flour, (King Arthur recommended)
1 Tablespoon active dry yeast OR Instant Yeast (see instructions)
For the Filling
2 sticks unsalted butter, softened (8 oz)
heavy pinch kosher salt
7 oz brown sugar, (1 cup, packed)
2 1/2 Tablespoons ground cinnamon
1/2 teaspoon vanilla paste or extract
For the Icing
4 Tablespoons unsalted butter, (1/2 stick)
pinch kosher salt
3 cups powdered sugar, (12 oz)
3 Tablespoons half and half or whole milk
1/2 teaspoon vanilla paste or extract
Instructions
For the Sweet Dough
Wash and peel potatoes, and cut them into about 1 1/2" chunks. Place them in a medium saucepan, and cover with water by about 1". Add 2 teaspoons kosher salt to the water.
Bring potatoes to a boil and then simmer for 10-12 minutes or until they are easily pierced with a knife with no resistance.
Drain the water out of the potatoes. Put the lid on the pan and put the pan back on the burner (now turned off) for about 5 minutes. This will help the potatoes to dry. When ready, they will look a little "floury" on the outsides. If you have a stove whose burners do not retain heat (like gas), put over a very low flame to dry.
Weigh out 8 oz of potato and put them in the bowl of your stand mixer. Fit the mixer with the paddle attachment and mix until smooth.
Cut the butter in 4-5 pieces and add to the mixer. Mix until the butter has "melted" into the rest of the dough..
Mix in milk, sugar, egg, egg yolks, and salt until you have what looks like potato soup.
Add the flour and top with the yeast. NOTE: If using active dry yeast, warm 1/4 cup of the milk and mix the yeast with that. Once it's bubbly, pour the milk/yeast mixture on top of the flour.Switch to the dough hook, and mix on low speed until the dough comes together, about 2-3 minutes.
Increase speed to medium and knead dough until soft, shiny, and elastic. This will take about 10-15 minutes.
Once the dough is shiny, and stretchy, gather it into a ball. The dough will be very soft, so do the best you can.
Place the dough in a large, buttered or pan-sprayed bowl. Spray the dough ball with more pan spray, and cover with plastic wrap. Refrigerate dough overnight or up to a day and a half.
For the Filling
Mix together all the filling ingredients. I find using a clean hand to squish everything up works best for me. You can also do this with a hand mixer, if you prefer.
For the Icing
Melt the butter and salt together in a medium, microwave-safe bowl.
Whisk in the powdered sugar as thoroughly as you can.
Add the milk or half and half and vanilla and whisk until smooth.
To Shape, Bake, and Finish
Generously flour a large, smooth work surface.
Turn chilled dough out onto the floured surface and press out the gases. Flour the top of the dough.
Using a rolling pin, roll dough into a large rectangle no more than 1/4" thick. Finished rectangle will be about 24" long and 18" tall. Try to keep it as even as you can. Use a dough scraper to help lift the dough if it sticks some. Then you can scoot a bit more flour underneath to keep things loose.
Using an offset spatula, spread the filling mixture on top of the dough in an even layer. Go from edge to edge, but leave about 1 1/2" bare along the top edge of dough.
Using your bench knife to help if necessary, roll the dough into a long cylinder. Pinch the seam together as well as you can and roll the cylinder over seam side down.
Cut off either end of the cylinder so you expose a nice spiral of filling on either end. If your dough rectangle was a bit uneven, you may have to slice off a good 3-4" inches. Worry not. I have a use for those ends., so just set them aside and see the Notes section.
Slide a long piece of unflavored dental floss under the dough cylinder until you reach the center. Pull the ends up and cross them over each other, and pull tightly to make a clean slice.
Working with half of the cylinder at a time, slice in half again, and then slice each half into 3 even pieces.
Arrange the dough spirals in your prepared pan/s. (See Notes)
Leave about an inch of space between each roll. Spray lightly with pan spray, cover with plastic wrap or a lint-free towel, and let rise in a warm place for about 45 minutes to an hour until puffy.
While the rolls are rising, preheat oven to 375F and set a rack in the center of the oven.
When rolls are nice and puffy, Place in the oven and bake for 10 minutes. Rotate the pan/s and bake an additional 12-15 minutes or until the rolls are a lovely medium golden brown. The internal temperature of the rolls should be between 195F-205F.
Remove pans to cooling racks and let cool for 10-15 minutes.
Generously ice the rolls using an offset spatula. If you'd rather, you can put the glaze in a piping bag fitted with a round tip and pipe the icing on in spirals or in a crosshatch pattern.
Enjoy warm or at room temperature.
Store, well covered, at room temperature for up to 3 days. Wrap well and freeze for longer storage.
Notes
If you want to bake all your cinnamon rolls in one pan, use a 9"x13" straight-sided cake pan. Otherwise, use whatever round or square pans you have. They will taste amazing either way. Whatever pan/s you use, spray them lightly with pan spray before filling them with the dough.
About those dough ends: Using your bench knife, randomly slice up the leftover ends of dough and place them either in lined muffin tin cavities or a small pan lightly sprayed with pan spray. Let these rise and bake the same as you did the rolls. Now you have some "monkey bread," to munch on!
TIPS
Use active dry or instant yeast to make these rolls.
If you use active dry, use a portion of the milk from the recipe to give the yeast a head start and get bubbly before adding the rest of the ingredients.
If you're using instant yeast, everything can go in the mixer at the same time.
If you have a marble countertop or a marble pastry board, use it. It will help keep the delicate dough colder and relatively easy to work with.
Roll the dough out as quickly as you can so it doesn't warm up too much. The potato sweet dough is very soft and delicate at room temperature, so work fast!
If the dough gets too soft for you to work with, you can roll it up with the help of your bench knife and then refrigerate it before cutting the rolls and panning them up.
Recommended Products
As an Amazon Associate and member of other affiliate programs, I earn from qualifying purchases.
Nutrition Information
Yield

12
Serving Size

1
Amount Per Serving
Calories

634
Total Fat

30g
Saturated Fat

18g
Trans Fat

0g
Unsaturated Fat

10g
Cholesterol

122mg
Sodium

412mg
Carbohydrates

86g
Fiber

3g
Sugar

51g
Protein

7g
The stated nutritional information is provided as a courtesy. It is calculated through third party software and is intended as a guideline only.
And there you have it, friends.
Visit my contributor page on the Idaho Potato site to get this and all my other potato recipes straight from the potato experts.
Thanks for spending some time with me today. Have a lovely day.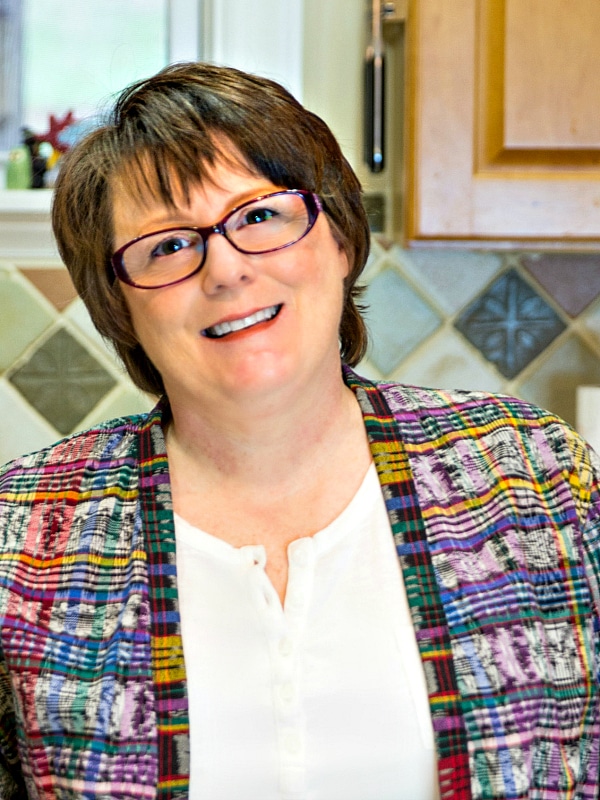 Hi, everyone!
If you haven't already, I'd love to have you sign up for my newsletter.
I generally send one or two a week with recipes, tips, and some behind-the-scenes action.
Just click the button below to sign up. Thank you!