Let The Fall Food Extravaganza Commence
Happy Fall, y'all. I've been able to have the windows open the last couple of nights, and I am in the mood for sweaters, fires, and hot chocolate. So to start off the fall festivities, I bring you apple cider doughnut French toast casserole. We all know baked French toast, French toast casserole, and bread pudding are all pretty much the same thing, so feel to enjoy it for breakfast, for dessert, at a Thanksgiving brunch or with a cup of coffee. There is really no wrong time to make a French toast casserole, and apple cider doughnuts are everywhere these days. All you need to do is keep yourself from eating 6 of them, break them into pieces and dry them in the oven for a bit. The rest of the ingredients, you probably already have on hand.
Oh, about that streusel topping, you guys. I am pretty pleased with myself for this one. You know how sometimes you mix up streusel and it ends up either too clumpy or too sandy? Well, here's what I did for this streusel–and it really only works if you don't want little discrete "bits" of streusel. This method gives you a blanket of streusel as thick as you want.
Mix sugar, flour, butter, salt, vanilla, and spice until it looks like cookie dough.
Scrape out onto a piece of plastic wrap or parchment and form it into a log.
Roll it up and freeze it until hard.
Use a box grater to grate the streusel onto your apple cider doughnut French toast casserole, or onto whatever needs to be streuseled.
Apple Cider Doughnut French Toast Casserole
Everybody loves a good apple cider doughnut. I need to figure out how to make some for the blog. Until then, I used some store-bought apple cider doughnuts to make this French toast casserole/bread pudding. I also used another "convenience food:" apple pie filling. So much apple flavor packed into this casserole, y'all, and it's very easy to make. I'll give you a list of how-tos and then give you a recipe. But please know you can use more or less sugar, more or less spice, more or less salt, leave out the nuts, etc.
Break doughnuts up into 4-5 pieces each.
Bake at 250F for an hour or so until dry. Let cool.
Add some apple pie spice to your apple pie filling and chop it up really well so you don't get huge honking chunks of apples.
Toast some pecans.
Mix the doughnuts with the apples and pecans and put in a casserole dish.
Make the streusel and freeze (as above)
Mix up some custard flavored with apple pie spice.
Pour over doughnuts and let soak overnight in the fridge.
Grate the frozen streusel onto the casserole, and bake.
So, that's the game plan. Before we get started, let's make sure you have all you need.
Shop This Recipe
The following are affiliate links. I will earn a small commission when you buy an item through one of my links. Your cost is unaffected.
It's always nice to have a nice mixing bowl or batter bowl. I really love Mason Cash. Great quality and will last you for decades.
I'm as much a fan of a clear glass baker as the next person. They go with everything and are inexpensive. But I also own some lovely seasonal bakers that are perfect for comfort food like this. Consider this lovely ruffled Emile Henry baker or this Mason Cash rectangular baker I think is truly timeless.
And you know how I feel about accurate measurements. Please purchase a kitchen scale and an instant read thermometer. Both will make your life so much easier, I promise.
Here are some other items that will make quick work of your fall baking. That box grater is for the streusel. You'll like that trick, I promise!


Okay, I think we're ready to make some apple cider doughnut French toast casserole now. Here we go.
It looks like a lot of ingredients and steps, but you can make the streusel and/or the syrup weeks in advance if you want. You can also make the custard while the doughnuts are drying in the oven. The main thing is to enjoy it!
Apple Cider Doughnut French Toast Casserole
Cook Time:
1 hour
15 minutes
Total Time:
1 hour
30 minutes
Apple cider doughnut French toast casserole (bread pudding. Same difference) is a fantastic fall breakfast, brunch or dessert. Loaded with apple cider doughnuts, apple pie filling, and toasted pecans and topped with brown sugar streusel, it's kind of hard to stop eating.
Ingredients
For the Streusel
1 stick unsalted butter, softened
4 oz cake flour
4 oz light brown sugar
1/4 teaspoon apple pie spice or cinnamon
heavy pinch salt
For the Custard
3 cups whole milk (you can use 2% if you want)
6 oz light brown sugar
3 large eggs
heavy pinch salt
1/2 teaspoon apple pie spice
1/2 teaspoon vanilla extract
For the Syrup
32 oz apple cider, (1 quart)
small pinch salt
small pinch apple pie spice
To Assemble and Bake
1 cup prepared apple pie filling
1/2 teaspoon apple pie spice (only if your pie filling isn't seasoned)
1/2-1 cup chopped pecans, toasted (or walnuts. Or leave the nuts out altogether)
For the Spiced Whipped Cream
1 cup heavy cream
brown sugar, to taste, 2-4 Tablespoons
pinch salt
heavy pinch apple pie spice
Instructions
For the Streusel
Mix all ingredients together until it looks like cookie dough
Scoop streusel onto a piece of parchment or plastic wrap.
Form into a log about 1 1/2 inches in diameter. Wrap well and freeze until solid, about 2 hours.
For the Custard
Whisk all ingredients together in a large bowl until smooth with no eggy bits floating around. Set aside. Whisk again right before assembling the casserole/pudding.
For the Syrup
Combine all ingredients in a medium saucepan. Bring to a boil and boil until syrup is reduced to between 3 and 4 ounces.
To Assemble and Bake
Combine the dried doughnuts, pecans and apple pie filling in a 9"-11" square baker and mix well to distribute the apples and pecans evenly.
Pour the custard evenly over the doughnuts. Cover and refrigerate at least 6 hours or overnight.
Before baking, evenly grate as much of the frozen streusel as you want on top of the pudding.
Bake in the center of your oven at 350F until nicely puffed and deep golden brown all over, about 1 hour and 15 minutes. Internal temperature in the center of the pudding should be about 160F.
Cool until just warm before slicing and serving with spiced whipped cream and some of the apple cider syrup.
To Make the Whipped Cream
Combine the cream, the smaller amount of sugar, the salt, and the apple pie spice in a medium bowl. Using a hand mixer or a whisk, beat to medium peaks. Taste, and add more sugar if you would like. Continue beating until the cream holds stiff peaks.
Notes
Prep time does not include drying the doughnuts or making the syrup. 
Want More Bread Pudding?
I can help! Click on the photos to go straight to the recipes.
And that's it, friends. Apple cider doughnut French toast casserole. Whether you enjoy it for breakfast, brunch, dessert, or a coffee break, I think you're going to love it.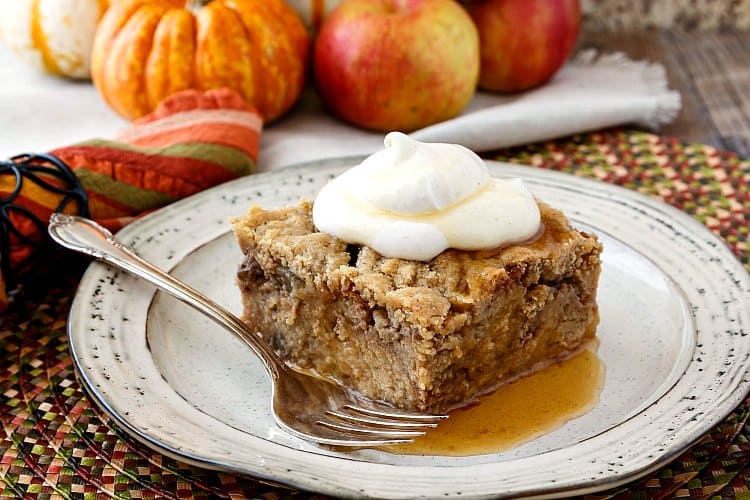 Thanks for reading. Take care, and have a lovely day.