This is definitely Sunday Brunch Deep Fried French Toast, and here's why: it fries up puffy and crisp on the outside and soft and pillowy on the inside.

Plus, look at it! So impressive! From a family recipe from a family friend in Louisiana.

You can make this French toast treat with store bought bread or make it from homemade or brioche or other sweet bread. For a less sweet version, you really might enjoy making it with potato bread, and I won't even be mad at you if you decide to start with cinnamon rolls. After all, a treat is a treat!

For ease of browsing and more ideas, here are all of my breakfast recipes in one place. Enjoy!
Why Deep Fry French Toast?
The short answer is "because you can." I mean, if people dip candy bars or Twinkies in batter and fry them, it hardly seems a stretch to batter and deep fry some soft slices of bread.
Think of it as a Monte Cristo sandwich without the sandwich fixin's.
French Toast with Louisiana Roots?
This recipe comes from a lady named Susie Friou, originally from Louisiana, who attended my parents' church for a few years about 35 years ago or so.
I'm not really sure if it's a recipe that hails from Louisiana, but since Susie Friou made it and she was from Louisiana, by the transitive property, this French toast is from Louisiana as well.
The first time I had it, I think Mrs. Friou made it for the youth group during a beach trip. I was amazed at the deliciousness.
I loved it so much that my mom made this very same recipe for me, my date and our friends for midnight breakfast after senior prom.
Use Fresh Bread
Most French toast, baked French toast, stuffed French toast, and bread pudding recipes call for day old or stale bread. That's because the beauty of a custard-based French toast is that the dry bread soaks up the custard.
This deep fried French toast isn't custard based though. It's batter-based. And that means that the batter isn't going to soak into the bread.
If you did use stale bread, you'd simply end up with battered and deep fried dry bread. Gross.
Nope, for this, you want fresh, flavorful, enriched bread. Since the batter contains only 1 egg, you'll need to get the rich egg flavor from the bread itself, and that means using challah, brioche or even cinnamon rolls.
Note to self: try this with cinnamon rolls.
To Add Sugar to the Batter or Not
I recently had someone comment that their French Toast was too salty and they couldn't eat it. They didn't like that there was no sugar in the batter.
If you are concerned that the toast itself is unsweetened, Hit it with some powdered sugar as soon as you remove it from the hot oil.
I don't recommend putting sugar in the batter, because the sugar will burn in the fryer before the batter is completely cooked through.
If you are very sensitive to salt, you can reduce the amount called for in the batter to 1/4 teaspoon.
Brunch Is Time to Pull Out All the Stops
Brunch seems to have gotten a bit of a bad rap these days. Like "brunch" is some sort of ironic meal.
But for me, making brunch means you can sleep in a little bit and still have time to make some special dishes, maybe even to share with friends.
Some of my favorite brunch dishes can even be started the evening before and then shoved in the oven in the morning like my Moravian Sugar Cake Baked French Toast or Apple Cider Doughnut French Toast Casserole.
If you're not into sweeter dishes, or want to provide a savory option along with your sweets, you can always make a breakfast casserole like this Sausage, Spinach, and Mushroom breakfast casserole.
Once everyone has enjoyed their magical brunch, they're back and on their way so you can spend the rest of your day watching Netflix. Or nibbling on leftover deep fried French toast.
Peach Berry Sauce, Two Ways
And that sauce? I made it two ways.
You can enjoy it with whole blueberries and bits of peach for a rustic sauce
or you can puree it with an immersion blender and strain it for more of a "syrup" experience.
If you're feeling frisky, mix the puree with some real maple syrup and have the best of both worlds. However you decide to enjoy your deep-fried French toast, I know you are going to love it.
You may also really REALLY enjoy my deep-fried (or baked) Monte Cristo crepes. Another recipe prefect for brunch.
Questions?
It would be so helpful to me and to other readers that, when you make a recipe, you rate it and leave a comment. Whether it's a recipe or an informational post, your feedback helps others decide if the post is helpful or if the recipe works as advertised.

If you could leave a star rating, that would be very helpful. Thank you for being here!
Deep Fried French Toast Recipe
I call this Sunday Brunch Deep Fried French Toast because this is some impressive stuff. Thick-sliced, soft brioche or challah, possibly stuffed with goodness–or not, dipped in a thick, poofy batter and deep fried. It's big and impressive, but since the bread isn't completely soaked with custard it is much lighter than it looks. Perfect brunch fare. Enjoy with real maple syrup, jam or the peach-blueberry compote or sauce I made (recipe follows). Susie Friou used cup measures, so I do too. If you'd like to weigh the flour, it should come in at right around 3-3.25 oz.
Ingredients
¾

cup

about 3 oz all-purpose flour

2

teaspoons

baking powder

¼

teaspoons

baking soda

1/4-1/2

teaspoon

salt

depending on how much salt you like in things

1

cup

buttermilk

1

egg

6-8 1

"-1 1/2" pieces soft

fresh, rich bread (such as challah, brioche, or even cinnamon rolls)

Oil for deep frying

about 1/2 gallon or so
For the Blueberry Peach Compote (or Sauce)
1

pint

blueberries

fresh or frozen

1

pint

sliced peaches

fresh or frozen

3-4

Tablespoons

honey

or sweetener of choice

pinch

salt

1

Tablespoon

lemon juice

½

teaspoon

vanilla extract
Instructions
Whisk together the flour, baking powder, baking soda and salt.

Whisk together the buttermilk and egg.

Thoroughly whisk the buttermilk mixture into the flour mixture.

Allow the batter to sit for about 5 minutes. It will get very thick and poufy.

Bring the oil up to 350F in a large Dutch oven or other deep pot.

When the oil is just about at temperature, coat two pieces of bread with a thick coating of batter. Make sure to cover all sides.

Hold each battered piece of bread with tongs and shake over the bowl to remove any excess batter.

Carefully drop into the hot oil. Repeat with the second slice.

Fry about 1 to 1 1/2 minutes per side until deeply golden brown and crisp. Allow to drain on paper towels and store in the oven at 200F to keep warm.

Repeat battering and frying with the remaining pieces of bread.

Serve with your choice of real maple syrup, jam or peach-blueberry compote or sauce (recipe follows)
For the Blueberry Peach Compote (or Sauce)
Place the berries and peaches in a heavy-bottomed saucepan. Add the sweetener, salt and lemon juice.

Heat over medium heat until the mixture comes to a boil. Reduce the heat to maintain a gentle simmer for about 10 minutes.

Crush some of the blueberries against the side of the pan, but leave most whole.

Taste and adjust sweetener if necessary.

Cool slightly, and stir in the vanilla extract.

Refrigerate leftovers for up to a week
To Make This Into Sauce
Puree the compote in batches in a blender or using an immersion blender. Press through a fine mesh strainer.
Did You Make Any Changes?
Notes
You can cut a pocket in thicker slices of bread and stuff each piece with whatever sounds good: jam, cream cheese, chocolate chips, peanut butter, etc. As long as you don't overstuff them, the batter should keep your filling from leaking out into the oil.
You should have just enough batter to coat your bread. Feel free to double the amount (just double everything including the baking powder to 4 teaspoons and the baking soda to 1/2 teaspoon. If you do have extra batter, you can carefully drop tablespoons of the batter into the oil fry them until golden brown, let them drain for a minute on paper towels and then roll them in sugar or cover them with a boatload of powdered sugar for short-cut beignets. Seriously good!
Nutritionals are for 1 of 8 slices of French toast and 1/8 of the sauce.
Nutrition
Serving:
1
slice
Calories:
319
kcal
Carbohydrates:
64
g
Protein:
9
g
Fat:
4
g
Saturated Fat:
1
g
Polyunsaturated Fat:
2
g
Cholesterol:
40
mg
Sodium:
647
mg
Fiber:
3
g
Sugar:
18
g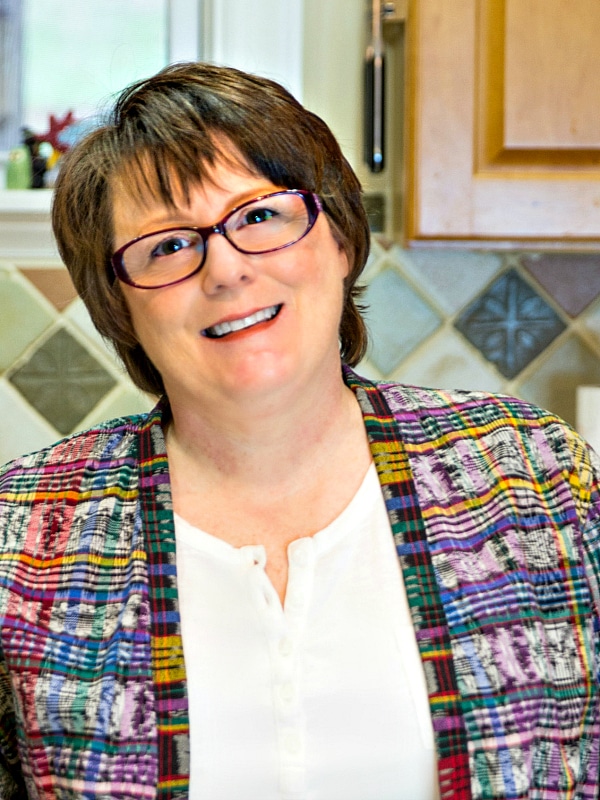 What are my qualifications to teach you baking and pastry? As a former working pastry chef and special educator, I marry my passions for both teaching and for baking into explaining techniques, methods, and developing the best possible recipes. For more info, you can read more about me.
If you'd like to receive new recipes and the occasional newsletter, I'd love for you to sign up for my Inbox Pastry Chef.
Thanks so much for spending some time with me today. Enjoy the French toast, and have a lovely day.