Most Recent Update:
Crème Brûlée (pronounced krem BROO-lay, more or less) is magical. And while it has a short ingredient list and is not hard to make, there are rules to follow to ensure your creme brulee tastes even better than restaurant creme brulee. Stick with me!
This post contains affiliate links. We are members of the Amazon Affiliate program. For any sale through our links, we earn a small commission. Your price is unaffected. For more information, please see our disclosure policy.
What Is Crème Brûlée?
Crème brûlée is a classic French still custard.
By still, I mean it is cooked undisturbed in the oven unlike stirred custards such as pastry cream and pudding that cook on the stove top.
The name literally means "burnt cream," but in reality, the only "burnt" part is the sugar you sprinkle on top and then melt and caramelize with a handheld torch or under your broiler.
The classic flavor is vanilla bean, but you can easily make variations by steeping different spices and flavorings into the cream in the recipe.
What Makes the Perfect Crème Brûlée?
With varying textures and temperatures all in one bite, a truly excellent crème brûlée is a perfect dish all by itself.
A perfect crème brûlée is a delight. Rarely do you find a perfect one. Follow my tips, and you'll soon be making your own perfect creme brulee. Probably even better than ones you've had in restaurants.
Ever seen crème brûlée served in ramekins like these?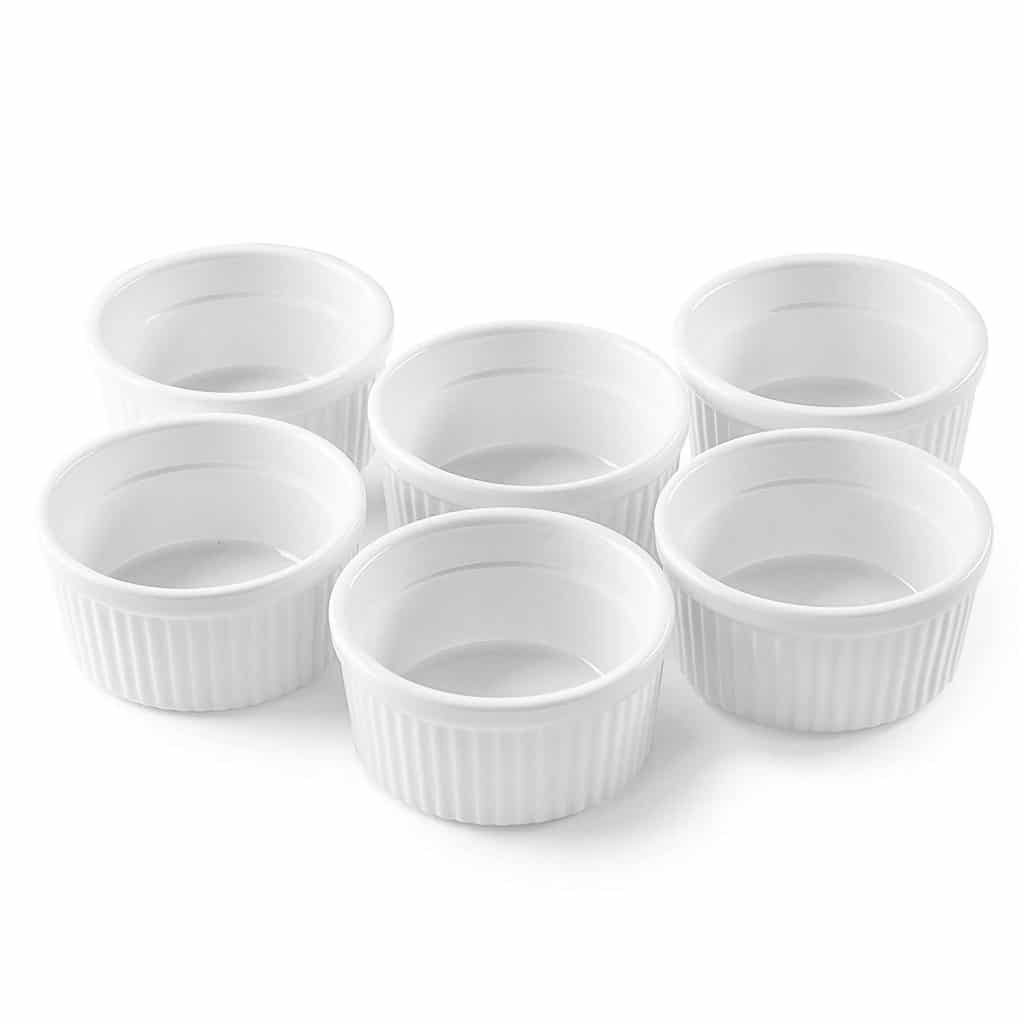 Look for this sort of wide and shallow ramekin, below, instead.
The shape and shallow depth ensure that you get a bite that runs from cold at the bottom through warm and then hot at the top and from silky smooth with to crunchy with the lovely, thin, glass-like caramelized sugar topping, all without being so rich it's hard to enjoy.
What Kind of Torch To Get to Brulee Your Fancy French Custard
Here's the Bernz-o-matic torch I have. It makes me feel like a badass.
You can also purchase these types of torches at your local home improvement store, along with the canisters.
Make sure to purchase the type of canister rated to go with the nozzle you buy.
If you'd like something a bit more understated for occasional use, consider a butane torch model.
You will need to purchase the butane canisters separately. You can get them at camping and outdoor stores, or go to your local Asian grocery store.
You can often purchase cases of butane cans there for use in table top cookers for hot pot dishes such as shabu shabu.
Tips for Making Crème Brûlée
Do not leave out the salt. You will need approximately 1/4 teaspoon salt per 2 cups of cream. If you leave it out the creme brulee will taste very flat and won't have a lot of character. The salt will bring out the sweetness, the vanilla, and the eggy goodness. Seriously, don't leave it out.
Crème brûlée should be served in a shallow ramekin. It's rich, so 4-6 oz. is plenty.
It should be brûléed (torched) right before service because part of the joy of the crème brûlée is the sensation of warm on top/cold on the bottom and the juxtaposition of the warm crisp sugar brûlée with the creamy cool custard.
Crème Brûlée Questions & Answers
What is the difference between crème brûlée and flan?
The two types of custards are similar, but they do have some differences. Flan is generally baked in deeper ramekins. The custard is a bit less rich (not necessarily made with heavy cream but with a mixture of cream and milk, or half and half). The custard mixture for flan gets poured into ramekins lined with caramelized sugar. This sugar melts during baking and refrigeration, and when you invert the flan to serve, the caramel serves as a sauce. Creme brulee is served in its ramekin and flan is served turned out onto a plate. Flan is served chilled through while creme brulee is served cold on the bottom and warm on top.

Do you cover crème brûlée when baking?
It isn't necessary to cover the custards as they bake. Do make sure you place the ramekins in a shallow water bath. I like to use a half sheet pan lined with a kitchen towel. Once the custards are on the tray and the tray is in the oven, I carefully pour in boiling water to come about halfway up the sides of the ramekins, so really only about 1/2″ since the ramekins are so shallow.
How should crème brûlée be served?
I love the simplicity of just serving the ramekin of creme brulee without any garnish. A few perfect raspberries would be a nice accompaniment, though.
Should crème brûlée be served warm?
If your creme brulee is warm all the way through, you'll be missing some of the magic. Chill the custards well, carefully blot up any water from the tops (if there is any condensation on them), and then add a very thin layer of sugar. Torch quickly and evenly. You can add an additional layer of sugar and brûlée again, quickly and evenly.

The goal is to make sure your sugar has caramelized but that the very bottom of the custard is still cool. You can help to ensure it stays that way by placing the custards on a chilled tray while quickly brûléeing the tops.

Is crème brûlée served warm or cold?
It isn't a matter of being served at one or the other temperature. A perfect crème brûlée is served warm at the top of the custard (nearest the torching) and cold on the bottom.
How long can crème brûlée sit out?

Crème brûlée needs to be torched right before serving and taken out of the fridge just moments before torching it. Again, this is all to make sure the custard is cold on the bottom and warm on top when you serve it.
How long should crème brûlée chill before serving?
You want to make sure your custard is thoroughly chilled, so allow at least 4 hours before torching and serving.
Can you refrigerate leftovers for the next day?
You can, but most likely the lovely, glass-like topping of caramelized sugar will get all sticky and/or runny, and you won't be able to re-torch it, either. While it will still taste good, you won't have the temperature or textural contrasts.

This is a good reason to only torch the exact number you need, and do it right before serving. "Plain" crème brûlée without sugar topping can be refrigerated for up to 3 days and be just fine.
How to Make Crème Brûlée, Step by Step
As I said at the beginning of this post, crème brûlée isn't necessarily hard to make, but like many French desserts, the magic is in the details. Here's how to make it like a pastry chef.
Time needed: 45 minutes.
Time does not include chill time or baking, but does include steeping seasonings in the dairy. Time is approximate.
Heat dairy.

Bring the dairy to a simmer. If you are steeping anything in it, such as a split and scraped vanilla bean, lemon zest, a cinnamon stick, etc, put those in the hot cream and let them steep for at least 30 minutes or up to an hour.

Divide sugar between the dairy and the yolks.

Add half the sugar to the steeped cream and reheat to a simmer. Whisk the yolks together with the rest of the sugar and the salt. Whisk this mixture occasionally to keep the yolks nice and creamy.

Temper your cream into the eggs.

While whisking the yolk mixture constantly, pour the hot cream (and whatever you're steeping) into the yolks to bring the temperature up gradually. Once you've added about half the hot cream, you can pour the egg mixture back into the pan and whisk well. Resist the urge to continue to cook the custard until it thickens. You'll end up with creme Anglaise and it will never set up in the oven.

Chill custard overnight.

To get the smoothest, most gorgeous crème brûlée, cover the bowl and chill overnight. If you don't have the time, you can continue with the baking, but you'll get the silkiest custards by chilling the mix for at least a few hours.
How to Bake It Without Making a Big Fat Mess
Water baths can be intimidating. You don't want hot water to get on you or to splash into your custard or all over your oven. This is the best way I've found to get the custard into the ramekins, the ramekins in the pan, the pan in the oven, and hot water into the pan all without making a mess.
Heat your oven to 250F-300F (depending on how much time you have).
Bring a kettle of water to a boil (or heat a quart of water to a boil in the microwave).
Line a shallow baking pan such as a half sheet pan with a kitchen towel.
Place the empty ramekins into the pan on top of the towel.
Pour the custard mixture into each ramekin to within 1/8″ of the top.
If there are any bubbles on the surface of your custard, pop them by running your torch over each one.
Pull out the center rack in your preheated oven.
Carefully place the tray onto the rack and slide it back in.
Once the rack is back in place, slowly pour the boiling water into the tray near the edge, away from the custards to keep it from splashing. Pouring slowly and pouring onto the towel will also help keep it from splashing.
Fill the pan with water until it comes about halfway up the sides of the ramekins.
Close the oven door.
Tada! No mess!
Pro Tip: To ensure the surface of your custard is completely smooth with no bubbles, briefly run your torch over the surface to magically pop them.
Recipe for Perfect Crème Brûlée
I really hope you love this recipe, you guys! If you make it, please share a photo with me, either in the PCO Facebook Group or on instagram by tagging @onlinepastrychef and using hashtag #pcorecipe. Thanks, and enjoy!
Looking for a great Butterscotch Creme Brulee? I can help with that, too!
To reiterate, I am Very Serious about NOT leaving out the salt. Learn why salt is necessary in desserts.
And that's it, friends. Enjoy your delicious, creamy French custard. Thanks for spending some time with me today. Take care, and have a lovely day.