Y'all, you're going to love this brown butter cauliflower soup! A rich and delicious version of cream of cauliflower soup, the browned butter really takes it over the top.

Silky smooth and filling, this recipe also happens to be keto friendly. If you're not on a low-carb diet, by all means, make some delicious soft potato dinner rolls to sop up every bit of goodness!

Another great cauliflower recipe is my Cajun style sausage recipe with cauliflower rice.
For ease of browsing, here are all of my soup recipes. Thanks for stopping by!

Watch my cream of cauliflower soup web story here.
Why This Recipe Is So Great
This brown butter cauliflower soup recipe is truly fantastic, friends.
It's rich and creamy and filling.
It's very easy to make.
It will make converts out of cauliflower haters. I know this because I used to be one. Nothing a little cream, cream cheese, and brown butter can't cure!
It reheats well. Just pour your leftovers into a pot and heat over medium heat, and it'll taste just as fresh as the day you made it.
Ingredients and Procedure
Ingredients
Note that all the ingredients in this decadent cream of cauliflower soup support either creaminess and/or nuttiness.
I'm telling you, you'll want to drink this with a straw, it's so good.
cauliflower: Get 1 large head or two smaller ones and cut it up into florets yourself. It'll cost less than getting pre-cut cauliflower
heavy cream: Adds silky body. Perhaps not strictly necessary, but wow does it make the soup feel luxurious
cream cheese: This is potentially optional, although it adds a subtle tang you might really enjoy
browned butter: the brown butter adds depth of flavor and a nuttiness that is pretty irresistable. I have a post with a video showing you in (almost) real time how to make browned butter, so check that out if you've not made it before
white pepper: you can use black pepper if you don't already have white pepper, as long as you don't mind the black flecks in your creamy white soup
kosher salt: you won't need tons because there's salt in the cream cheese and Parmesan
broth: to thin the soup to your preferred texture. I recommend using either low-sodium vegetable broth or chicken broth. Or if you want to maintain the pure cauliflower-brown butter flavor, you can even use water
nutmeg: goes beautifully with cauliflower. It adds just a little something that you might not recognize but you'll really appreciate
Parmesan: brings a bit of saltiness and umami goodness as well as more nuttiness.
What To Do
The soup is really easy to make, friends.
First, you'll simmer your cauliflower in cream along with some salt and white pepper.
Add the rest of the ingredients and puree.
Add more broth (or water) until you like the texture of your soup
Serve, garnished with some chopped herbs, another dusting of nutmeg, some finely grated Parm and a few grains of flaky finishing salt
PRO TIP: You don't have to puree your soup until it's completely smooth. If you like a more rustic texture, you can just mash everything together really well with your potato masher and call it a day.
How to Serve
You have a couple of options here. You can serve this in big bowls if you want. Just know it's very rich and filling.
You can also serve it in cups so there's room for maybe a side salad on your plate.
And this creamy soup is also perfect for soup shooters for appetizer parties, so don't rule out cordial glasses or shot glasses.
Useful Equipment
You'll want a good sized saucepan to cook your cauliflower in. I often turn to my 3 quart saucepan for this. It's not too big, and it's not too small.
And depending on how smooth you want your soup to be, you can use a potato masher, an immersion blender, and for the smoothest, silkiest texture, a countertop blender.
Tips for Success
Simmering the cauliflower in cream rather than water tames the funkiness that cauliflower sometimes gets when cooked too long. You're welcome.
You can serve this as a puree, like decadent cauliflower mashed potatoes, if you don't add any additional liquid. Your choice.
Sides
Usually when I think "soup," I also think "sandwiches."
But this soup is so rich and creamy that I think some lean vegetable dishes, like roasted green beans with a sharp, citrusy vinaigrette, would be best as sides.
Or maybe a lovely winter salad, like this Brussels Sprouts Salad with Citrus Dressing or Arugula and Pear Salad with Toasted Walnuts.
You want something that has some acid in it to act as a nice foil to the rich, creamy nuttiness of the soup.
More Cauliflower Recipes
Cauliflower is incredibly versatile.
Sure, you can eat it raw, blanched or steamed.
But since it's low carb, has relatively few calories on its own, and packs a lot of nutrients, people use it for everything from vegan buffalo chicken to po'boys.
And the low carb and keto folks (aside from needing to make this soup), as well as some gluten free folks love a good cauliflower pizza crust or cauliflower rice.
You've Got Questions. I've Got Answers.
Can I double (or half) this recipe?
Absolutely. Simply multiply everything by 2 to double or cut all measurments in half. This is an easily scalable recipe, and the main factor is the amount of cauliflower you have to use.
How long does this last in the fridge?
For best flavor and freshness, I'd make sure to eat it all up within five days. When you reheat it, for food safety, make sure the soup reaches 165F for 15 seconds.
Can I freeze cream of cauliflower soup?
Not this one, because it contains both cream and cream cheese, which tend to separate and get grainy when frozen and thawed. Try to eat it all within 4-5 days, or share with friends.
And here's your printable holiday recipe card. Click to open a pdf to save or right click to save as a jpeg. You might also like to download my free holiday recipe card templates. Enjoy!
A Note About Measurements
For convenience, consistency, and accuracy, almost all my recipes are written by weight, either in ounces and/or grams, even the liquids.
I strongly encourage you to purchase a kitchen scale and learn to use it.
This is the one I used for years. I love it and highly recommend it:
Best for Home Use
Escali Primo Digital Food Scale
Don't let its small price and small size fool you. The Escali Primo is an accurate and easy-to-use food scale that I have used for years. It's easy to store, easy to use, has a tare function, and easily switches between grams and ounces/pounds for accurate measurements.
This is an affiliate link which means I earn from qualifying purchases. Your price is unaffected.
It would be so helpful to me and to other readers that, when you make a recipe, you rate it and leave a comment. Whether it's a recipe or an informational post, your feedback helps others decide if the post is helpful or if the recipe works as advertised.

If you could leave a star rating, that would be very helpful. Thank you for being here!
Brown Butter Cauliflower Soup
This cream of cauliflower soup with browned butter is not diet food, friends. This is pure comfort in soup form. If you're anything like me, you will fall in love with it. If you're feeling guilty about all the fat, you can leave out the browned butter and the cream cheese, but it won't be as dreamy. Still tasty, just not decadent. Take this recipe and make it your own! This is also a borderline 8 ingredient recipe, so I'm putting it in that category. So there.
Ingredients
2

pounds

cauliflower

, cut into florets (about 1 large head)

1

cup

heavy cream

1

teaspoon

kosher salt

several grindings white pepper

4

oz

1/2 8 oz block cream cheese

3

oz

6 Tablespoons browned butter*

16

oz

2 cups low sodium chicken broth or vegetable broth**

1

oz

Parmesan Reggiano cheese

, finely grated, optional

several gratings fresh nutmeg
For Garnish (all are optional)
flat leaf parsley or snipped chives

Microplaned Parmesan Reggiano

coarsely ground black pepper

your favorite finishing salt
Instructions
Place cauliflower, cream, salt and white pepper into a medium saucepan. Bring to a boil then turn down the heat and let simmer, partially covered, until the cauliflower is very, very tender, about 15 minutes.

Add the cream cheese, brown butter, broth, optional cheese, and the nutmeg and puree, either in a blender or with an immersion blender. You can make it as smooth or as rustic as you like. I wanted it to be The Smoothest, so I used the "soup" setting on my Blendtec.

Taste and adjust seasoning. If the soup is a bit thick, you can thin it with just a bit of water or with broth. If you thin it with broth, adjust the seasonings after adding the broth, because you don't want to the soup to be too salty.

Serve in whatever way you choose, but a garnish of fresh herbs, some fine shreds of Parmesan and a couple of grindings of black pepper is a lovely way to go.
Did You Make Any Changes?
Notes
*If you don't know how to brown butter, here's a Helpful Tutorial! Brown a whole stick to get the 6 tablespoons you need for this recipe. And if that much butter makes you sad, you can also cut the amount in half.
**You can leave out the broth if you want a vegetable puree rather than a soup. It would be lovely swooshed on a plate under a big piece of lamb.
Nutritional Information based on 8 servings and does not include the garnish.
Nutrition
Calories:
295
kcal
Carbohydrates:
7
g
Protein:
6
g
Saturated Fat:
16
g
Cholesterol:
85
mg
Sodium:
455
mg
Fiber:
2
g
Sugar:
2
g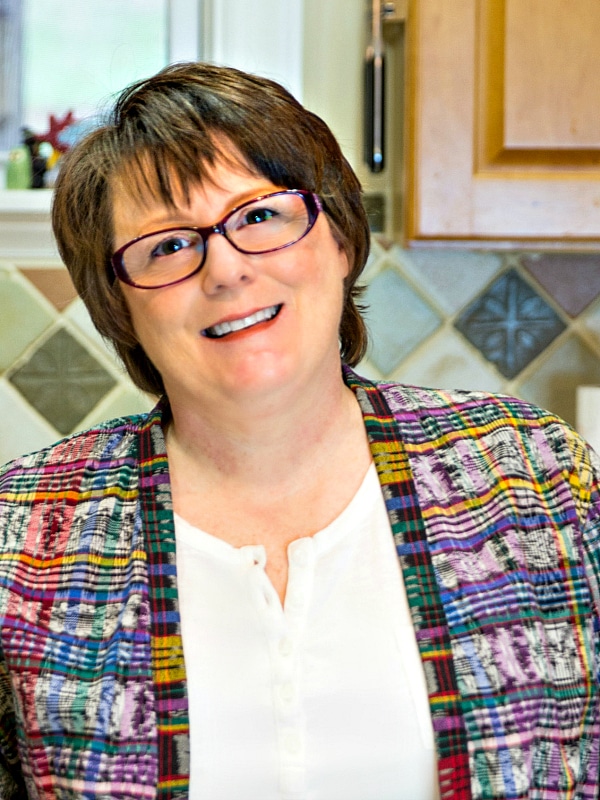 What are my qualifications to teach you baking and pastry? As a former working pastry chef and special educator, I marry my passions for both teaching and for baking into explaining techniques, methods, and developing the best possible recipes. For more info, you can read more about me.
If you'd like to receive new recipes and the occasional newsletter, I'd love for you to sign up for my Inbox Pastry Chef.
Thank you for spending some time with me today, friends.
Enjoy the creamy, delicious soup.
Take care, and have a lovely day.