Lemon lovers, your ship has come in! I am happy to share with you the recipe for light, bright, and refreshing lemon mousse.

It has a zingy lemon flavor, and it finishes with sweet cream notes, thanks to the whipped cream. With lovely body, this lemon mousse is a luscious way to enjoy a lemony dessert any time of year.

For ease of browsing, you can find all my individual dessert recipes in one place. Let's get started.
Other lemon recipes to enjoy: lemon pudding, lemon posset, lemon ice cream, lemon coolers, and lemon bars.
Lemon Mousse, At a Glance
✔️Skill Level: Intermediate
✔️Skills (some linked): Making Curd, Swiss Meringue, Whipping Cream, Folding
✔️Type: Individual Dessert, Custard-Based
✔️Number of Ingredients: 8
✔️Prep Time: 15 minutes
✔️Cook Time: 20 minutes (cooking the curd and the Swiss meringue)
✔️Yield: 6 4-oz servings

Related Recipes: My coffee mousse recipe uses the same procedure to make it
Jump Straight to the Recipe
This mousse is equal parts tart richness and sweet airiness, and it is incredibly hard to stop eating.
If this lemon mousse recipe sounds like your cup of tea, I have a favor to ask:
When you do make this recipe, it will help me and other readers if you:
✅Rate the recipes using the stars in the recipe card⭐⭐⭐⭐⭐
✅Leave a review when prompted in the recipe card✍️
✅Leave a comment on the post📝
Thank you!😘
How to Make Lemon Mousse
This mousse is made in three parts, but fear not–you can reuse some pots and bowls to keep the washing up to a minimum.
lemon curd
Swiss meringue
Whipped cream
I'll go over all the steps in the following sections. If you are comfortable with making all the components, feel free to jump straight to the recipe.
Ingredients and Substitutions
Here are the ingredients you'll need to make this mousse. Below the photo, I'll give substitutions where it makes sense.
eggs (whole and separated): Eggs do most of the heavy lifting (no pun intended), especially in lemon mousse. One whole egg plus 2 yolks enrich and thicken the curd while 2 whites are heated and whipped with sugar to make the Swiss meringue, imparting light, airy texture
granulated sugar: divided between the curd and the meringue to sweeten and lend texture. The liquid in the curd mixture and the egg whites for the meringue form a syrup with the sugar to keep the liquid from weeping out
lemon juice: provides the tart lemon flavor to the curd part of the mousse
lemon zest: rounds out the lemon flavor with floral lemon oil. The zest gives up most of its oils during cooking and then gets strained out so it doesn't detract from the texture of the mousse.
kosher salt: brings all the flavors into focus and counteracts any bitterness from the lemon
heavy cream: The only dairy in the mousse, the cream provides more bubbles and body for the foam while imparting a lovely, sweet creaminess with every bite
Procedure
First, you'll make a simple lemon curd without any butter in it. Then, you'll cool that down in the fridge and make Swiss meringue.
The last steps are whipping heavy cream and then folding everything together.
If you know how to do all these steps, you can jump straight to the recipe. Otherwise, keep reading, and we'll go over it together.
For the Curd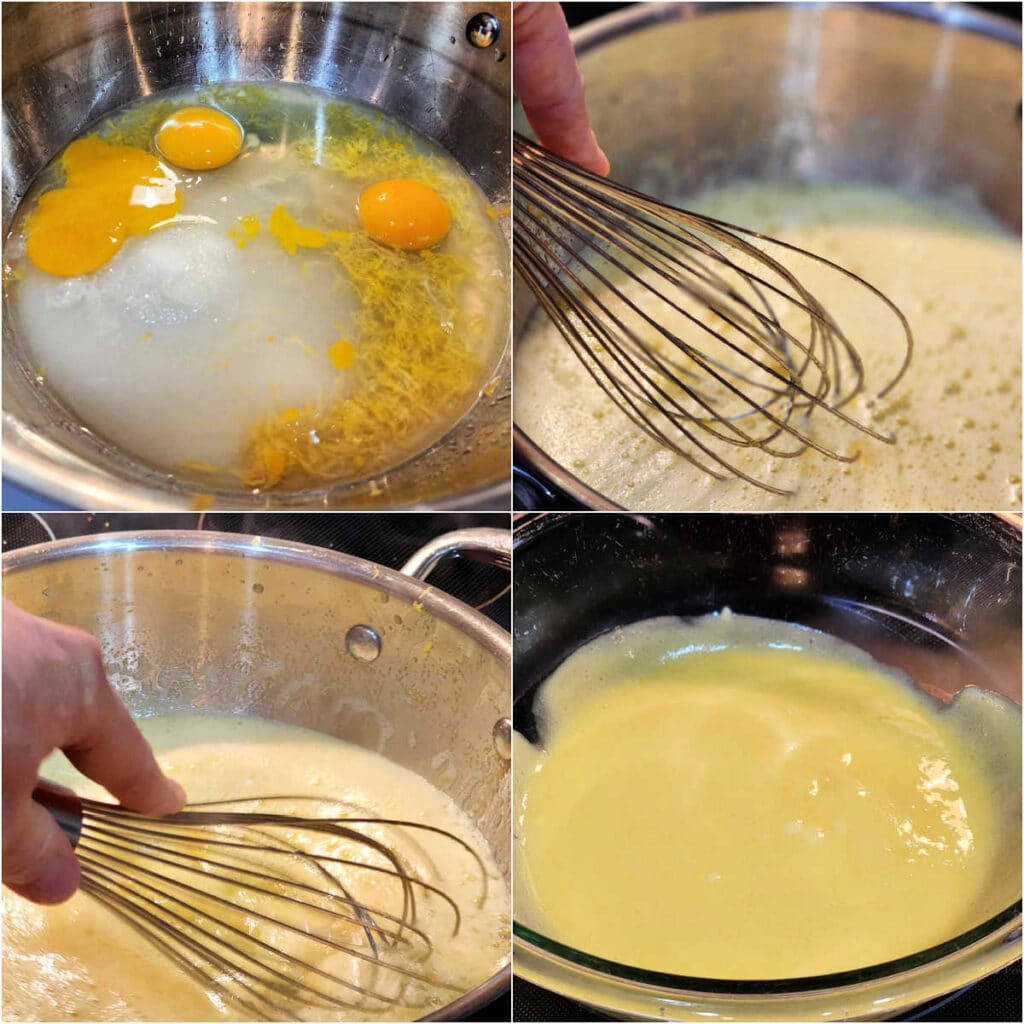 I use the base of my "fancy lemon curd" for this recipe, minus the white chocolate, butter, and sour cream.
If you check that recipe, you'll notice that I split out the amount of sugar called for between the curd and the Swiss meringue.
Here's what to do:
Optional step 1:
To extract every drop of lemon oil from the zest, before adding eggs or liquid to the pan, rub the sugar and zest together with your fingertips until the sugar is damp with lemon oil and has taken on a lemon color.
Whisk all the curd ingredients together in a heavy-bottomed saucepan.
First, the curd will get really foamy.
As it heats and thickens, the foam will dissipate. Once the foam is gone, the curd is ready.
Pour it through a fine-mesh strainer into a waiting bowl and refrigerate until room temperature.
Jenni Says: Don't skip the straining step. All that lemon zest will interfere with the delicate, airy texture of the mousse. Nobody wants mousse with bits in it.
For the Swiss meringue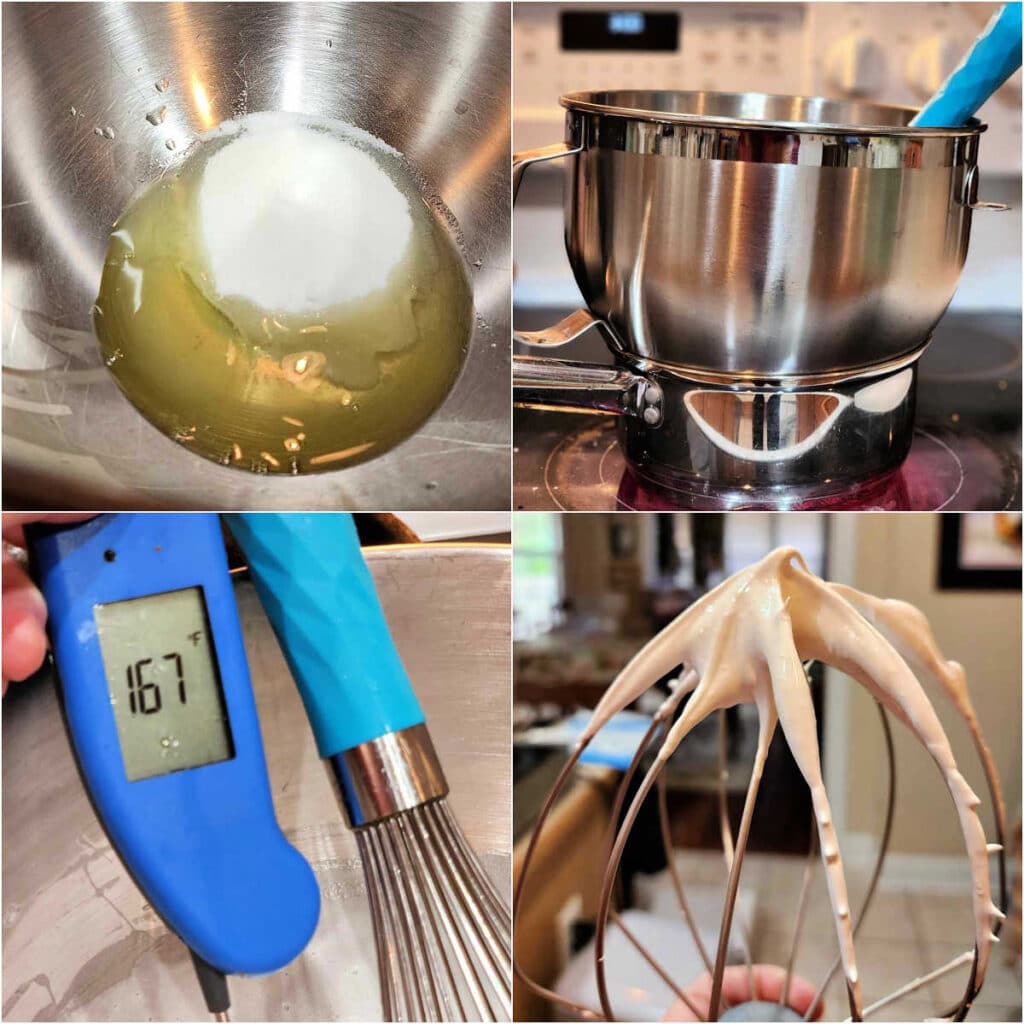 When I make Swiss meringue as a topping for a pie (see my deep dish lemon meringue tart recipe), I make it really thick and billowy with a pretty high sugar content. 2 parts sugar to 1 part egg whites is not unheard of and offers a very stable and glossy meringue.
For lemon mousse, the meringue doesn't need to be so dense and thick, because that makes it harder to fold into the curd. So, I keep it at about a 1:1 ratio, egg whites to sugar, with 2 egg whites (about 60 grams) and 70 grams of sugar.
Here's how to make it:
Place the whites and sugar into a metal bowl (this can be the bowl from your stand mixer if you have one).
Set that over a pan of simmering water, and heat the mixture, whisking constantly.
Whisk and cook until the temperature reaches at least 165F.
Remove the bowl to the mixer (or use a hand mixer) and whip until glossy medium peaks form and the mixture has cooled to room temperature.
To Finish the Mousse
To complete the mousse, whisk part of the Swiss meringue into the lemon curd, then fold in the rest.
Once you've done that, whip the cream in the same bowl the meringue was in–you don't even have to rinse it out. It will be fine.
Whip the cream to medium-stiff peaks, then fold it into the curd/meringue mixture.
And then you're done. Just spoon it into serving dishes and let it chill until you're ready to eat.
Tips and Tricks
Once you get the hang of making mousse: a flavor base, a meringue, and whipped cream, you can make lots of different flavors.
There are two main things to remember when making mousse:
Make sure your flavor base (curd, in this case) has cooled to no hotter than room temperature before folding the other components in.
Only take your cream to medium-stiff peaks before folding it into the mousse. If you whip to stiff peaks, you run the risk of overwhipping while folding, possibly resulting in grainy mousse.
Lemon Mousse Q & A
Can I make it egg-free?
You could make a simplified version by using cornstarch instead of eggs to thicken the lemon base, much like it was a stovetop lemon pudding. Then, fold whipped cream into the cooled base.
Can I freeze lemon mousse?
Yes, you can. You can even serve it frozen, or thaw it in the fridge before serving. For the best texture and flavor, well-wrapped in individual portions, you can freeze them for up to a month.
How long will this keep?
Held under refrigeration, it will be fine for up to 4 days.
Serving Suggestions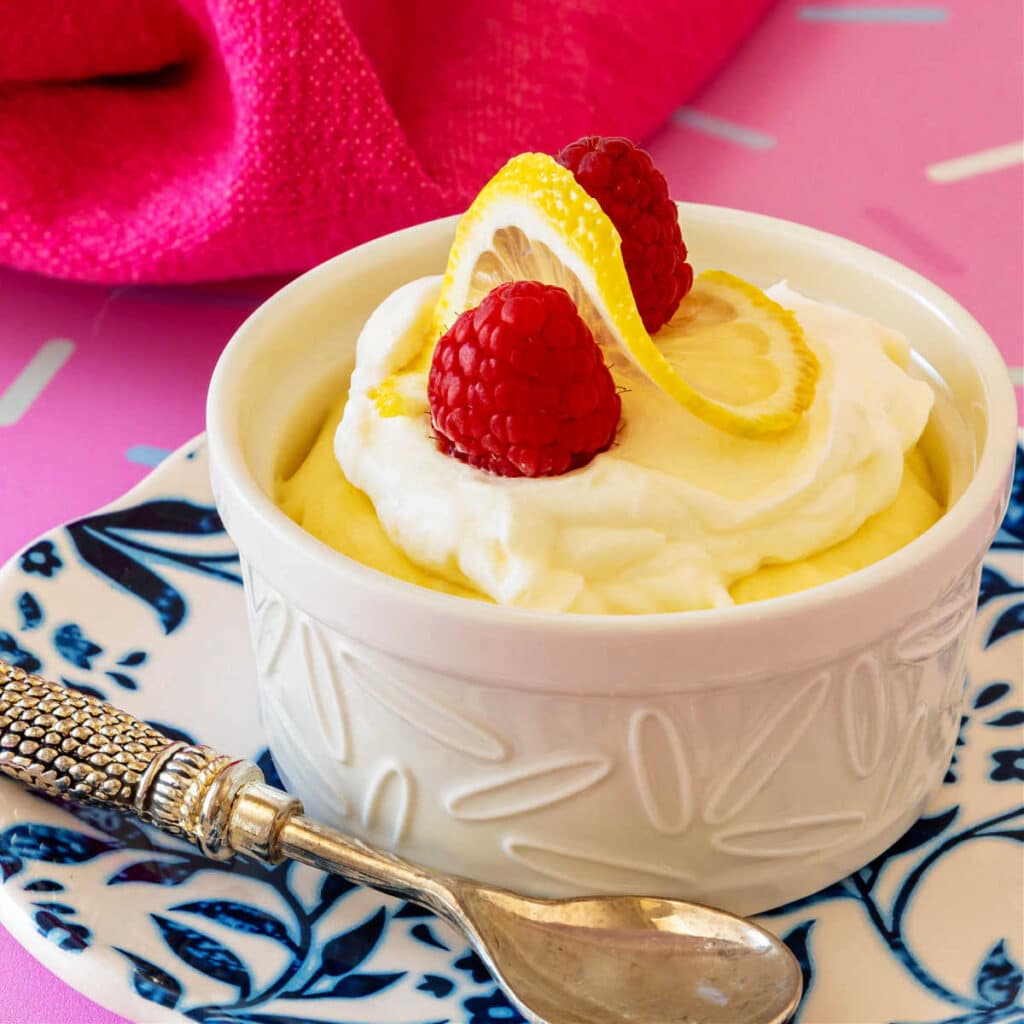 While lemon mousse is lovely on its own, a little bit of fruit or even some mixed berry jam would be most welcome as a topping or even folded in.
And to add some texture to your dessert, consider serving the mousse with some cookies.
Citrusy ginger-lime wedding cookies are a great bet as is shortbread or whipped shortbread.
Or maybe consider serving with some buttery, crisp lace cookies.
Questions?
A Note About Measurements
For convenience, consistency, and accuracy, almost all my recipes are written by weight, either in ounces and/or grams, even the liquids.
I strongly encourage you to purchase a kitchen scale and learn to use it.
This is the one I used for years. I love it and highly recommend it:
Best for Home Use
Escali Primo Digital Food Scale
Don't let its small price and small size fool you. The Escali Primo is an accurate and easy-to-use food scale that I have used for years. It's easy to store, easy to use, has a tare function, and easily switches between grams and ounces/pounds for accurate measurements.
This is an affiliate link which means I earn from qualifying purchases. Your price is unaffected.
It would be so helpful to me and to other readers that, when you make a recipe, you rate it and leave a comment. Whether it's a recipe or an informational post, your feedback helps others decide if the post is helpful or if the recipe works as advertised.

If you could leave a star rating, that would be very helpful. Thank you for being here!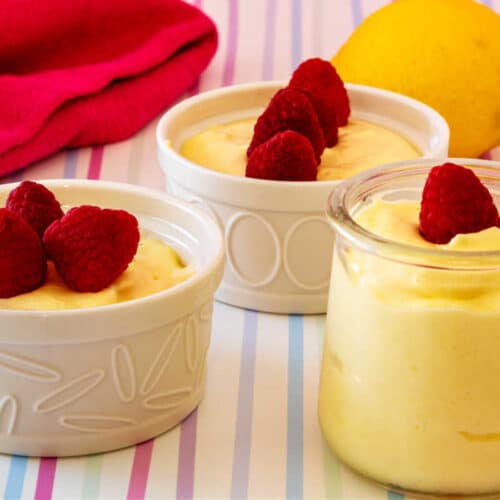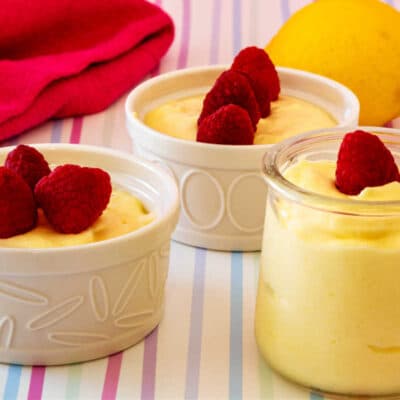 Lemon Mousse Recipe
This lemon mousse combines rich, thick, homemade lemon curd with Swiss meringue and whipped cream to make a mousse that is intensely flavored with lemon yet light and airy. A delicious citrusy ending to any meal.
Ingredients
For the Lemon Curd Base
1

whole egg

2

egg yolks

4

oz

freshly squeezed and strained lemon juice

113 grams or 1/2 cup

5.3

oz

granulated sugar

170 grams or 2/3 cup

1

Tablespoon

lemon zest (from 1 large lemon)

6 grams

¼

teaspoon

kosher salt

I use Morton's
For the Swiss Meringue
2

egg whites

2.5

oz

granulated sugar

70 grams or 1/3 cup
To Finish the Mousse
6

oz

heavy cream

170 grams or 3/4 cup
Instructions
To Make the Lemon Curd
Put a fine-mesh strainer over a medium bowl and set aside convenient to the stove.

Place all the curd ingredients in a heavy-bottomed saucepan.

Turn the heat to medium-to-medium-high and, whisking constantly, cook the curd until it thickens and barely starts to bubble. As you whisk, the curd will get very foamy. As it cooks and thickens, the bubbles will dissipate. Once the bubbles are gone, you're done.

Immediately pour the curd through the waiting fine-mesh strainer to catch all the zest and any eggy bits that may be left behind. Use a silicone spatula to press the curd through, and don't forget to scrape the underside of the strainer to get all the goodness into the bowl.

Press plastic wrap directly on the surface of the curd and refrigerate until no warmer than room temperature, about 45 minutes.
To Make the Swiss Meringue
Use the pan you used to make the curd to make the bottom of a double boiler. Rinse the pan out–no need to wash it–and fill with about an inch of water.

Add the egg whites and sugar to a metal bowl. This can be the bowl to your stand mixer if you have one, or you can use any metal bowl. You can use glass, but it will take longer to cook since glass is an insulator.

Place the bowl of egg whites over the pan with water, and turn the heat to medium-high.

Whisk the egg white mixture continuously as the water heats. Once the water comes to a bare boil, turn the heat down to maintain a high simmer, and continue whisking and cooking the egg whites until the temperature reaches 165F.

Remove the bowl to your stand mixer and whip the meringue is silky, poofy, and at room temperature. If you don't have a stand mixer, remove the bowl from the double boiler and beat the whites using a hand mixer.
To Finish the Mousse
Take the cooled lemon curd out of the fridge, and remove the plastic wrap. Give it a stir to loosen it up a bit.

Whisk in about 1/3 of your Swiss meringue and then fold in the rest until only a few streaks remain.

Pour the heavy cream into the bowl you used to make the meringue. No need to rinse it out.

Whip the cream until it holds medium-stiff peaks, then fold it gently but thoroughly into the mousse until no streaks remain.

Spoon into 4 oz servings, cover the tops, and refrigerate for at least 4 hours before serving.

Garnish with jam, berries, and/or whipped cream, or serve it plain. Store leftovers in the fridge for up to 4 days.
Did You Make Any Changes?
Nutrition
Serving:
4
oz
Calories:
277
kcal
Carbohydrates:
39
g
Protein:
4
g
Fat:
13
g
Saturated Fat:
7
g
Polyunsaturated Fat:
1
g
Monounsaturated Fat:
4
g
Trans Fat:
0.003
g
Cholesterol:
124
mg
Sodium:
135
mg
Potassium:
78
mg
Fiber:
0.2
g
Sugar:
38
g
Vitamin A:
544
IU
Vitamin C:
7
mg
Calcium:
34
mg
Iron:
0.4
mg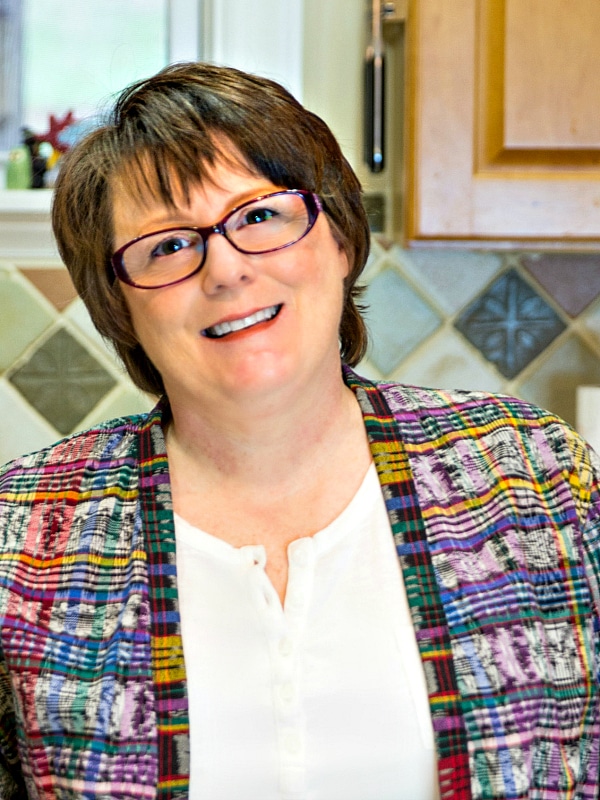 What are my qualifications to teach you baking and pastry? As a former working pastry chef and special educator, I marry my passions for both teaching and for baking into explaining techniques, methods, and developing the best possible recipes. For more info, you can read more about me.
If you'd like to receive new recipes and the occasional newsletter, I'd love for you to sign up for my Inbox Pastry Chef.
Thanks so much for spending some time with me today.
I really hope you enjoy the lemon mousse. Let me know if you think it's the best!
Take care, and have a lovely day.