Shortbread is not called shortbread because it is short rather than tall.

It is "short" because there is almost no gluten development (short strands of gluten).

I will show you how to get that texture in your shortbread, and how to make variations, both with additions or in varying the proportions of ingredients.

For a whipped and light version of shortbread that is often made at Christmas, try my whipped shortbread cookies.

Note that shortbread can be used as a crust or as a cookie, so you can find it with my pastry dough recipes as well as my cookie recipes. Thank you so much for being here.
The Difference Between Shortbread and Sable
Both shortbread and sable dough are considered "short crust pastry."
Both are sandy and relatively delicate and can be baked as cookies or used as tart shells.
Shortbread consists only of butter (most often salted), sugar, and flour with possibly a little vanilla.
Sable dough, on the other hand, contains egg, which gives the dough a bit more structure.
On an ounce-per-ounce basis, shortbread contains much more butter, more than twice as much as sable.
Since butter is the predominant flavor in shortbread, it's best to use the highest quality salted butter you can find.
How to Make Shortbread
Ingredients
Here's what you'll need to make this classic Scottish pastry:
salted butter: You can use a store brand, but for best results, go all out and get the best, most flavorful salted butter you can find. I use Kerry Gold, but there are many "artisan butters" out there you might find in your local store
sugar: Powdered sugar yields a more delicate shortbread. Granulated sugar yields a slightly more sturdy shortbread that works well for cutout cookies
flour: Use cake flour or all-purpose flour. Cake flour will yield more delicate cookies while all-purpose flour will yield sturdier cookies. This is all relative, though, because with all the butter in these, there is almost no way to end up with tough cookies
Optional Ingredients
cocoa powder: For a chocolate variation. You'll replace some of the flour with an equal amount of cocoa powder. Add some shaved chocolate or small chocolate chips, and you'll have my chocolate chocolate chip shortbread
extracts: Use up to 1 teaspoon of any extract: vanilla, lemon, orange, coffee, maple, etc
citrus zest: Make lemon, orange, lime, grapefruit or a mixed citrus shortbread by adding the zest of one or more of your favorite citrus fruit/s
herbs: Finely minced herbs can be used in conjunction with citrus or on their own. Consider tarragon, thyme, lavender (dried culinary lavender), rosemary, savory, etc
spices (not pictured): Cinnamon, nutmeg, ginger, pumpkin pie spice, etc. Any would work well either on their own or in addition to herbs, citrus, and/or chocolate
Procedure
Making shortbread is relatively straightforward.
Make sure your butter is pretty soft, but not melted or greasy.
Mix the butter and sugar together until creamy.
Mix in the flour on low speed until incorporated.
And that's it.
Or Is It?
Because, friends, sometimes you want a sturdy shortbread. Sometimes you want one that is super delicate.
You might want to cut them out as cookies, or you may want thicker, more traditional "slabs."
And you can do all those things. You just need to know which sugar and which flour to use.
And there are also some "cheats" to make a more delicate shortbread even if all you have is all-purpose flour and granulated sugar.
Look at these two shortbread cookies:
I cut out the cookies on the blue-patterned plate, and they held their shape well.
The cookies on the wooden board I baked as a thicker "slab." The outside pieces spread a bit, so I cleaned everything up with a pizza wheel.
They look very different. The stack on the plate looks more like a standard American butter cookie. The others look more delicate and are definitely thicker.
The difference? Flour and sugar.
For the butter cookie-type, I used all-purpose flour (8 oz rather than 7) and granulated sugar. for the more traditional Scottish-style shortbread, I used cake flour and powdered sugar.
What this means is that you can make the shortbread you want in the texture you want it.
Mixing Method
Even the mixing method choice will have an effect on your final cookies.
Using the creaming method will allow for marginally more gluten-development than the reverse-creaming method.
So if all you have is all-purpose flour and granulated sugar but you'd still like to have very "short," delicate shortbread, mix the flour and butter together first and then mix in the sugar.
Make Your Shortbread the Way You Like It
You can even play with the amount of butter, cutting back by an ounce or an ounce and half.
Make sure you take notes, because here's the thing: one person's perfect shortbread is not going to be everyone's perfect shortbread.
Use my recipe as a starting point, because that's what it is.
Tips and Tricks
Be careful not to overmix your dough or you'll end up with whipped shortbread. Cream sugar and butter only until they are creamy and then add the flour until just evenly combined.
To reduce the likelihood that your cookies will spread too much, refrigerate the dough for an hour or let it rest in the freezer for about 30 minutes before baking.
Serving Suggestions
Obviously, shortbread screams for coffee or tea.
If you use it for a pastry crust, I'd recommend a fruit filling rather than a rich cream-type filling. That might be too much of a good thing.
Consider spreading a layer of barely-sweetened sour cream in the bottom of your tart shell and then adding fresh berries in season, brushing them with some melted apricot jam, and calling it a day. How gorgeous.

(If you want to make rich creamy filling, start with a leaner dough like pate brisee).
You could offer some shortbread as part of a cookie tray for a holiday or housewarming gift. Maybe along with some peanut butter fudge, cocoa brownies, whipped shortbread (for variety–look how versatile this dough is), and some peppermint brownie brittle.
Questions?
A Note About Measurements
For convenience, consistency, and accuracy, almost all my recipes are written by weight, either in ounces and/or grams, even the liquids.
I strongly encourage you to purchase a kitchen scale and learn to use it.
This is the one I used for years. I love it and highly recommend it:
Best for Home Use
Escali Primo Digital Food Scale
Don't let its small price and small size fool you. The Escali Primo is an accurate and easy-to-use food scale that I have used for years. It's easy to store, easy to use, has a tare function, and easily switches between grams and ounces/pounds for accurate measurements.
This is an affiliate link which means I earn from qualifying purchases. Your price is unaffected.
It would be so helpful to me and to other readers that, when you make a recipe, you rate it and leave a comment. Whether it's a recipe or an informational post, your feedback helps others decide if the post is helpful or if the recipe works as advertised.

If you could leave a star rating, that would be very helpful. Thank you for being here!
Shortbread Recipe
Rich, crumbly shortbread recipe, with variations to use as a tart shell or make other flavors. This shortbread calls for cake flour which results in a very delicate, sandy cookie or crust. Rolling them out on the thick side keeps them from being too fragile.
Ingredients
224.

grams/8 oz best-quality unsalted butter

70-84

grams/2.5-3 oz powdered sugar

1/2-3/4 cup

196

grams/7 oz

about 2 scant cups cake flour
Instructions
In a bowl (stand mixer or otherwise), cream together butter and sugar.

Slowly work in flour until well combined.

Roll out to 1/4" to 1/2 " and cut with cutters. Or, traditionally, pat it into a greased cake pan, score it with a fork into wedges, and bake.

Break the shortbread apart on the score lines. You can even roll it into balls, roll the balls in sugar (or cinnamon sugar, or cardamom sugar or…..).

Flatten slightly before baking with the bottom of a glass sprayed with some pan spray.

Any way you make them, bake at 350 degrees, F, until light golden brown and delicious. The time will vary depending on your method and the thickness of the dough.

Watch them closely, and take notes on your baking times.

SEE NOTES FOR ALTERNET MIXING METHODS
Did You Make Any Changes?
Notes
The method described above is the creaming method. It allows for some gluten development. If you want to limit gluten as much as possible, for example if you only have all-purpose flour, mix the butter and flour together first and then mix in the sugar. This is called the reverse-creaming method.
You can also mix all three ingredients together simultaneously for a hybrid mixing method that has no name. Everyone in the pool, maybe. 🙂
So, for the most achingly tender shortbread, use cake flour, powdered sugar, and the reverse-creaming method.
For the sturdiest shortbread that you can roll a bit thinner and use for cutout cookies, use all-purpose flour, granulated sugar, and the creaming method.
Variations
For Cut-Out Cookies
Use granulated sugar and 8 oz all-purpose flour. Use the creaming method.
Chocolate variation
Substitute 2 tablespoons of Dutch process cocoa powder for 2 tablespoons of flour (or 1 each of flour and corn starch/rice flour). Add a wee splash of vanilla.
Citrus variation
Add some finely microplaned citrus zest–lemon, tangelo, whatever you like. For this size recipe, I'd start with the zest of 2 lemons for a lemon shortbread or 1 orange for orange. Some like their citrus more or less assertive, so experiment and take notes.
Herbed Shortbread
Go very lightly with herbs here–you can always add more after you taste it; it's really hard to take them out once they're in, though. Try some tarragon, mint, thyme, lavender blossoms–whatever sounds good. Make sure the herbs are finely minced. Add them to taste.
To Use as Tart Crust
Roll the dough out to your desired thickness, fit it into your tart pan and then trim the top. Freeze the lined tart pan, uncovered, until completely hard. Then prick all over with a sharp knife and bake at 350F. Freezing will keep the sides from slumping down. To further guard against slumpage, line the tart with parchment and weight it down with beans during the first fifteen minutes of baking. If the bottom of the tart starts to burble up, even w/the knife pricks, just press it back into place with a heat-proof spatula. Make sure to check early on, because the spatula trick won't work once the dough is too firm.
Nutrition
Serving:
1
g
Calories:
109
kcal
Carbohydrates:
9.3
g
Protein:
0.9
g
Fat:
7.7
g
Saturated Fat:
4.9
g
Polyunsaturated Fat:
3
g
Cholesterol:
20
mg
Sodium:
78
mg
Fiber:
0.2
g
Sugar:
2.9
g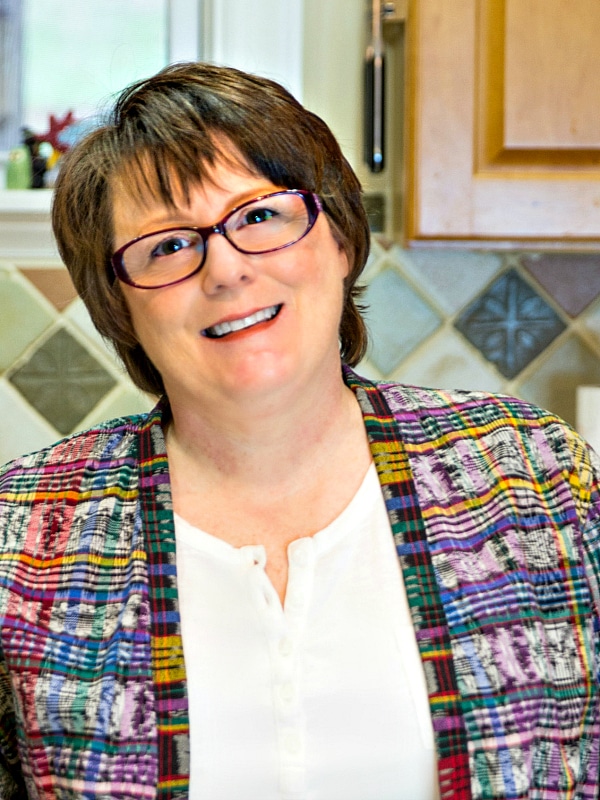 What are my qualifications to teach you baking and pastry? As a former working pastry chef and special educator, I marry my passions for both teaching and for baking into explaining techniques, methods, and developing the best possible recipes. For more info, you can read more about me.
If you'd like to receive new recipes and the occasional newsletter, I'd love for you to sign up for my Inbox Pastry Chef.